This place is where everyone gets to climb on all four, zipline through the forest and unleash that inner jungle self. They do have some Ninja Warrior style routes as well. From a parent's perspective, there is how to pacify the kids. Work excellently, by the way. Tried and tested. Here is a quick summary so that you know what you're in for.
We were on our way to Tottori sand dunes, but missed our stop. We landed up in Iwami and its beautiful coastline. Brownies to the lost ones. Wahaha. I just love Japan. Anywhere I get lost, it only gets better.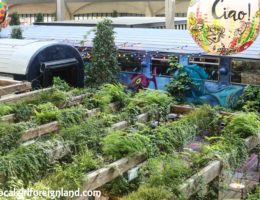 La Felicità is perhaps one of the latest excitement in Paris. Highly invested in aesthetic and experience. The production value is so high that it gave me the feeling of entering a theme park. I mean, what sort of establishment will decorate their toilet door with barbie dolls? Anyways, here's my experience.
My doppelganger / recently retired blogger, Stashy asked me about HG beauty products. Straight off, I am a makeup hoarder, so I don't actually use that much makeup on a daily basis. I do love hoarding though LOL. Anyways, here's my HG makeup and why.