As some of you already know, I often don't spend much money on accommodation. I enjoy the pricier establishments of course, but many of my fondest memories were produced in much humbler places. Little Asia guest house, Minami-Aso, was one of those.
The guesthouse was run by this super mom and her dad (no English at all) + 2 kids lol. They're so friendly and willing to help / chat. Homely Japanese hospitality.
Hubby and I stayed there for 3 nights. It was amazingly simple and homely. So relaxed with the wooden all over look. Tatami on a bunk bed?
There was a sense of refined elegance in Itsukushima shrine. Bewitching charm that graced over the water. Asia's version of Mount Saint Michael. I spent 10 hours trying to capture the mesmerizing Itsukushima shrine 厳島神社. At every hour the view was new, at every hour the lighting was different. I wanted to capture them all. Hugely sun burn afterwards, completely lost track of time. There were virtually no bad photo spot over here. But hey, that view was just GODLIKE. Top 3 scenic spot in Japan, a title well deserved.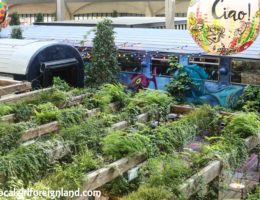 La Felicità is perhaps one of the latest excitement in Paris. Highly invested in aesthetic and experience. The production value is so high that it gave me the feeling of entering a theme park. I mean, what sort of establishment will decorate their toilet door with barbie dolls? Anyways, here's my experience.
It is another round of sunscreen (mostly) empties review! I use sunscreen everyday, even if I don't leave home. I use up 50ml every 4 to 6 weeks and empty around 9 to 13 facial sunscreens a year. I bought everything with my own money, hence I do try to finish the product even if it is horrible. However, if it is just WAY intolerable, I do give up and just throw it away.