Stark with moat and a red bridge. This is the Matsumoto-jo, also known as the crow castle. Coincidently, tons of big (fat) crows can be spotted in the vicinity. The dark colour comes from a combination of wood and stone.
Matsumoto castle is an original keep from 1500s! It is only damaged by earthquake and neglect (was tilting like Pisa), but it is all good now. It is listed as a national treasure of Japan. Madness to think that at some stage the Japanese considered demolition.
There are only 12 original castles in Japan:
This place is where everyone gets to climb on all four, zipline through the forest and unleash that inner jungle self. They do have some Ninja Warrior style routes as well. From a parent's perspective, there is how to pacify the kids. Work excellently, by the way. Tried and tested. Here is a quick summary so that you know what you're in for.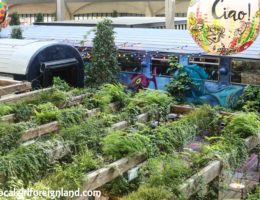 La Felicità is perhaps one of the latest excitement in Paris. Highly invested in aesthetic and experience. The production value is so high that it gave me the feeling of entering a theme park. I mean, what sort of establishment will decorate their toilet door with barbie dolls? Anyways, here's my experience.
Yey! It is our 3rd collaboration. Stashy is from Toronto , Canada. She is super organised and this was her fabulous idea. Being a beauty hoarder myself, I certainly will not pass up any opportunity to increase my stash LOL (Now on no buy til 31 Dec 2017) Plus we both posted so early that we landed up a month too early for our actual birthday.