Mechanical watches are lovely, but for travel and everyday wear, I think fashion watches are more suitable. I was in the market for some new talent. There are SOOOOO many choose from! All watches mentioned are under 200 EUR. Anyways, here's my 2 cents' worth of which fashion watch is worth the money and which one I ended up buying.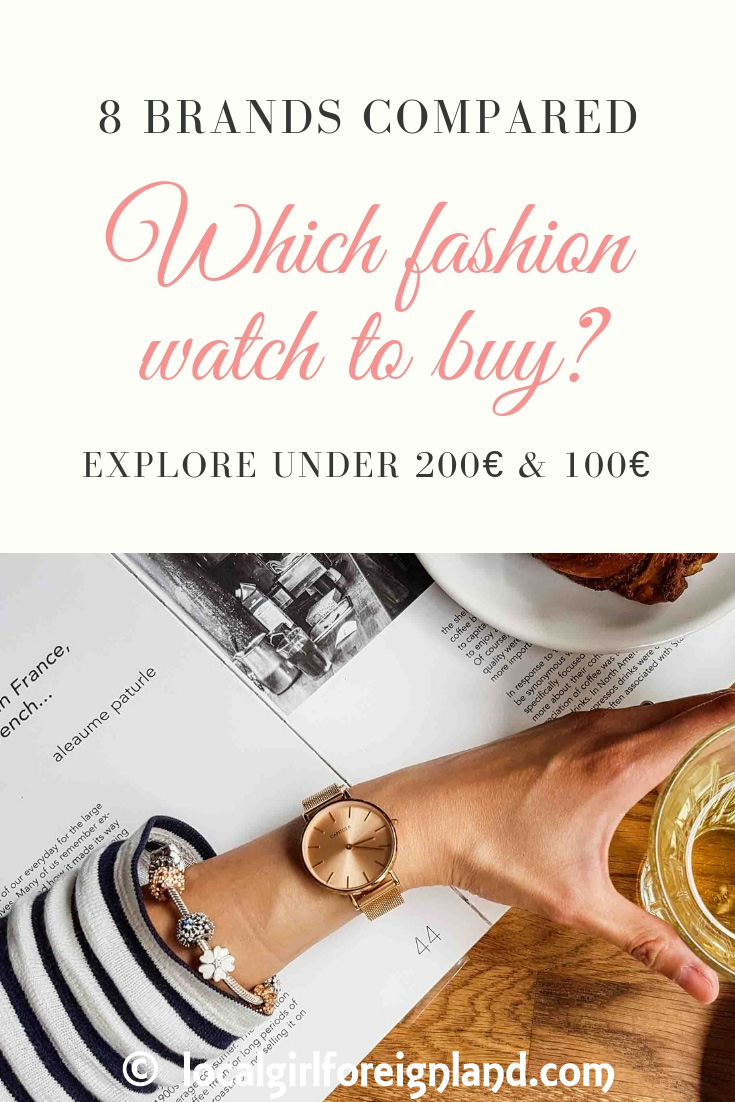 Insta-famous brands
It is 2019, insta-famous brands are blazing. I can't do this post without mentioning MVMT (USA), Cluse (Netherland) and Daniel Wellington (Sweden).
At some stage, I really wanted to buy from all 3 of these brands because I saw some classmates and friends wearing them. They make great IG looking watches. However, after I shopped around for a bit, I think all 3 are poor value for money.
Let's compare 28mm rose gold rim, Bauhaus style with leather strap across MVMT, Daniel Wellington and Cluse watches.
Left: MVMT 115 EUR – shipping included
Middle: DW 119 EUR – shipping included
Right: CLUSE 89.95 EUR – shipping included
++ Across the 3 brands, equivalent colour straps and clock face is available. I choose different colour ones to represent each brand for visual reason.
All 3 brands have something in common… fantastic advertising. Quality wise, they look the same. They are all extremely similar in aesthetic. Anyways, if I have to chose between these 3, I will choose Cluse over the other 2.  The difference is too minute, not worth the extra 30 EUR.
Other similar fashion watch brands at similar price point and aesthetics are:
The thing that bothers me the most is that at 100+ EUR price point, it is not a fashion accessories price point. For fashion accessories, I expect a lower price. Paying for marketing is so not my thing. Honestly, at 100+ EUR, I expect more than just looks for a piece of accessory. If I'm willing to pay that, I'd probably go with real watch-making brands.
Swatch (Swiss)
For the same price point, the Swatch IRONY collection is way more appealing to me. For this post, I am only comparing with Swatch's metallic collection (IRONY). I think few will disagree that Swatch is the father of fashion watch. For 125 EUR, one can get a Swiss made watch with a leather strap!!!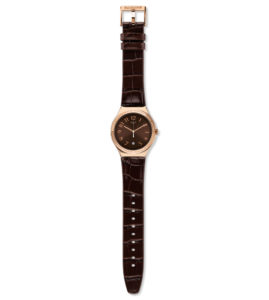 Charlie (France)
Let's compare to a small French brand, Charlie. The founders are also business school graduates like Daniel Wellington's. Both brands use Japanese quartz movement for all the watches (I cannot verify if they both use the same movement). The difference between the brands? DW watches are made in China. Charlie watches are made in France. Psychologically, Charlie watches have better value because of higher labour cost. Although one can argue that it is just poor cost management.
Casio (Japan)
Let's compare with Japanese brands, shall we? Casio has some iconic analog watches with leather straps under 50 EUR!! The big problem is that most of their minimalistic styles are only available in Japan 🙁 Anyways, one can find some awesome vintage styles in watch shops all over Paris.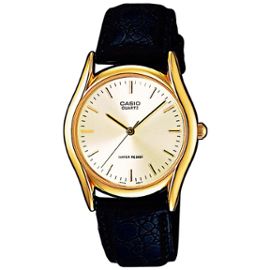 Seiko (Japan)
If I do decide to pay a bit more, I'd go for a Seiko SUR234P1. For 199EUR, the strap is full hide CALF leather. The finishing of the watch is immaculate. No uneven housing like those found on DW, MVMT and Cluse. If I really wanted a leather strap watch, I'd rather pay extra 80 EUR for this Seiko. It looks and feels WAY more elegant. Plus, I feel that the Seiko will last a lot longer because Seiko owns its watchmaking factory for 100+ years.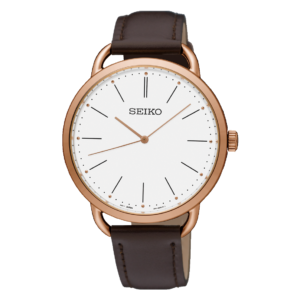 Okay, now that I'm done with rambling LOL To be clear, I don't hate the famous 3. It just that I don't think I'd buy them for myself. So what fashion watch I ended up buying?
Capitola
Petite Mesh Sunray (54 EUR), from Capitola Watches (Spain). This is more like a fashion accessory price point! As a seasonal piece, this price is okay.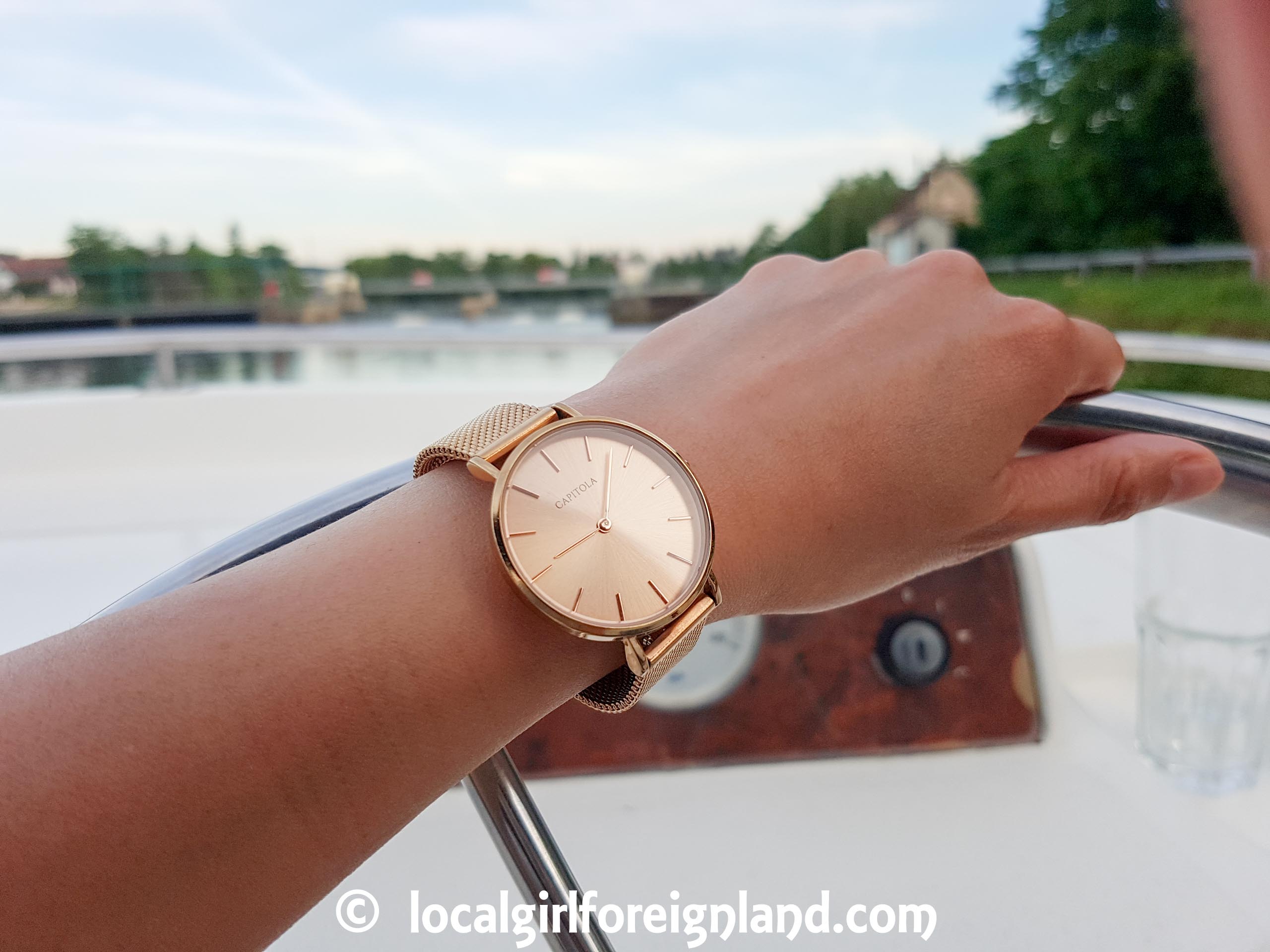 3 reasons why I chose this piece:
The strap can lay completely flat, fantastic for overlay pictures.
It is in rose gold. A copper alloy colour that I don't expect to last, so I don't want to pay much money for anything that comes in this colour.
The price is way more attractive compared with the others.
Please watch out that Capitola's "leather straps" are NOT real leather. They're cruelty-free; Capitola's leather collection uses faux leather (PU aka plastic). BTW I hate faux leather straps with a passion.
An interesting thing about Capitola is that each watch collection donates part of its profit to a different charity. For instance, the watch that I bought donates 2% of the profit to the European Association for Cancer Research. This was NOT part of my decision process when it comes to buying from them, but I thought it is quite arbitrary. I don't believe in buying something that donates to a good cause. I way prefer just donating directly to the cause myself.
Discount code
For 15% off discount, use code JOYCEBELFORT at the checkout. [affiliate code]
**I had this watch since Feb 2019. It has suffered through sunscreen, sweat, dish washing and the occasional showers. The rose gold has not blacken or gone dull! LOL so I have since bought a second one with a white face. The white face one is more pink in tone than the rose gold face one though. I love them both 😀
Alrighty, so that's it for this post. What are your picks for fashion watch?
Disclosure
The 15% discount code [JOYCEBELFORT] is part of the Capitola ambassador program. All Capitola links are affiliate links. If you complete a purchase using my code or link, I will earn a flat rate commission. This is of no cost to you.
**This is my first time having a discount code. If you do decide to make a purchase, I'd like to thank you in advance. Hope you'll enjoy your purchase as much as I do.
The Capitola Petite Mesh Sunray watch was bought with my own money Feb 2019. I have worn it minimum 5 days a week for around 4 months before writing this review. No discolouration upon close examination, so I've decided to finally publish my discount code 😀
I have NO affiliation with the other brands mentioned.
Prices may have changed since the time that I published this article, please visit the brands' individual site for the most updated price.