Here is a mixture of things to do, photo spots and food that I enjoyed in Madrid 😉 So I guess these are my 10 highlights of Madrid 😀
1. Templo de Debod
Calle Ferraz, 1, 28008 Madrid, Spain
This is a rather strange piece to be found in Europe. Believe it or not, this is actually an Egyptian temple. The stones were given to Spain by the Egyptian government. It is a replica of the original temple in Egypt, even the orientation is intact! The stones are dated from around 2 BC.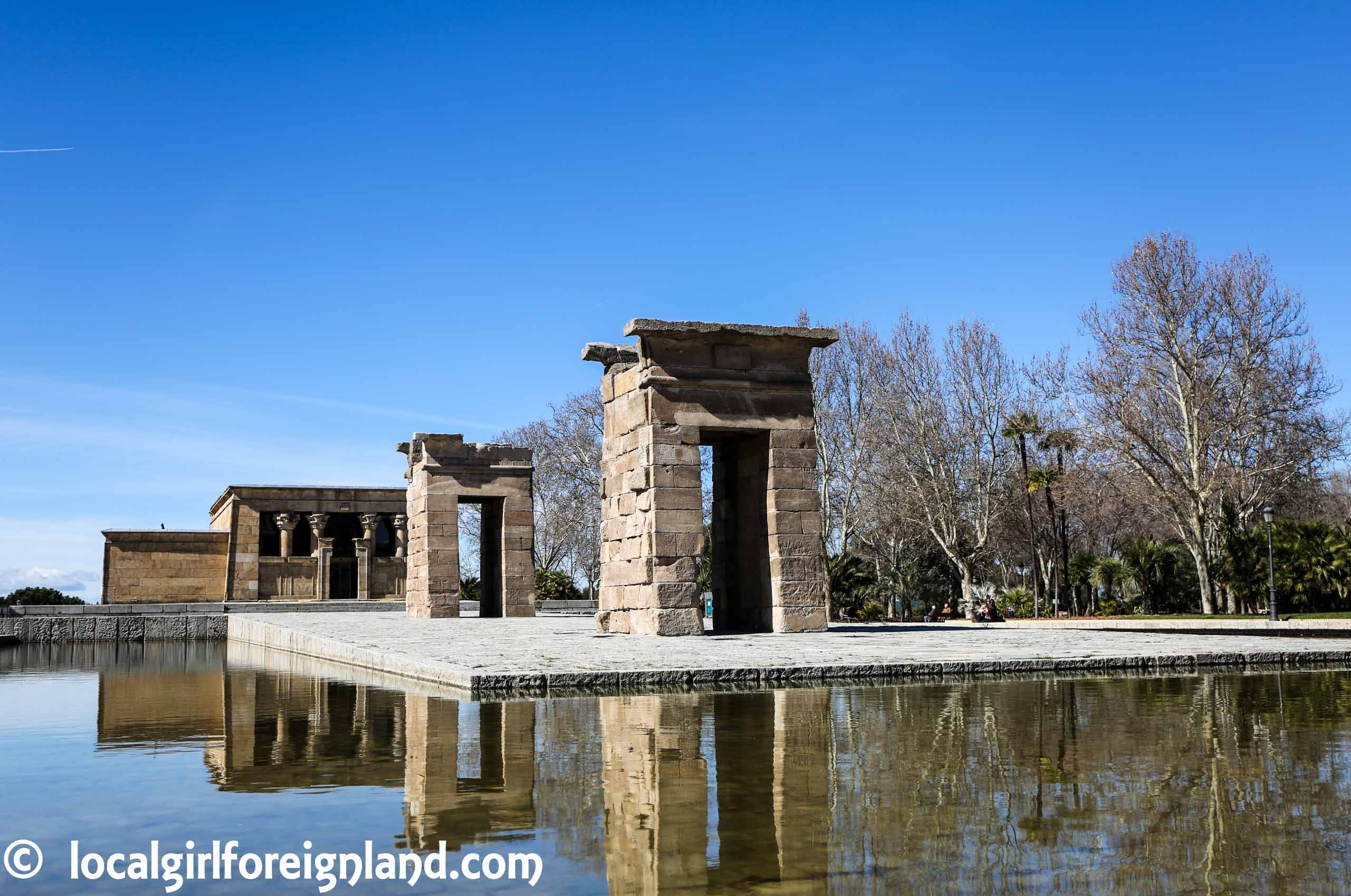 You think she is pretty now? Try to take the shot at sunset or dawn 😉 Way more gorgeous, I just lack the dedication to plan my trip for photos.
2. Cathedral de Almudena
Calle Bailén 10, 28013, Madrid
Official site: http://www.catedraldelaalmudena.es
I am secretly pretty impressed with churches who has a full house website. It is in Spanish only though.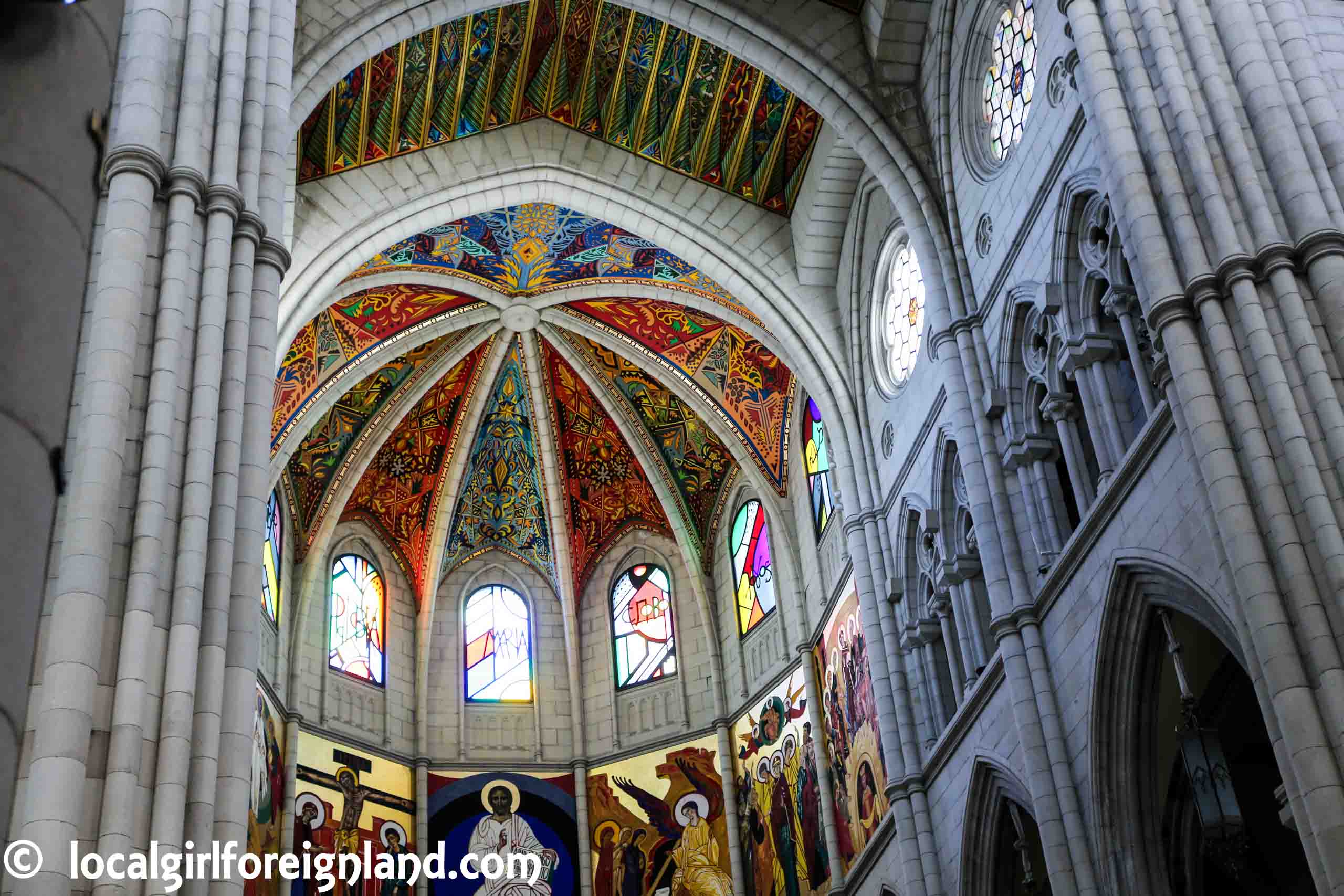 Spellbinding cathedral! It was just all sort of gorgeousness. The colourful arches, the gilded decoration, stain glass reflections on the floor etc. It is still an active place of worship, so out of my personal superstition, I failed to take a ton of photo. You can see these bits and pieces to decide for yourself. It was TOTALLY worth visiting.
This cathedral is young. Technically, it was only completed in 1993. The plan has been around since 1879 though.
3. Changing the Guard at the Royal Palace
Calle de Bailén, s/n, 28071 Madrid, Spain
There are 2 types:
Solemn changing of guards… Only happens on first Wednesday of every month.
The solemn version is crazy. Full house military march with horse, artillery and band playing. O, plus 1000 other people fighting for the spot. The whole parade goes on for about 1 hour.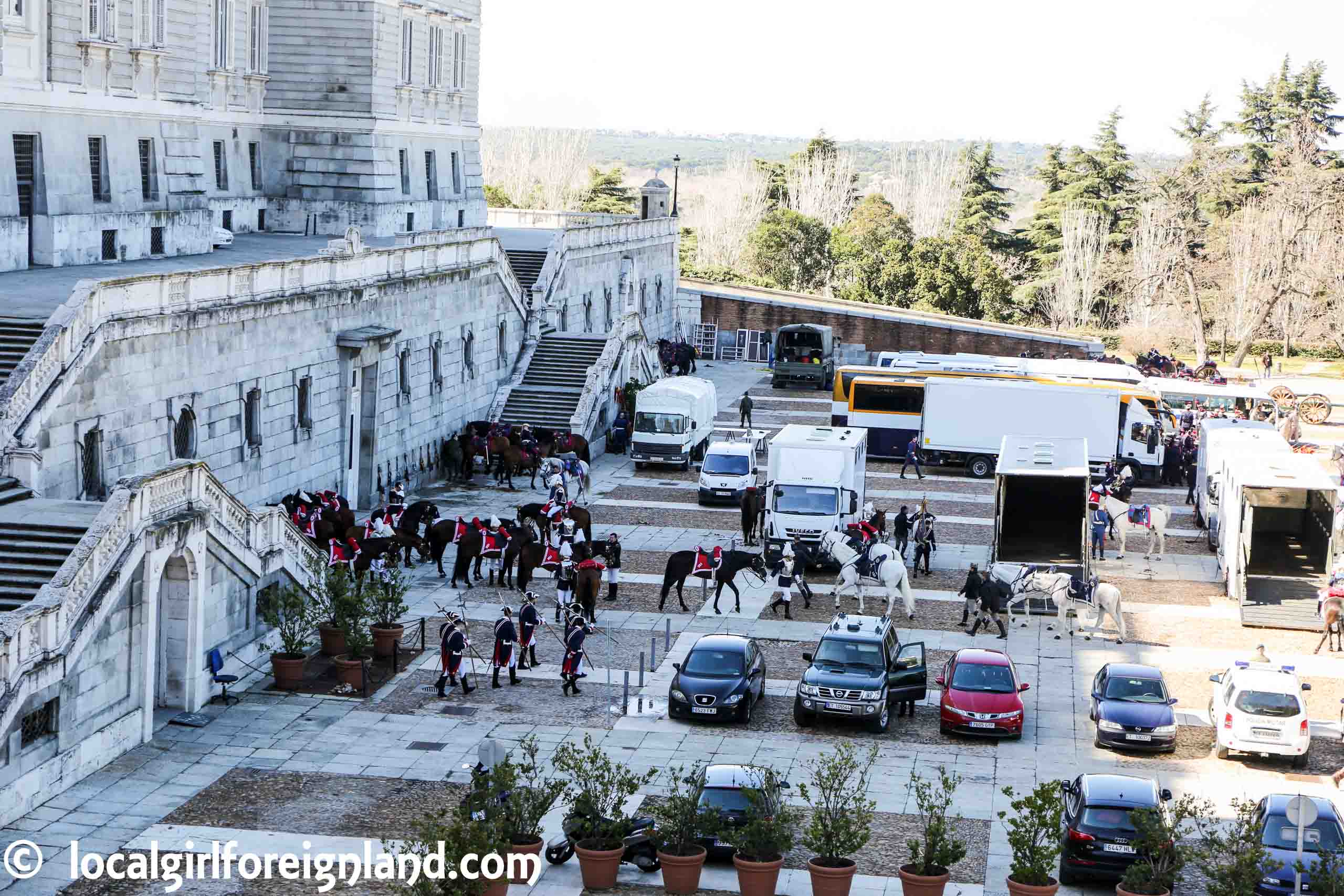 After the "show", one will find a TON of horse poop. I'm not kidding hey, they literately have a team of cleaners afterwards to clear after these military horses.
If you take the stairs down at the back, you'll spot this peaceful spot 😉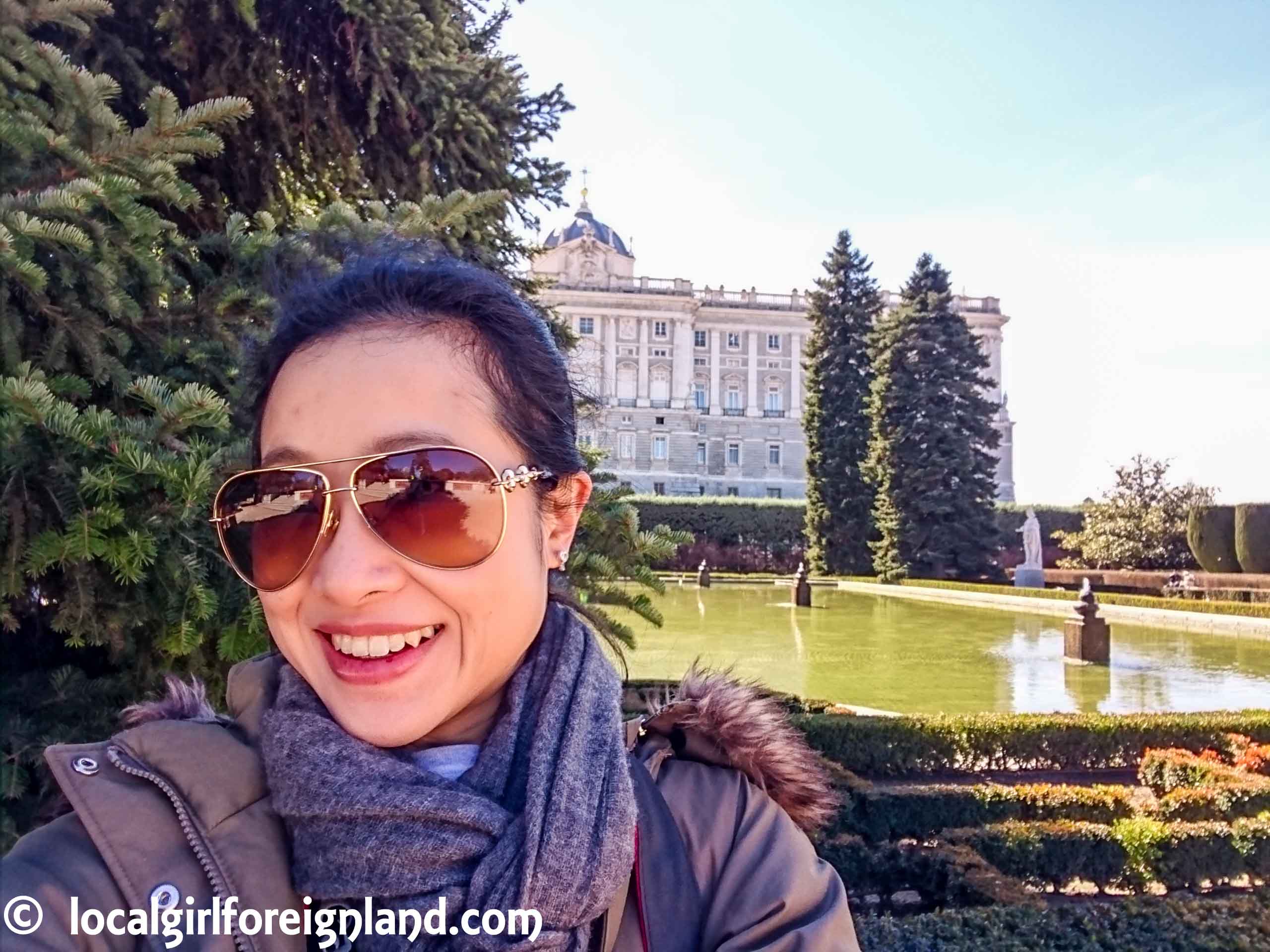 4. The Glass Palace (Palacio de Cristal)
Inside El Retiro Park.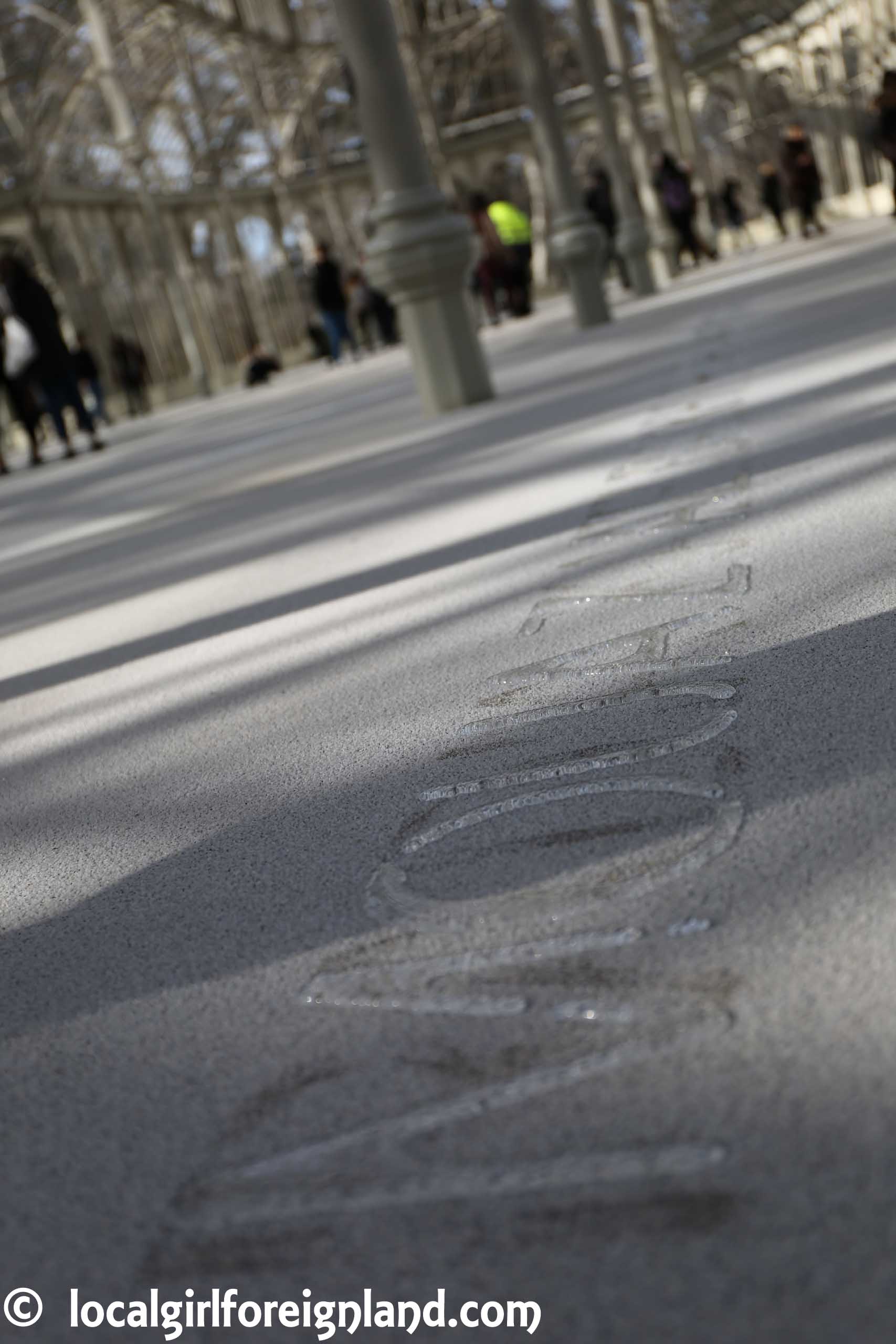 I have already done a full post on this place. I love love love the experience of their exhibition and its architecture. Disappearing words on the floor. Where else am I supposed to find this type of thing?
5. Museo del Prado
Paseo del Prado, s/n, 28014 Madrid, Spain
Official site: https://www.museodelprado.es/en/visit-the-museum
This place is a sanctuary… No photo and no phones are allowed beyond the entrance. Just sheer culture push in the face LOL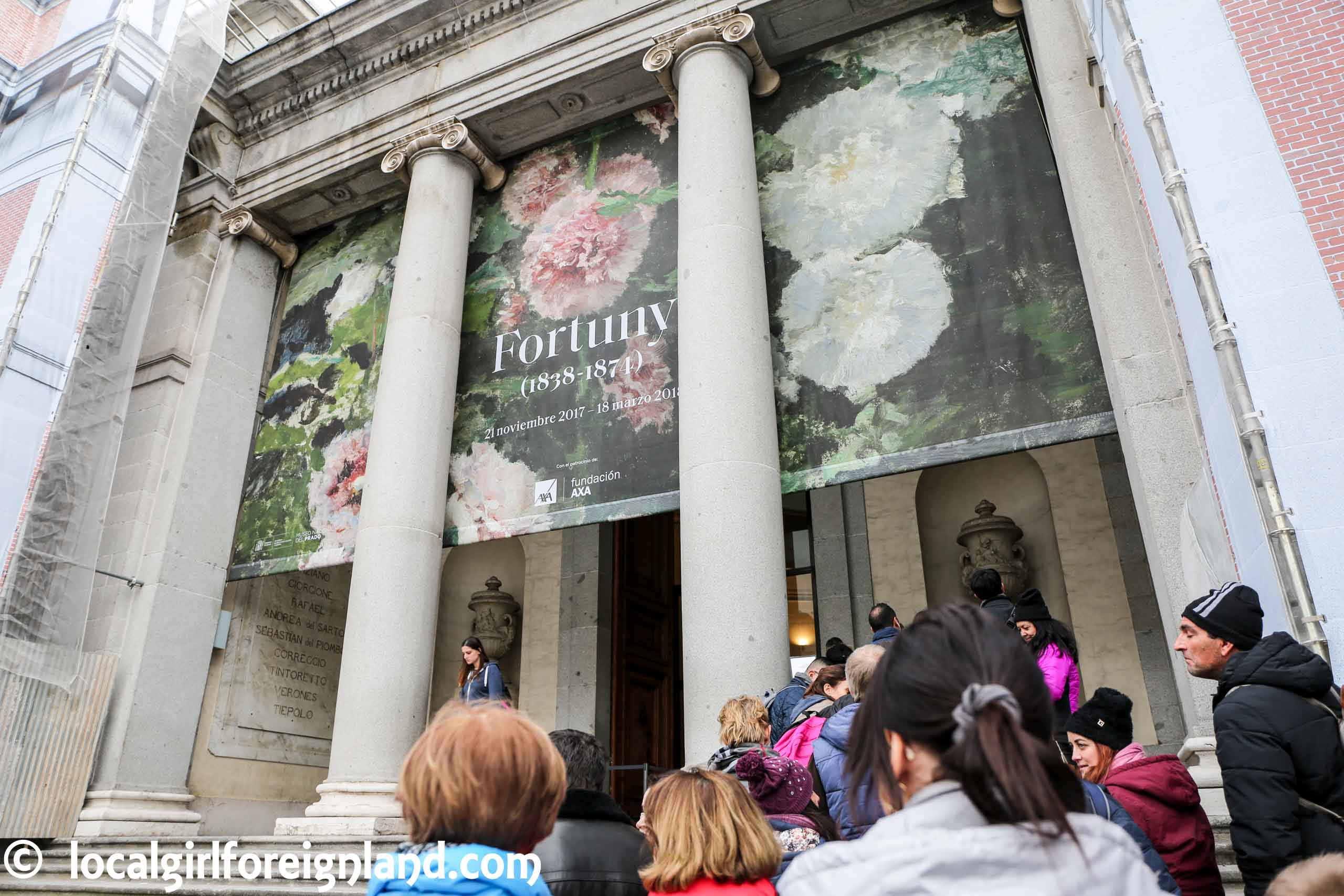 Beautiful paintings and nothing too conceptual that I didn't understanding. Yes, I am not artistically inclined, okay? I really struggle to see what's going on in impressionists' stuff. Honestly, do you see what's going on with those blots of colours? See how my Monet interpretation / situation went. Anyways, Prado was super quiet and spacious. Lots of guards to prevent people from using camera or phones. I wish Louvre will do the same. That museum has became a circus.
Free entrance if you enter after 18h00. Warning though, you won't have enough time to see everything. If you're an art lover, consider paying the full entrance fee and go in early in the morning (opens at 10h00).
6. Inquisition tour
Walking around Madrid listening to gruesome stories about the Inquisition was a fab way to be introduced to Madrid. It gave a wild twist to my perception? LOL Anyways, I found the tour a fun experience. For the full post on my experience, click here.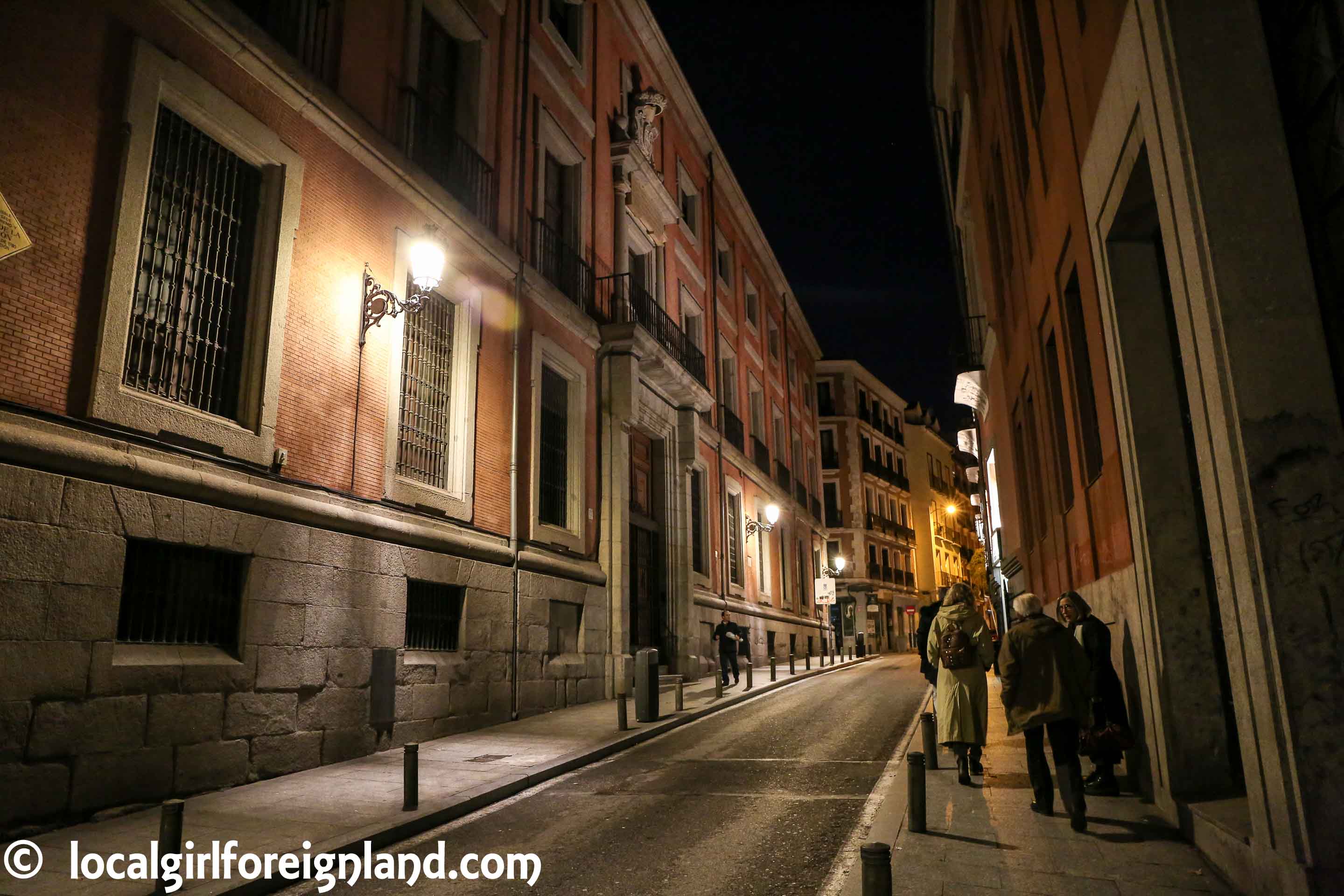 7. Spanish cold cut stores (charcuterie)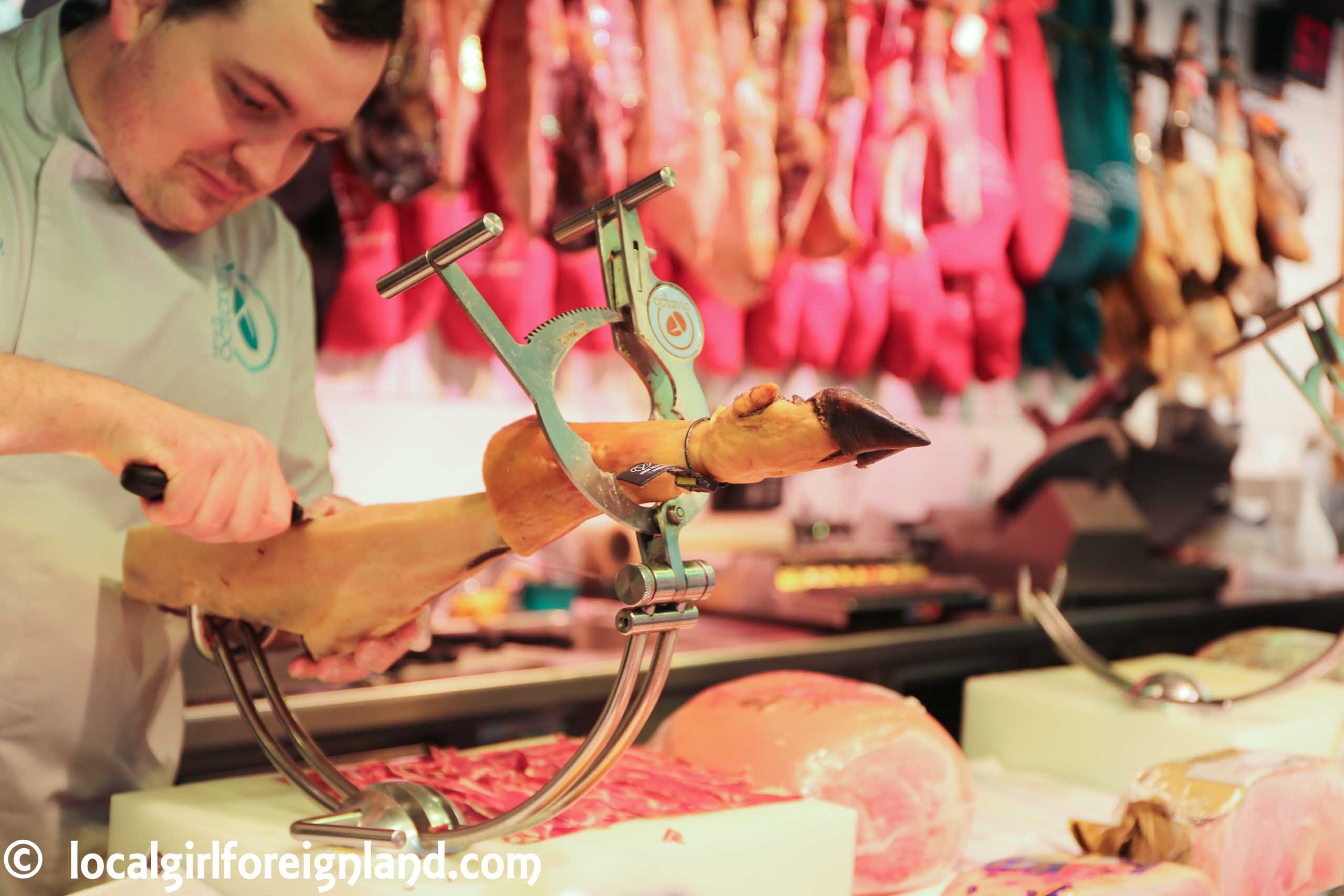 Ham, ham, ham, ham, ham. The Spanish hams are just sooooo yum. O btw, the reason for Spanish ham to be so popular is MEGA twisted wahaha. If you've read my inquisition tour post, you'd already know why 😉 I totally LOVED the experience of their charcuterie over there. So much thoughts into the process. Special knives, clips for the leg of ham, vacuum seal on the spot and just all sort of food excitement haha This type of all bells and whistles for ham is NOT considered a luxury. It is a standard practice :9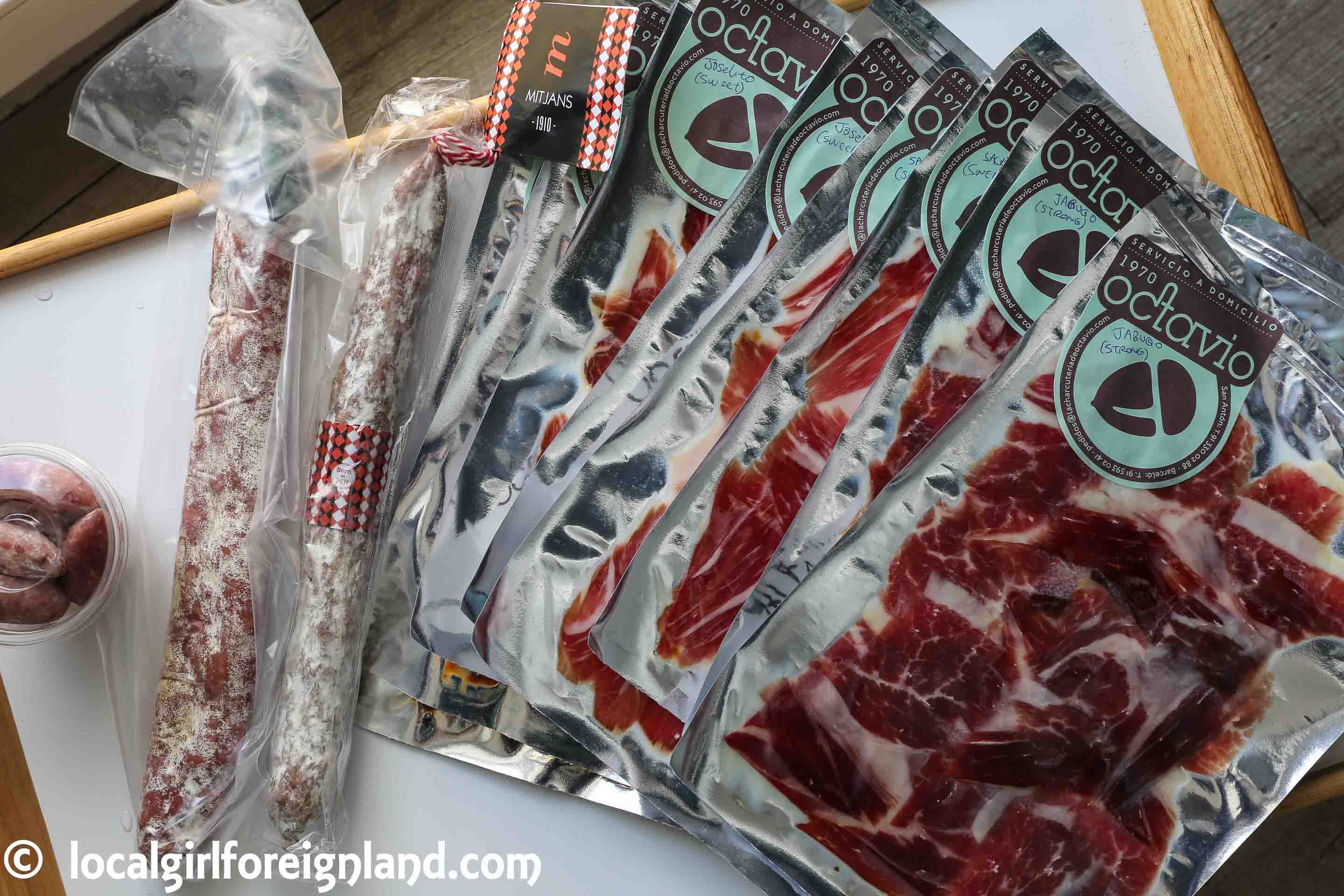 I went to Octavio in Chueca district with my friend. He's local, so he managed all the Spanish communications 😛 I am no connoisseur when it comes to ham, so I followed friend and bought everything that he recommended. BTW, My friend is the same guy I mentioned in the Oribu Gastrobar post. I went to other charcuteries in town as well; the set up are all quite similar.
Octavio was friendly and offered a ton of tasting LOL They're fully equipped to offer certificate for export. I don't need any cert, because I was only taking the meat back to France (EU zone). Non-EU visitors may need the papers for taking ham back home though. I had no idea that this was necessary for ham.
8. Churros & hot chocolate for breakfast
Okay, this is like sugar high starts early, but it's part of the Madrid experience 😉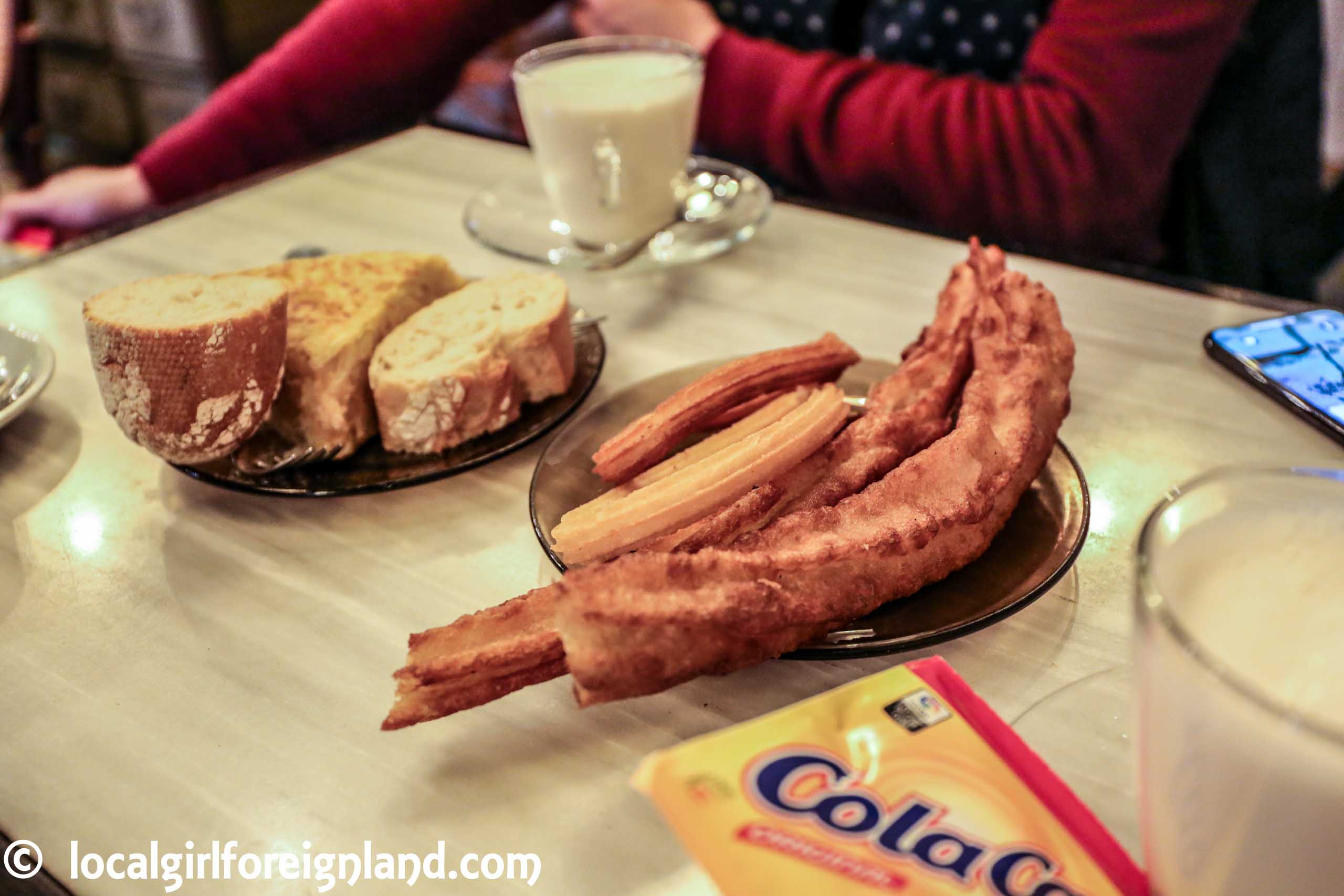 9. Cafe Pans (Pans & Company)
http://www.pansandcompany.com/en/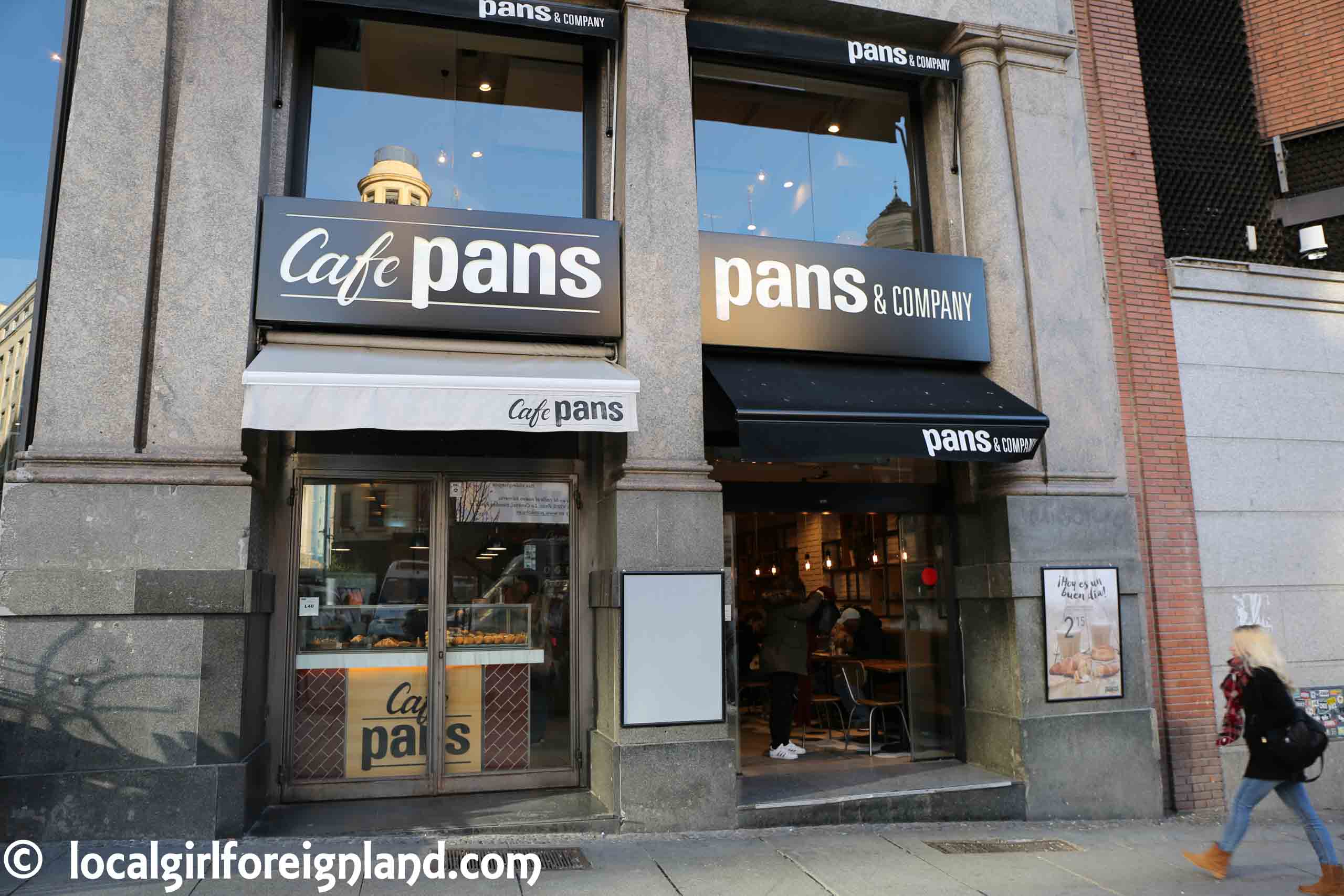 Cafe Pans (Pans & Company) is a local Spanish chain. I just really enjoyed their menu. Such great value for money! Where else am I supposed to find a 2 euro croissant stuffed with ham? They made my morning so happy haha.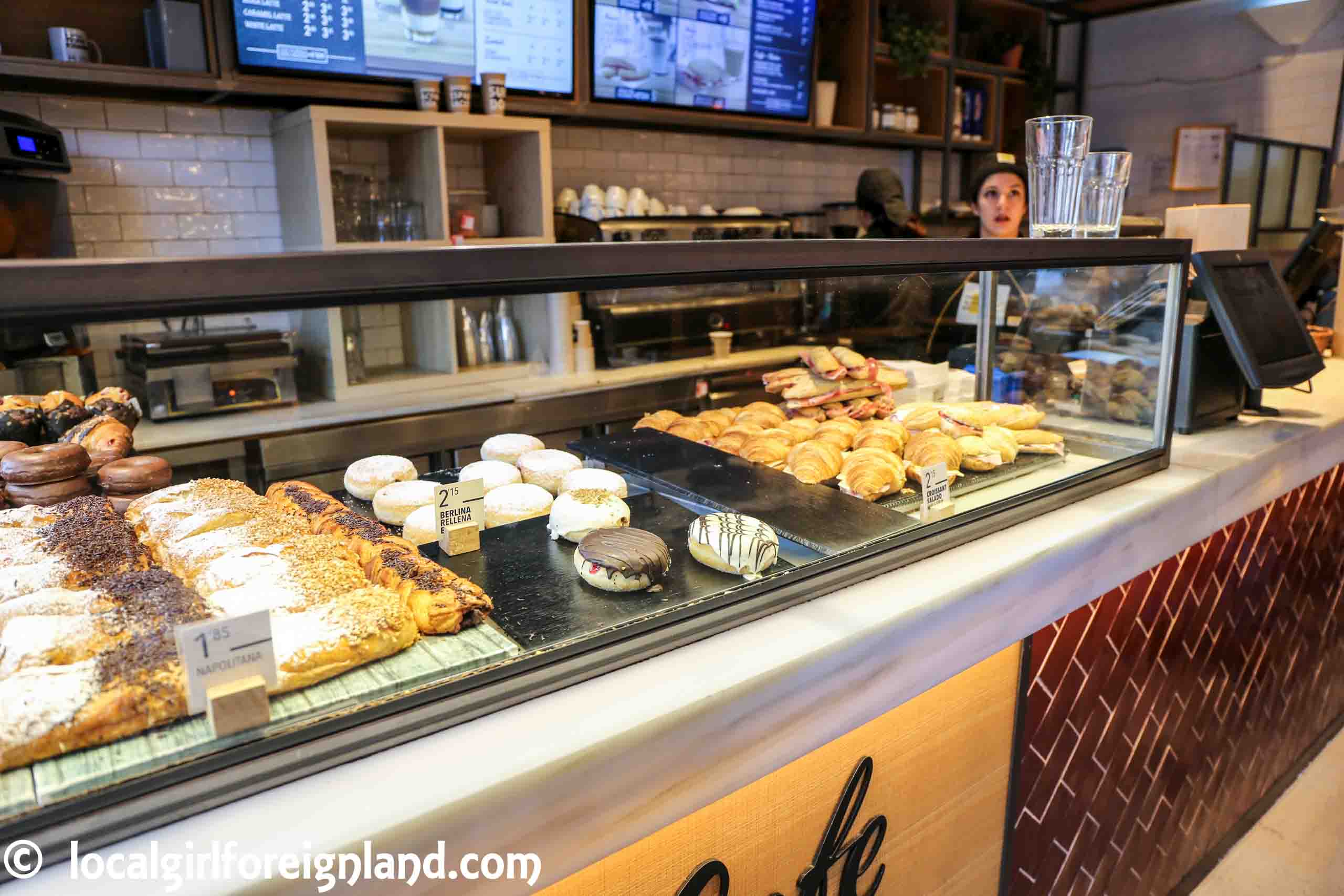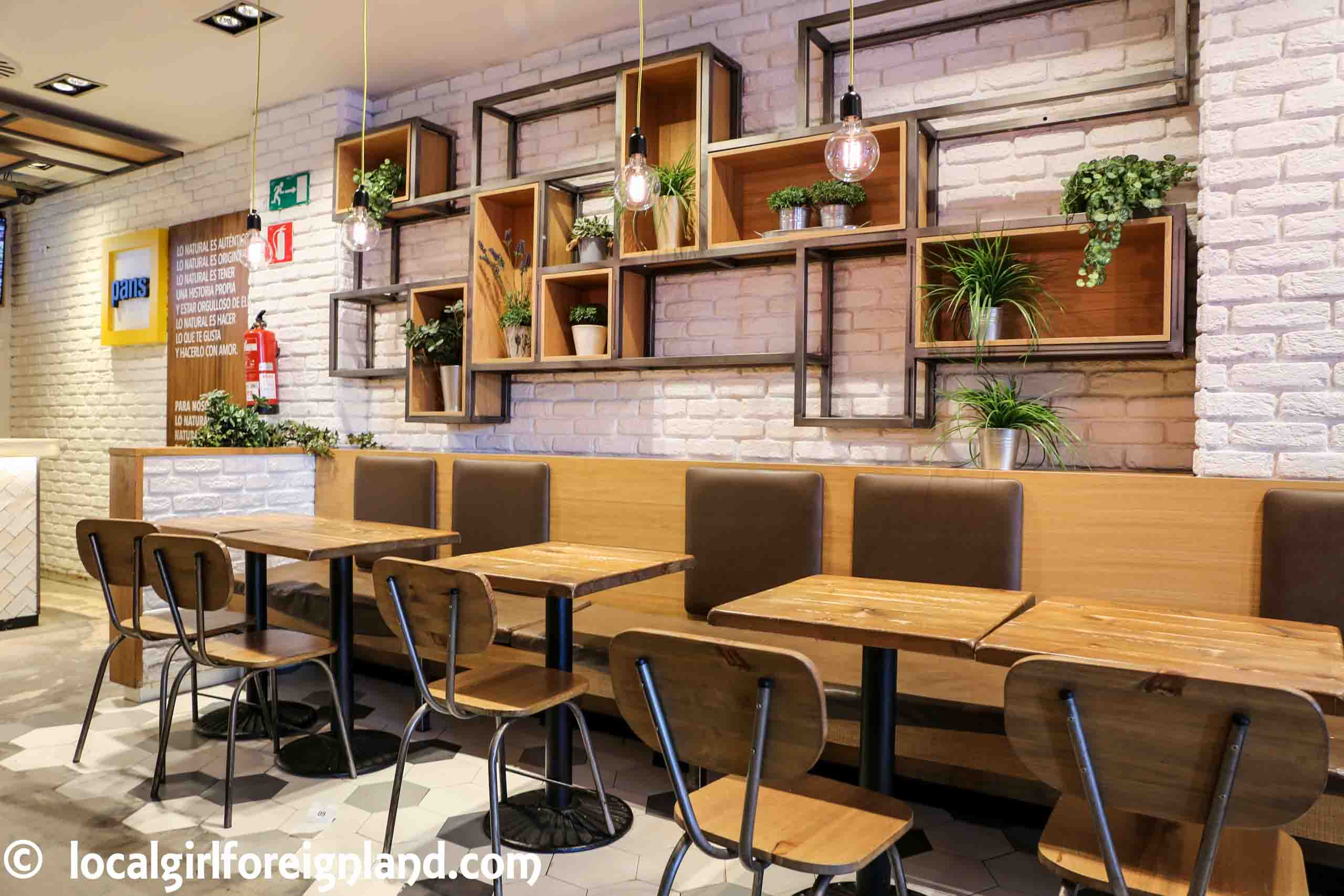 10. Random stores that I enjoyed
A) Ale Hop
Whole bunch of novelty goods at prices between Primark and H&M. Think cutesy products~~
B) Natura
https://www.naturaselection.com/en/stores
I guess this one is more of a lifestyle store? It has all sort of goodies and not necessarily related to nature completely. They have a private label clothing line, home goods, gadgets, books, souvenirs etc…
C) Local leather artisan stores
I did not jot down the addresses, but many can be found on/off the main street of Grand Via. Beautiful Spanish leather goods. Even if you're not in the market for getting some, they're lovely to see.