On my first night in Madrid, I went on the Spanish Inquisition Tour by Sandemans. What can I say? I am a sucker for walking tours. This is a daily tour available at 19h00 from Plaza Mayor. My tour guide was a lovely British girl, Lexi. The tour lasts about 3 hours and a walk around Opera, Callao and Santo Domingo. Please note that although it is advertised in the "free tour" pamphlet, this is NOT a free tour. This tour has a flat rate.
I arrived in Madrid later afternoon, 15h00-ish, after a 16 hours bus from Paris . So yes, I was slightly besides myself. But you know what, I was energetic and ready for tourism. In Madrid, everything started late anyways. Asap I dropped my luggage, I chatted with the receptionist to get some recommendations. He gave me a map and circled a few features that he'd recommend.
What was advertised?
One of things that was on the pamphlet was this Spanish Inquisition Tour. The key points on it states:
Origins of the Inquisition
The inquisition's jail
The possessed of St. Placido
Acts of Faith in Plaza Mayor
Witch covens… etc
I was sold! I am a junkie for those "dark past" tour sort of thing. All things positive sort of tourism gets boring after a while. So that was it! The day was young and I had a good 3.5 hours to kill, so I wandered off onto Gran Via and found the beautiful Palace of Communication (Cibeles Palace).
As this is quite a "dark history" sort of tour, I've decided to do this whole post in black and white 😛
Spanish Inquisition Tour, Sandemans
The meeting point was Plaza Mayor.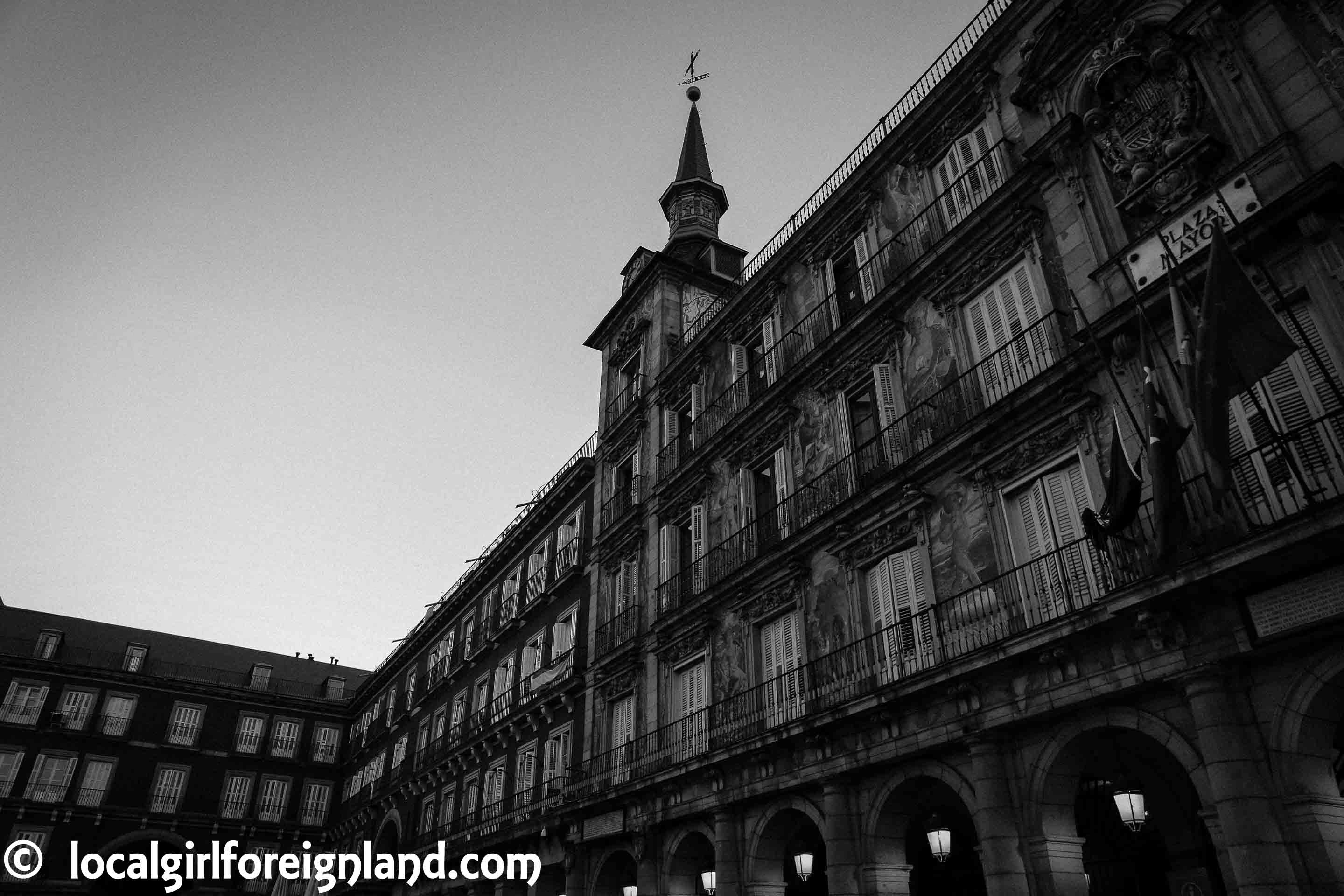 Interesting fact: No one is allowed to sell anything within the plaza. However, when you reach there, you'll find something like this.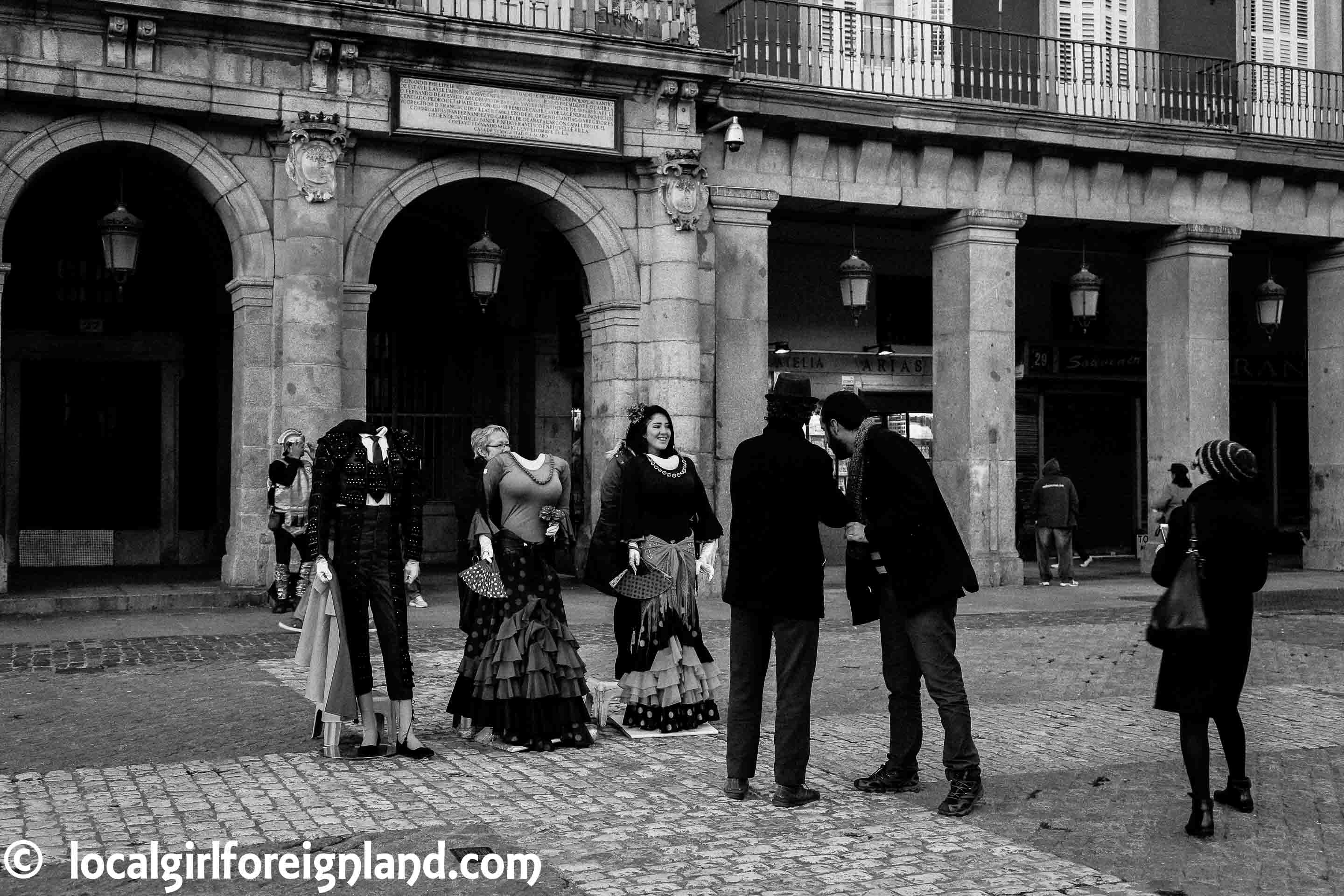 Plaza Mayor was clearly a popular start off point for tours. No worries though, they all wear something or use a large umbrella to differentiate themselves.
It was a Tuesday evening, and it turns out that most of the people there were for the Tapas experience tour. My group was only me and 2 other tourists. Lucky us 😀 It must have been because it was Tuesday. After the sunset, it got REALLY cold. It is visible in my photos… because I clearly trembled. haha~~ ops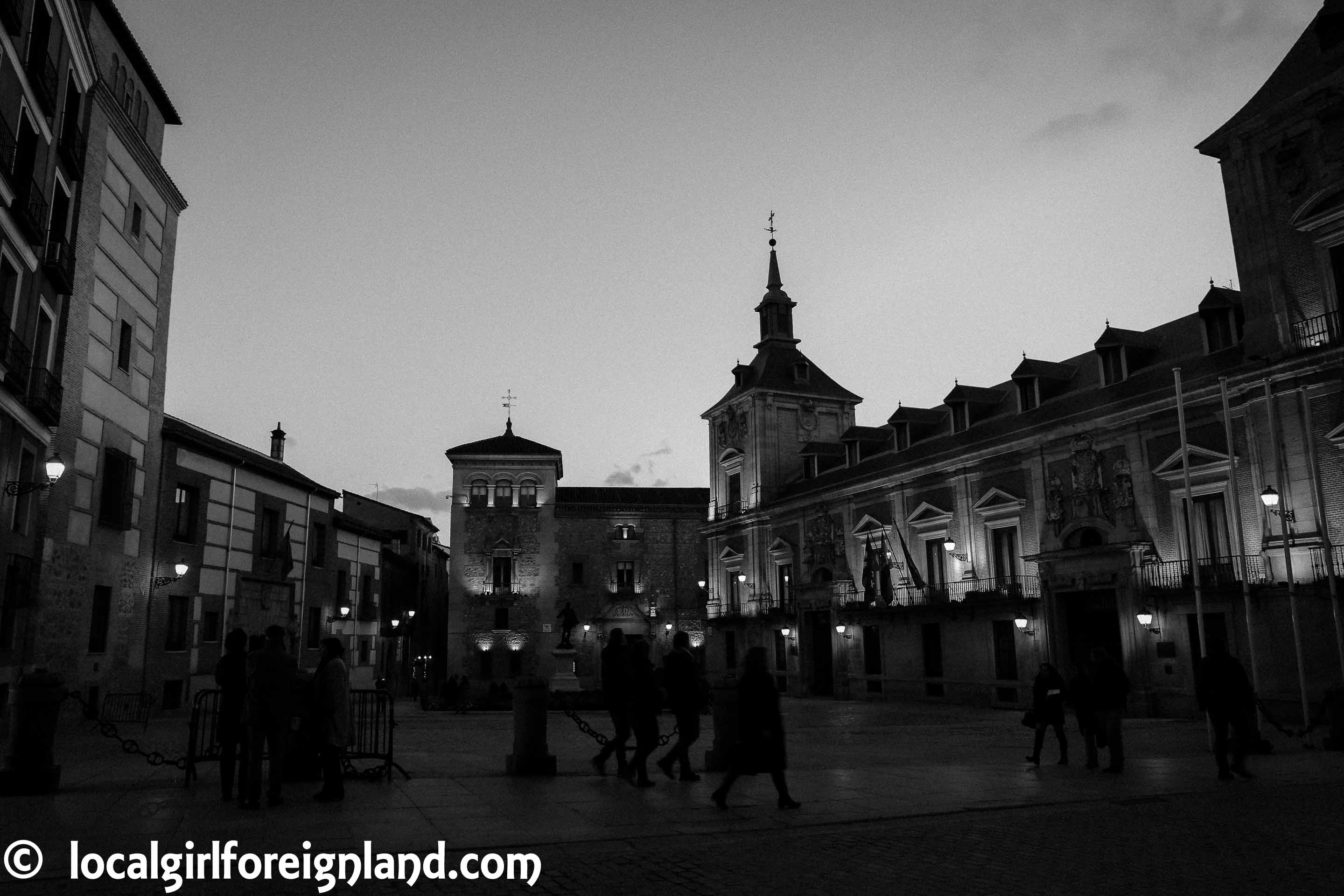 The walk was very pretty. The city looked so romantic in this lighting. It was such a nice way to "break in" for my first day in Madrid. Although admittedly, the stories of Inquisition was very dark and grim. The purpose of the inquisition was to rid Spain of all other religion that was not Catholic… so yes, things got pretty bad, pretty fast.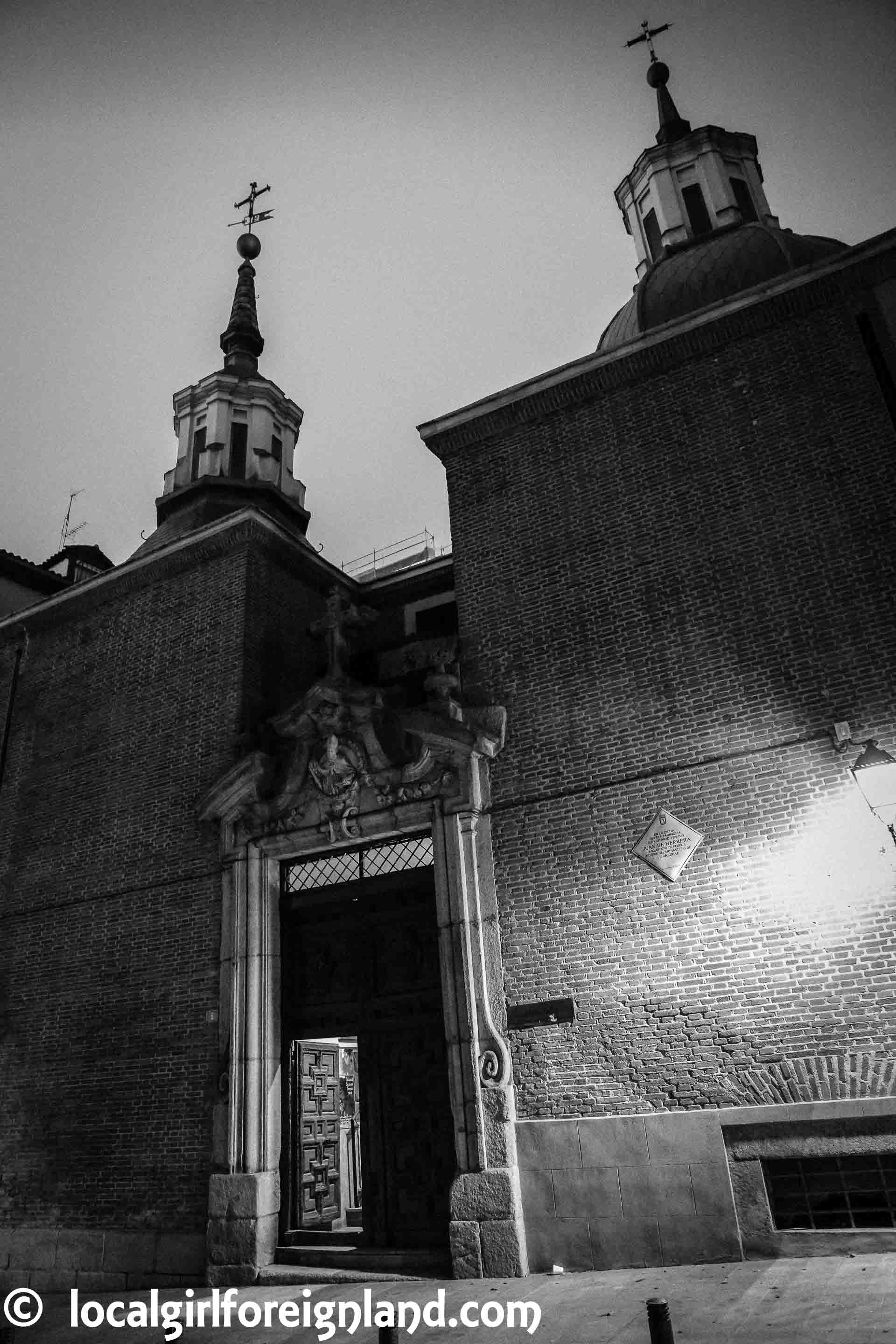 Cleansing Spain of all other religion was so important that they created tribunals and elaborate system. Literately the Inquisition converted kids, friends and neighbours into spies. People got rewarded for reporting back to the inquisition.
O, and when people did chose to stay and convert, the authorities registered the converts. It was apparently important for the authorities to know whether you're from many generations of Catholic or a "recent convert". It was systematic discrimination!
Plaza de la Encarnacion, Madrid (Spanish inquisition tour Madrid, Sandemans.)

Ever wonder why pork is so prominent in the Spanish diet? Both Jews and Muslims could not eat pork. Basically, what the authorities do was to set up lavish parties with a TON of food and boos. Informants then observed if there're people who did not eat pork (people certainly do not diet back then, hunger was a frequent issue). So guess what? People eat a lot of pork or place a leg of pork in front of their properties to show how Catholic they are. LOL After 300 years of religious prosecution, a culture was born.

Calle de Torija, inquisition confession house (torture house). Tribunal of Inquisition. (Spanish inquisition tour Madrid, Sandemans.)

Skipping the details, let's talk about some of the "unforgettable" from this tour. Thanks to Lexi's vivid description. Those torture devices were just way too creative. Lexi told stories of many, but I'll just tell one. It was an apple shaped device called Pear of anguish. This device has 4 "leaves" and a screw to control the expansion. How was it used? Oral / Anal / Vagina. [I will say no more] People don't normally die from this though. Honestly, if that happens, I think the person may want to die anyways.

There were a lot more riveting stories, but if I tell you all of it, it will spoil your fun, right? I loved this tour, so many fascinating (and horrific) stories.

**I have done some post-tour research. There are still a lot of academic debate around the total number of people that died in the hands of inquisition, conditions of the jails and duration of torture etc. This is mainly due to the fact that there were a lot propaganda circulating from neighbouring European countries at the time, ranging from press to plays (fiction). Hence much of "well known" facts about the Spanish acquisition are actually fictitious.

Lexi Hatfield was the mega informative guide. This girl knew so much history and a fantastic story teller. Spanish inquisition tour Madrid Sandemans

Recommendation

Where

Meeting point was Plaza Mayor, Madrid

The tour ended near Cuesta Santo Domingo

Duration

3 hours

Cost

EUR14 / regular

EUR12 / student

*please check official site, as the price may change from time of press

Camera: Canon 5D mark 3, Sony Z3+ (selfie)