It is another round of sunscreen (mostly) empties review! I use sunscreen everyday, even if I don't leave home. I use up 50ml every 4 to 6 weeks and empty around 9 to 13 facial sunscreens a year. I bought everything with my own money, hence I do try to finish the product even if it is horrible. However, if it is just WAY intolerable, I do give up and just throw it away.
I am 37, Asian, dehydrated combination skin with hyper pigmentation. For my complete skin profile, click here. I have included all my problems LOL.
Where did I buy?
For all French pharmacy brands, I always buy them at City Pharma. This is a brick and mortar store in Paris ; cheapest in town.
For Japanese brands, I usually ask my friends to bring them from Japan aka. purchase from Japanese pharmacy brick and mortar store.
For Korean brands, I buy from YesStyle. Please note that although I have bought from them 3 times, I feel that they're not that reliable because each time they gave me free samples that are expired. It alarms me that either they do that on purpose or there is an inventory control issue. Korean cosmetic are legally obliged to disclose expiry date on each product. It is easy to tell that those "freebies" are really just trash. Whenever possible, I normally avoid buying any cosmetics online. Yes, I am old school, I know.
Default product combination
Unless stated otherwise, the moisturiser that I refer to is Clinique moisture surge 72 hour auto-replenishing hydrator and foundation is MAC face and body foundation.
Prefer written version? Continue reading 😉
La Roche-Posay Anthelios anti-imperfections corrective gel-cream AIRLICIUM & salicylic acid spf 50+ UVA 50ml
Made in France, French pharmacy brand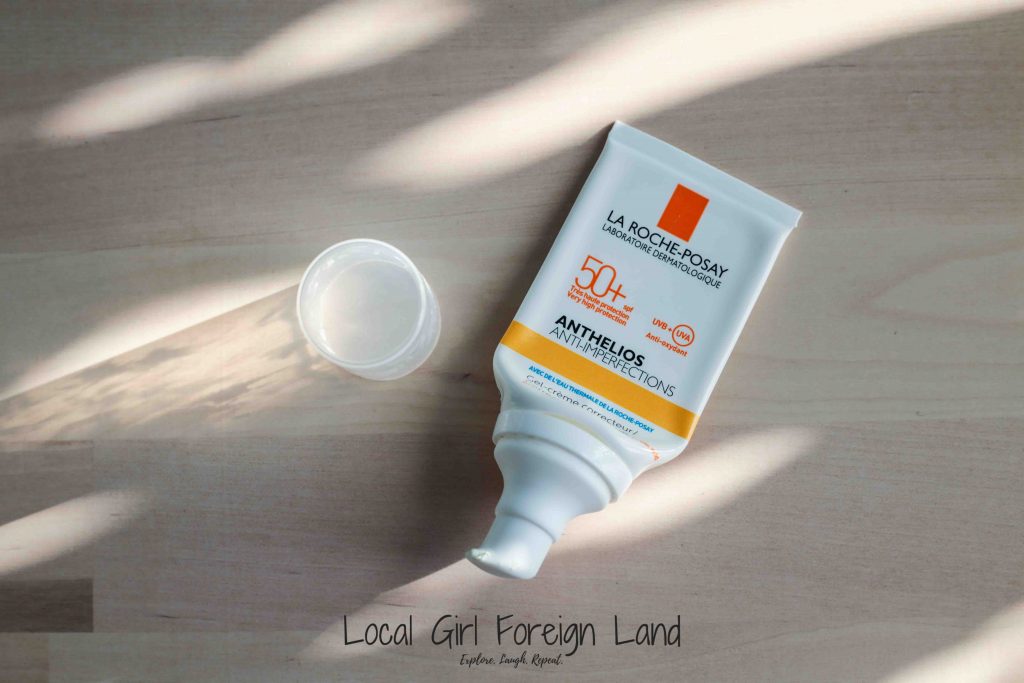 See how empty this sunscreen is? I squeezed everything out. I LOVED this stuff, but only for summer or early autumn. Here's why… it cleared my pimples, speed up the fading of my pimple scars AND helped with clearing up my blackheads. Enough said, right? Okay, WATCH out though, I got these great result because I used it directly onto my skin with no moisturiser. O and it is a solid, stay matte all day sort of sunscreen. LOVE.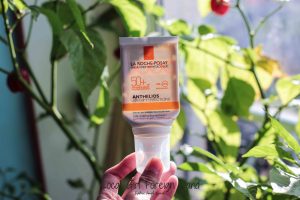 It settles down VERY quickly. It is best to rub in a small pump to each area of the face and not do the 2-3 pump application in one go. This gel-cream is kind of dry? Not drying, I mean dryish, as in it is difficult to rub into my skin. The texture is similar to La Roche-Posay Anthelios XL non-perfumed dry touch anti-shine gel-cream (see my previous empties review). It kind of drags when I worked it into my skin. It is hard to describe, it is better to see it on video.
The bad?
Mild white cast on my NC25 skin. It was tolerable. Probably will be invisible for anyone lighter than NC25.
Does not play nicely with my moisturiser. Whenever I use it together with my moisturiser, it pilled badly. In autumn, my skin goes into Sahara mode. Use it without a moisturiser is really not an option for me in autumn / winter season.
If I use it without moisturiser together with foundation, the pilling was mild and manageable, but it is still an irritation.
It pills badly with foundation. It is fine with concealer though. So basically if I do spot concealing only with no full face foundation it was okay.
Salicylic acid is a photosensitivity causing ingredient. It is a rather strange ingredient to have in a sunscreen (or day cream in general).
Okay, so my verdict is that on days that I don't wear a foundation and the weather is humid / warm, I ADORE this. However, I will stay away from this during autumn / winter months.
Repurchase? Yes (but for summer only)
Official site: https://www.laroche-posay.fr/produits-soins/anthelios/anthelios-anti-imperfections-gel-creme-spf50-p25634.aspx
Bioderma Photoderm Max spf 50+ Aquafluid 40ml
For sensitive skin, anti-shine texture, water resistant, fragrance free
Made in France, French pharmacy brand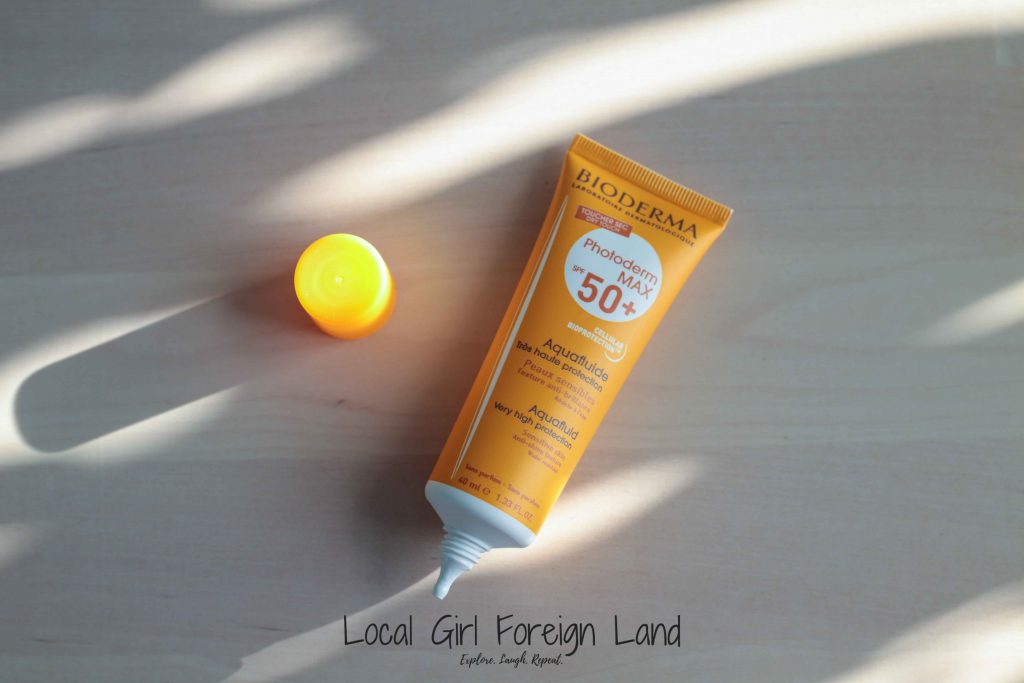 Very mild white cast even with my heavy 1.25ml+ usage. I can sort of see a cast under on a super bright day though. Anyways, it is SOOOOOO not anti-shine and not that dry to touch either. It isn't sticky, but I won't call it dry to touch. Not a complete oily mess either, but seriously, "anti-shine" and this product should not appeal together. It finishes into a sateen sheen? I don't know how to explain it. It played along okay with my moisturiser and didn't pill. In any case, it felt oily enough that I could use it alone without moisturiser early autumn in Paris.
With makeup, this thing was bad. I think it caused my makeup to deteriorate prematurely. I have SUFFERED through 1/2 the tube. It is a total struggle. I give up.
Clearly I struggle to finish this thing. The formula is on the watery side of things. No idea why they use this squeezy tube packaging. Clearly no squeezing was needed to get the product out. O and if I wear this to the gym, it stings my eyes. If I don't sweat like a dog, it was okay-ish. I get eye sting towards the end of the day no matter what do.
Repurchase? No ways.
I continue to have poor luck with Bioderma. sigh I am still a strong believer of their quality control and due diligence (mentioned in my previous review). Not sure if I'll buy any more of their creams to try though. I developed a rash with 2 (1 serum, 1 sunscreen) and dislike a 3rd. Anyways, will see.
Official site: https://www.bioderma.fr/fr/nos-produits/photoderm/max-aquafluide-spf-50
Etude House sunprise mild airy finish spf50+ PA+++ 55ml
Made in Korea, Korean brand (low price point)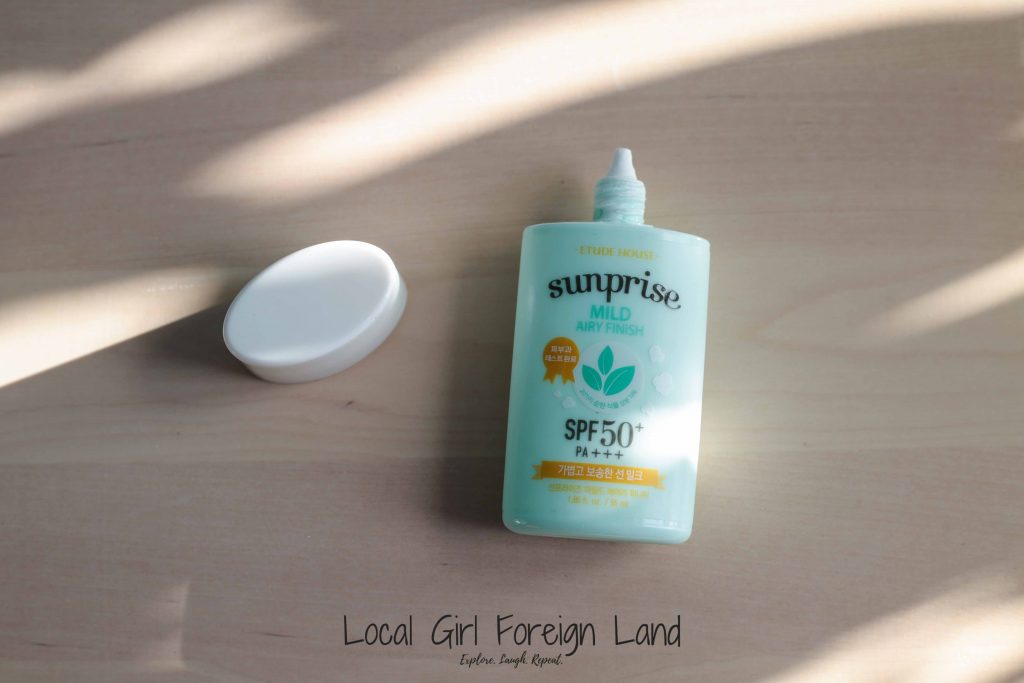 This is my 3rd one, I think. So yes, of course I like this stuff. Very, very mild cast. No sting. Works well with my moisturiser and foundation. Settle into a sheen finish. The packaging is well thought out, it has beads inside for "remixing" the formula. No leaking even for flight. It is a light fluid formula.
Hm… the bad? Probably some of the ingredients and how it deteriorates at the end of the day. Alcohol is the 4th ingredient and it does not state what type of alcohol it is. There are a whole bunch of natural fragrance ingredients as well (aka natural irritant).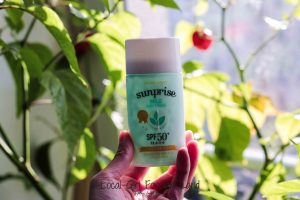 Nothing offensive and I can't smell the product within minutes after application. It is probably not for sensitive skin though. But then again, I have eczema-prone skin and I didn't react to this one.
There is something odd about this sunscreen. I feel that at the end of the day, it always accentuate my pores between my brows or some blackheads. There's something about this sunscreen that makes me suspect that it is the cause of my "clogged pores" look at the end of the day.
I like this enough to have finish a 3rd one, but it is not a formula that I run out and tell my friends to buy it sort of product.
Repurchase? Maybe. Not sure if I'll buy it for the 4th time.
For a second opinion on the Etude House sunprise mild airy finish sunscreen: Hoiyin also emptied one, check her review here 😉 support fellow blogueuse~~
Official site: https://www.etudehouse.com/int/en/index.php/skincare/suncare/sunprise-mild-airy-finish.html
Muji sunscreen spf 50+ PA++++ 30ml
Made in Japan, Japanese brand (low price point)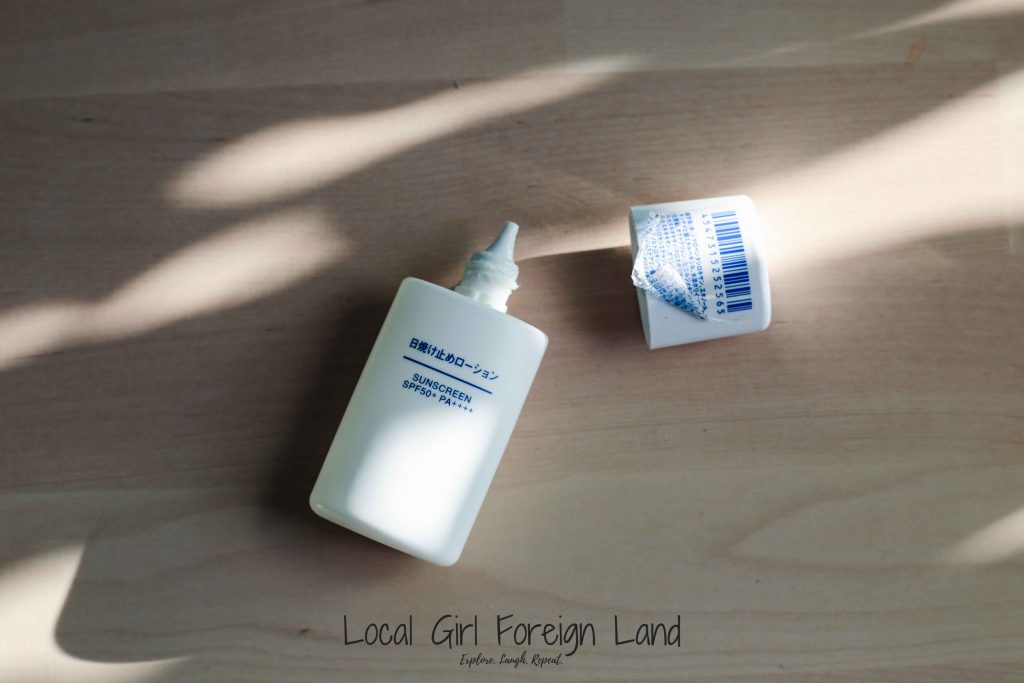 This is my 2nd empty. The first time that I bought this was because of Stashy's blog (she has retired from blogging though). She's quite literally my Canadian doppelganger.
I do like sunscreen quite a bit, especially on days that I wear makeup. It is the typical Japanese fluid texture formula. Settles down into a sheen. Quick setting. Not sticky at all. It wears better than the Etude House sunprise mild airy finish, because it doesn't oil up when it deteriorates at the end of the day. Minimal interference with my makeup wear time.
Although I can read Japanese, but I can't comprehend ingredients in Japanese, hence I don't have any comment on that. Making comment blind, I think there is no fragrance, but I can definitely smell alcohol upon application. It goes away very quickly though.
The packaging is great for travelling because it doesn't leak (flight test) and it is compact. It is a 30ml,
smaller than the other sunscreens in this list. Well, it is the perfect size for my 2 weeks trips. It does have the 2 bead inside as well. So worries about uneven texture at the end.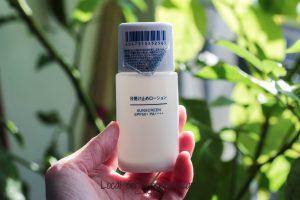 No white caste, work nicely with my moisturiser and foundation. If I sweat heavily, sometimes it stings my eyes. This is one of those surprisingly good product moment LOL because Muji is a well respected home goods, stationery brand in Japan. Who'd thought that their sunscreen is this good too?
Repurchase? Yes
Official site: https://www.muji.net/store/cmdty/detail/4547315252565?searchno=6&sectionCode=S107020118
La Roche-Posay Anthelios shaka fluide innovation invisible ultra-resistant spf50+ UVA 50ml
Made in France, French pharmacy brand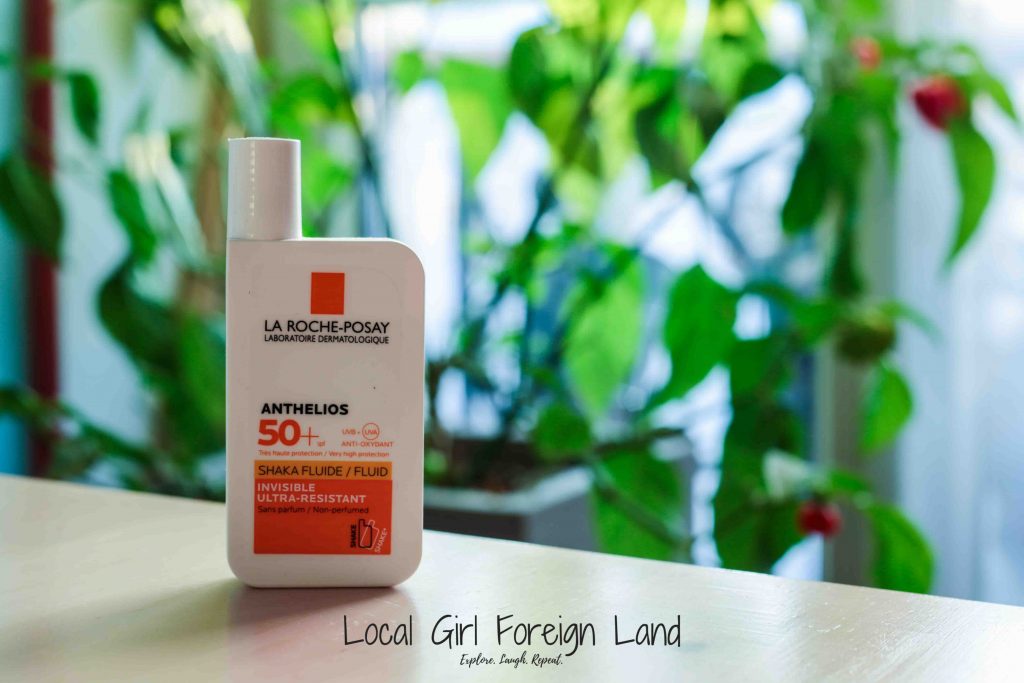 Do I have to talk about this one? I mentioned this diabolical product on my IG story before. It SUCKED. It's like water, no, it is water. This stuff drips off between my fingers and messed up my floor or sink every time I used it. O and the fragrance is that lingering type. I HATED this stuff. Plus, it stung my eyes after the 6 hours mark; crying sting. It is so shit that I actually stopped using it within the week. Don't want to ever have to deal with this stuff again.
Repurchase? HELL no. It is so bad that I didn't even want to pass it to my hubby.
Official site: https://www.laroche-posay.fr/produits-soins/anthelios/anthelios-shaka-fluide-spf-50-sans-parfum-p25477.aspx
So that's it for this round of sunscreen empties 😀 For more sunscreen empties review from me, click here.
Have you tried any of these before? Any sunscreen that you recommend?