How to look local Parisian with ease. I have summarised it all in 7 simple steps 😉 I have lived in Paris for 2 years now and these are my observations. Some of it may sound a bit surreal LOL anyways, it is my opinion. Within the post, I tried to add some small French brands for reference. These brands are really small and probably do not ship outside of France / EU. I thought local indie brands may add a nice touch to this post.
1 No large handbag
Get yourself a small to medium size cross body bag. The handbag should never be large enough to fit everything. So that's where you get yourself a cotton tote bag or a Longchamp pliage nylon bag. The name of the game is, have multiple bags at the same time. Have a small cross body and a tote. Forget about practical handbags that can fit everything. Practicality of a large bag is not an option 😛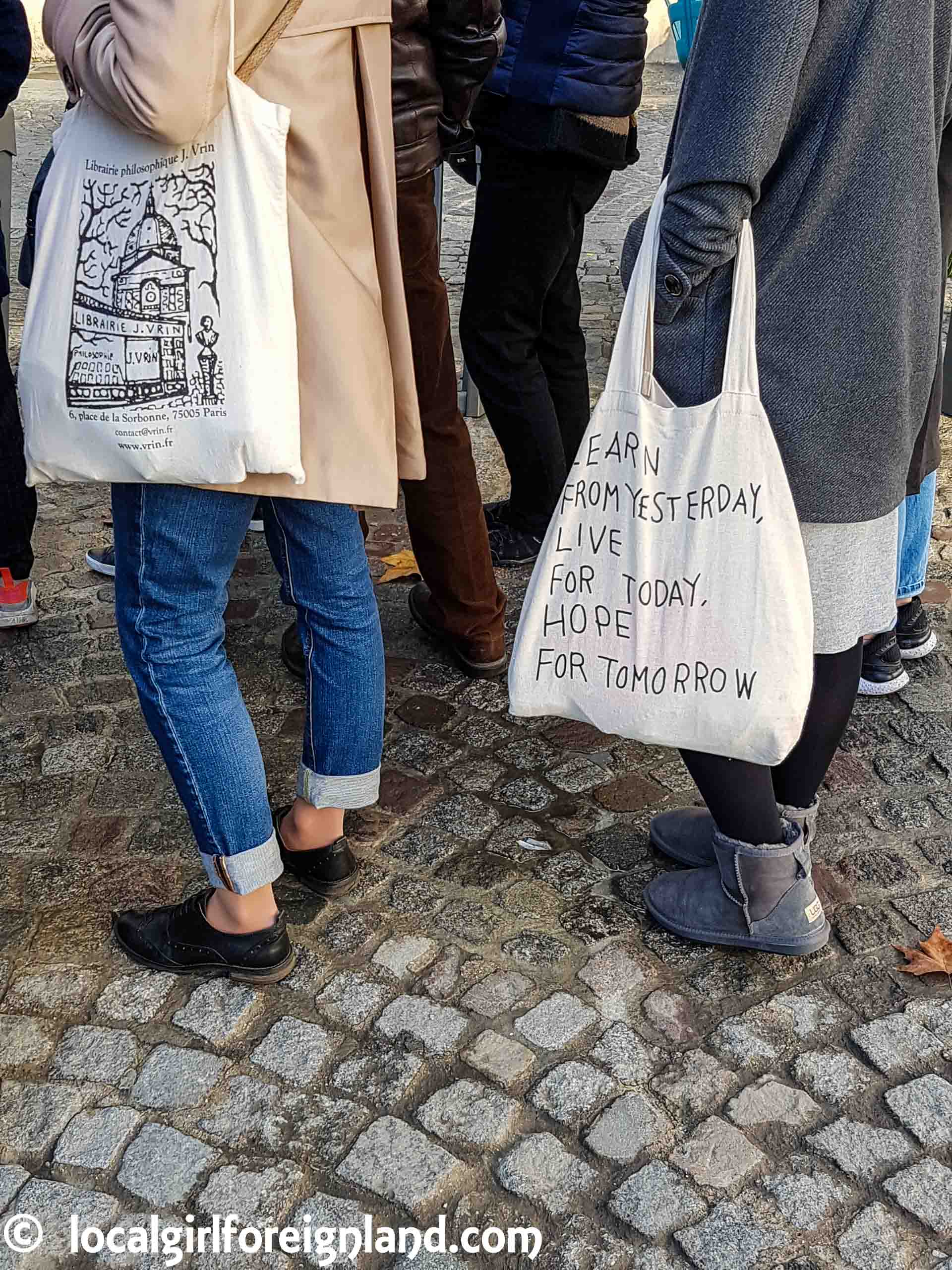 2 Longchamp Pliage nylon bag
It is difficult to find a Parisian home without at least one of these. They're inexpensive and one of the best known tote bag out there. The Longchamp pliage line does have foldable backpacks, expandable travel bag etc. To say that they're are popular here is an understatement.
If you're not in a hurry to get the latest colour, they do have an outlet store in Val d'Europe (La vallée village, approximately 1h15 outside of Paris accessible by train). The outlet stocks colours from the previous seasons. It is unlikely to find black or marine blue pliage nylon bag in the Longchamp outlet. In the outlet, you'll save around 30~50%.
The most popular Longchamp pliage nylon (women) in Paris are**:
Sac porté main M ==> short handle
Sac shopping S ==> long handle shoulder bag
Sac shopping L ==> long handle shoulder bag
**Please note this list is derived from my personal observation over the last 2 years. I do not have the official statistics from Longchamp.
You don't need a photo of this bag to know what I'm talking about, right? By the way, it is possible to get a custom made Pliage Nylon with embroidery and / or embossing. I don't know if this is possible overseas, but in France, yes you can 😀
3 Neutral / muted colours or black
How to dress like a Parisian is not actually that difficult. Starting from the colour scheme. Basically, if the colour of the outfit looks suitable for going to a funeral, you'll blend in pretty well for any occasion.
Colours:
Black (carbon)
Dark grey (charcoal)
Light grey (or melange)
Khaki green
Navy / marine blue
White / ecru **summer only
Acceptable "bold colours":
Bordeaux / wine / neutral red
Powder pink *summer only
Light blue *summer only
Mossy / forest green
Light grass / mint green *summer only
Camel / caramel
Bottom line is: Think funeral colours and you can't go wrong.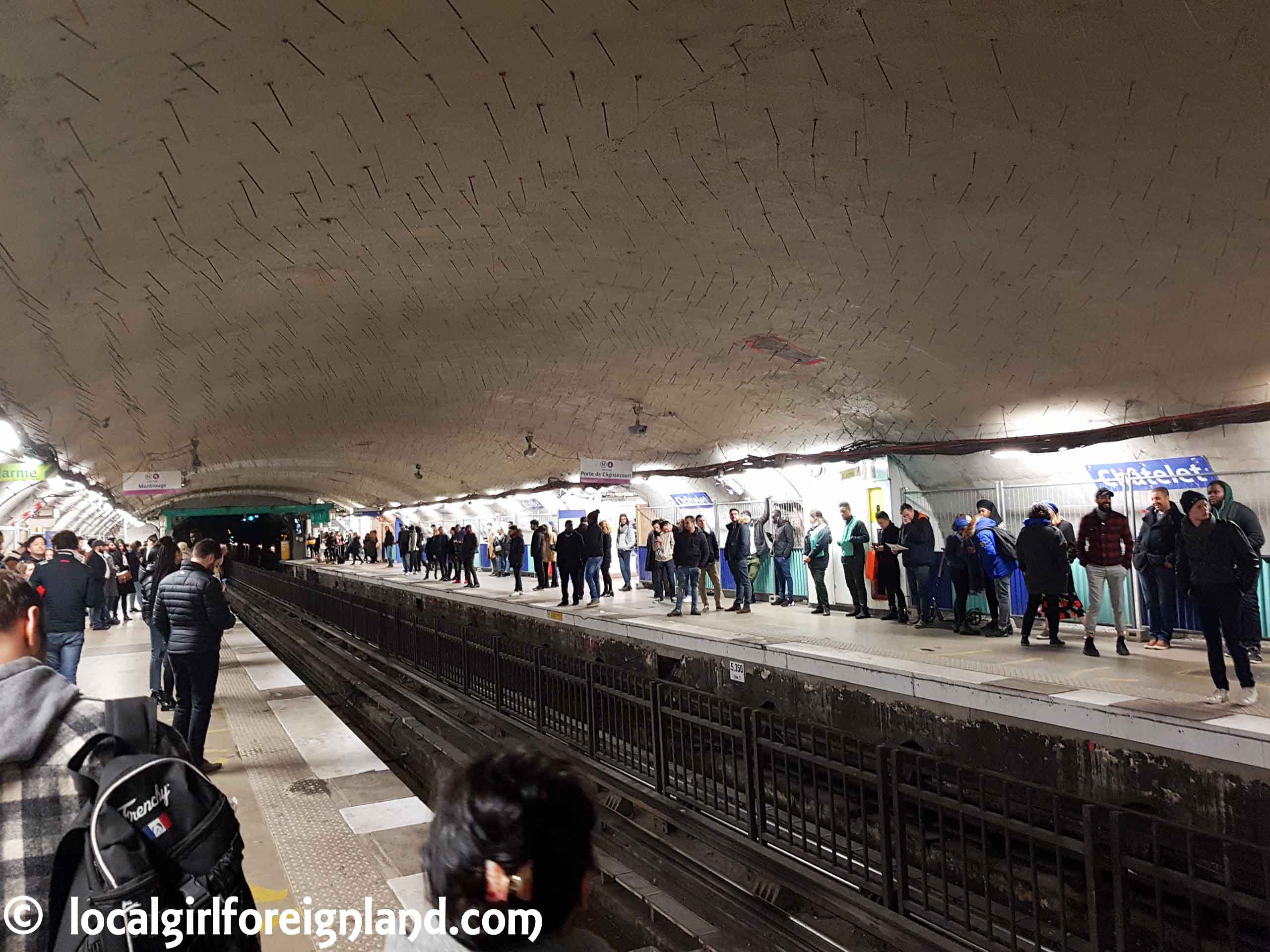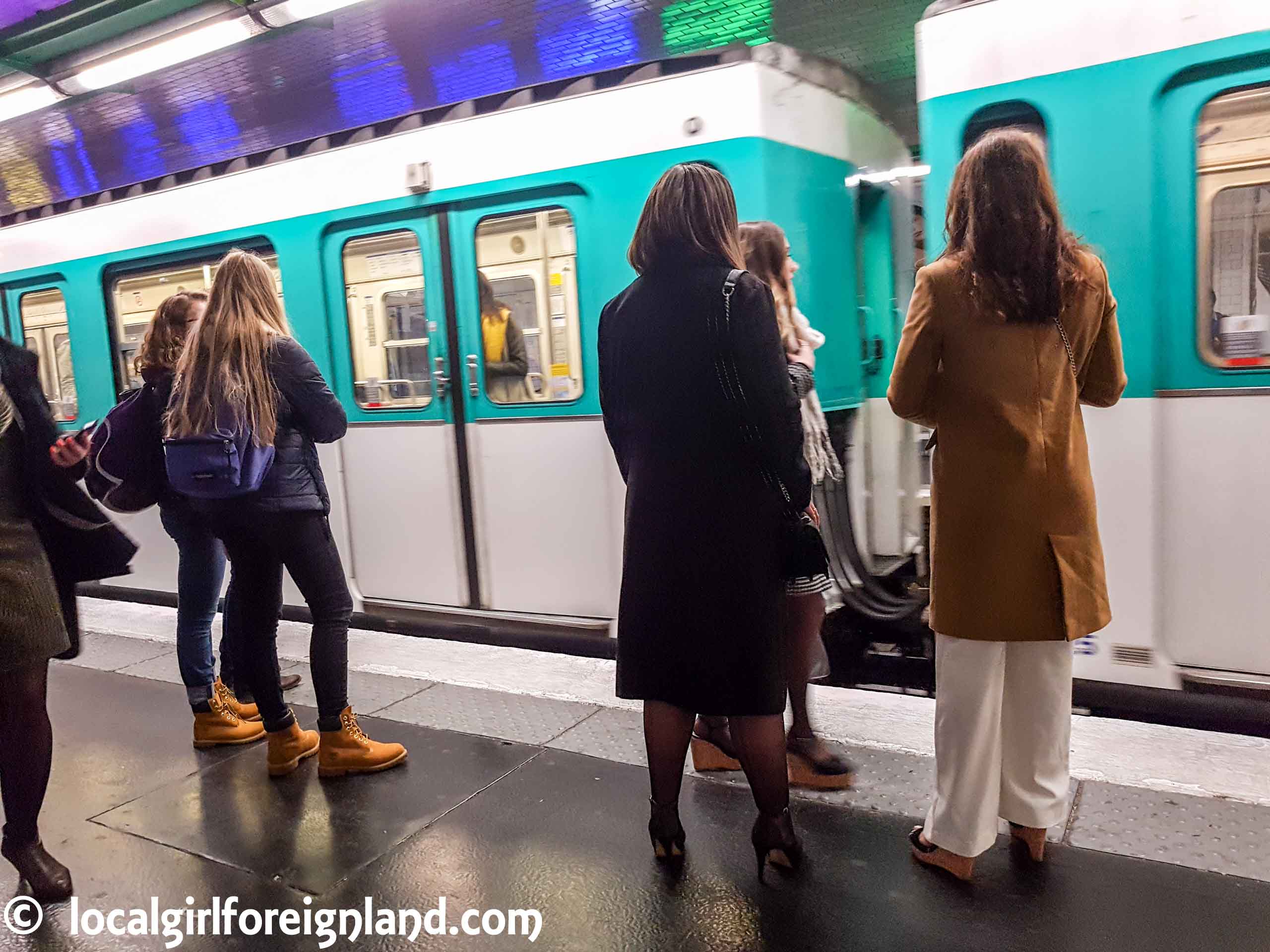 4 Classic outfit & wardrobe staples
4.1 Jeans + biker style leather jacket
Pair any shape jeans with a biker style leather jacket. It is important that the leather jacket is a biker style.
4.2 Brittany stripes
Duo tone stripes (aka classic Brittany look) tops, sweater, pull over or dress.
4.3 Linen anything
French are obsessed with linen for a LONG time, thanks to King Louis 16eme. Especially during summer. Linen shirt, knitwear, skirt, shorts, dress… linen all over will instantly make you look local during summer. It is hard to describe what sort of prints are local looking, but if you go for solid colour, it is difficult to go wrong. Light / pastel / power blue or just white is likely the most common colour spotted during summer.
4.4 Silk scarf (rectangle) or foulard (square)
This is almost the only way to brighten up the outfit and still look local. Sounds like a cliche, but this one is pretty true. This is probably the most common accessories spotted on the streets of Paris.
No need to break the bank when it comes to silk scarf. It is such a common item to have that it is even available in supermarkets LOL e.g. Monoprix sells 100% silk scarf started from 19eur a piece!
4.5 Tiny / delicate jewellery
Low on bling; less shiny bits is more. Smaller or delicate looking earrings and necklaces in general.
I do often spot quite a lot chunky zero bling, all metal heavy chain like necklaces and HUGE brooches as well. Usually worn by 60+ women though. The older Parisian women are just so perfectly put together, it will take me a life time to try and pull off their outfit. It appears the minimalist jewellery rule is only applicable to under 60s? The 60+ over here are mostly into bold fashion statement piece.
4.6 Shoes
Wear anything paired with white flat sneakers
I do mean any outfit. It is not uncommon to see people with a fancy dress paired with white sneakers. The white sneaker craze is an all season staple in Paris.
Converse white canvas low top all star classic
Adidas neo / advantage white – it is their essential range that is the most common
Ballerina
Well, everyone here probably owns a pair of Repetto cendrillon (195 eur per Repetto's official site) or something that look very similar. This cendrillon style has been around since 1947, it is here to stay. *Repetto is obviously not a small brand, but it is a local favourite that I have to mention.

T-bar high heels
This has to be a local's favourite for heels 5cm+.? I see this around the métro way more often than court shoes.
Oxford / Derby shoes
Another favourite is the laced up flat / under 4cm in height, wide heel leather in black/brown.
Basic, clean ankle boot
Pointy toe, flat / lower than 5cm heel short boot in black
Basically if you have these 5 pair of shoes in your wardrobe, you're set to look local.
Guess where these 2 are from? Spotted in the métro. Some cliches are really true 😂🤣 #style pic.twitter.com/Tsxeb3UOsS

— Joyce Belfort (@JoyceBelfort) November 19, 2018
5 Minimal eye makeup, basic lip colours
No falsies. No cut crease.
Smudged eyeliner + mascara is the most common eye makeup do over here. If it is a night out, maybe some eyeshadow, but nothing Nikkie Tutorial looking. Again, no cut crease.
When it comes to lipstick colours and textures: natural colour (your lips but better) or classic/grudge red in cream/satin/matte, It is quite rare to spot glossy / metallic actions over here.
6 Messy hair don't care
If there is not a single hair out of place, it will look tourist. The trick is to have a bit of mess in the hairdo. So basically, you work your hair into perfection and then mess up a few strands.  It needs to look effortless.
Or if you have curly hair like me, wash and go is pretty much the way to go. If the frizz spell is on, put product in most part of the hair and air dry. Keep a few strand frizzy to look natural 😉
7 Smile as little as possible
Think Victoria Beckham. Stone face and no smile is the way to go. It sounds ridiculous, but complaining is a key part of being a Parisian. It can be anything from the weather to your coffee being too hot. Basically, if you look happy, you look tourist. So try to stick to a straight expressionless face. Being friendly and approachable is also not Parisian 😛
That's it from me. What's your take on the Parisian look?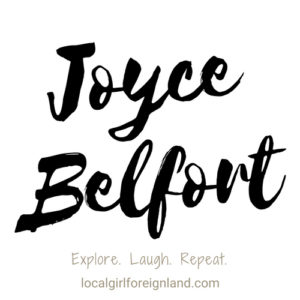 Twitter / Instagram / Facebook / Google+
Zero affiliated link. Trying to spread some love for small French businesses.