I want to share this because the stadium over here is WAY different from back home. Not allowed to bring a whole bunch of things. Here's my findings from my visit to Stade de France.
Arrive at least 20min early. There's 2 rounds of security checks. Once at the outer gate where there's people checking my bag and jackets (with scanners). It's like airport style scanning that was happening, just not removal of shoes.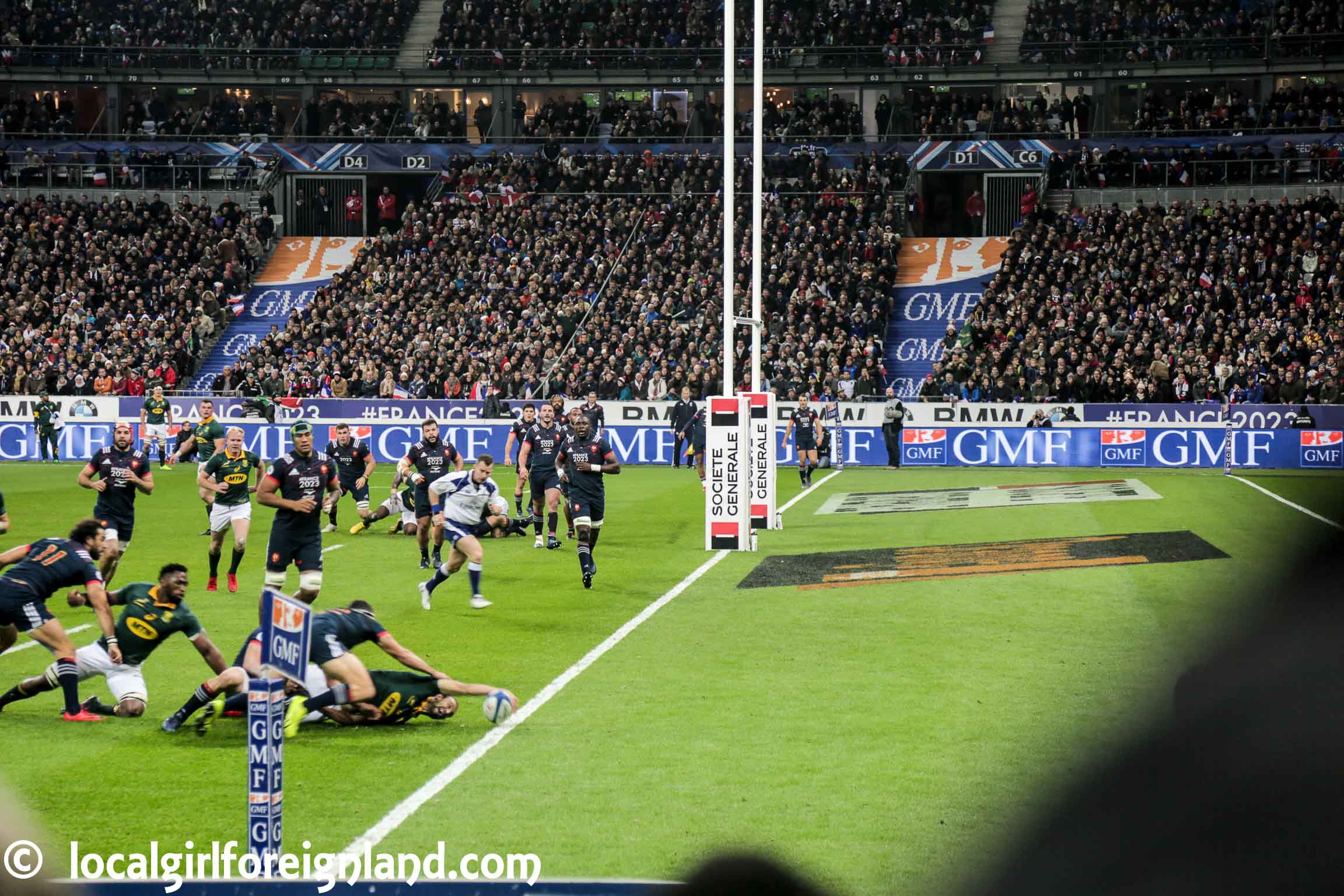 Second round is after I check in with my ticket. This one is psychotic… Let me share what I found out.
Water bottle caps were considered security risk (?!?!?!?!). The security unscrewed and threw away my cap without asking for permission. Thanks, my bottled water without cap was just super convenient.
Camera lens was apparently a security risk. The lady at security needed to ask her manager to give me clearance. What am I supposed to do with my camera lens? Hit somebody with it? These people have way too much imagination.
No vuvuzela for sure. Do not bring them. They'll get confiscated. Why? The French thinks that vuvuzela is a security risk too; it's a potential weapon sort of risk. This has to be a first world country problem.
Full hand bag search. Item was removed from my bag one by one. Either I look super suspicious or they're just very thorough.
Groupie cheer leading was frown upon. We had 2-3 rows of South African sitting together. One of us got in front to coordinate shosholoza, apparently, that was a security problem. So our cheerleader got ESCORTED back to his seat. It's just singing. I swear French security has strange phobias.
Okay, the point is… don't bring anything fun 😛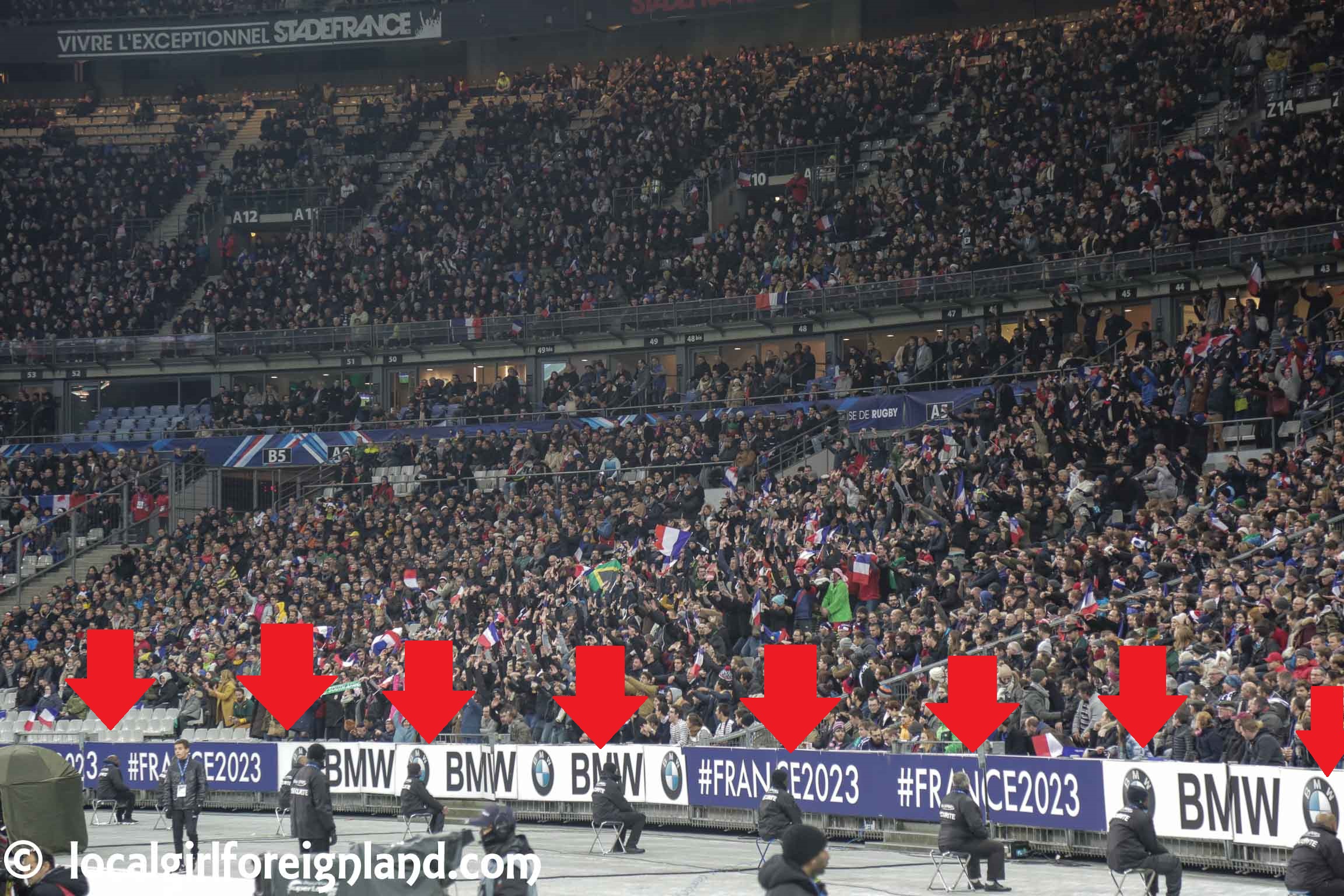 There were police with semi-automatic guns visible every 300m or so. Heavy duty watch, a big effort from the government. Not sure if I feel more or less safe though. However, the French police uniforms are very sexy and designer looking 😉 Brownie point. Okay, I am too chicken to take photos of the police. Use your imagination 😛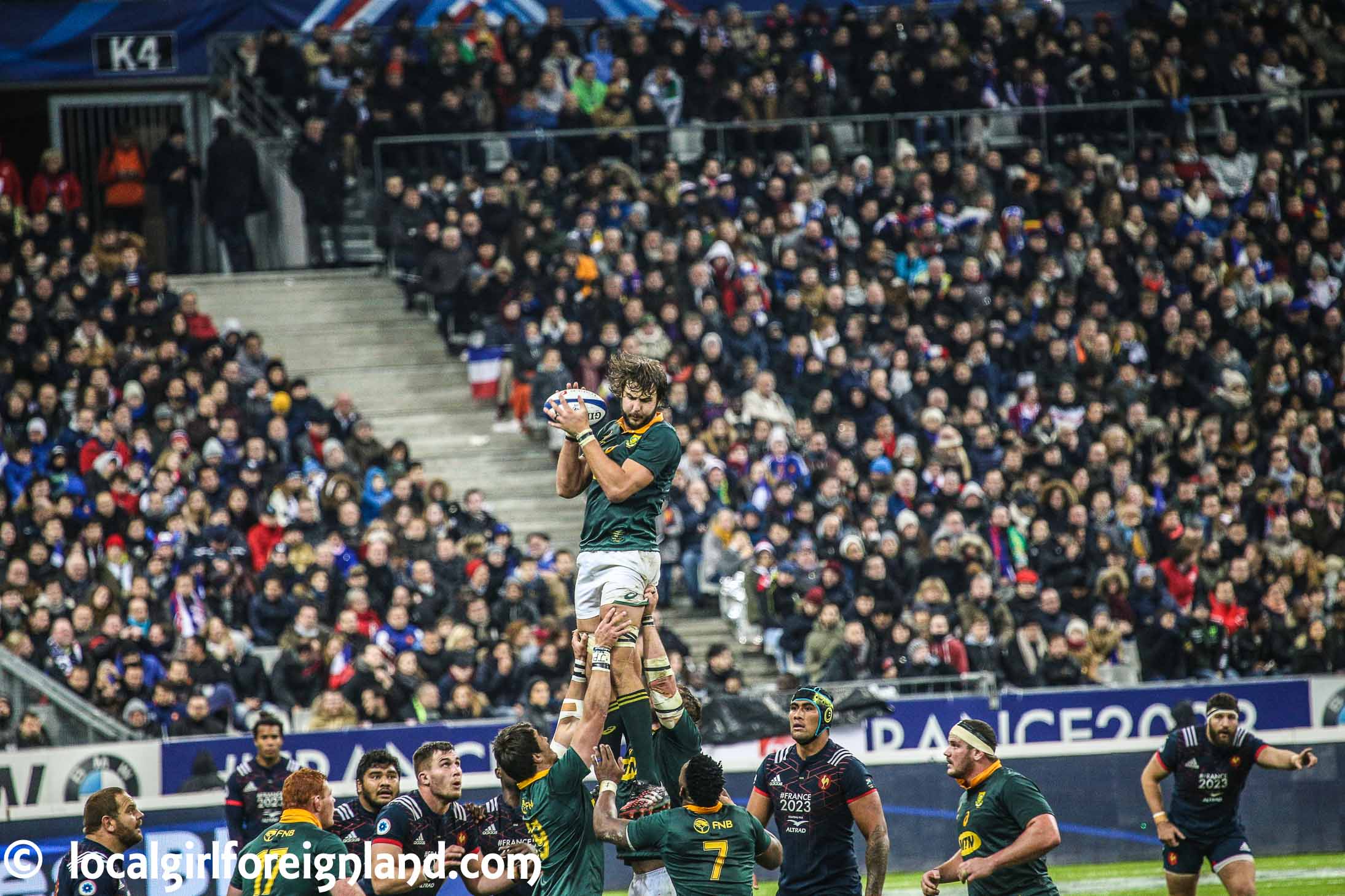 The fun part? At this rugby match it was France vs South Africa. The crowd was impressive. The stadium was 90% full. I have never seen the French being this loud before (still very tamed compare to South Africans back home). The French national anthem was booming! It was such an amazing atmosphere. The only non-anthem singing in the stadium was from us South Africans LOL. The French had a full house band playing almost the whole time. Very cultured for this type of event. Trust the French for this polished touch 😉
I don't own this photo. Credit per watermark. I feel uncomfortable photographing fans without permission, so this pic will have to make do. I am serious, French fans wore rooster hats.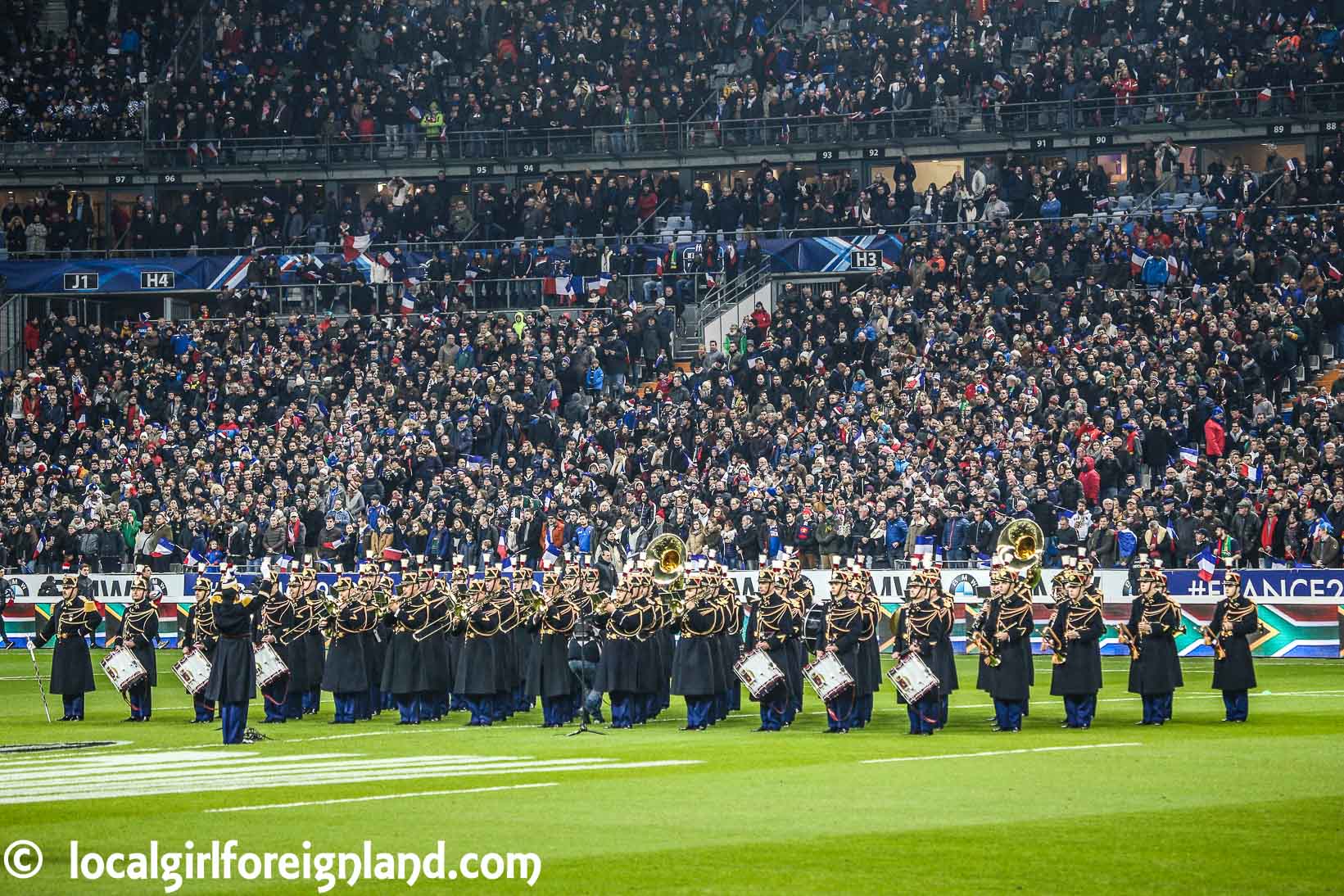 Their cheerleaders during the break was fully clothed. No flesh showing at all. There was no mascot parade either. It was just straight live band playing and a few "kiss cam" action going off.
BUT!!! French stadium is full of FOOD!!!! There was crepes, hot dogs, waffles, burgers etc seriously, the menu at the stadium was VERY impressive. Truly deserving of being the food capital. I mean, come on, this is just a sport event and there's so many food choices.
Anyhow, have you been to any sport event in France? What have you spotted that's different from home?
France vs South Africa #rugby #springboks pic.twitter.com/z9cGrMdE8J

— Joyce Belfort (@JoyceBelfort) November 18, 2017

Bloglovin' / Google+ / Twitter / Instagram / Facebook / Pinterest
P.S. fan girl moment…