Done with Guérande's salt mash? Visit Guérande's old town, it is a classified Historical Monument since 2004. It is 80km from Nantes. The entire old town is inside a fortified 1434m stone wall, with 4 gates and surrounded by a moat. It is a full house medieval visit with real medieval buildings. It isn't a replica, it is one of those Easter Bunny where the whole rampart was actually preserved and survived the test of times. These walls were completed in 1488.
Each gate has its own name:
Eastern gate – St Michel
Southern gate – Saillé
Western gate – Bizienne
Northern gate – Vannetaise
In Breton (Brittany's language): Guérande was called Gwenrann, literally "white land", mainly because of the salt mashes mentioned in my previous post.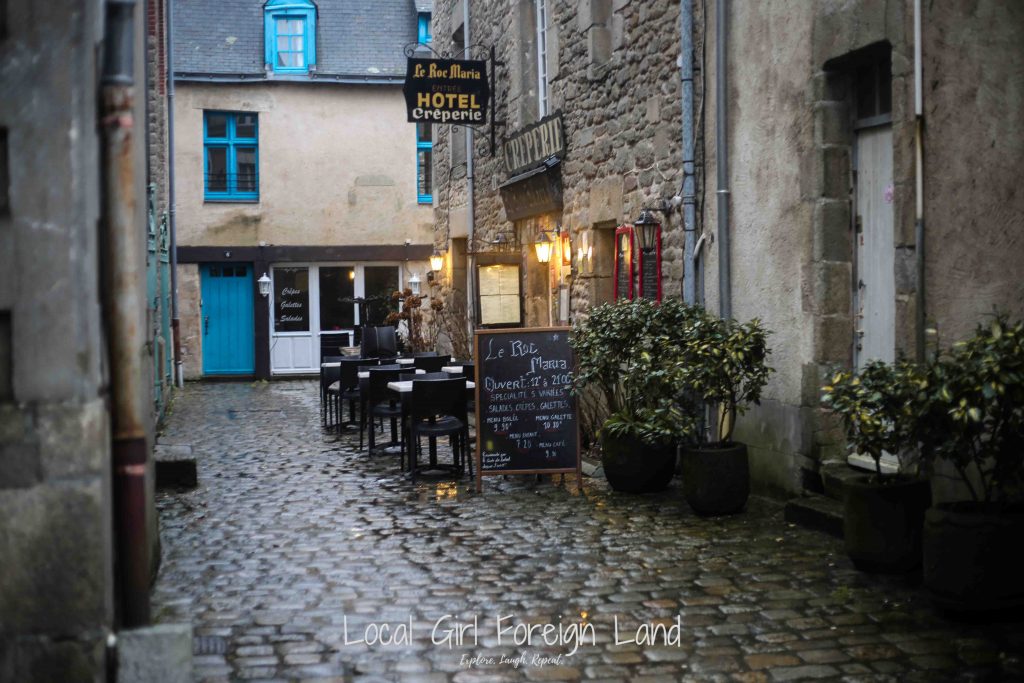 Lots of little old school artisan shops – huge variety of salt and salt related goodies, art gallery, knitting goods etc… Many goods are handmade locally! Watch out for the "Fabrique à Guérande" tags 😉
For instance, this calligraphist's store is one of my favourite boutique. How beautiful is this? This desk isn't a decoration, he actually uses it to write. Everything in that store was written by him. Nothing beats some hardcore dip ink action 😉
Of course, there's no complete medieval experience without a church. One of the town's highlight. Saint-Aubin collegiate church was built in the 14th century. The strange looking colour is because it was made from limestone and granite; all natural and no paint. This church was dedicated to St Aubin, who was a Bishop from Angers. No idea why they build Guérande's church for this guy though. Plus, he wasn't even a recent saint at the time it was built. St Aubin was a bishop from the 6th century. Talk about randomness?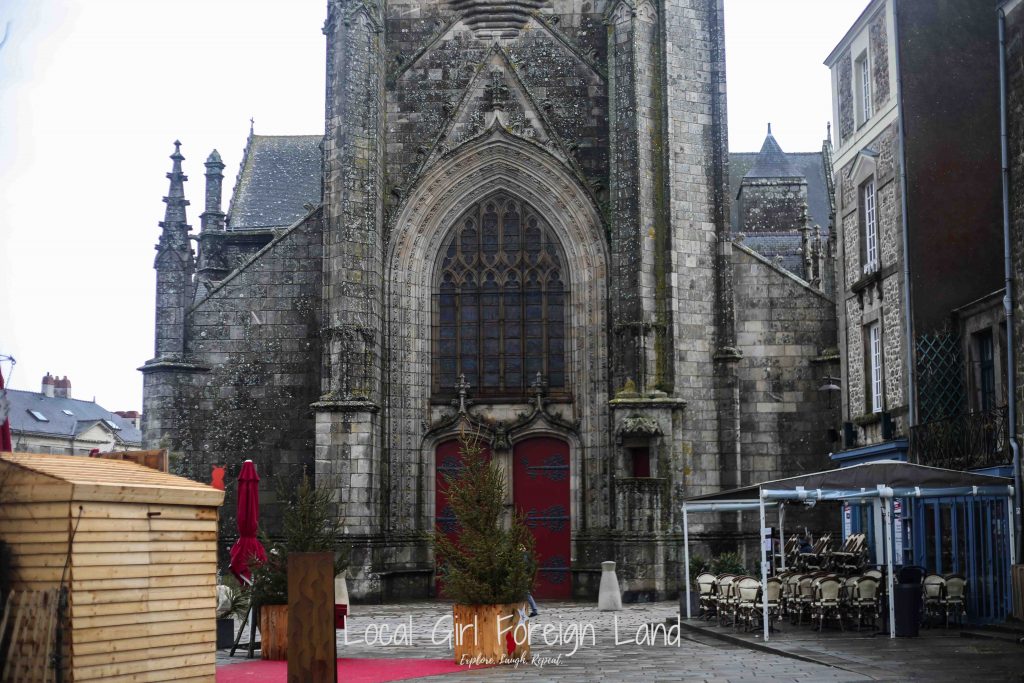 The Guérande old town is essentially a medieval theme park, except the fact that every building is the real thing. I love love love their brightly painted doors. It's a beautiful contrast to the stone walls. Some of you keen eyes readers must have picked this up… yes, it is Brittany building style.
Is Guérande part of Brittany?
For most part of history, Guérande was a part of Brittany. Brittany lost wars to France and there were treaties, marriage and the whole lot. Anyways, I will expand on this subject more in a later section. Currently, Guérande is officially a part of Pays de la Loire. However, there's a big local movement to try and revert to Brittany, so don't be surprise if you only see Brittany flags and merchandise. In true Bretagne-heritage preservation spirit, some local schools still offer Breton as a second language today.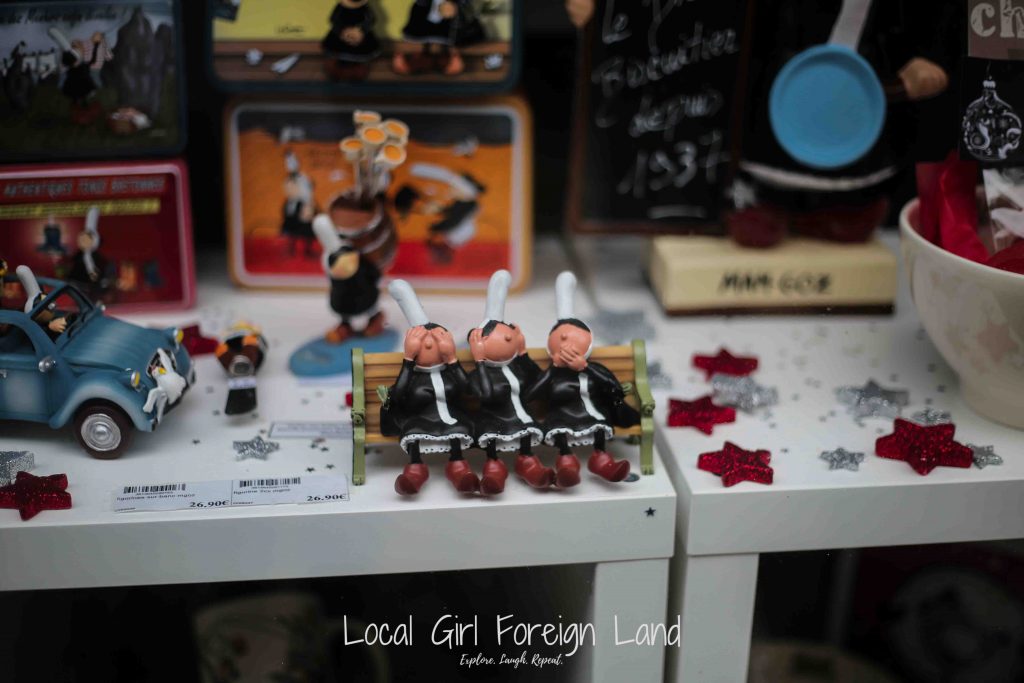 What else is nearby?
Windmill of Crémeur
This is 2km from the old town. This 15th century windmill has been classified as a historical monument since 1901. The windmill stopped its operation towards the end of 18th century. It was later restored in 1980. Windmill of Crémeur is also known as the windmill of the devil. According to Tales of Brittany (Contes de Bretagne), Yves Kerbic, a poor peasant offered his soul to the Devil so that a mill will be built overnight. It is the classic tale where the poor could no longer afford bread on the table and had to offer his soul in order to save him and his family. This story has a happy ending though. Yves Kerbic was smart (cunning?). When he made the pact with the devil, he promised to offer his soul when the last brick is laid. He got to the mill before the Devin could place the last stone. He placed a statue of the Virgin Mary in the last stone's place. The Devil got tricked into making him a free windmill.
Menhir of Bissin
For some older than medieval action? Well, there's the Menhir of Bissin nearby (driving is preferred, around 4 km from the old town). It is a massive 3.5 m tall stone are from Neolithic stone age (10,000–4,500 BC), standing up like Stonehedge's., way less touristy in any case. It was classified as a historical monument back in 1978.
Château de Bissin
Chateau de Bissin is less than 300m away from the Menhir of Bissin. This was initially built in 16th century. In my opinion, it is more like a manor than a château. It looks pretty destroyed in my opinion. So for once, it is okay to just drive pass and skip 😉
Carnac Stones
Brittany's Carnac Stones is the world's largest megalithic site and it is way better preserved than Stonehedge and not many visitors. It is around 100km from Guérande. Plus, the entrance is free for winter months (October to March) 😉 Below is a video that I took when I was in food coma and a little too much to drink; my typical condition during the holidays. For unknown reasons, I only filmed the smaller stones. There are other sections with way bigger stones.
Where was I?
Guérande's official tourist centre
1 place du Marché au Bois – 44 350 Guérande It is located near the eastern gate, St Michel
Official website – https://www.labaule-guerande.com/guerande.html
Gear
Camera: Canon 5D mark 3
Video: Sony Xperia Z3+ phone **This is literately the BEST camera phone I've ever had. It died after 3.5 years of excessive use. RIP. LOVED that it had great photo and video quality. The software was awesome. It took better pictures than my Samsung S7 edge (way newer phone), but like all things Sony, the battery heats up; mega annoying. New Sony phones are too expensive and I was too scared of over heating, so that's kind of why I'm back with Samsung.