My doppelganger / recently retired blogger, Stashy asked me about HG beauty products. Straight off, I am a makeup hoarder, so I don't actually use that much makeup on a daily basis. I do love hoarding though LOL. Anyways, here's my HG makeup and why.
Criteria
Panned product / repurchase
Own a backup
Use at least weekly **again, I'd like to emphasise, I am a hoarder and do walk around bare faced
My skin type: combination skin, dehydrated. For more details, click here.
BB cream
Okay, Stashy, it is the same thing again, I'm sure you're sick of me talking about this – Primavista multi cover base UV. I have at least 2 back up at any given time. I love it because it evens out my skin tone and makes my face radiant/youthful without stickiness. It's that my skin but better sort of look. I trust that all my friends and colleagues already know about my obsession with this product.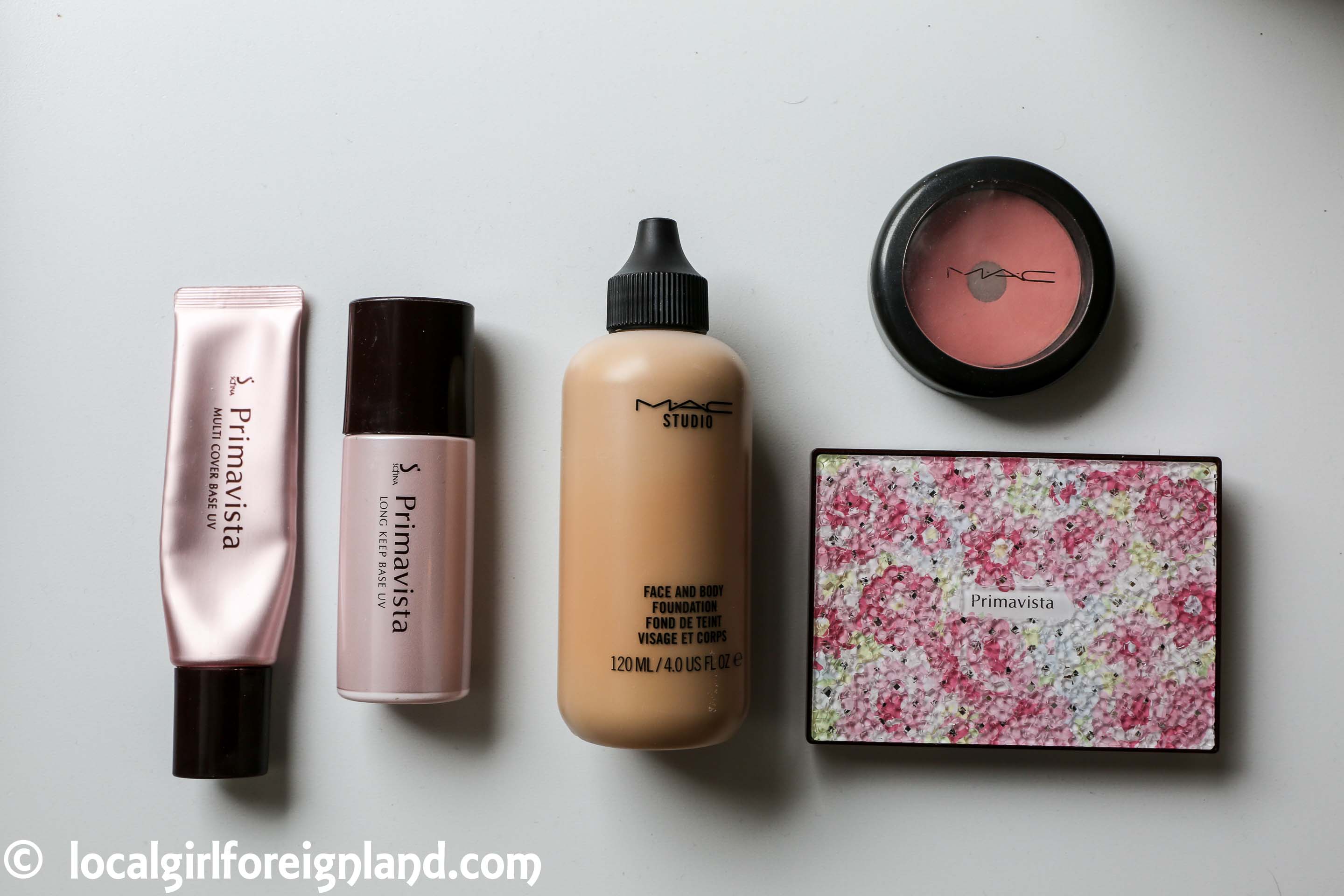 Primer
My ultimate budge proof makeup primer is… Primavista long keep base UV. Literately nothing budges if I use this as my base. It smooths out pores and maintains a matte finish. I only use this for between my brows and nose.
Foundation
MAC face and body – I own C2 and C3, in 120ml format and 50ml (for travel). I think this one is the most qualified.
I love its sheer, wet skin-like finish, totally undetectable in real life or via camera. It gives my face a natural glow (without any powder) that last all day. The water-repellent formula works excellently for me in all weather conditions.
Honourary mention: Clarins True Radiance is a close second, because I have repurchase it before and it tends to be my go to foundation for interviews. It is ironic, because the lasting power is not fantastic without a powder. Read my review here.
Loose powder
None qualifies for HG.
If I have to choose a loose powder, Givenchy Prisme Libre Loose Powder is my go-to. I have repeated the purchase. For the life of me, it is lost in my stash at the moment LOL Told you that I don't use this type of thing. It is super fine milled and make my face feels super smooth.
Pressed powder
Sofina Primavista powder foundation. In case you're wondering, yes, I have bought one of each product in their whole range. Not everything made it to HG, of course.
I have repurchased the refill and panned this powder before. Warning!!!! This one has performance issue when it is humid (90% + conditions) e.g. Singapore . The powder "lifts" and moves around 4th hour wear whenever it is super humid. Anyways, in regular EU conditions, it gives a beautiful satin, medium towards high coverage. Easy to blend, fine milled. The compact is beautiful. If I bundle with my HG primer (Primavista long keep base UV), it is pretty bullet proof for 8 hours+ wear in any condition. **I tend to use this in summer.
I love it because I get to choose the case AND the powder is super smooth. My face feels silky after application. Every year Sofina release 2-4 cases, they're always beautiful (love). Plus, I love that there's a thick cover for the powder, it really keeps the mirror clean.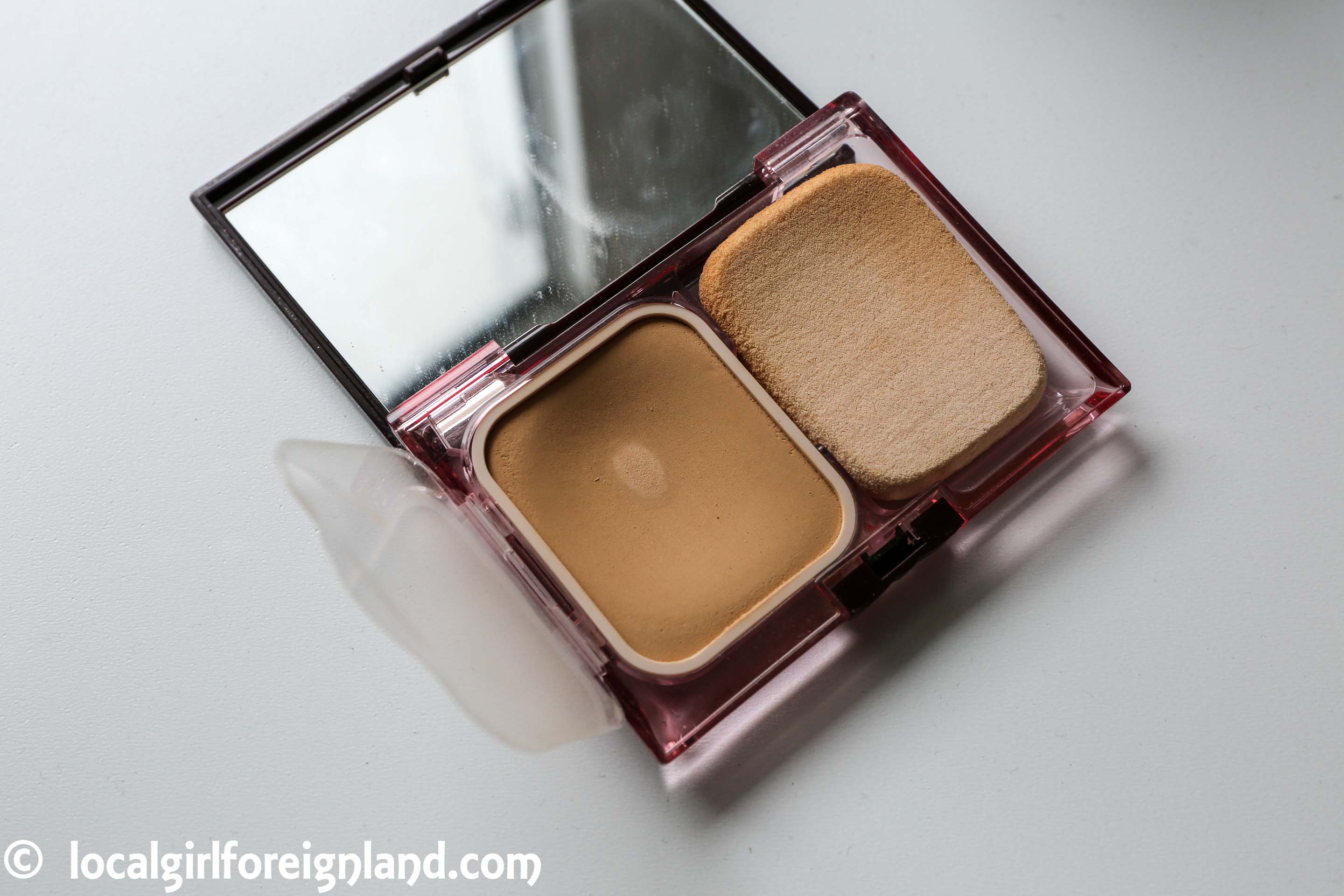 Concealer
Kate stick concealer. Drugstore price (under USD10), better than high end performance. Hands down. Buttery, easy to blend, full coverage. What else am I supposed to ask for? It has dethroned everything else that I own.
**Photo is at the end, sorry, I only realise the photo fail after I published.
Brow pencil
Etude House drawing eye brow. MEGA cheap, easy application, comes in my shade (charcoal) and has a spoolie. Again,star performance. LOVE.
Eye shadow
Laura Mercier cavier stick in rose gold. Easy to apply with fingers and last all day. Gives the eye lid a beautiful glow. **The colour does breakup on my "fold" after 6  hours wear on a warm day (25+ Celcius). Everywhere else stay put for like 10+ hours. The point it, it is very lazy and great for doing makeup in public transport LOL
Honorary mention: MAC single in Tempting (lustre). It is a bronze gold with lots of sparkle. Super pigmented with blinding lustre, last all night partying. I apply it on its own and blends out for a glam up night out look. Mega lazy, just perfect for me.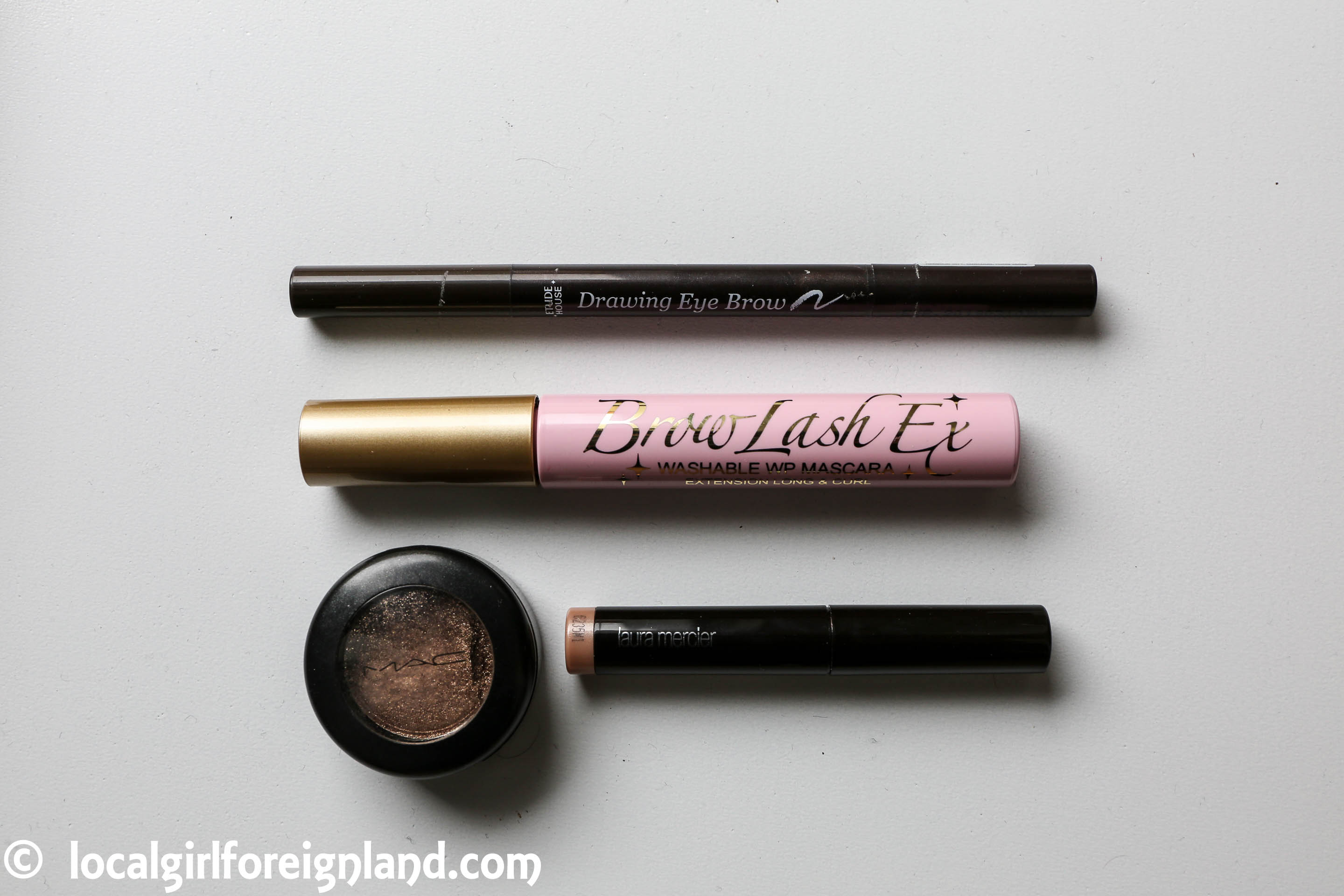 Mascara
Brow lash Ex washable WP mascara (Japanese drug store brand) lengthens and keeps the curl. No flaking, survives mild crying. I can't ask for more.
Honourary mention: I have by far repurchased (& used) Majorlica Majorca's mascara more – Lash King and Lash Expander. This is a very recent dethrone. **It maybe more that I got bored. I still do swear by Majorlica Majorca's.
Eye liner
None, because I really don't use this often.
The most bullet proof one that I own is Bobbi Brown gel liner. Can swim with it. Period. O and physically impossible to pan. After daily use continuously for months, I only got some dent. #$%!$#@$% (refer to my project pan that has nothing to show for it)
Contour
Too lazy. I own a few contour products, but don't use any of them often enough to qualify as HG. I have never repurchased any.
Bronzer
Hm… okay, I don't use this at all during winter, but summer time, it is probably Clarins bronzing duo in 01 (light). I HATE the current packaging! The synthetic peached fabric pouch is terrible. The older version was a red compact with contrast gold clip plus a classy looking duo colour taffeta sash bag. Even the version before was better than now, it was gold compact with a red gem clasp. So forgive me if I hate the current packaging. I swear I will not buy any more if they disappoint me with their packaging again.
I like this the best because it has 2 tones to choose from and the powder is not too hard press to use. The tone runs red and easy to work with.
Blush
MAC pinch o' peach. Natural looking every day peachy pink sheer tone matte blush. It lasts over 8 hours without fading **subject to limited French greetings during the day, nothing can survive 10+ greeting kiss okay? I like it tons because I feel that I look more cheerful when I wear it. I love MAC blush singles because of the see through top. It is easy to identify which colour I am grabbing in a rush.
Honourary mention: I have bought (& pan) more of Benefit Dandelion than MAC blush, but with the smelly brush incident that I had with them, I no longer buy any products from Benefit. Dandelion is a mauve fine shimmer pink that lights up the face. I used it for all over the face and as a blush. It is a fool proof blush that I have used enough times that I apply it without the need of a mirror. Very light packaging, it had been a favourite for a long time. Too bad that I lost trust in their quality control. I am frankly too scared to buy any more.
Lipstick
Most purchased and panned of all time must be Rouge Dior in shade promenade, aka my lip but better shade (okay, a bit more brown than my own). The texture is buttery smooth, zero bleeding and smells divine. Too bad that their current spokesperson, Ms Hadid, annoys me; I will not purchase from Dior until further notice. I am a bit of a psycho, it the brand's advertising annoys me even one bit, I will stop buying from them. So many brands to choose from, why spend money on the one that causes even the mildest irritation?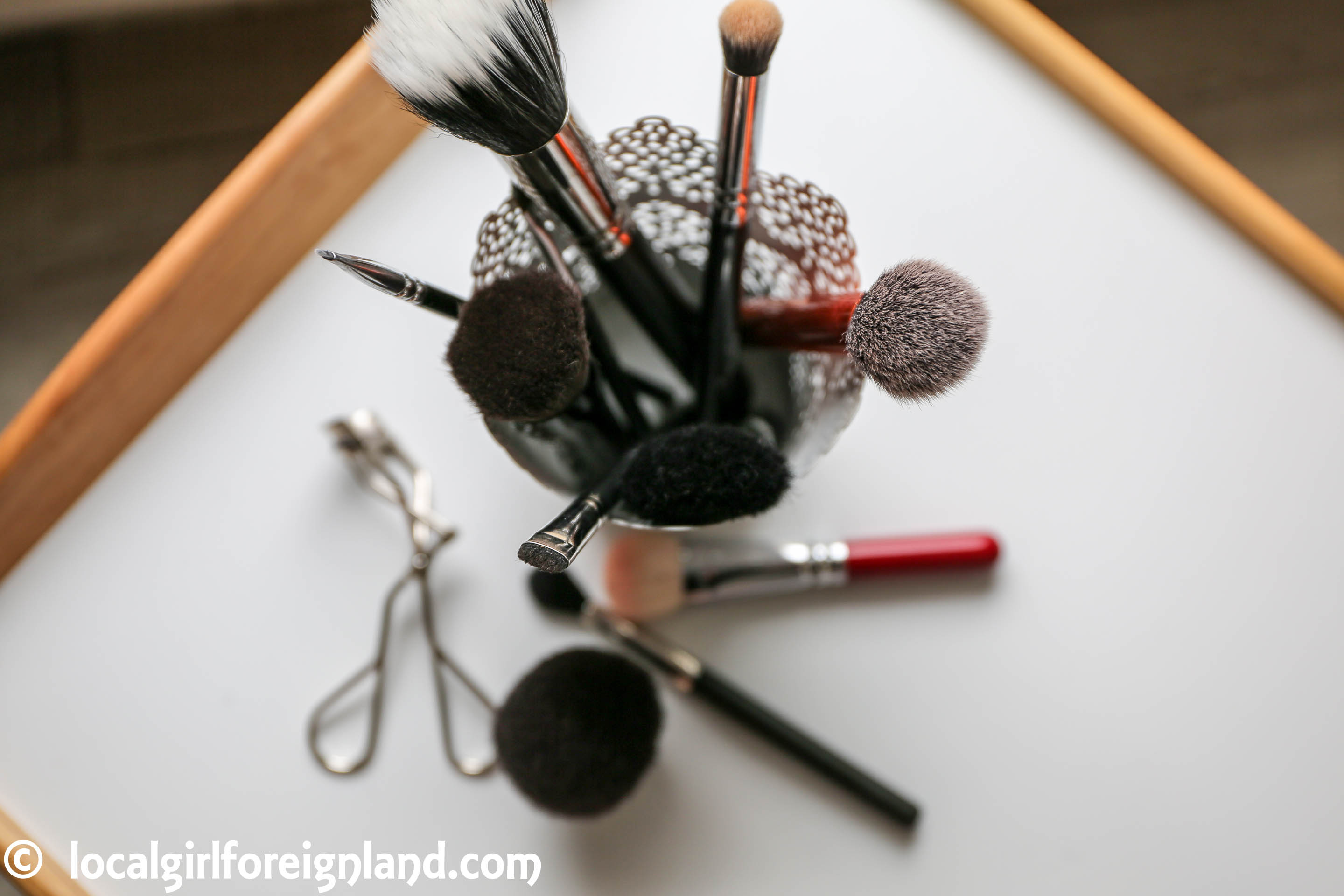 Tools / Brushes
Actually, no idea why I like using these so much. Out of habit?
MAC 187 – duo fibre face brush. It works particularly well with MAC face and body foundation
Esprique foundation brush – flat top, high density. Love this brush, but it is HELL to clean.
Bobbi Brown face – kabuki brush (mine is SOOOOOO old and never shed)
Zoeva 142 – concealer buffer
MAC 129SH – face / blush brush. Mine is well over 10 years old, both hair and shade in tact! I bought both the short handle and the regular. Although the head is the same, I tends to use the short handle one more.
Japanese hand made (Hiroshima) blush brush – round domed shape, natural hair blush brush, short handle *I think it is pony, but I can be wrong. I have had this for a while
Real Technique contour brush – I use it for highlighter / for overly pigmented powder
MAC 224SH – cult favourite natural hair tapered blending brush
MAC 214 – short shader brush (very dense). I use it for smoking things out or pack pigment onto a small area.
MAC 266 – Angle brush. I use this for my brows. I think it was meant for eye liner.
Zoeva 310 – spot liner brush. I use this for eye liner gel / cream.
Shiseido lash curler – I have had this since I was a teenager LOL I do change the rubber twice a year though.
I have not used any sponges for the last 6 months LOL, but if I have to choose a sponge, it will be Shu Uemura pentagon. I have bought several packs before, so it will be the most qualified to be my HG. They're soft on the face/eyes. Lots of angles for finer application. It is creamy white. Very easy for me to spot if it is dirty haha.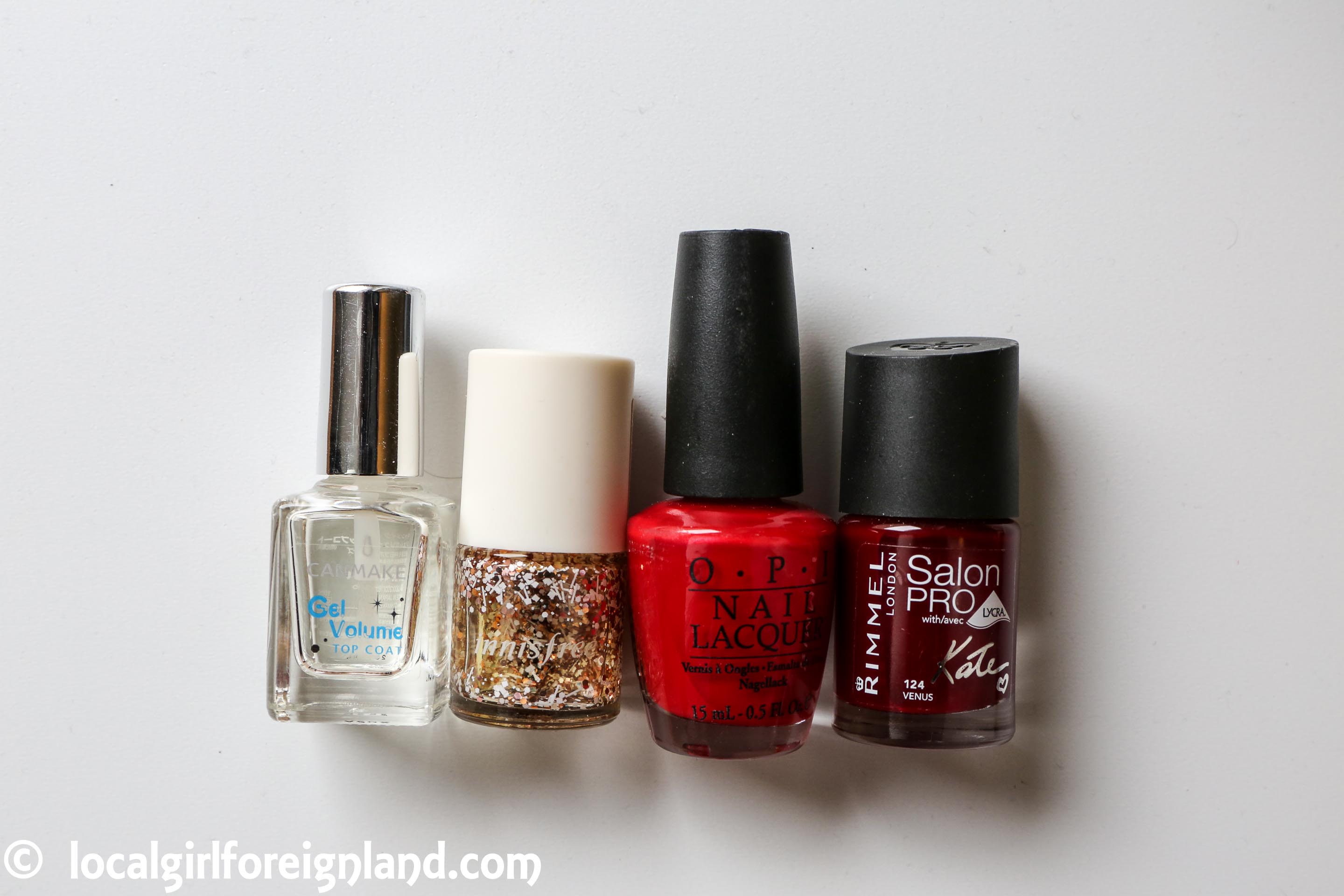 Nail polish
Winter favourite
Rimmel London Salon Pro in 124 Venus. It is a vampy red with blue tone. Last about 5-6 days without chipping (without the need of top coat).
Summer favourite
OPI nail lacquer in "a oui bit of red". Classic red with minuscule glitter. I like it because the glossiness remain after several days of wear. I don't know if it happens to other people, but some nail polish doesn't look as smooth or shiny after the first 2 days.
Novelty topper
Innis Free eco nail colour #105. It has rose gold and copper flakes, plus strips of white. It really adds a beautiful festive finish to the nails.On top of that, it is super cheap.
The close second is the Canmake sugar topping coat. When this stuff dries down, it looks like frosted sugar (textured). Love that stuff, but I think it has been discontinued.
Top coat
Canmake Gel Volume top coat. Makes the nail look super fat. LOVE it! Did I mention that it is cheap too? 580 JPY. Honestly, just take my money.
For reference, here is Stashy's HG post. **thank you, Stashy for the post idea 😉 xox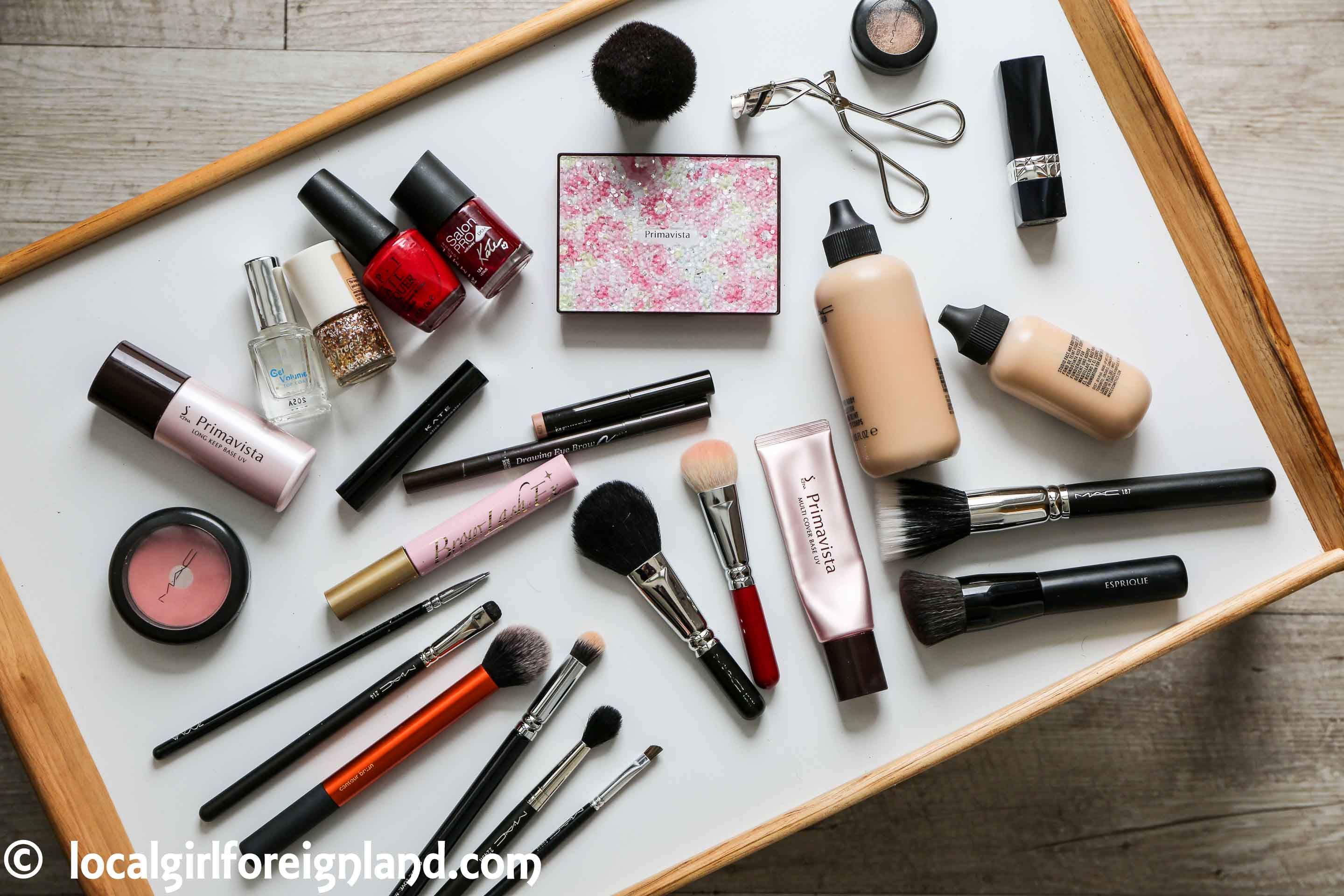 So, how about you? What's your Holy Grail makeup product?

Twitter / Instagram / Facebook / Google+
Bought everything myself. This HG list is unlikely to change for at least another 2 years due to the amount of back up that I have haha. I must say, HG list ins my 20s was quite different.