For my makeup review to blend well with my travel blog, I'll take photos of makeup at some touristy spot. Can you guess where this photo was taken? Okay, let's do some solid review on this French sweetheart. Comparative swatches are included (MAC NC25 & C3).
Coverage & Finish
Medium (towards full) coverage. Dewy finish.
It gives off a healthy glow to the skin. Despite it being a medium/full coverage, the foundation look surprisingly natural and undetectable. Weird and wonderful stuff.
It glides over dry patches with magic and blurs imperfection into oblivion.
Skin type
For dry / dehydrated / Sahara desert skin for sure. Combination skin can pull it off if set with powder on oily areas.
But seriously, if you have oily skin, stay away from this.
My skin type? click here
Fragrance
Feminine, floral and sweet. It smells very typical Clarins. I have no idea how to describe it.
Packaging
I have been using Clarins since the 90s. I still miss their packaging that came with red ruby or the white gem.
The current version is a glass bottle (weighty 147g) with an elaborate plastic lid. The inside of the lid is Clarins red. It has a natural pump. It is pretty, but NOTHING close to their older packaging when the outer box had the red rose print.
Country of origin
Made in France
Application method
By the warmth of my palm. The formula is well suited to being rubbed by my hands and be slap straight onto my face. I literately pop a pump of the stuff into my palm. Rub and press it onto my face with both hands. It feels and looks great this way.
I was not a fan of sponge for this foundation. Sponge application only created work for me aka wash the sponge.
Colour
I use 108 sand. It's a fab natural match for me. But then, I'm those lucky MAC NC25 (or C2) girls.
Most of their shades run red. They only have 10 shades. Honestly, at this price point, their colour variety is worse than most drugstore foundations. The only saving grace is that this is a medium coverage, so most people can get away with some off tone.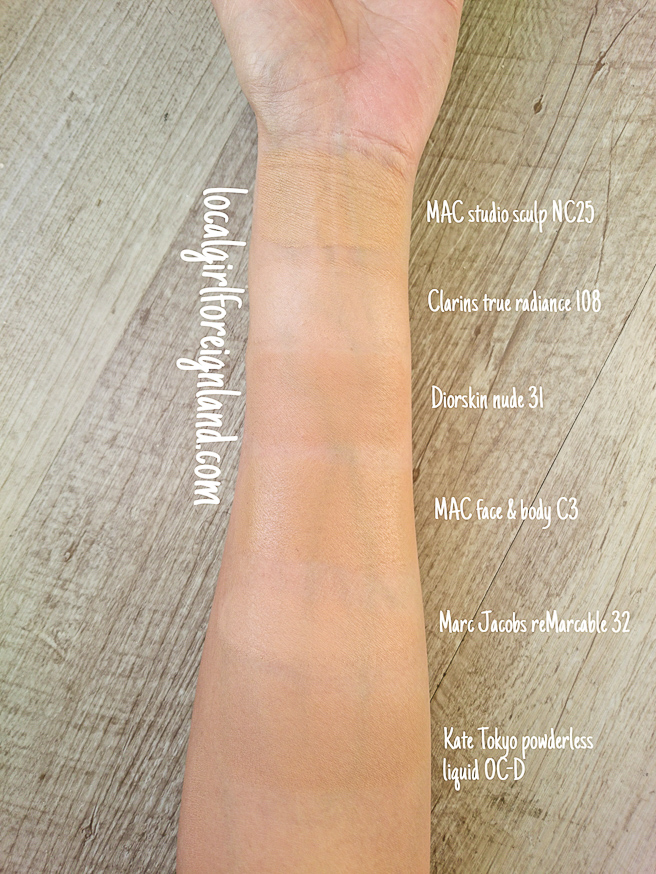 Longevity
Sucks? LOL
I always base my review on zero primer and zero powder.
Based on 2 weeks of spring & winter  Paris weather, here are my findings:
At 4th hour mark, signs of sliding off near my nose is noticable, but oil blotting paper can fix it and it was back to perfection.
At 6th hour mark, some of my freckles start to peep through. The fading does not look bad, my overall complexion still looks darn good.
At 8th hour, I think of it has slid off?
Weirdly, my skin continued to look healthy even though most of it has slid off.
For interest sake, I did a few days with loose powder on top. Loose powder extended the wear 2-3 hours. I don't like it with powder though. Powder kills the glow. I'm happy to just blot.
Sensation
"Cause you make me feel… Cause you make me feel… like a natural woman…" (Carole King)
It feel DAMN good. Instantly my skin feels more supple. It's like a skincare feeling? I LOVE how it feels on my skin. It gives my face an instant hydration feeling. It takes away all dullness with one pump. Magic feeling!!!!
Price
UK Clarins official site GBP29
UK Boots.co.uk GBP27.50
USA Clarins official site USD44
CA Clarins official site CAD43
FR Clarins EUR41.50
FR Sephora EUR43.95 (?!?!?!)
Why is France consistently more expensive all the time? pisses me off
Formula
I no longer have the pre-2014 formula with me to compare, sorry. Their official site doesn't list out the ingredient, below is the ingredients list on the box.
Although I no longer posses the previous formula, I feel that this one is a real improved formula (unlike the epic failure of the revamped Clarins multi-active day cream; they're better off not "upgrading").
There is both perfume (unknown as to whether it is 100% synthetic) and some natural fragrance ingredients. If you have sensitive skin or prone to rosacea, please do a patch test before applying to your face.
Overall rating: B-
Packaging 3/5 because I am spiteful and prefer the older Clarins packaging
Scent 5/5
Blendability 5/5
Look 10/10
Comfort 10/10
Longevity 3/10
Oxidation – I can't see any
Value for money 4/5
Repurchase? Yes. I love how it feels and look on the skin. The longevity left much to be desired, but it did fade gracefully. I LOVE foundation.
Rating has been revised from C+ to B- on 13th July 2017. My husband pointed out that my rating was being ridiculous as he knows that I like this foundation a lot and has witness me recommending to a friend.
Camera: Canon 5D mark 3, Sony Z3+
Please be a sweetheart & support my social media xox
Bloglovin' / Google+ / Twitter / Instagram / Facebook / Pinterest
I am not affiliate with the brand in any way. I enjoy making advert looking photos for my own entertainment. Will like to emphasize that I'm a travel blogger with a hoarding issue 😛
You must have "guessed" it by now. The pictures were taken near the Eiffel Tower, Paris. Nearest metro stop was Trocadéro (Metro line 6 and 9).