This place is where everyone gets to climb on all four, zipline through the forest and unleash that inner jungle self. They do have some Ninja Warrior style routes as well. From a parent's perspective, there is how to pacify the kids. Work excellently, by the way. Tried and tested. Here is a quick summary so that you know what you're in for.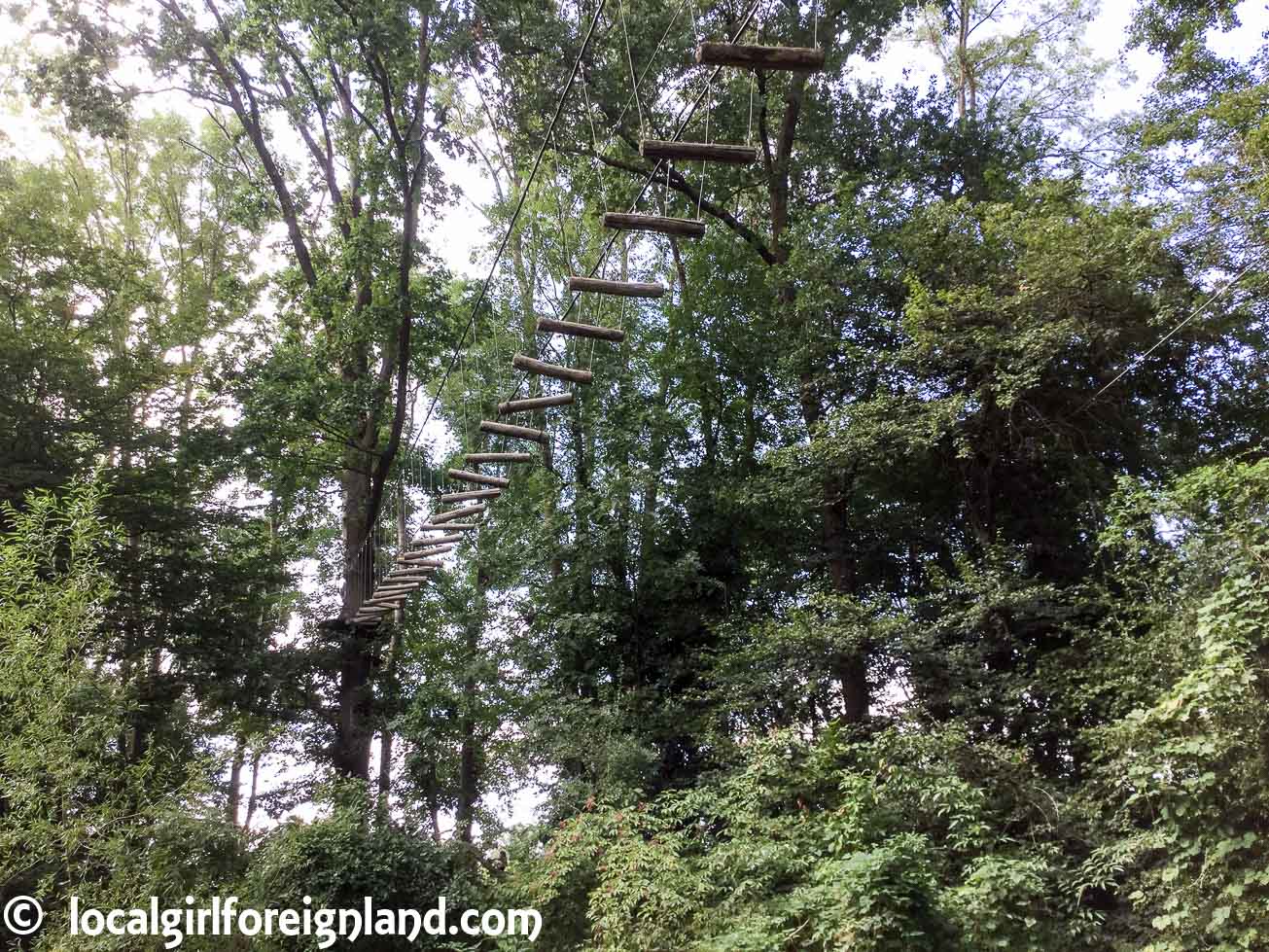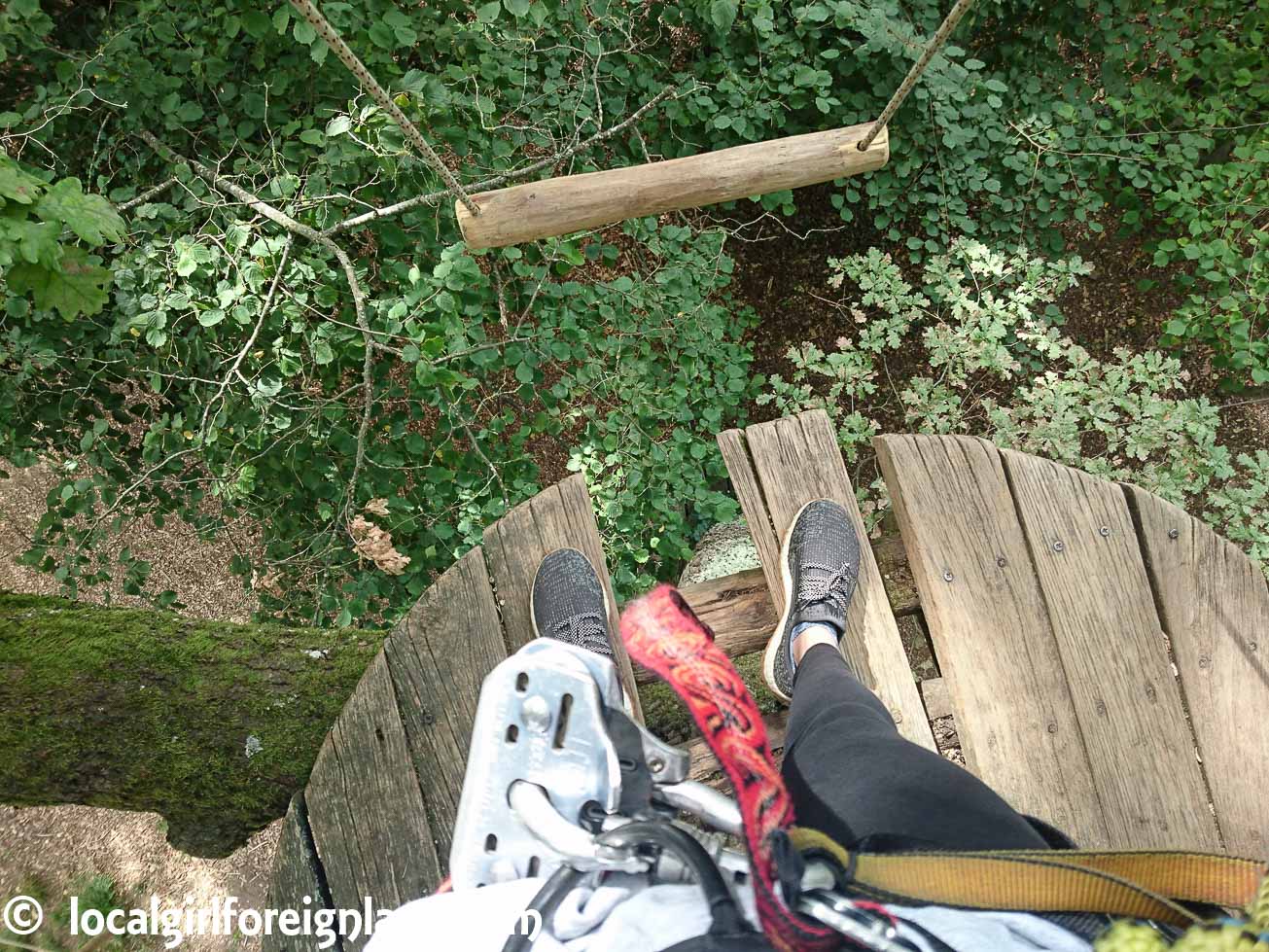 Despite being in the middle of nowhere, this place has attracted international visitors. I came across people from Belgium, Sweden, Netherland and Germany. The instructors spoke great English too. Zero language barrier for me.  There are several different difficulty courses. They have something for everyone and not everything need to be geared up.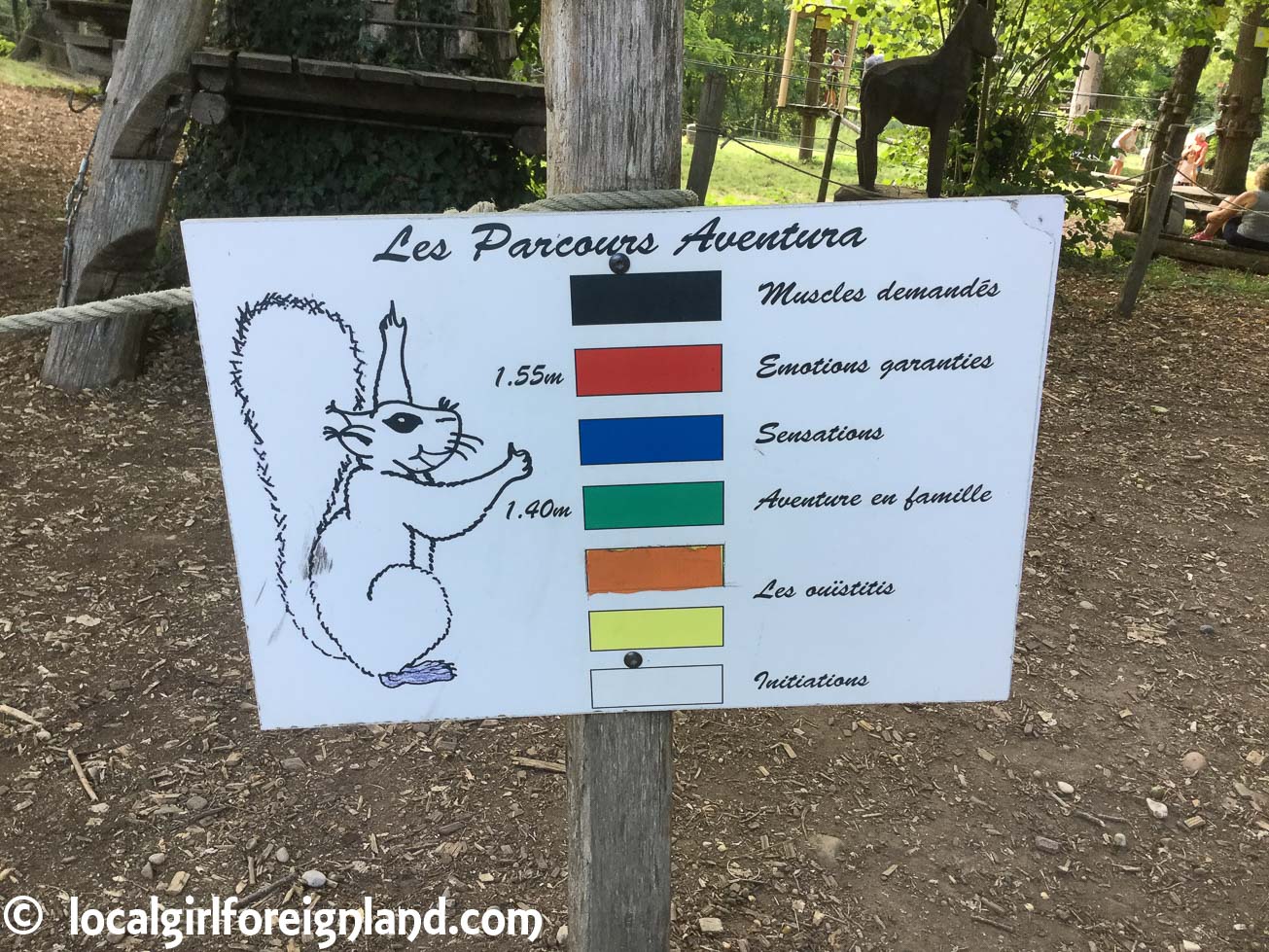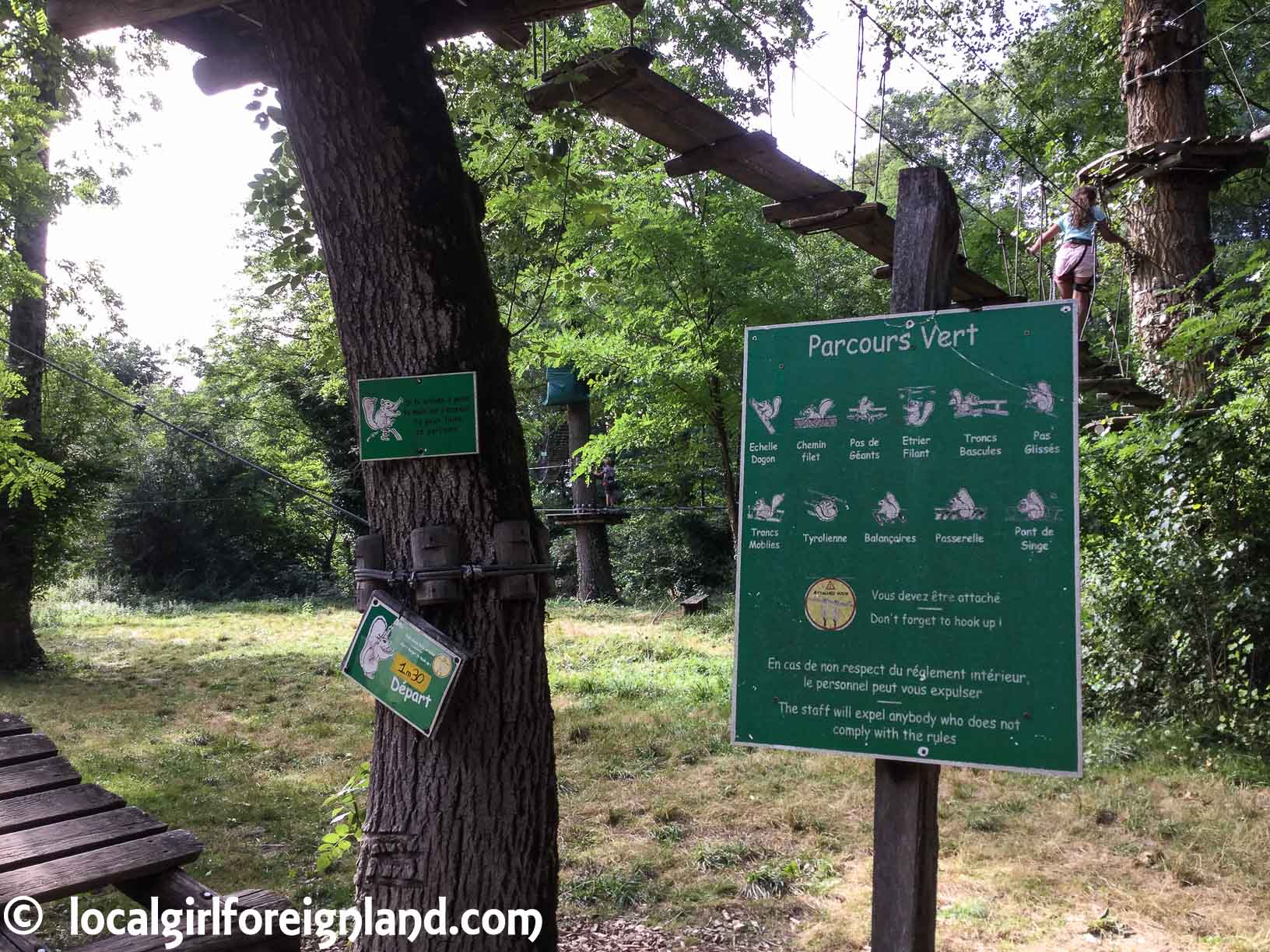 They have some infant courses that don't require any gear. there were lots of children and I don't feel comfortable publishing photos of kids – the 'infant' courses have something similar to jumping castle and soft cushion-made obstacle course with slides   The instructions were very simple and at the entrance of each course there's a board showing the content of the course. If you forget something mid course, there's always an instructor nearby (if you look down).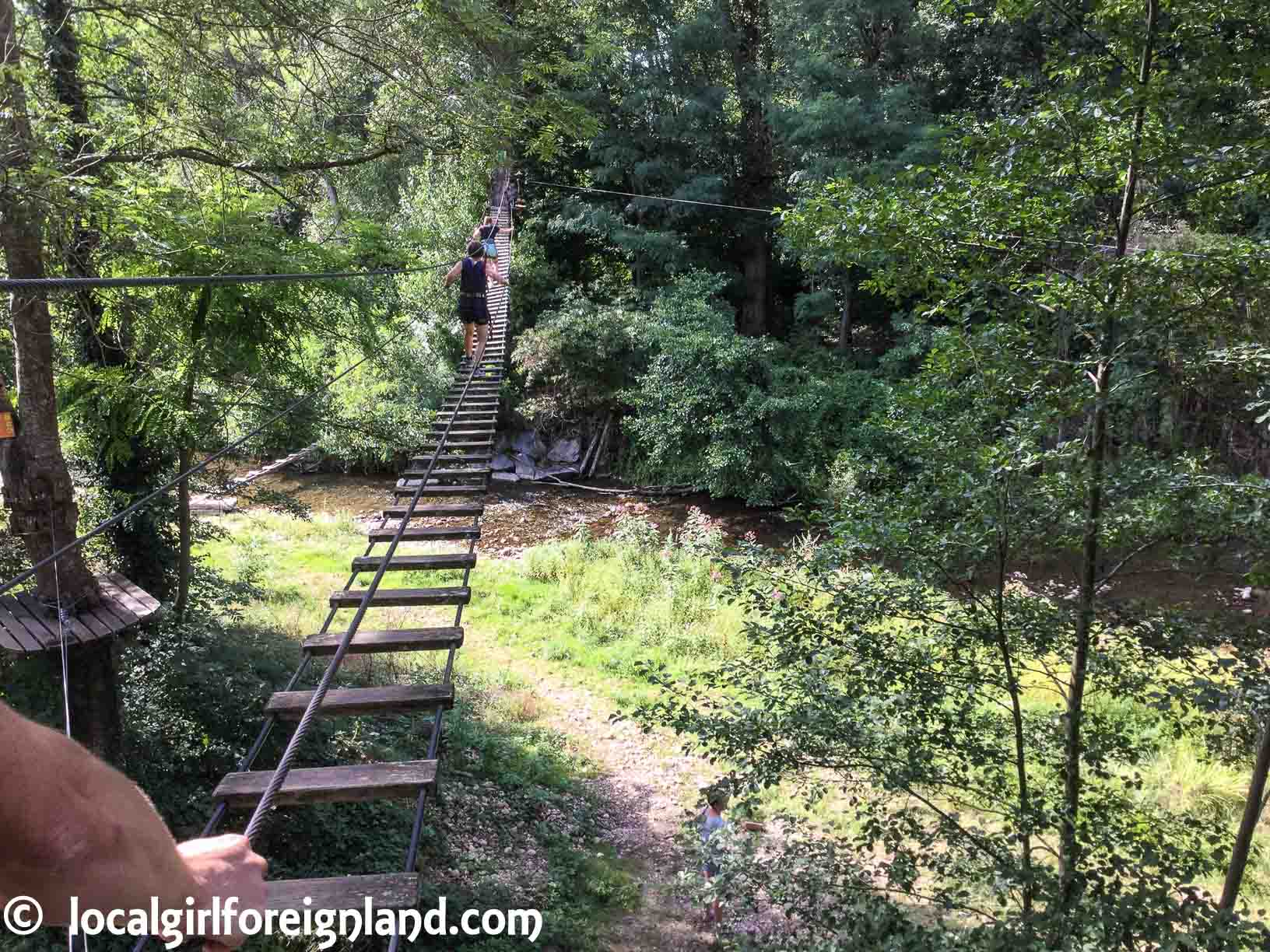 From the photos, you can tell that this was one of those scream for courage sort of place. I would have preferred to howl as I swing my way through; I dared not, because it was still France. People screamed in their head and not out loud. Seriously, there was so little screaming going on. It was not funny. Who does tarzan swing without the actual war cry? So wrong. I got intimidated by composed French kids to keep my inner tarzan to myself.   Believe it or not, I was extremely scared of all sort of outdoor activities when I was in school. My classmates could totally verify what a coward I was. If I can do it, anyone can. 😉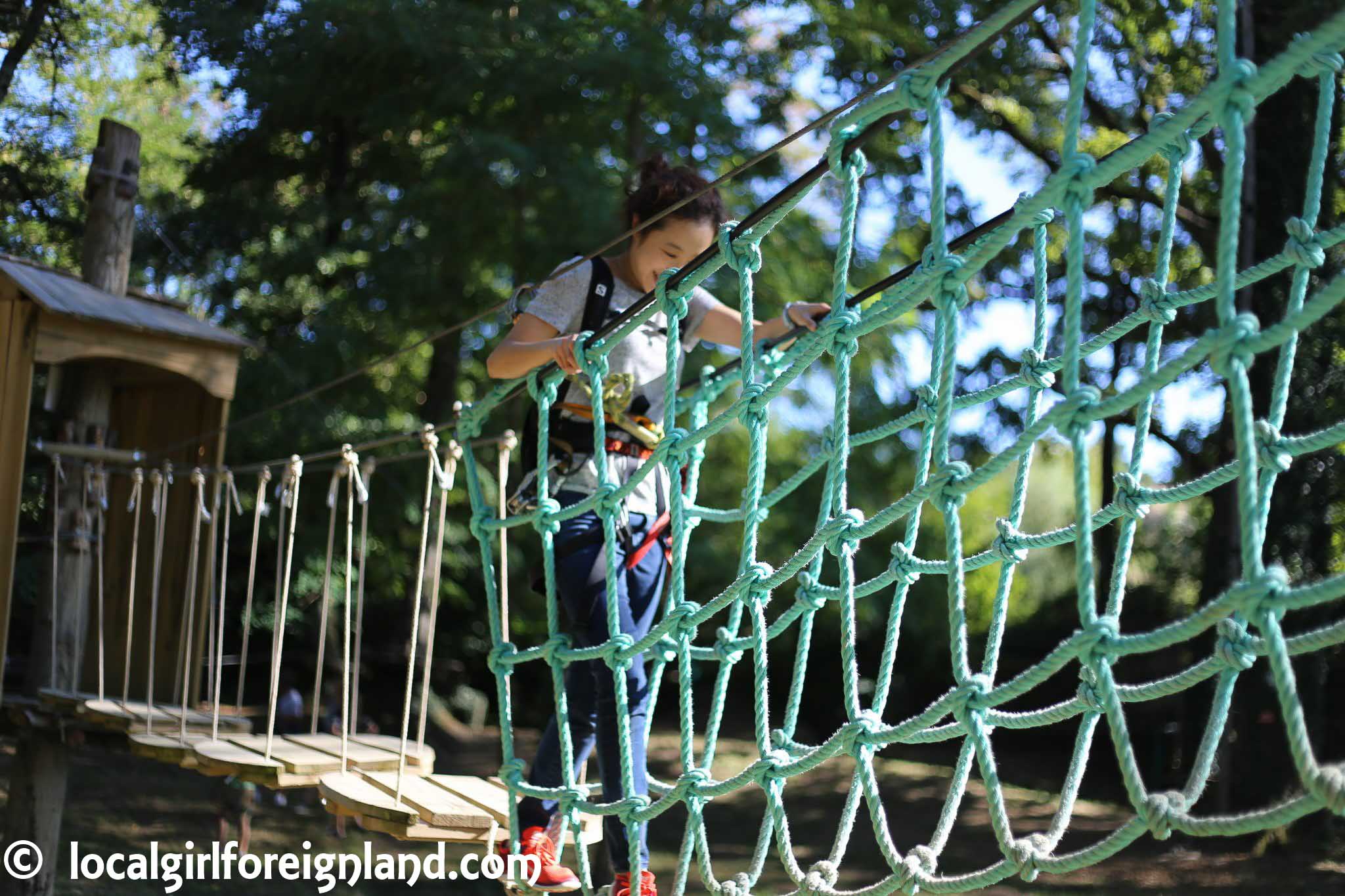 Tips
They don't accept any cards. Cash only.
Wear sunscreen SPF30+ (UVB, anti-burn) with PA+++ (UVA, anti-age). Gets pretty high up (above 10m) and the trees don't necessarily provides any shades.
Longer length top, because the harness can lift up your tee a bit more than you desire.
Do not wear anything V neck or wide neck unless you want the whole world to see your goods.
Legging is a good idea, but it does get pretty warm when you climb around.
I think above knee high shorts has been my favourite outfit.
Bring a water bottle or wear a water bag (some super affordable ones in decathlons~~ love them so much)
Download the google map (offline use); the signal there is pretty spotty.
Failure to comply with their safety rules (twice), will lead to expulsion without refund. There're always instructors watching, just make sure that you comply and don't do anything to risk yourself or other people's safety.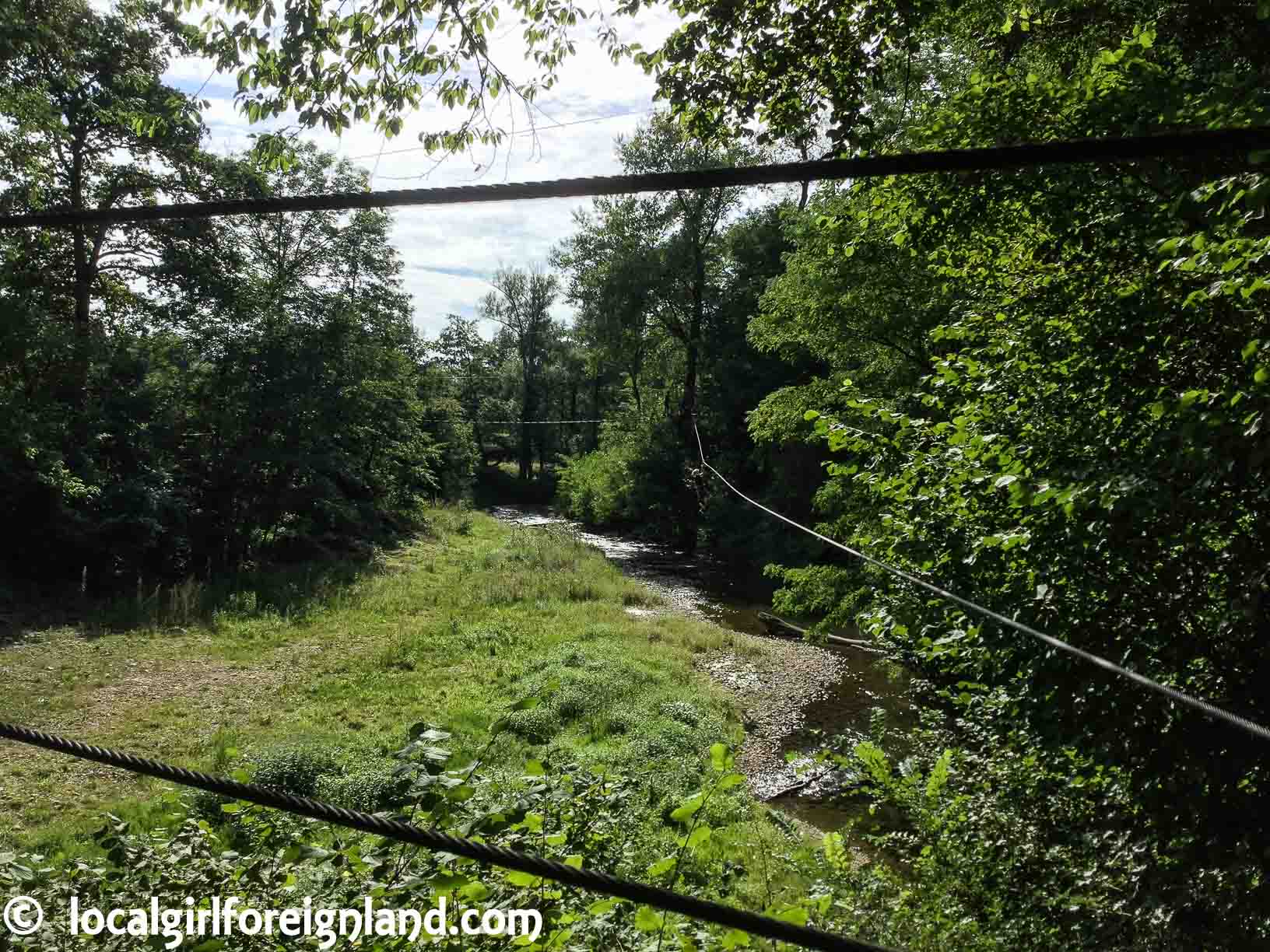 Photos were from a combination of several different visits. It was extremely hard to take photos when I was up there. I was way too scared to do zipline with one hand and hold my camera on my other. Serious respect to all the travel bloggers out there busting ass to get those epic zipline photos. That must have been be serious work.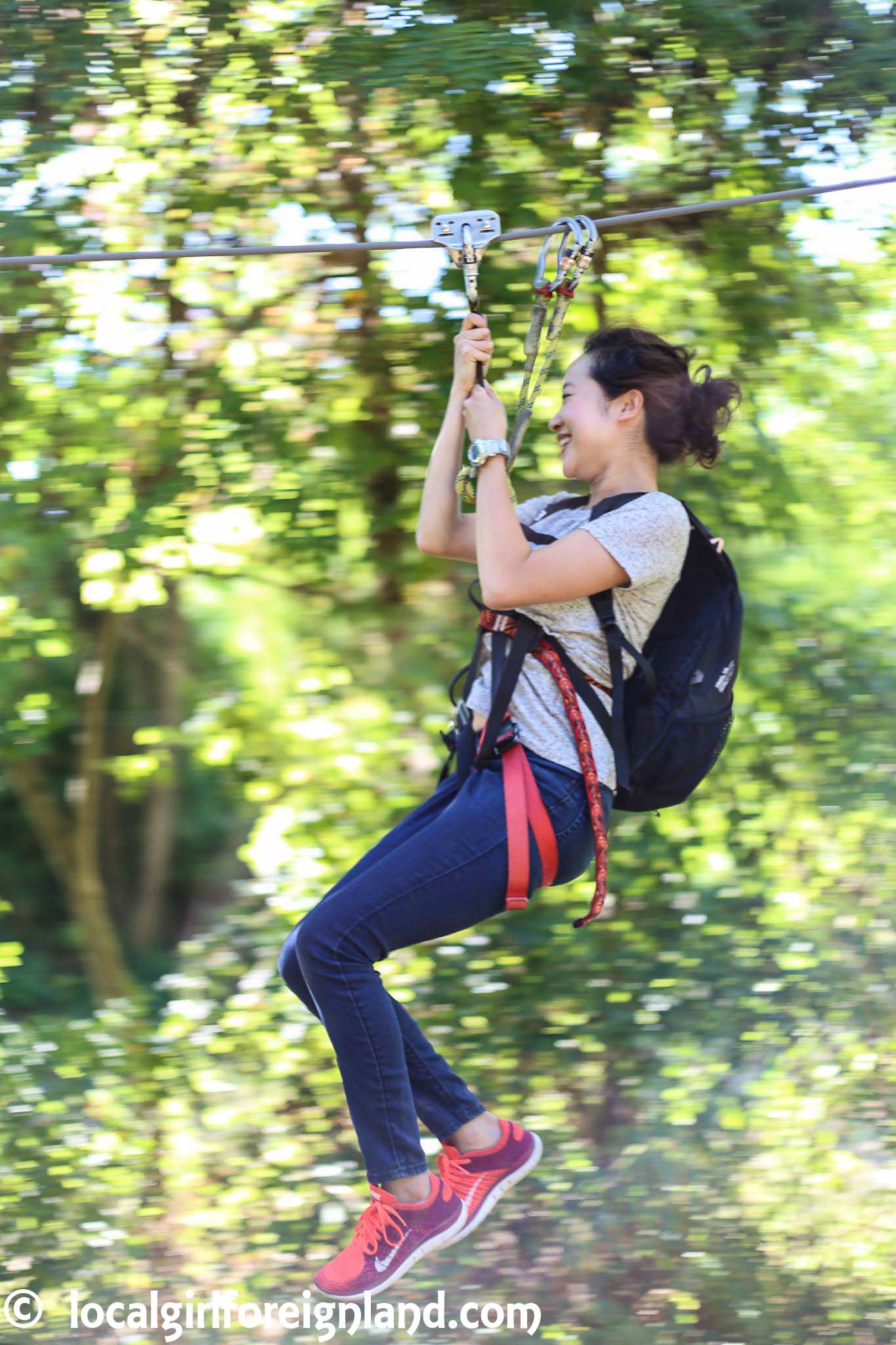 Where was I?
Parc Oasis Aventure
530 Le Grand Serre – Drôme, France
Tél : 04 75 68 94 40 call them to reserve a slot; they do speak great English They're opened every day between June and August 9h00 – 19h00. Otherwise, they're normally only opened during the weekends or school holidays (closed totally between 1 Nov – 31 Mar).
NB always call in before you decide to visit. http://www.parcoasisaventura.fr/ ==> their webpage is really not that useful LOL have to book via the phone no matter what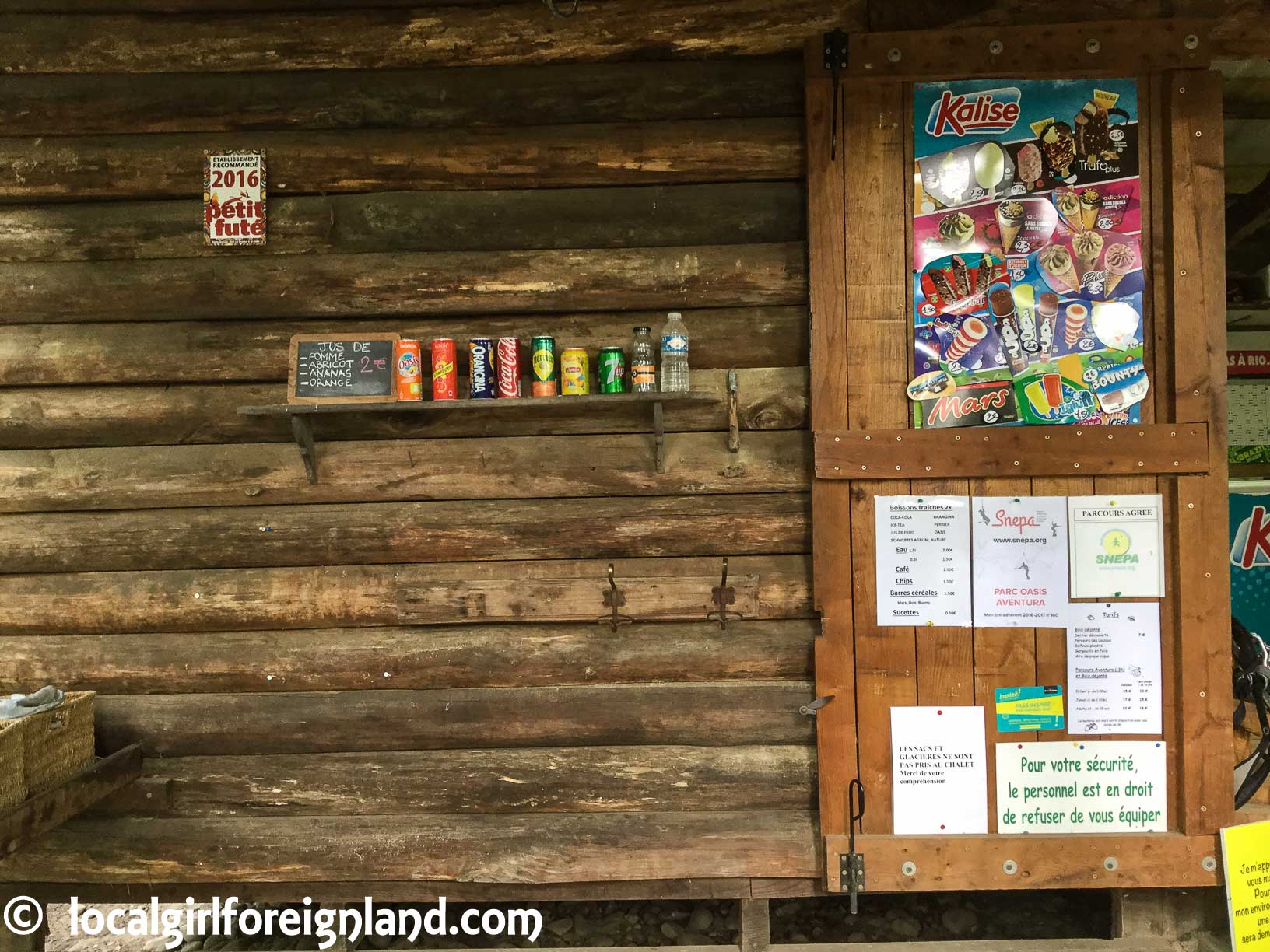 Prices
always check again before visiting; they only accept cash
With gear / harness / Parcours Aventura Below 1m: 15euro Below 1.3m: 17euro Anyone above 15 years old: 22 euro   I have no affiliation with this company. It is a place that I love and revisited for summer vacation.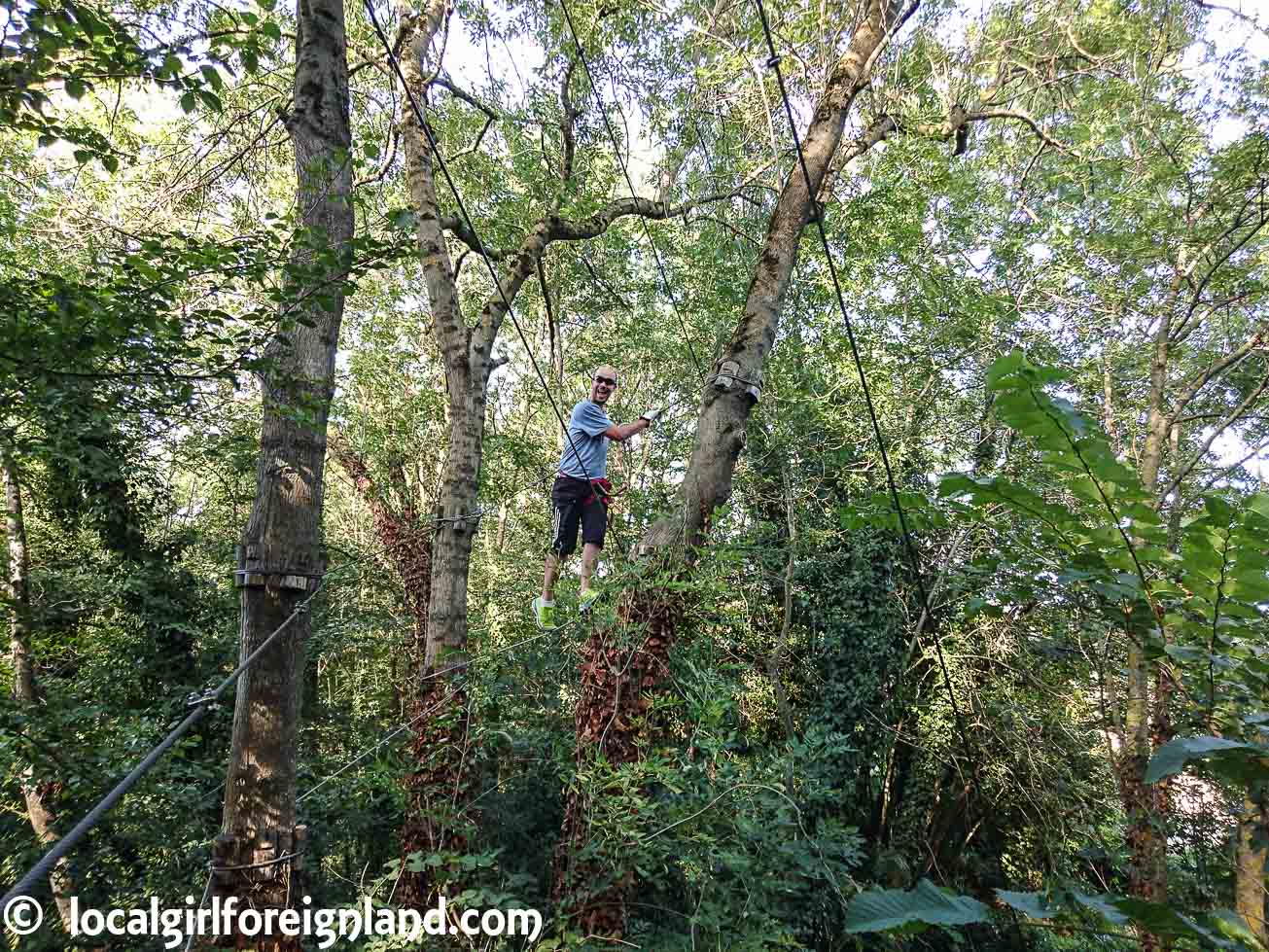 Bloglovin' / Google+ / Twitter / Instagram / Facebook / Pinterest