Foundation / base product review number 8: Bourjois Healthy Mix BB cream. Bourjois launched this in mid January 2018 in France. I first spotted this on their French official website because I have weakness for sales. I have played around with it for around 4 weeks (8 to 15 degrees 3 weeks, 25 – 30 degrees 1 week). The shade that I bought is 02 medium As usual, MAC NC25 comparison swatches and macro close up are included. Please note that I am still unable to verify the ingredient list after contacting Bourjois multiple times, hence the ingredient section will subject to further update.
Winter wear test is as per youtube. Photos of summer wear test is in this blog post in the longevity section.
Bourjois Healthy Mix BB cream official product claims:
Anti-fatigue
24H hydrating
With vitamin mix C, E, A, B5
Hydrating like a skincare and covering like a foundation, even complexion and conceals instantly signs of fatigue. Boosts radiance for a natural and fresh complexion.
Sounds way too extra tbh. Who wears bb cream for 24 hours?
Coverage & Finish
Sheer to light coverage, like MAC face & body foundation sort of coverage (MAC face and body is visibly more buildable).
Dries down to satin; not flat, no sheen but somewhat of a radiant look. Maybe because it moisturise so well that it looks like there's radiance? It is difficult to describe.
Skin Type
Excellent on my dehydrated skin! It busted all the heater induced dehydration lines. The moisture effect lasted about 8 hours. It definitely made my skin look more radiant and less tired.
Probably terrible for oily skin? It's just a gut feeling. I can feel that there's a whole lot of emollient and slippery ingredients. Like I said in the first impression video, it felt like a moisturiser. I stand by this comment after 4 weeks' usage as well.
My skin profile? click here for more details
Fragrance
Strong fragrance smell! Quite floral and almost identical to the Bourjois Healthy Mix foundation (full review). The smell is noticeable for about 20min upon application.
Packaging
I love the tube packaging. 100% plastic Light and unbreakable. Travel friendly. It is identical in shape to the Bourjois city radiance foundation (my review) and Bourjois air matte foundation.
A BIG unexpected issue:
HOWEVER, because this formula is quite liquid, after air pressure change (ascend/descend), when you reopen the lid there's a risk of the foundation 'spraying out'. I highly recommend reopen with caution especially after flying or pressure change. It got messy for me.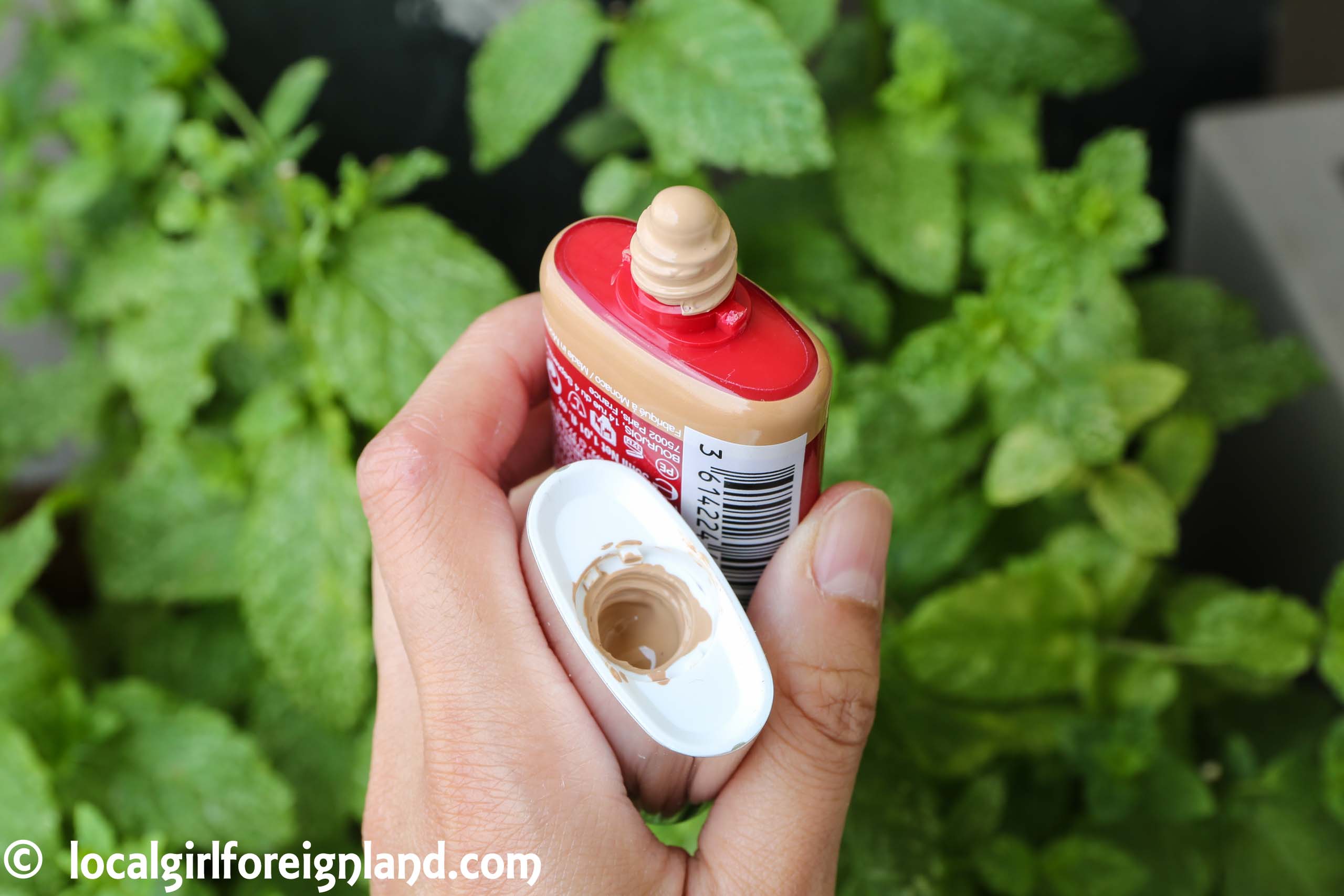 Furthermore, even without the air pressure change, as I use up the product, the foundation just messes all over (see the photo). The only saving grace is that it is not leaking. I feel that I've lost a lot of products to the lid.
Country of origin
Made in Monaco.
I am surprised by this. All the other Bourjois foundations that I own are made in France.
Application
Low pigment, so it is obviously easily bendable. Build-able to a very light medium (better than light, but not quite medium) coverage IF set with powder. When use without setting with powder, that built coverage quickly slips off within 2 hours. Don't bother with building the covering if you don't plan on using powder.
I prefer using fingers or synthetic low-mid density buffing brush.
Sponge packs on too much product? Or at least it feels that way? It is a very odd feeling because this BB cream feels moisturising lotion, so applying with sponge doesn't feel right for me. I don't like sponge application for this one.
Colour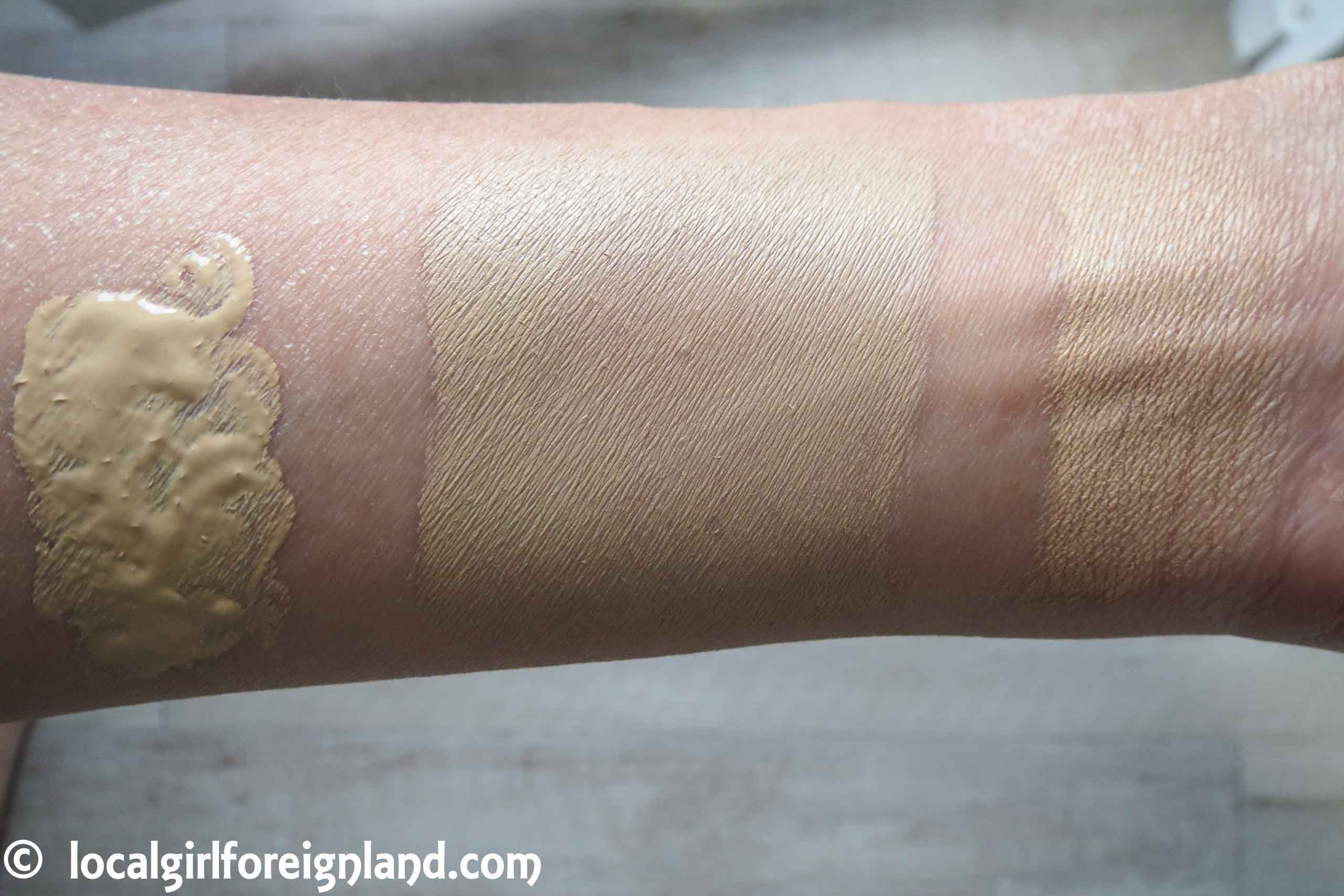 It does oxidize. I do find that it oxidize more on days that I do not use my serum. The colour changes more when my skin is less moisturised. I've experimented with and without serum and it happened every time.
Their shade 01 light was way too light for me. It looked lighter than their vanilla 52 in Healthy Mix serum foundation when I tried it out in the store. I got the shade medium 02. It is very slightly darker than my chest, but then I'm  a bit of a casper when I bought this back in January. Now that it is July / high summer, the shade is a good match. As you can see, the shade is invisible on my when I swatch it in summer.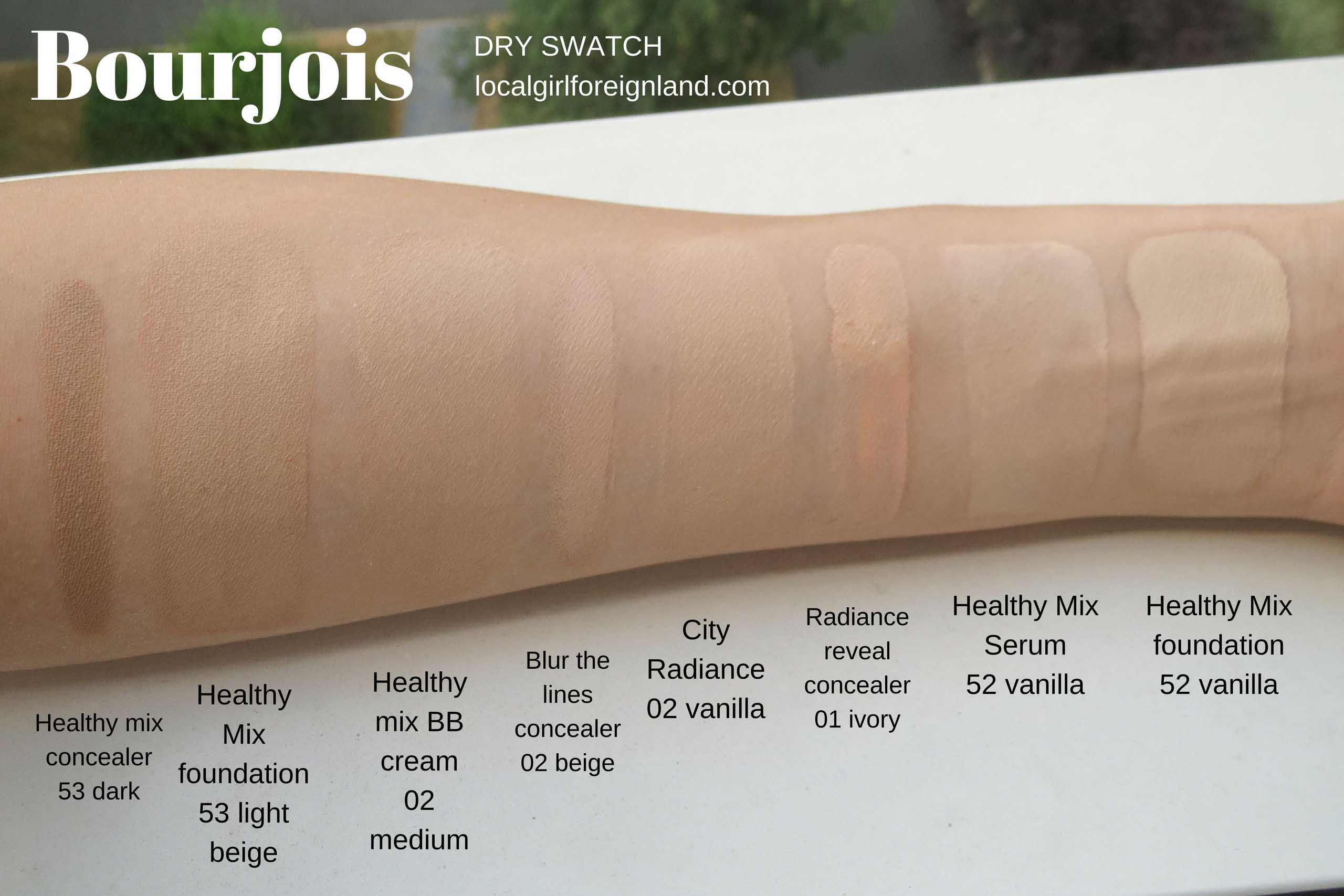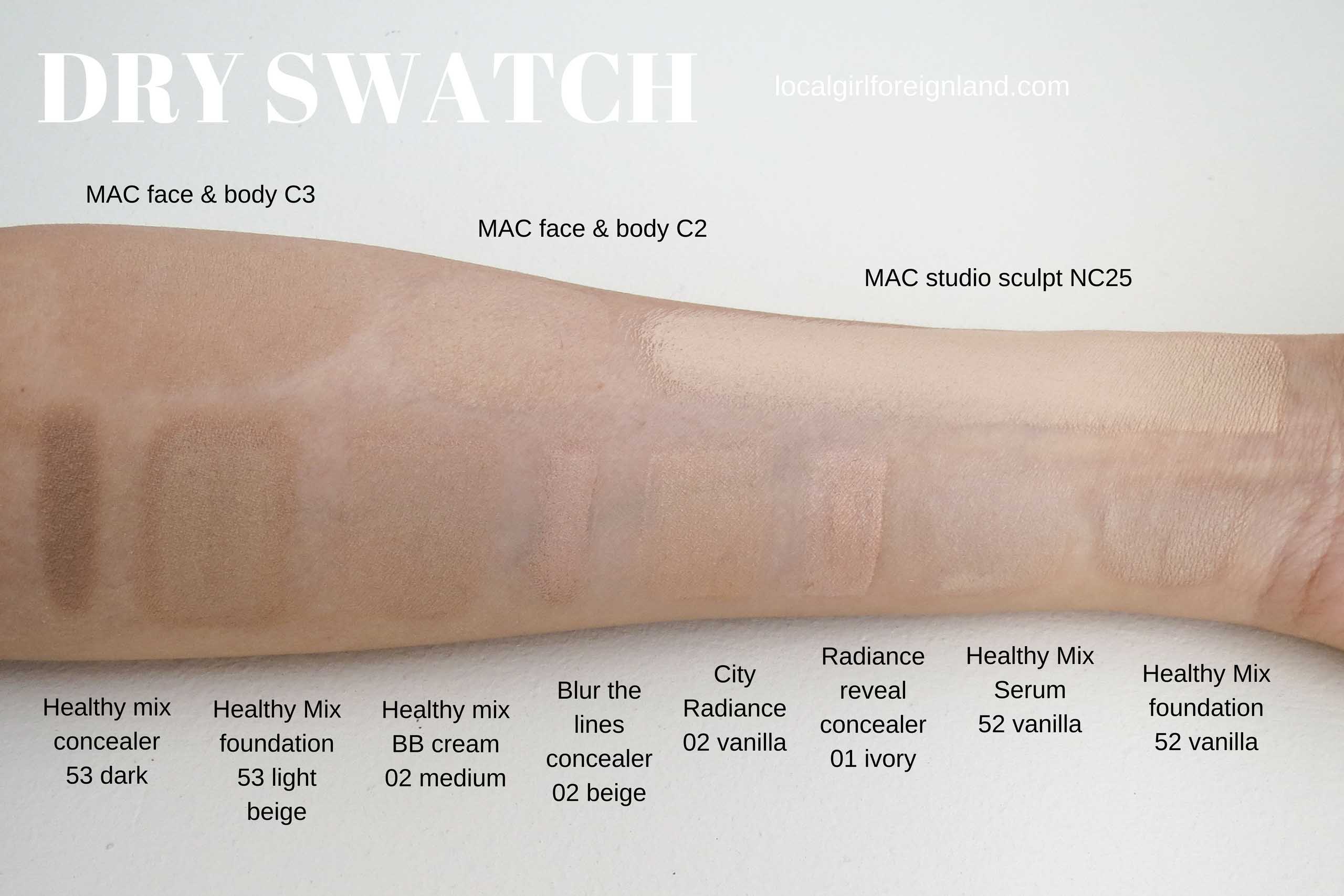 Longevity
**comment is based on zero primer, zero powder unless stated otherwise
It is a sheer/light finish BB cream. It is definitely the my skin but better sort of thing. I have a hard time figuring out whether the product is still on. It has coverage comparable to MAC face and body (which is virtually no coverage), but it doesn't have the "film" / wet look. It is really difficult to spot whether the coverage broke.
The coverage is really not this product's strength. You can see from both my video and my photo that the coverage slides off quick early LOL, but the BB cream doesn't breakdown badly on the face. Remain fresh looking is what this BB cream does best. It did keep my face fresh looking for the whole day. You can see more clear with my photos. Oil peeps through or start to make the BB cream visible after around 8 hours (based on zero powder and zero primer). No ugly looking breakdown. Very mild "gathering" around the nose, but it is too mild to be picked up by the camera.
Weirdly, the BB cream didn't do better in winter than in summer. Oil starts to peep through around 8th hour mark like clock works. The melt down is visible around the 9th hour or so. I think the performance is similar because of the heaters?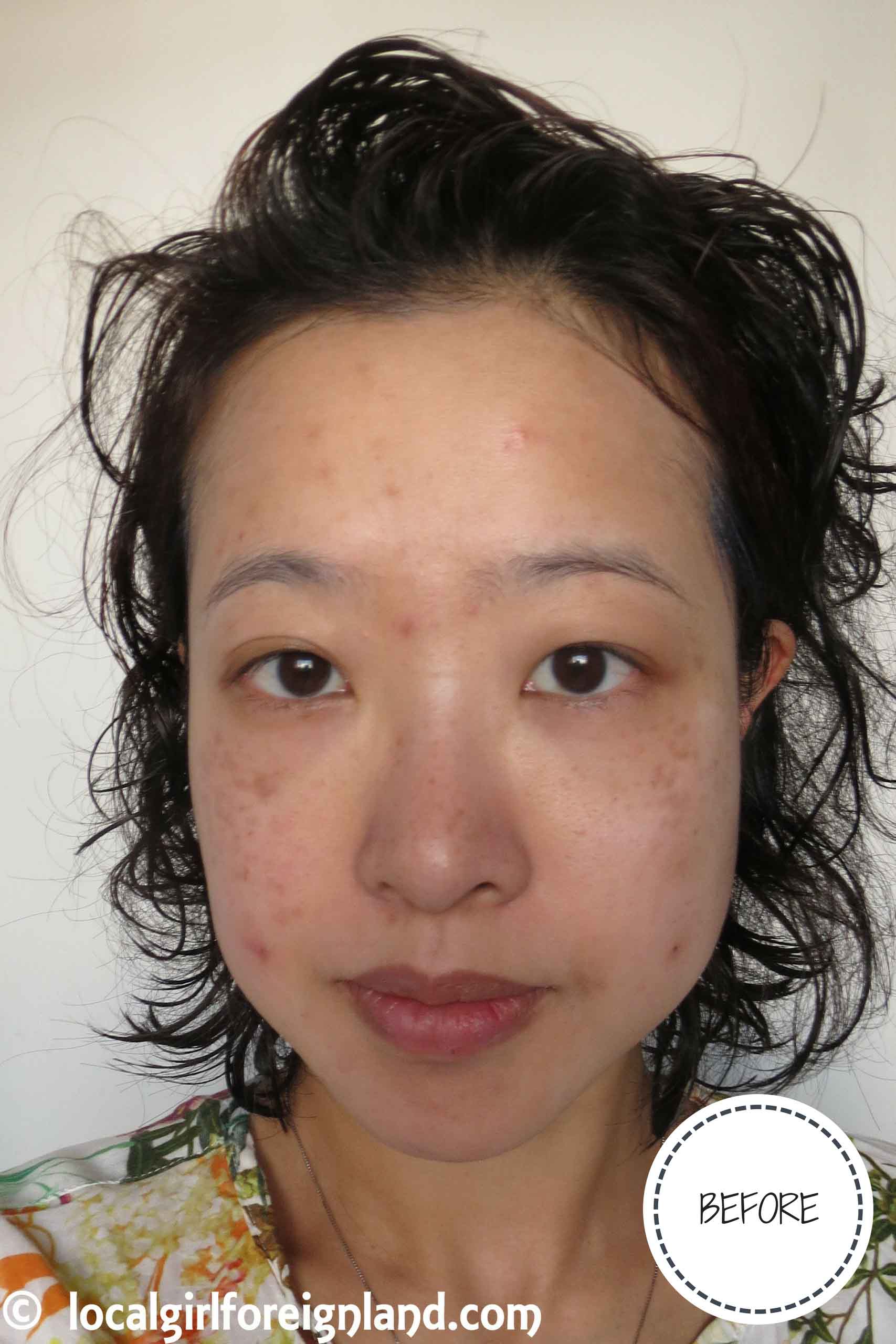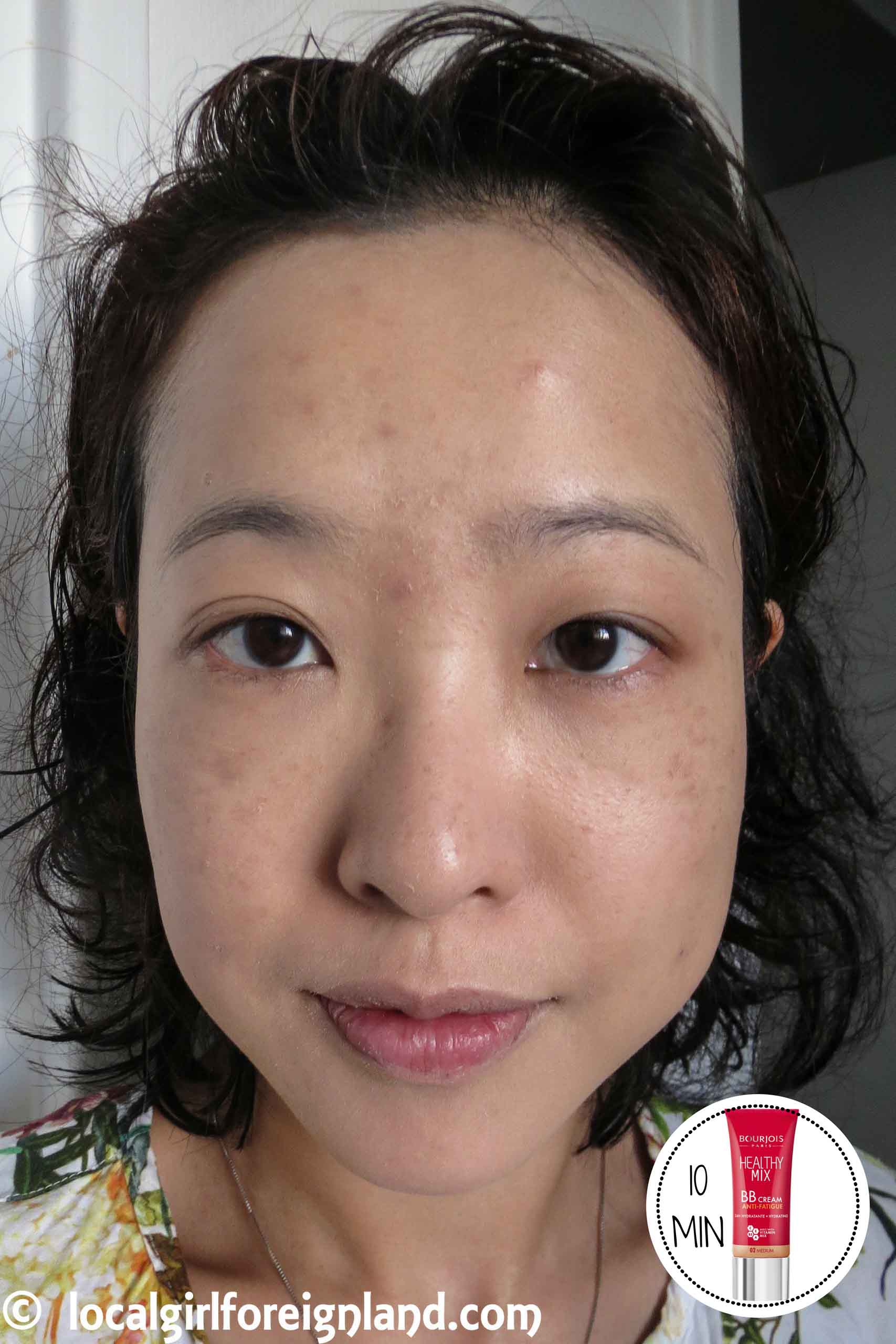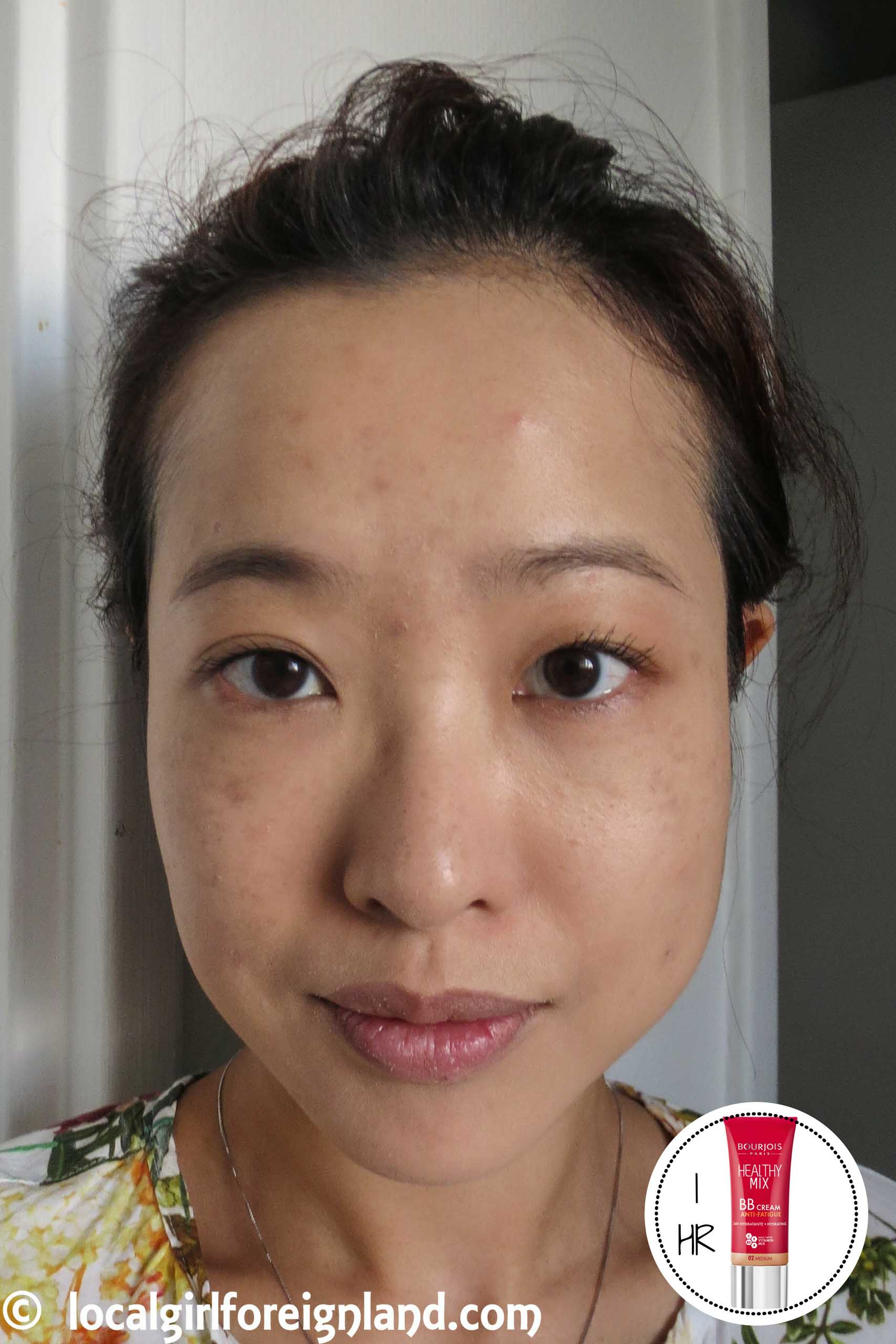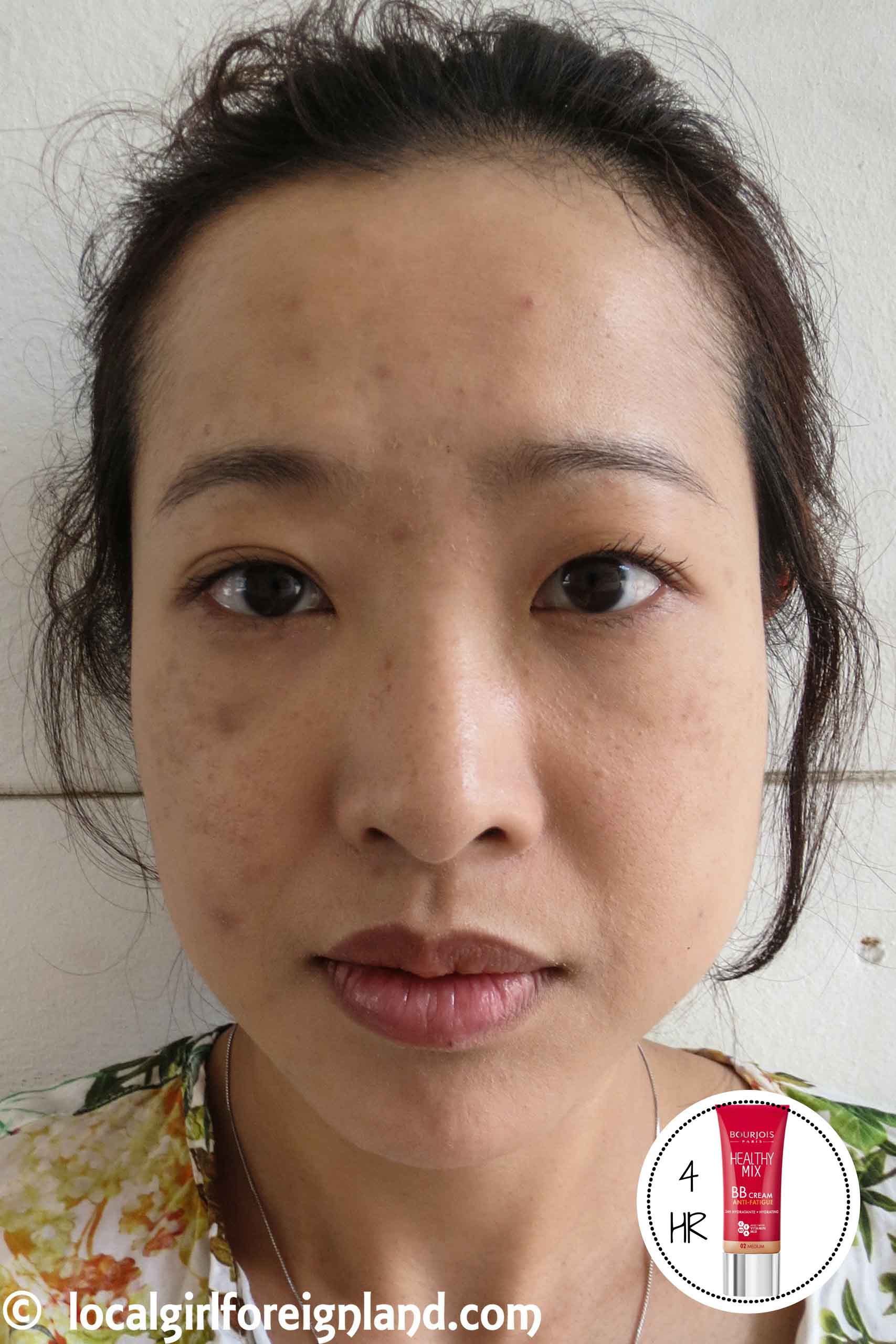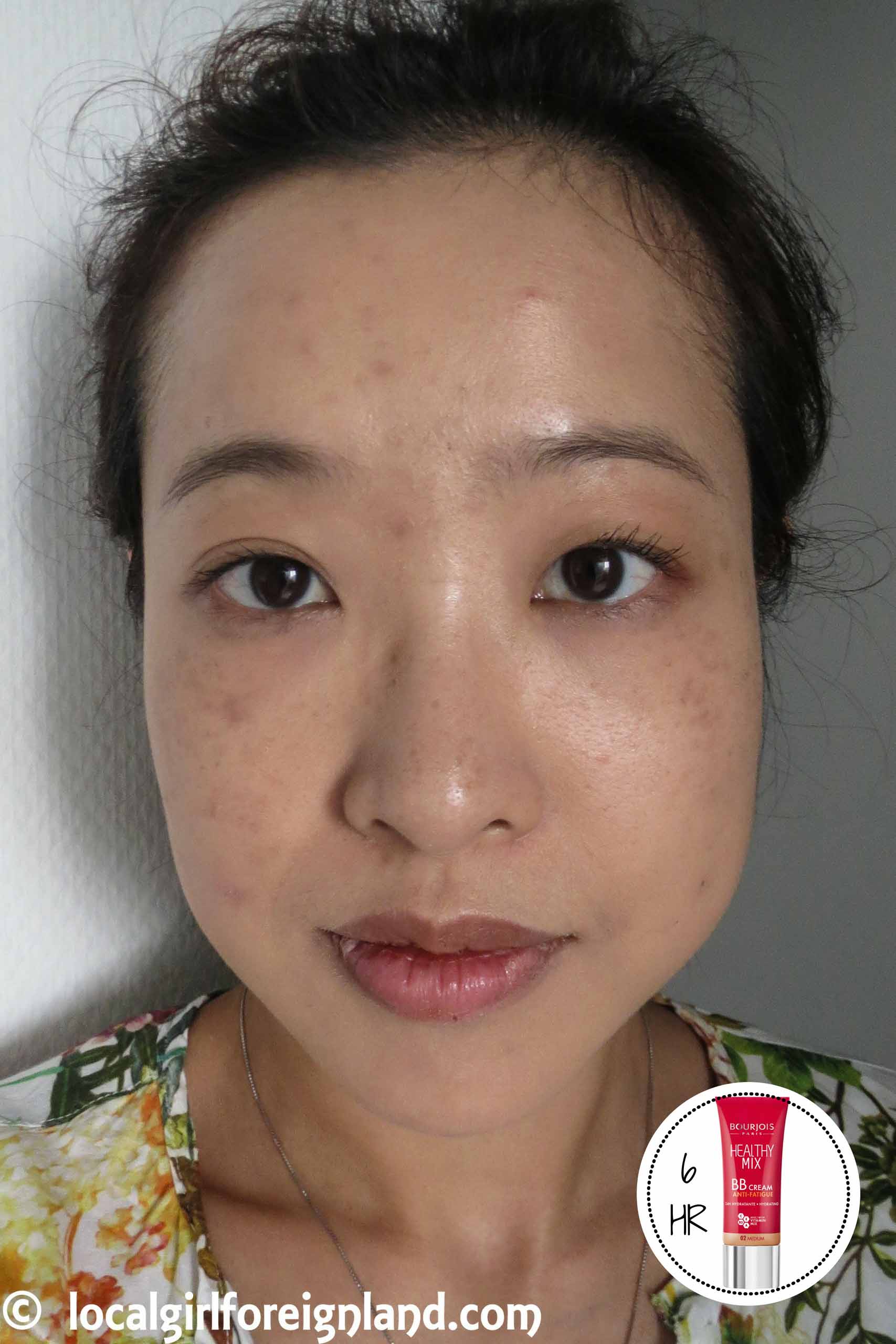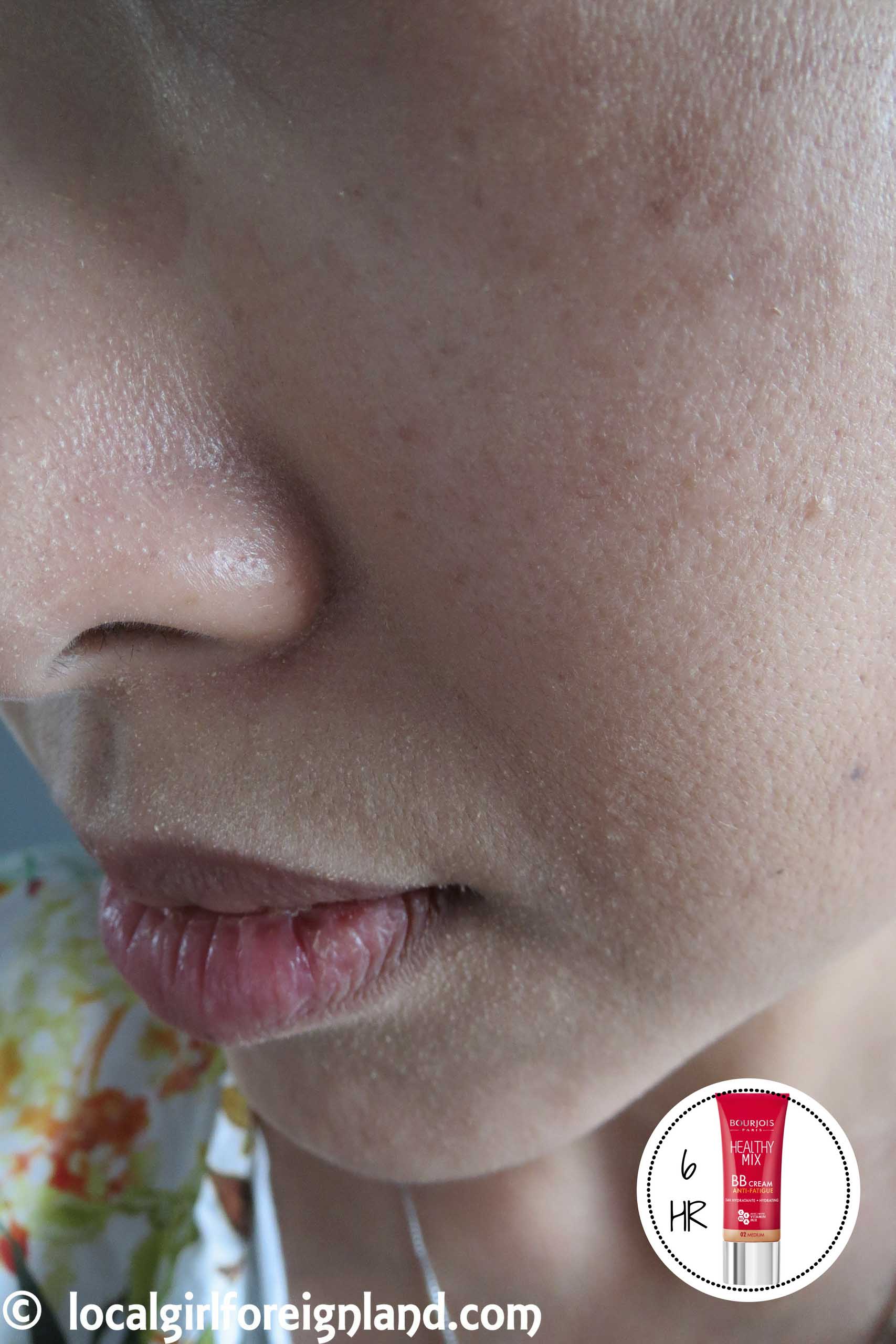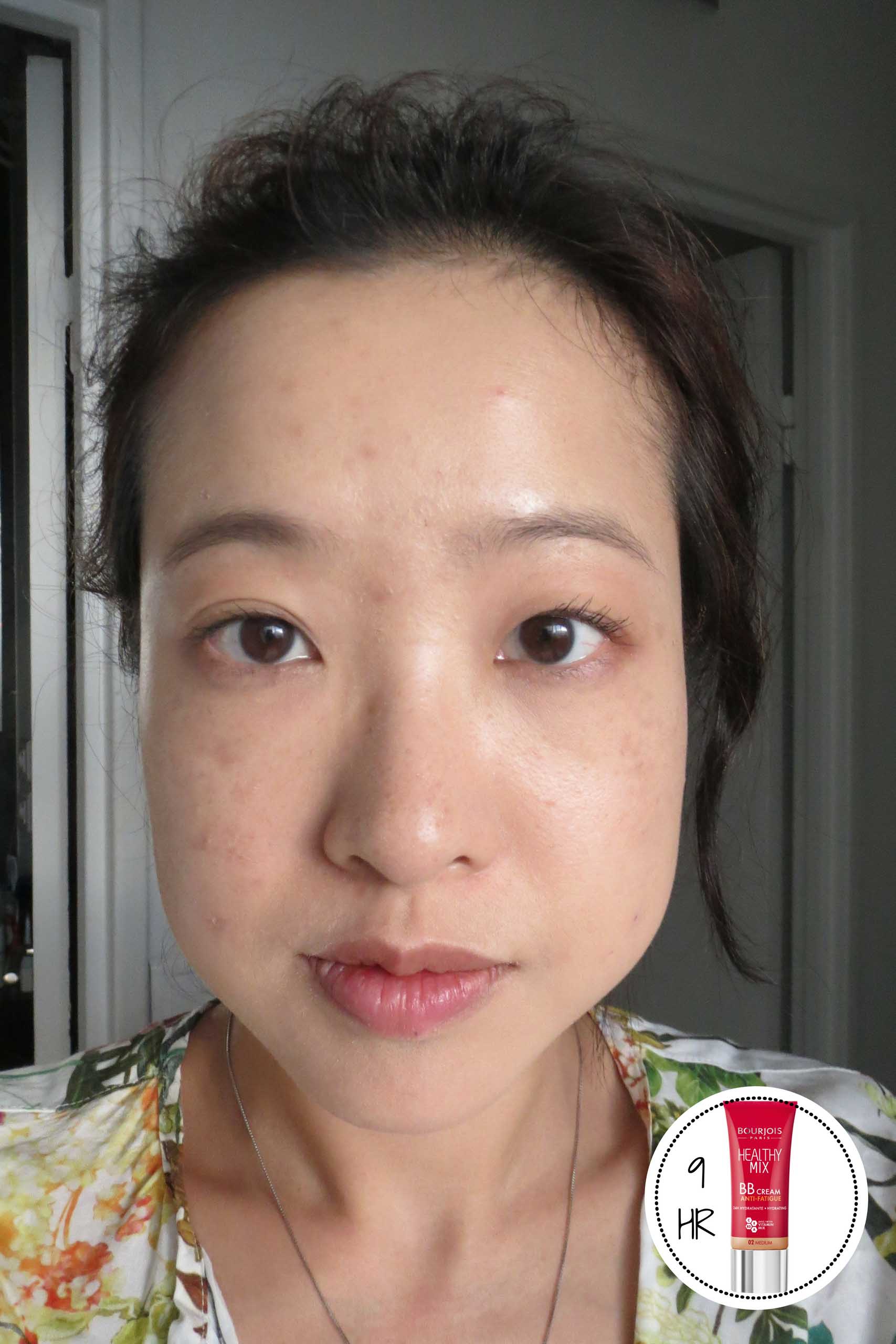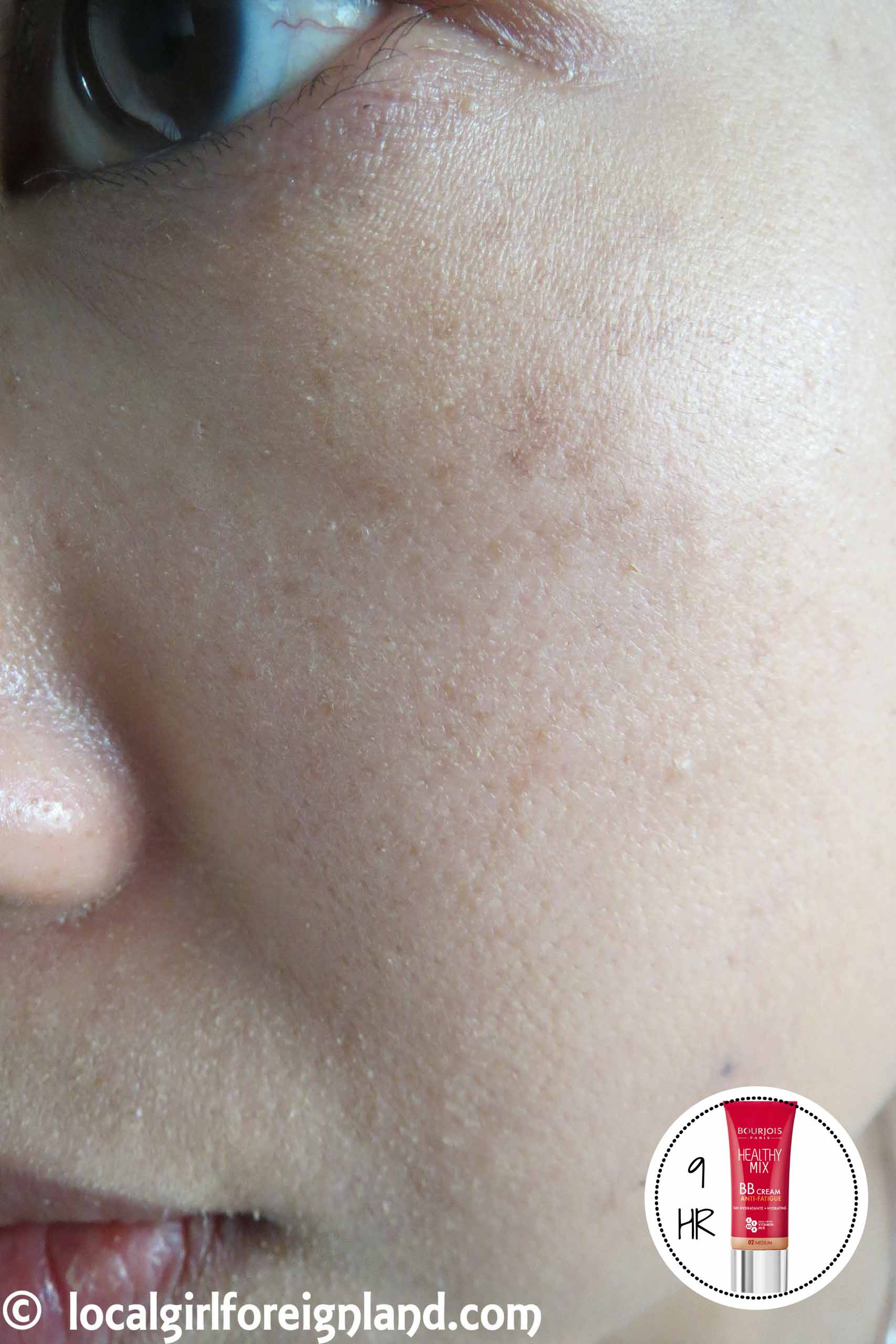 I have tried with primer, which makes me feel silly. I don't feel that primer prolongs the wear that much because the formula is very emollient. Adding powder does certainly helps to retain the coverage for longer, but then the loss of radiance is not worth it. Anyways, I think it look better without loose powder.
Sensation
Feels like skin care or a tinted moisturiser. Skin feels comfortable and pumped. It doesn't feel as good as the Clarins radiance boosting complexion base (my review), but it's less than half the price. If you're specifically looking to buy a foundation for 'getting off the flight' sort of thing and you don't fly that often, this is a value for money substitute of the Clarins.
Price
Bourjois.fr – EUR13.50
ALWAYS wait for their sale. They're always more expensive than buying from Monoprix or other French stores. Bourjois website does do 20-40% sale quite frequently.
Nocibe.fr – EUR9.50
I have not spotted this in Boots' official website yet. Does anyone know whether this has been launched outside of France?
I can't find the product on Sephora or Boots. I guess it hasn't launched yet?
Formula
Please note that the ingredient list on the French official website does not match the information printed on the product. I have contacted Bourjois.fr twice to clarify. It has been over a month, I don't want to delay publishing any more. Will update my comment on the formula once Bourjois has clarified on the ingredient list. I don't want to research each chemical and risk a re-do. My blog is a loving hobby 😉
The ingredient list per the packaging for Bourjois Healthy Mix BB Cream in shade 02 medium: [I did type the below list out; nearly gone blind doing it. Red with white text is just horrible for my eyes LOL]
AQUA/WATER/EAU, CYCLOPENTASILOXANE, ISONONYL ISONONANANOATE, ETHYLHEXYL METHOXYCINNAMATE, CETYL PEG/PPG-10/1 DIMETHICONE, GLYCERIN, BUTYLENE GLYCOL, MAGNESIUM SULFATE, ASCORBYL GLUCOSIDE, BHT, BIS-PEG/PPG-14/14 DIMETHICONE, BORON NITRIDE, DIMETHICONE CROSSPOLYMER, DISODIUM EDTA, DISTEARDIMONIUM HECTORITE, LAURETH-7, LECITHIN, MICA, PANTHENOL, PANTOLACTONE, PENTAERYTHRITYL TETRA-DI-T-BUTYL HYDROXYHYDROCINNAMATE, POLYMETHYL METHACRYLATE, PROPYLENE CARBONATE, RETINYL PALMITATE, SILICA, SILICA DIMETHYL SILYLATE, SODIUM POTASSIUM ALUMINUM SILICATE, SYNTHETIC FLUORPHLOGOPITE, TIN OXIDE, TOCOPHEROL, TOCOPHERYL ACETATE, TRIETHOXYCAPRYLYSILANE, VINYL DIMETHICONE / METHICONE SILSESQUIOXXANE CROSSPOLYER, XANTHAN GUM, CHLORPHENESIN, PHENOXYETHANOL, PARFUM/FRANCE, TITANIUM DIOXIDE (CI 77891), IRON OXIDES (CI 77491, CI 77492, CI 77499)

Source: bourjois.fr print screen from 2nd April 2018, 2nd May 2018 and 16th June 2018. It is still like this at time of press. I have contacted Bourjois via their official site contact page twice and asked them about the ingredient list on their Instagram. Still no reply to date.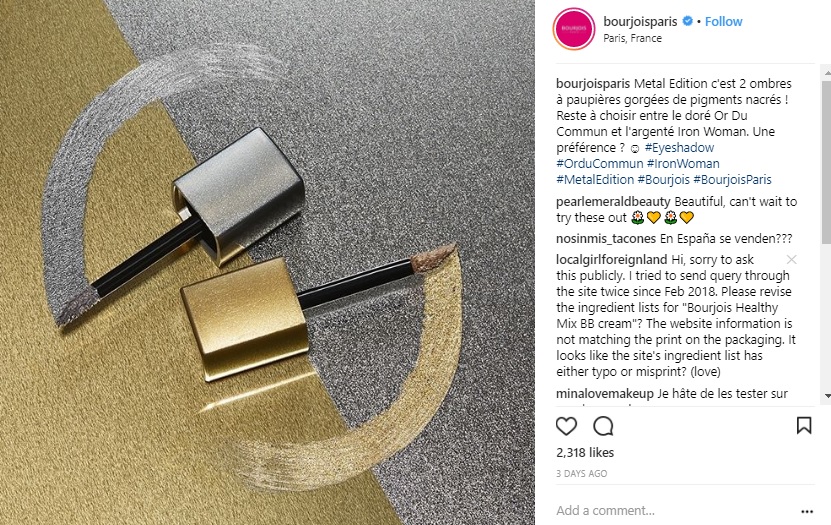 Rating C
Packaging 2/5
Scent 4/5
Blendability 5/5
Look 6/10 – I am not particularly impressed, but it doesn't look bad either. It evens out my skin tone, but I don't get that WOW great skin day sort of feeling.
Comfort 8/10
Longevity 6/10
Oxidation – more visible on swatch than on the face. Oxidise into into a peachy tone. When I don't use serum or more dry days, the peachy tone is more visible. Yellow tone is still dominate.
Value for money 3/5 – I know that this is a drug store product, but I can't over look the product loss situation
Repurchase?
Unlikely.
I am not excited enough by this product. I can only see myself buying it if I am desperate at the airport. But even then, I am way more likely to buy the L'oreal lumi cushion (EU version) or Clarins instant light radiance boosting complexion base. Yes, I know that the Clarins is 3 times the price, but at the very least it doesn't cause a bloody mess AND it feels super nice.
Personal note:
I see BB / CC /DD cream as a foundation. To me, the whole cream gig is just marketing. The product name does not change its actual function 😉
Camera: Canon IXUS 510 (wear test), Canon 5D mark 3 (product photos)
I bought the foundation with my own money.
I have no affiliation with the brand or the shopping sites provided.

Twitter / Instagram / Facebook / Google+