Clarins instant light 03 peach is easily my favourite no-makeup look product. It is perfect for those days where you're on a tanning holiday and your colour fluctuates by the hour or times when there's no miror e.g. inflight. Comparative swatches are included (MAC NC25 and other Clarins shades).
My skin profile is available here.
Coverage & Finish
Sheer coverage. Radiance finish. Can achieve no makeup look, it is undetectable unless you've a very off shade.
It rises my face up from dead to alive, but with virtually no coverage LOL
Fragrance
Typical Clarins product smell? Feminine, sweet floral. It is not a youthful feminine smell. Can't smell within a minute of application.
Skin type
Oily skin stay away from this thing.
Fab for dull / dry / patchy / dehydrated skin. Okay for normal skin. Short life on T zone for combination skin.
I never trust the "all skin type" makeup review. I believe if the product is any good at all, it has to be outstanding with one skin type and suck for another.
My skin type? click here
Packaging
Pearl finish plastic tube with golden metallic pump + lid. Comes in a rectangular sturdy card box.
I am positive that the lid is metal, because I've sat on it and it deformed LOL I forced it back into shape.
30ml
*I can't weigh it, mine is like half way through, but this one is pretty light and I often travel with it.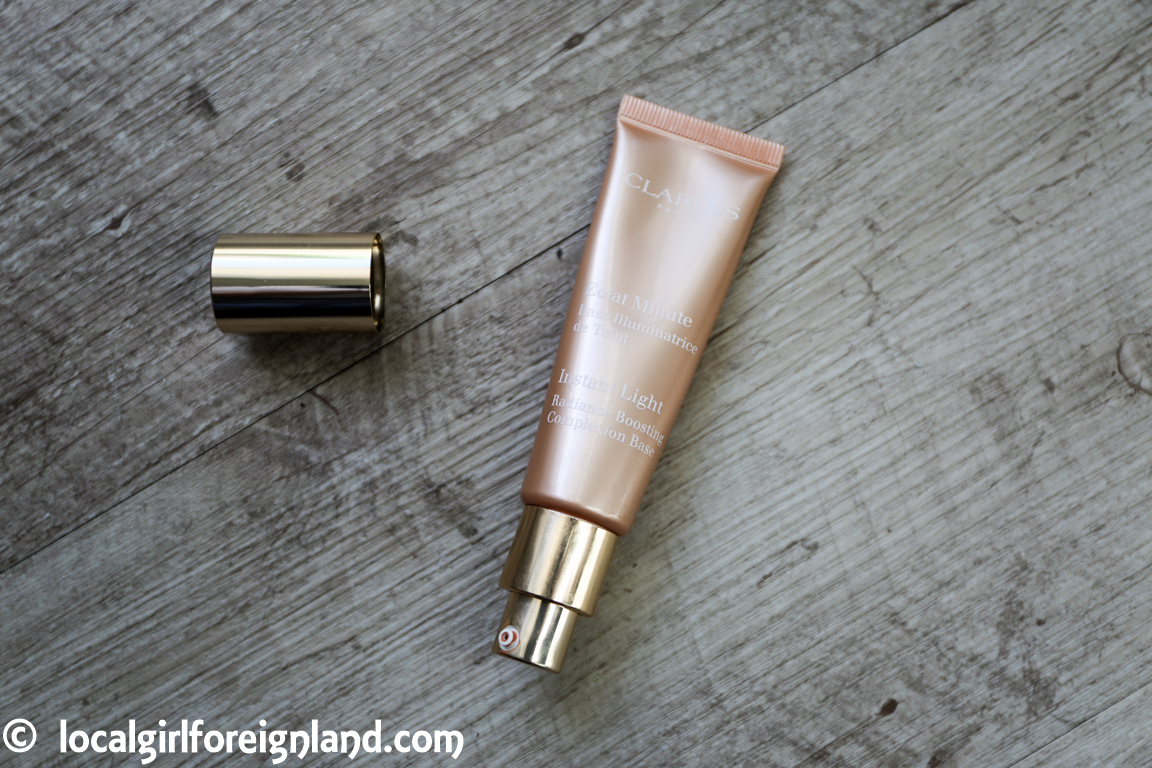 Country of origin
Made in France
Application method
I prefer my palm. I squeeze a pump (sometimes less if I'm that that tanned yet) into the palm of my hands. I rub the product to warm it up a bit and press the product onto my face with palms.
My main use for this product is for holiday / flight. The coverage is so light, sponge or brush is a total waste of time?
Clarins' official site does advertise this as a pre-foundation product (although can be worn alone). Personally, unless you have exceptionally dry skin, I do not recommend using this as a pre-foundation product. It's like a moisturiser with a bit of glowy tint.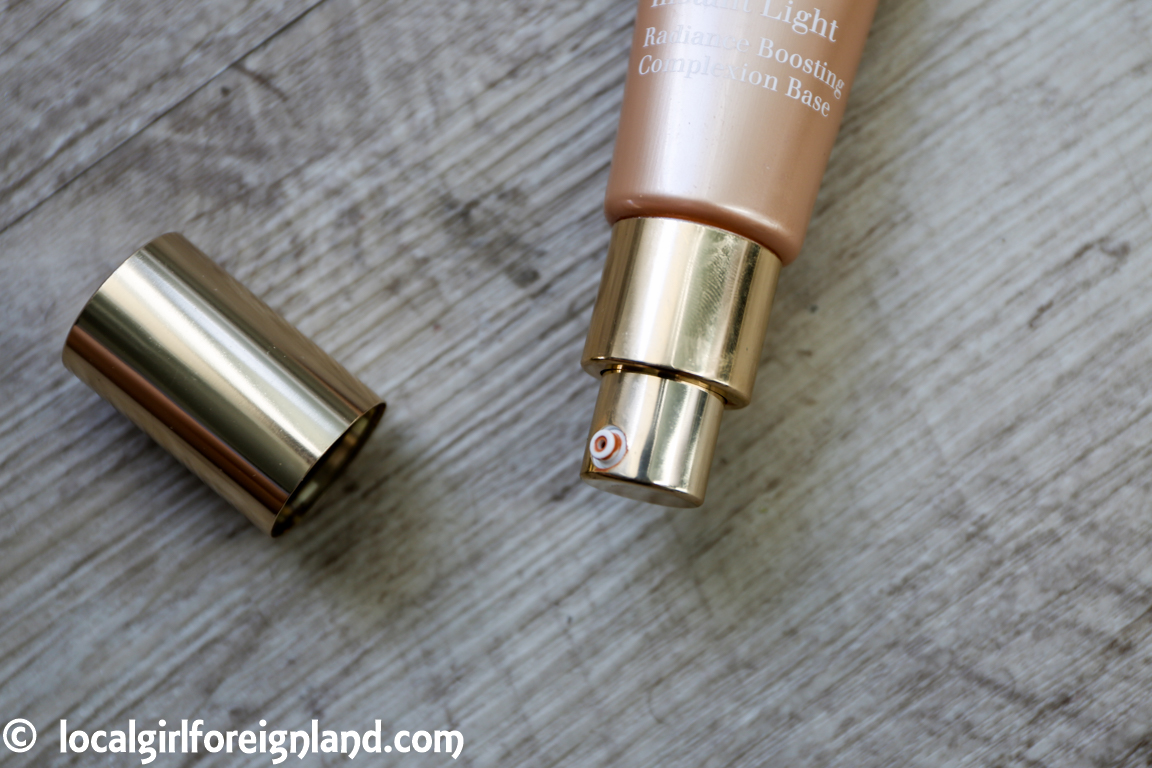 Colour
I bought the 03 peach. It is sheer / tinted moisturiser product. It looks really natural on me, especially when I'm having MAC NC25-NC30 / C3 days. Again, it is so sheer. I love it for the glow.
They have this in rose, apricot and champagne as well. I haven't tried the others.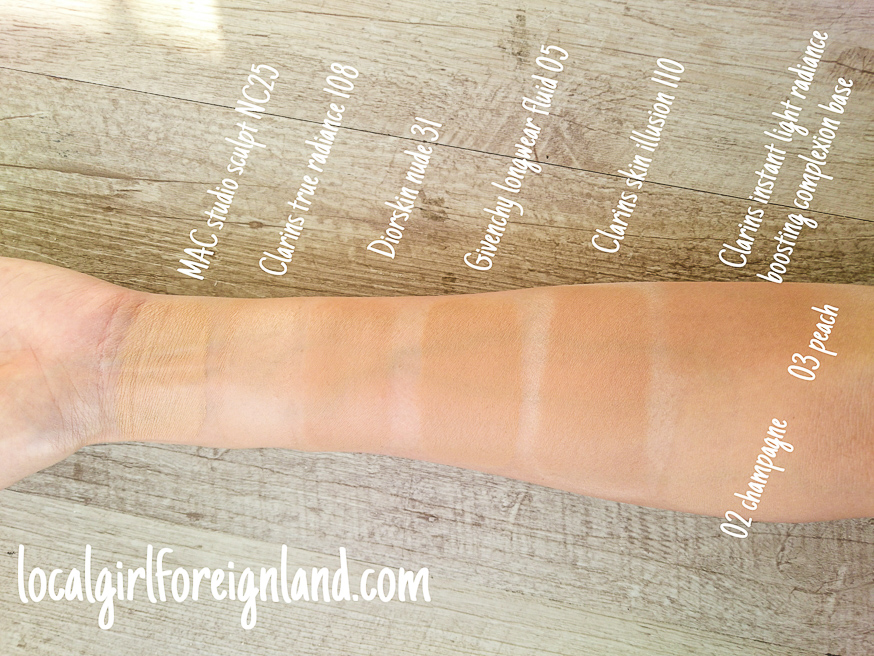 Longevity
I use this without any primer or powder.
The coverage is sheer. It is super hard to tell when it started breaking down / slide off? One thing that I do know is that it doesn't break down badly or texturise my skin. It maintains the glow through the day (8hrs +). It honestly feels more skin care product with a bit of tint.
Sensation
I LOVE it. It feel skin care-ish? Like a freshen up moisturiser. My skin loves this thing especially after long haul flights. It makes me look fresh and even my mother in law complimented me for looking fab after 12 hours flight LOL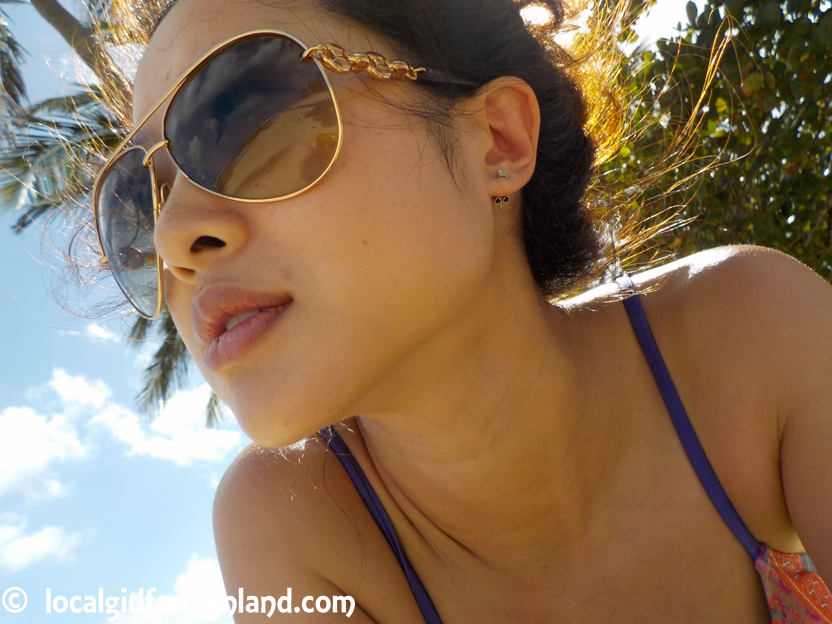 Price
Clarins.co.uk £26.50
Clarins.fr 32,50€
Clarins usa $38.00
sigh I don't even want to look further. Stashy, please don't show me the CA price, I'll get depressed. Why is France always the most expensive country?
Repurchase
I don't know how many of these I have bought in the past. I've been using Clarins instant light sort of range since the 90s. Back then there was only 1 colour (apricot) and it was called colour veil. The tube was clear with a white based golden rim lid. OGs will know what I'm talking about.
Overall rating: B-
Packaging – 5/5
Scent – 5/5
Blendability – 5/5
Look – 8/10
Comfort – 10/10
Longevity – 6/10 (? I'm not very sure about this one. Too sheer to tell?)
Oxidation – n/a
Value for money – 2/5 it is expensive for a sheer makeup product, but then I love how it makes my skin looks beautiful instantly and continuously through the day.
Featured photo was taken Maison de foret, Guadeloupe

Please be a sweetheart & support my social media xox
Bloglovin' / Google+ / Twitter / Instagram / Facebook / Pinterest
I am not affiliate with the brand in any way. I enjoy making advert looking photos for my own entertainment. Will like to emphasize that I'm a travel blogger with a hoarding issue