Review complete with swatching against other Boujois and MAC. Warning, this is not a pretty post. Macro skin time stamped photos alert.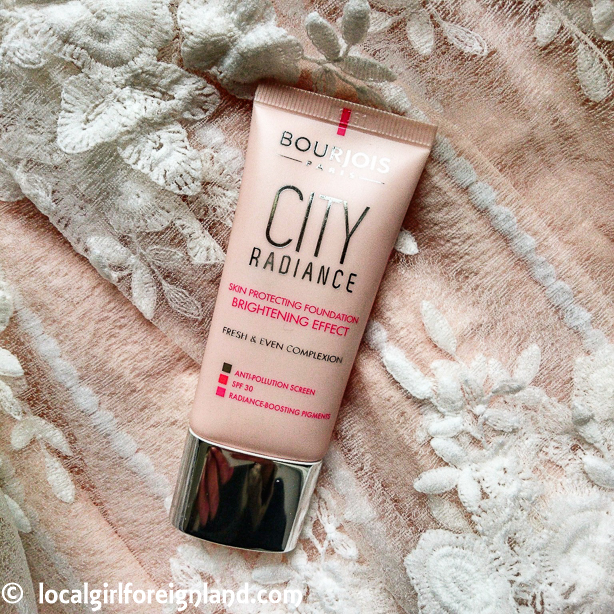 Coverage & Finish
Medium coverage. Radiance finish. The radiance is obvious that there's something on the face.
I won't call it a buildable coverage. If I use too much of this stuff there is too much radiance, borderline shimmer finish? It's not cakey, just too much radiance; not a good look. Below are my time stamped photos. If you hover the mouse over the photo, there's caption. **The hover doesn't work on mobile device, I haven't figured out how to fix that yet.
Skin type
For dry or normal to dry. I can't imagine it working for other skin types even with primer + powder. Not for people with dry patches either.
My skin profile? click here
Fragrance
Floral sweet. It's a very typical French product smell? I don't know how to pin point it. Just by smell alone, if one is blind folded, you may not have guess this is a drugstore product. Not pungent and can't smell within seconds it hits my face.
Packaging
Soft pearly pink tube with embossed silver lid. Difficult to not like this packaging. Totally plastic and light. Total weight 49g.
Once the sticker is removed, there's no way of telling what shade the tube holds
30ml
12 months recommended shelf life after opening.
Mega travel friendly packaging. I really love this packaging.
Country of Origin
Made in France
Bourjois is from Paris, France since 1863. Currently owned by Coty Inc.
Application Method
I prefer synthetic buffing brush – real technique expert face. Medium density for medium-high coverage.
MAC 190 was okay, but it was work. MAC 187 / duo fibre brush totally didn't work out for me.
Sponge is preferred for fuller coverage.
Finger/hands application is possible, but it was just not as easy as brush / sponge.
Colour
There are only 6 colours to choose from and the name of the colours are misleading. I use 02 Vanilla. I am not sure whether it was too light or if the foundation just glows a lot.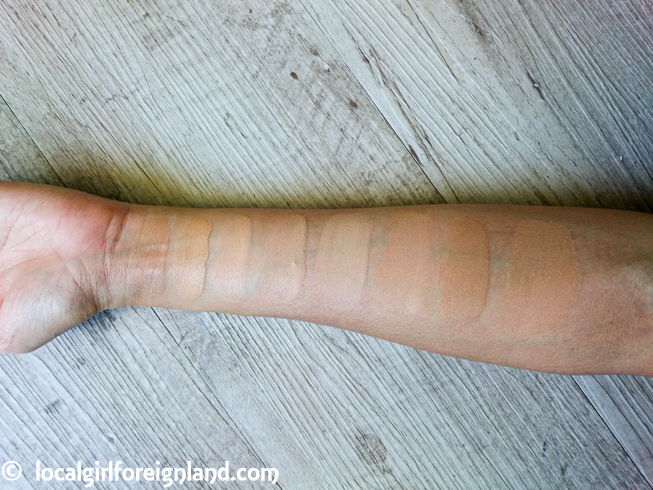 All colours run yellow. 02 Vanilla oxidises a lot! Changes to peach like crazy. Pre-oxidation is like NC20. After oxidation, it was like a MAC studio finish concealer NW25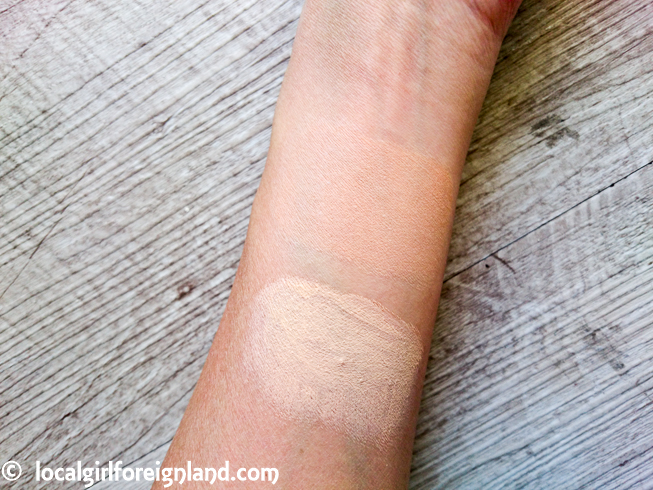 Longevity
Parisian late May 20-30 degrees Celsius. I tested for 2 weeks. As usual, no primer and no powder. This thing was a slippery sliding mess! Visible melt down started 4 hours after initial application. The melt down was brutal. It died into a glow that sunk into pore that I didn't know I had. I have combination skin, but towards the dry side. Glowing pore was not a great look. The coverage was definitely gone by 5th hour. The foundation doesn't break visibly, but I could tell that the coverage was gone. But fear not, the glowy pores effect endured. It was like glowy "dented" skin? Not loving it.
Here are photos with time stamps… (started at 6h00) Hover mouse over the photo to see the caption.
I did experience honeymoon period (winter months) and thought I loved it. I only later discover that in outdoor lighting this foundation was a radiance shimmery mess. I get sunlight until 21h00 now, so I see the performance in a whole different way.
Just for reference, my skin condition looked better without the foundation. The foundation either highlighted my texture or caused texture that I didn't have before, made pores visible and created lines that I did not have before makeup. People who knows me in real life knows that I have no lines. Pigmentation is an issue, but this foundation is a whole new level.
Seriously, my chins and cheeks are dry, where the hell did those pores come from?
There isn't actual shimmer in the foundation, but I don't know how to discribe the crazy glow.
Sensation
Comfortable, moisturised. After 10min, my face felt more supple. Didn't feel oily despite the horrific look. Clinged to dry patches that I didn't know I have within the hour of application. Even as it melt down there was not sticky / weird feeling.
Price
Boujois.fr EUR14.95 ===> WHY?!?!?!?
Sephora.fr EUR17.50 ?!?!?!?!?!?
Boots.co.uk GBP9.99
I don't find official page for USA/CA. All I need to know is that I'm always pissed that France is consistently more expensive.
Formula
I am quite impressed by this formula, though you can tell that I didn't like how it melted down on me. Impressive skin care in their ingredient list.
AQUA (WATER), TITANIUM DIOXIDE [NANO], ISOHEXADECANE, ETHYLHEXYL METHOXYCINNAMATE, DIMETHICONE, ISOPROPYL MYRISTATE, GLYCERIN, PPG-15 STEARYL ETHER, PROPANEDIOL, METHYL METHACRYLATE CROSSPOLYMER, IMPERATA CYLINDRICA ROOT EXTRACT, PEG-30 DIPOLYHYDROXYSTEARATE, ALUMINA, PHENOXYETHANOL, DIMETHICONE CROSSPOLYMER, STEARIC ACID, PTFE, MAGNESIUM SULFATE, HYDROGENATED LECITHIN, PEG-8, ETHYLHEXYLGLYCERIN, PARFUM (FRAGRANCE), CARBOMER, BIOSACCHARIDE GUM-4, SODIUM CITRATE, BHT, GERANIOL, LINALOOL, POTASSIUM SORBATE, CITRIC ACID, TOCOPHEROL, BIOTIN,
[+/-(MAY CONTAIN):
MICA,
CI 77007 (ULTRAMARINES),
CI 77491, CI 77492, CI 77499 (IRON OXIDES),
CI 77891 (TITANIUM DIOXIDE)].
Hydrogenated lecithin is a emulsifying agent that aid ingredients to penetrate the skin. Although it is deemed safe by FDA, there are concern that this maybe carcinogenic. I don't find solid proof of it causing cancer though. So this one I highlight in orange *LOL* The overall formula has some skin care items, perhaps in this case it is a good thing?
Biosaccharide gum-4 in short is a moisturiser. It binds water to the skin.
Imperata cylindrica root extract is known for it's hydrating properties. Well, in SE Asian skincare and in Chinese medicine. Kiehls use this stuff in a few of their products. I am impressed to find this in a drug store product.
Tocopheraol – a type of vitamin E. Anti-oxidant can never hurt?
Biotin – aka vitamin B7 is great for hair/nails/skin.Though I don't think this stuff can be absorbed by the skin.
Linalool – Potential skin irritation from this sweet fragrance (it is a naturally formed fragrance)
BHT – slows down oxidation rate / or prevent change of colour. Not sure if this is a yey or nay, because there's contradicting results from various studies (also used in food, so some reports are food test based). Some say that it causes cancer (and/or accumulate in body tissue), other says that it helps to retard development of cancer due to its anti-oxidation property Either way, it is FDA and EU approved at the moment.
I am more detailed with drugstore products' ingredient lists, because with higher priced product I expected them to have a bunch of good stuff. So if even if they do have fab ingredients, it is still not worth mentioning.
Repurchase
Hell no. I am considering how to use it up. Maybe it is only good for background prop?
Rating: E
Packaging 4/5
Scent 3/5
Blendability 4/5
Look 4/10
Comfort 9/10
Longevity 2/10
Oxidation – severe colour change. I would classify this as a greyscale 2
Value for money 2/5
I am trying a new way to show how the foundation is performing. I hope that you find this post useful. Please comment below what you think of this foundation.
Camera: Canon 5D mark 3, Canon IXUS 510 HS (face), Sony Z3+
No affiliated links.

Stay connected xox
Bloglovin' / Google+ / Twitter / Instagram / Facebook / Pinterest