Madness! In short, this was an onsen theme park. That's right, all different theme, type and sort of hot spring under ONE roof in the heart of Osaka. Technically, no one ever needed to leave if one had enough money. This place had a hotel, spa around the world, shopping AND restaurantS. Any type of hot spring around the world was here. It's the place where I got so relaxed and fed that I couldn't bear to leave? (bank account was screaming)This was obviously a mostly nude experience, so don't expect a ton of photos. I'll share the experience as much as I can.
Upon arrival, I was VERY confused. They had many different packages at the entrance ticket  vending machine. On their webpage, it was WAY simplier. Strange categories and bad English (like no ways of understanding what's going on type).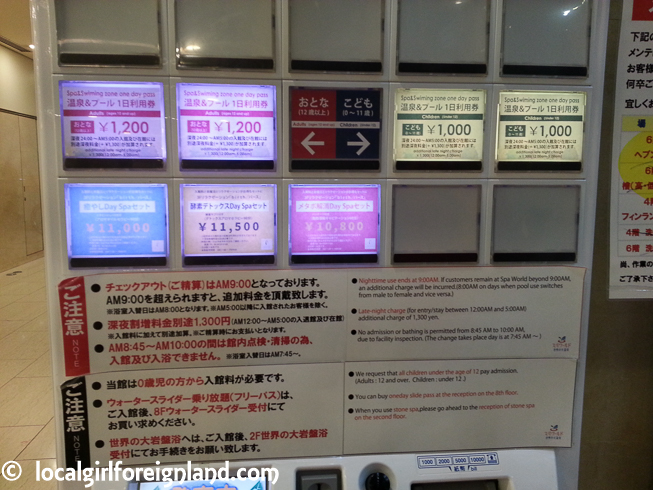 ASAP enter the gate, it was bare foot time. Men and women baths were separated by floors. They rotate monthly i.e. this month women's floor was the Western bath, men's floor was the Asian bath; the following months it would be vice versa.
It was Western bath month for us girls. I showered, scrubbed and washed myself thoroughly (I was CLEAN). After cleaning myself silly, I proceeded to try various baths.
Ancient Rome – Think laying in a bath surrounded by sculptures
Cold bath – extra cold water bath in a round golden colour Jacuzzi with Rome style decorations
Blue Grotta – Italian style, meant to be Capri of Italy. The water was milky colour and the girls there told me that it has minerals to make my skin super smooth. I was a believer and stayed in there for a LONG time 😀 I felt soooo smooth
Salt / Sauna? – It was WAYYYYYYY toooooo hot for me. My feet burnt and the salt was also burning. I was out within 2min 😛
 Greece medicinal bath – There were pouches of herbs in the bath. There were several of them. Each had different herbs. The water was a funny brown looking colour. Felt great though. The herbal bath really smelt good. I loved the rosemary/mint bath. Refreshing stuff.
At this point in time, I was too lazy to move. I got myself a cold bottle of water.
Open air bath – No idea what theme that was and no idea what I was doing. I was either too relaxed or I had reached critical internal temperature to stop functioning.
Only the official site had glimpse of the place http://www.spaworld.co.jp/english/onsen.html But even their photos couldn't do these baths justice. The place was really awesome.
Alright, after all that bathing. It was time to eat… Choose okonomiya 😀 Kansai style~~ Now that I could take photos. I did not eat nude 😛
Where was I?
Spa World, Osaka
3 Chome-4-24 Ebisuhigashi, Naniwa Ward, Osaka, Osaka Prefecture 556-0002, Japan
スパワールド 世界の大温泉
〒556-0002 大阪市浪速区恵美須東3-4-24
http://www.spaworld.co.jp/english/
Entrance fee – *please visit the official site for the most updated prices
Weekdays: JPY2400 / 3 hours / adult
Weekend & holidays: JPY2700 / 3 hours / adult
All day pass JPY2700 or JPY3000 depending on the day
Ganban yoku 岩盤浴 'Stone' Bath i.e. dry onsen is an addition of JPY800
Tips: if you only enter after XXHXX, it's only JPY1200 for 3 hours.
How to get here?
JR Shinimamiya Station. Located near the East Exit.  **JR pass holder's choice 😉
Doubutsuenmae Station (Osaka subway). Located near the number 5 exit.
Nankai Dentetsu Shinimamiya Station (Osaka local train). 5min walk.
**Featured photo and all photos of the bathing area was found online or from official media channels. I did not take any photos of any of the baths.
Only photos marked with my page address were taken by me on this post.
O, DIY selfie with a board was a fail…
Please be a sweetheart & follow one of my social media xox
Bloglovin' / Google+ / Twitter / Instagram / Facebook / Pinterest