That was the 4th trip to Takamatsu, so I didn't bother to do any research. 20min ferry ride later… Voila, we're on Megijima 女木島, Island of the Ogres. Er… Where were the vending machines? Where were the convenient stores? Where were the people?
Hubby was slowing morphing into Grumpy… he was hungry. So was I 🙁 In any case, since we're in Japan. It will only be logical that there'll be vending machines eventually. I was SO wrong. 2.7km uphill hike with ZERO vending machine in sight. We did not have breakfast either. We were expecting some food tourism …>_<… Just a starving couple celebrating our anniversary by involuntary fasting in a foreign country.
2.7km later…
Towards the mountain top, we came across this simple hut. YEY! We're SAVED! Soft drinks vendor 😀 Sugar drinks was better than nothing. Visitors beware, the vendor lady was more grumpy than my hungry husband.
Out of no where, there's a tourist attraction! Cave of Oni's loot 😀 Hm… that sounded interesting. Japanese folklore about Ogres looting the villagers. Of course, Momotaro (Peach boy, aka hero who fought against ogres) was there to save the day. The cave was damp and rather cold.
I didn't know how to appreciate this attraction. I felt that the displays were a bit repetitive? But then, the Japanese family that we bumped into were really into it. So I guess it was just me? I don't know enough Momotaro stories to fully enjoy this. Well, that and the fact that I was still starving.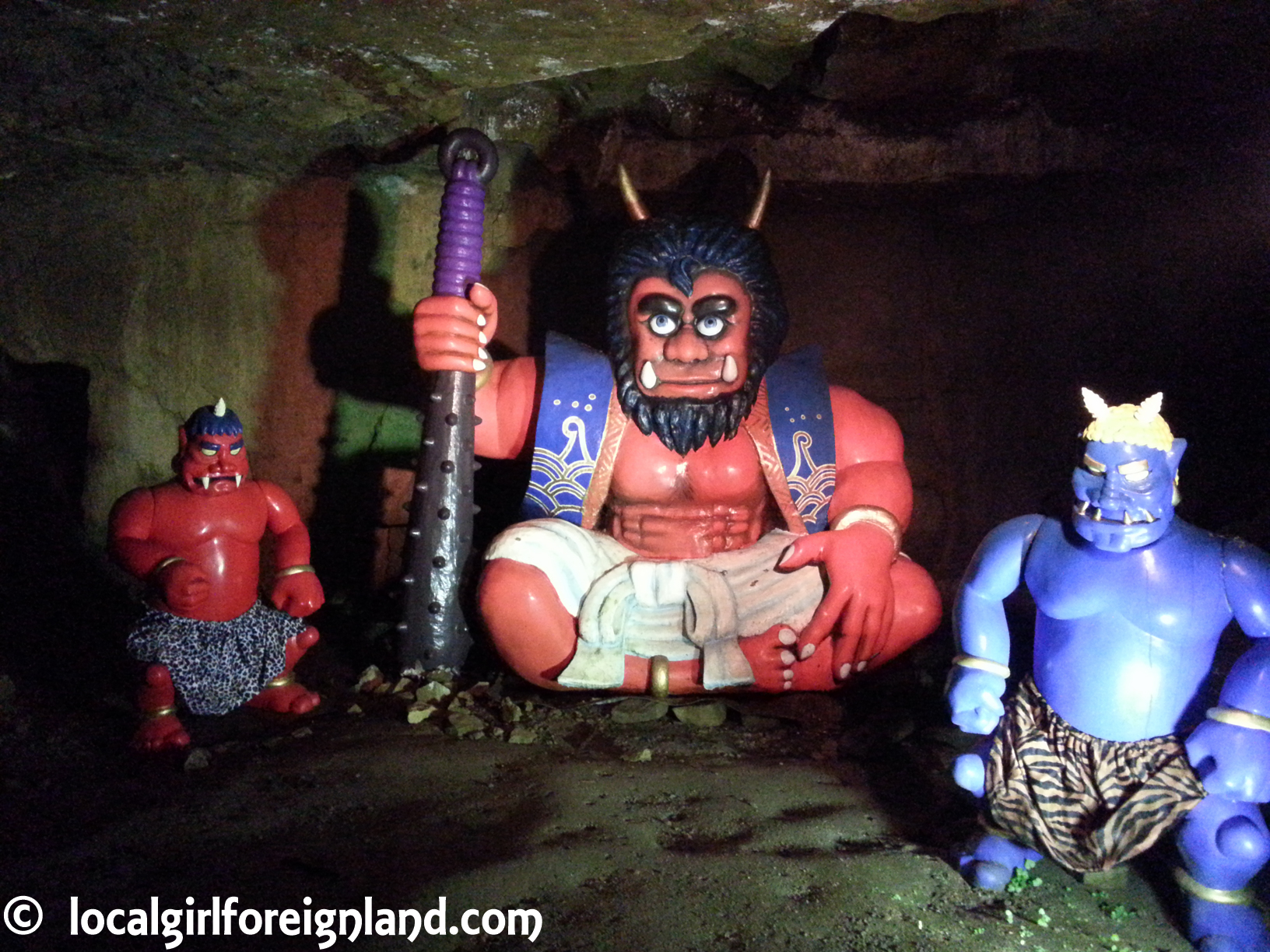 After the cave, we decided to descend; seek civilization and hopefully some food. We found a fab picnic spot. Agony.
Finally, there was a restaurant that was opened!!! We were like, we've never seen something more beautiful / exciting! (said 2 starving people)
2 udon set per person later…
The local local, megijima udon set is the one with tofu + wakame. It was AWESOME!!! 😀 and only 500 JPY per set (udon + rice). This store only opens between 10:30 to 14;45. Closed every Wednesday.
Alright, we're back to our normal selves. Let's do some tourism. The art festival (Setouchi Triennale) was on, let's check that out!
Er… what? This piece of art was titled 'Nothingness'. That was an empty house. Er… Where was the art part? I didn't get it. Anyhow, that's kind of my reaction to several contemporary art master pieces. So I won't bore you with my lack of artistic sense.
This concluded our anniversary celebration and we sailed into the sunset back to Takamatsu.
Recommendations:
BRING your own drinks & food. We really did not spot any convenient store anywhere on the island. It was crazy.
The island was very small and only had 200 inhabitants. I highly recommend doing this as a day trip from Takamatsu rather than staying over night.
How did I get here?
Megi Island / Megijima
We boarded the ferry from Takamatsu pier.
Takamatsu to Megijima = 20min
JPY360 per adult i.e. JPY 720 return
The Cave of Ogre loot
Entrance fee: JPY 500 per adult
**We were here during off peak season
Peak season: spring / cherry blossom. This 2.67 sq km island boost an amazing view of 2000 cherry blossom trees.
Please be a sweetheart & follow my social media xox
Bloglovin' / Google+ / Twitter / Instagram / Facebook / Pinterest