This tour was a true test on stamina and endurance. How much one can eat has a direct impact on enjoyment 😀 There were 6 stops. Each stop was rich and evil.
Meet up point was next to the Mc Donalds by Liverpool tube station. They're the only place around with a free toilet facilities. It was a thoughtful meet up point. The first stop was probably the furthest walk between the other stops. Like 10min? People with heels could have easily survived it.
The guide led us through the food mystics of East London and uncovering some history while we munch away…
Old Spitalfields Market, Spitfire Gate, 105c Commercial Street, London, E1 6BG
Apparently this mega successful pie shop's first day was gloomy… they sold 6 pies. Things got better for them. As of 2016, they had 6 stores and a deal with Sainsbury (major supermarket chain in UK). Not shabby for humble beginnings. This branch was the first store.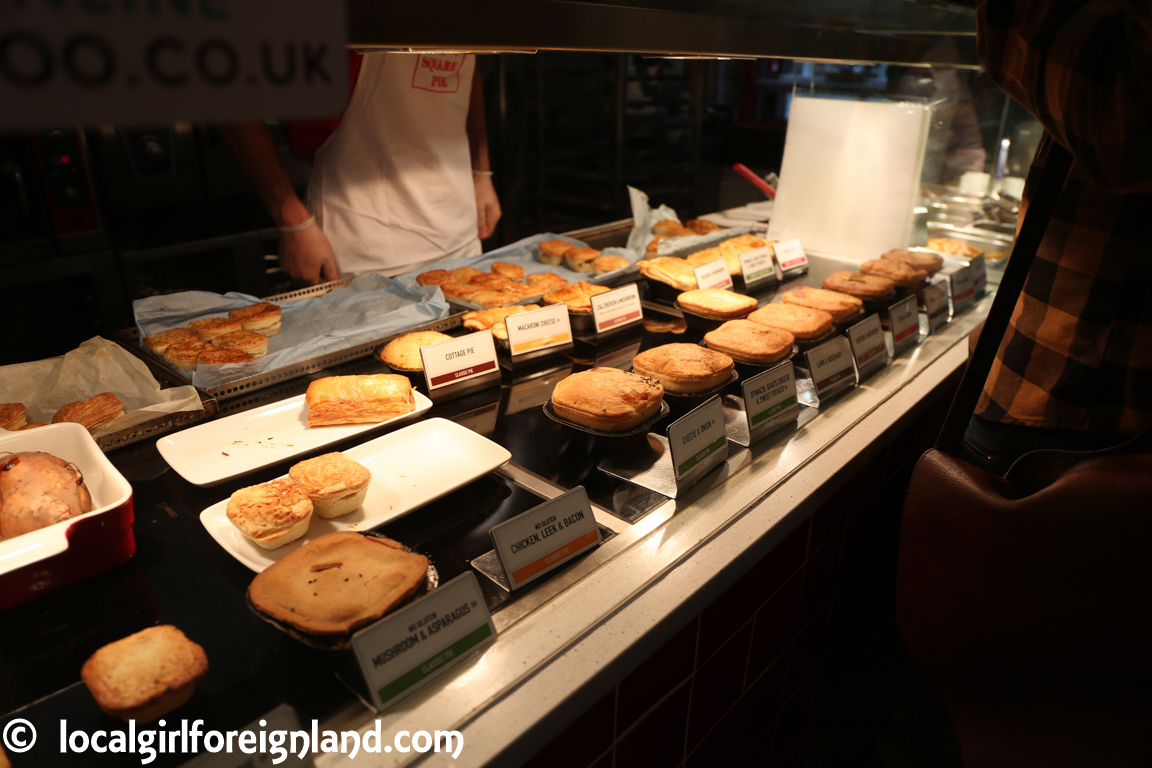 We were a group of 20 people. We were there quite early, so the store was empty. The guy working there was like, where did all the people came from LOL. He was really calm despite all of us were acting like crazy tourists.
It is time to review my favourite pie…
Canapies – Steak & Ale
55 Brick Lane, London E1 6PU
There was only 1 official store. The others were concessions. Alrighty, this was a SERIOUS Indian confectionery store. Authentic and a large variety of goodies to choose from.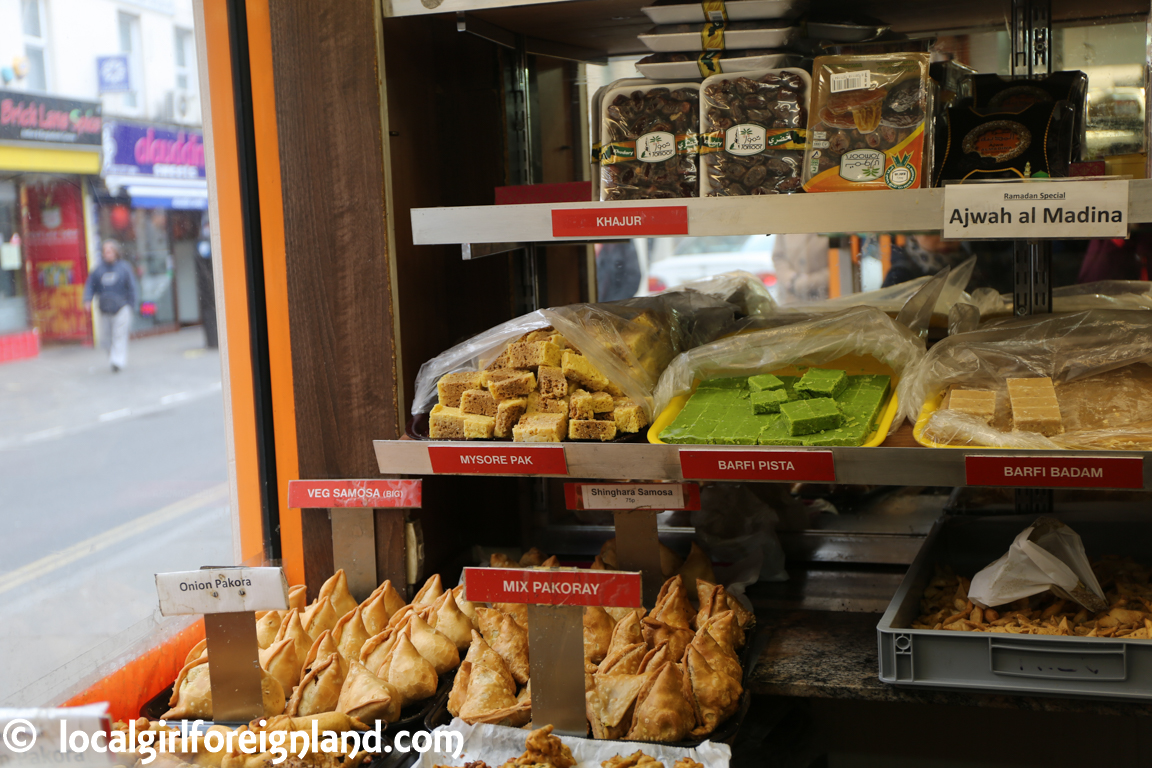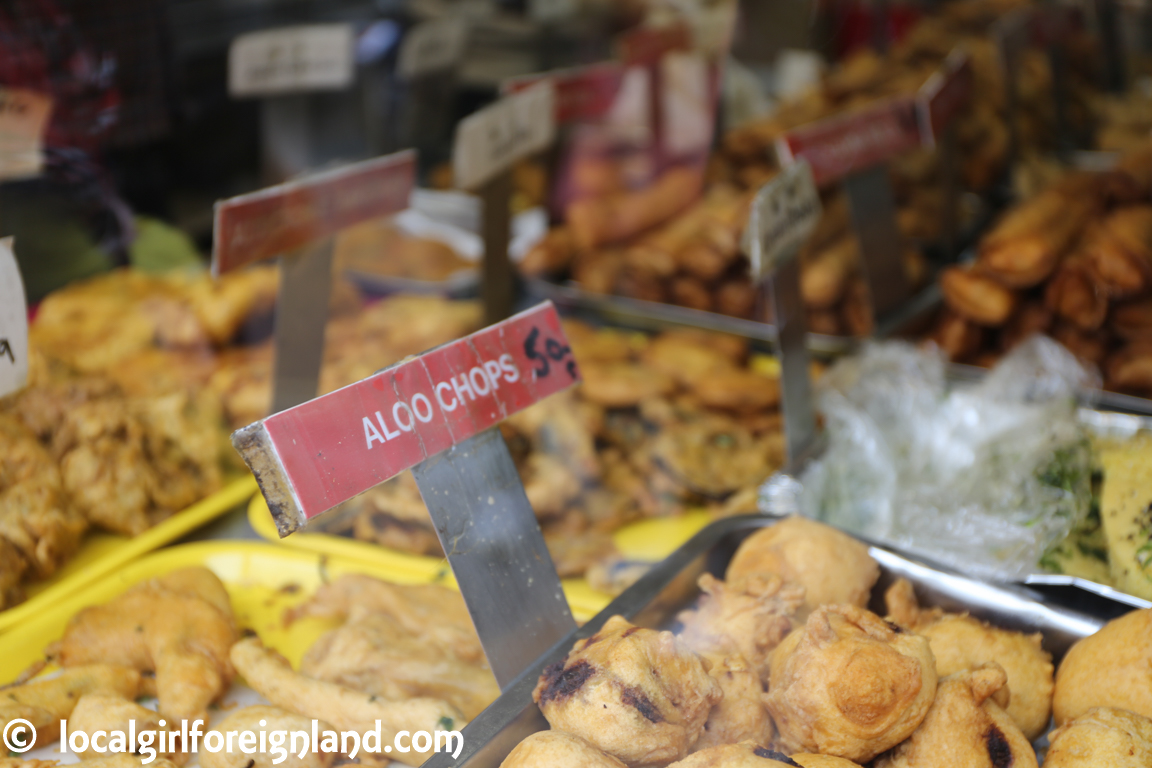 Their number one was their lamb samosa, but I was allergic to that. So I had no idea how good this was; the chilli paneer was great though. O, and they're on the spicy side of things. Authentic Indian style? Their fudge looking barfi was DEADLY sweet and sent me right to comatosis.
6-8 Hanbury Street, London, E1 6QR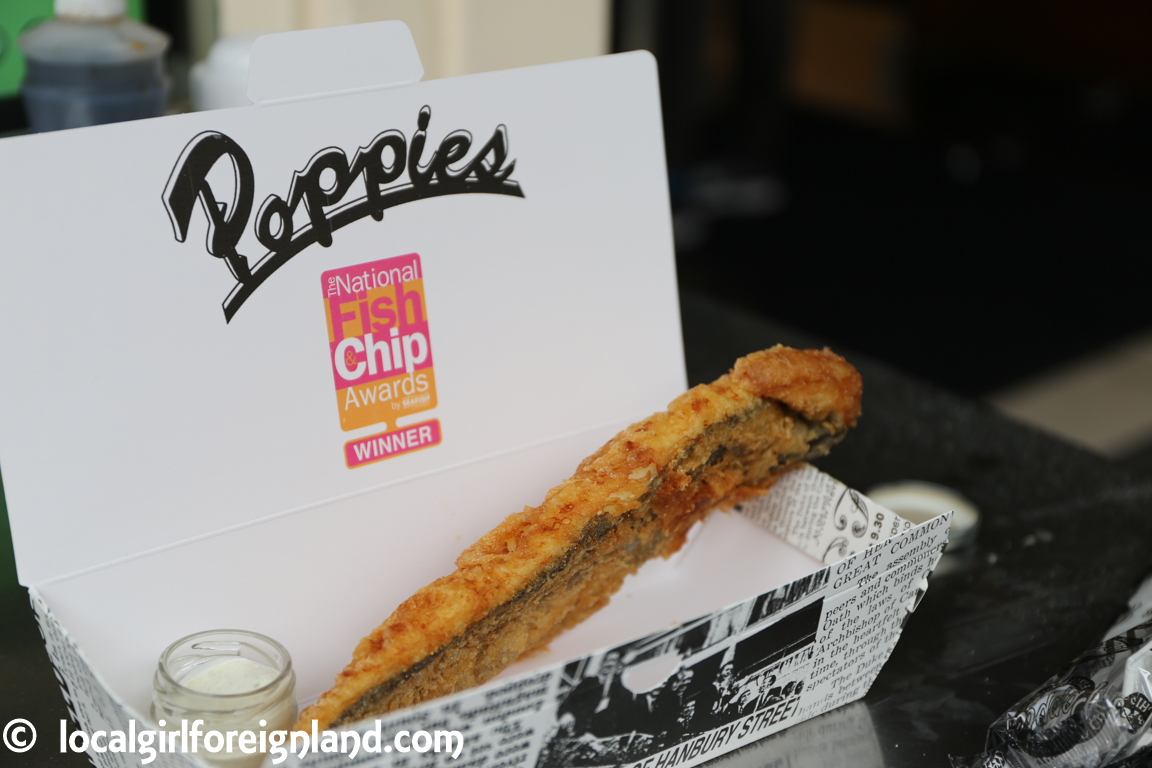 Everyone probably knows about this one already. Been around since 1952 and is still happening. They got many awards etc.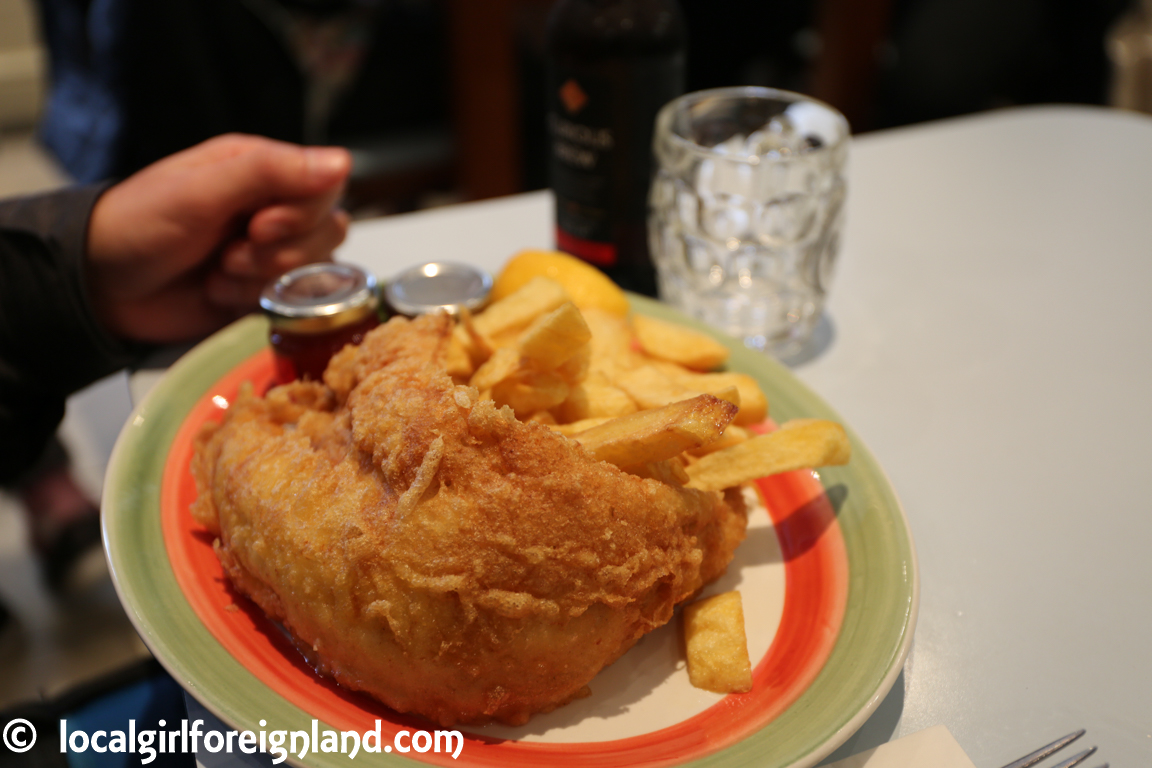 I am sorry that I forgot to position the fish. It was really as gigantic as the one on the right.
To me, their fish (haddock & cod) was fabulous. HUGE and the 'crust' was just right in flavour, texture and thickness. However, their chips was HORRIFYING; it was soggy, zero texture and tasted like old grease. I had only tried 20 odd fish & chips stores / pubs. I would not name Poppies my #1 fish & chips, simply because their chips was terrible. For the fish alone, they'd easily be in my top 3 for London.
The store was really cute. I guess there's a reason for it to be a cult favourite.
Stop 4: Beigel Bake
*they don't have a website
159 Brick Ln, London E1 6SB
It was one of THE salted beef bagel in town. Famed for their rock bottom price and 24/7 friendly opening hours. Their in-house mustard had a strong kick (crying causing type of kick).
What compelled their cashiers to be rude? Being shouted at for opening my wallet was NOT cool at all. Like waiting a few seconds for them was a big enough issue to shout at the customer. I was about to walk out without trying their food because of that. I will never return to this store. Seriously, it was not worth being rude to. Actually, NOTHING is worth being treated rudely. If being shouted at does not bother you, this kiosk is not shabby.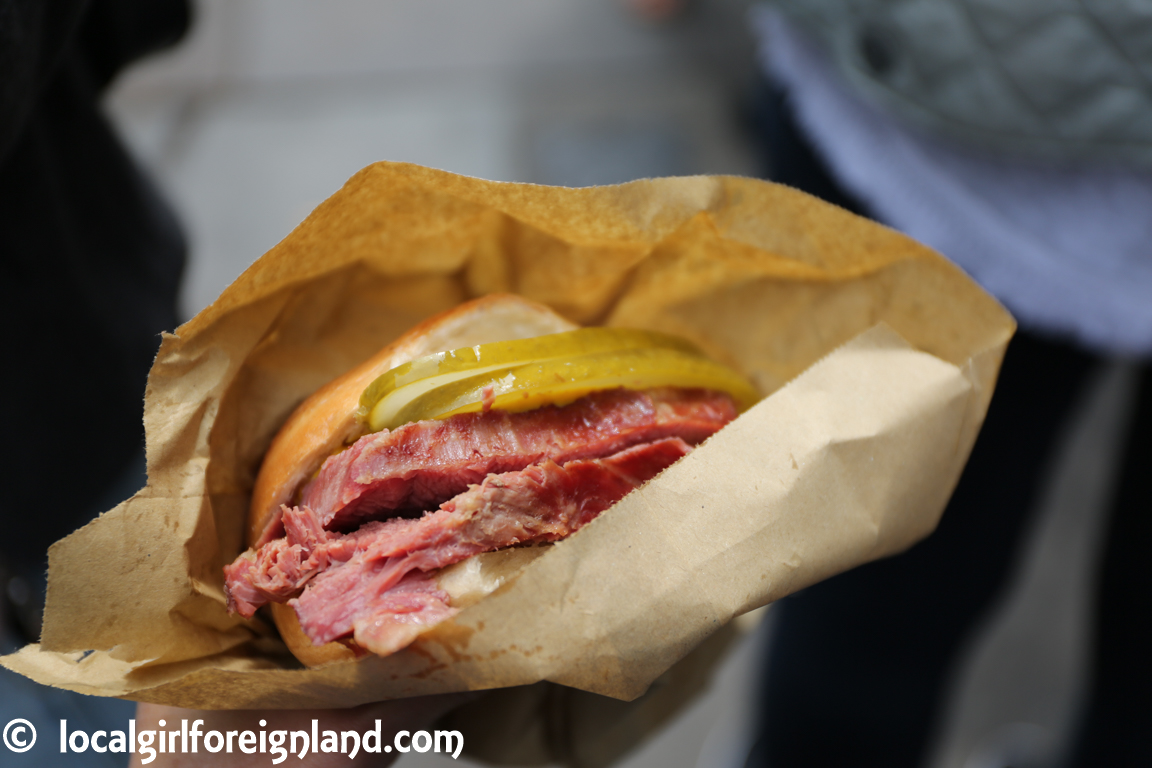 Their heads on competitor was the 'yellow bagel' / Beigel Shop (155 Brick Ln). I guess if I ever do this tour again, I will head that way instead. The yellow bagel store also featured rainbow doughnuts. By principal, I don't support paying to be treated poorly.
141 Brick Lane, London, E1 6SB
2 words… hot damn :9 It was ORGASMICALLY great! Unique chocolate flavours created right under the store. The founders, Nyanga, import the magic beans from Ghana. Their slogan was, 'make yourself happy'. I was too happy.
That chilly hot chocolate on a cold day was made in heaven. Their truffles were fabulous too sigh
Unit 31, Box Park, 2-4 Bethnal Green Road, Shoreditch, London E1 6GY
They're not FRIED! But really, who cares about the extra oil or calories when one choose to eat sweet stuff. No words, just food porn.
Their dougnut changes look daily. How did I know? I worked nearby and have close access to these goodies. Just to give you an idea, here are photos from their Christmas donuts 😀
How did the tour end? Food coma friends.
Just to clear things up…
I am 157cm, 42~44kg. So no, I did not try all 6 stops in one tour. The photos above were taken over 2 tours in March & May (different tour guides but both happen to be named Matt lol). The order of the visits differs from guide to guide. English Matt did Square Pie first and Polish Matt did Arzu first etc Either way, the amount of food was serious.
Honourary mention: One of us survived and ate at all 6 stops in ONE go… without sharing anything. He had a decisive advantage of being 1.95m 2.0m. (ops, I got his height wrong) He demolished them all.
How did I arrange for this tour?
Book it online. Visit:
Official site – Free Tours By Foot
Their maximum intake per tour is 25 people at a time, book in 2 weeks advance is recommended.
Note: technically, you can really do this tour for free. No one is there to force you to pay anything. However, if you do have a heart at all, do chip in and pay what you see fit.
Want to do it by yourself? Here is the summary:
Square Pie – UK pies in large varieties
Arzu – Traditonal Indian savouries and sweets
Poppies fish & chips – The oldest in London, was also named UK's no. 1 fish & chips
Beigel Bake (aka the white beigel) – Bagels and various other bread stuff. Sandwich with salted beef was the prized item.
Dark Sugars – Chocoholic goodies from Ghana. Atelier stuff.
Dum Dum – Non fried cutsie donuts. The shop closes whenever things are sold out.
*Frankly, doing it DIY was not quite the same. That's one of the reasons why I did it a second time.
Please be a sweetheart & follow my social media xox
Bloglovin' / Google+ / Twitter / Instagram / Facebook / Pinterest