I LOVE Japanese snacks and this subscription box is my fix :9
Japan Funbox is a monthly subscription box for Japanese snacks. The box is sent directly from Japan, deliver anywhere in the world at the same price. There are 3 sizes to choose from. No commitment and can unsubscribe any time. Something unique about them is that they email you to let you know when the box has left Japan. This is something that I really like about them. Each box also comes with an English card explaining what each snack is or short stories behind the snack.
This is my 4th box, so I can safely say that this fabric like paper wrap is standard with every box. I have the mini (smallest) size. My hubby has been encouraging me to upgrade to a larger box. I am not sure yet, perhaps after we move to Paris ?
Yey!! Hello Kitty snack!!!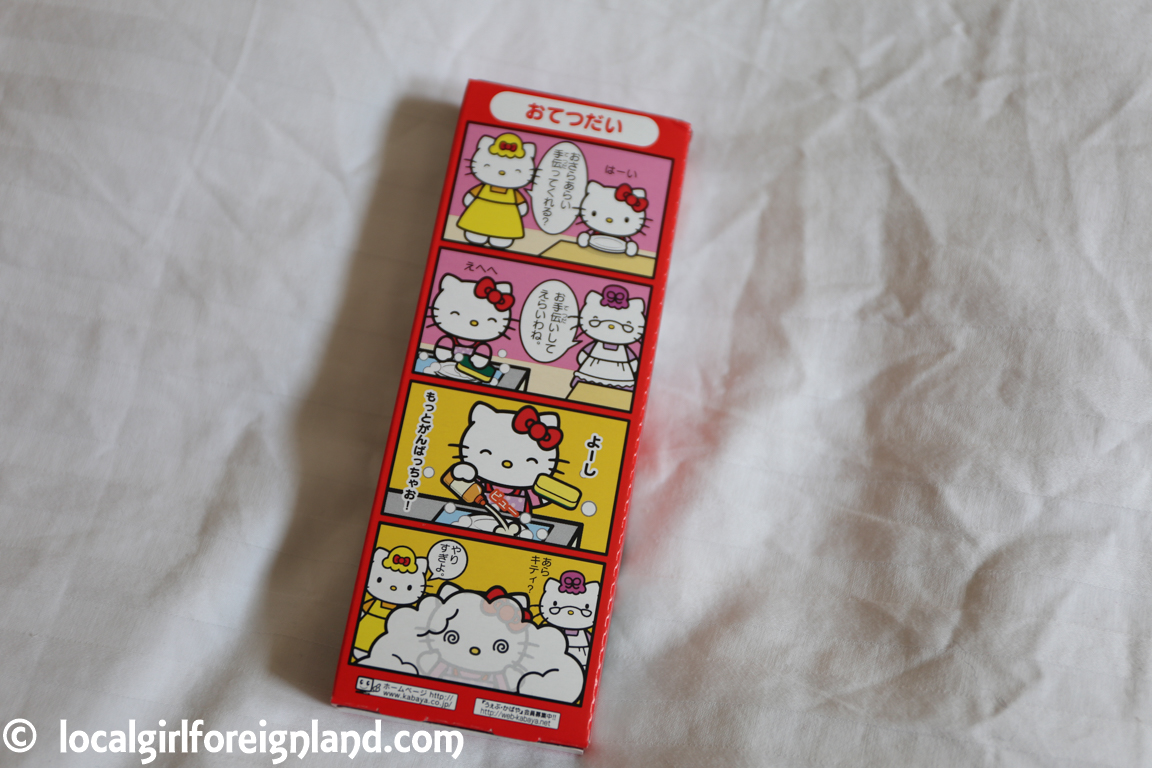 Up next… Caramel Corn. A childhood favourite? It's like a caramel version of the Simba Ghost Pops (South African). Love this stuff.
Another round of Umaibo Delicious Stick so soon? This month's flavours are different though.
Mentaiko – spicy cod roe ==> popular taste in Japan, maybe strange to many though
Teriyaki burger
Vegetable salad
I LOVED all 3 from last month's box.
This snack is actually corn based. The corn puff is soaked in chocolate. So it is quite soft in texture. This one will be demolished by my hubby in an instant. Not my thing though. I bit too sweet for me.
Wow, Hello Kitty AND Pokemon in the same month? This is candy stick in 2 flavours – soda pop and lemonade.
The last item is called "Strange Gum" (literal translation). It is a 'magic' gum. What you need to do is take a bite from each flavour and mix / chew to create a new flavour. E.g. If you eat the lemon, strawberry and green apple together, it will taste like grape. Different combo makes different flavour 😀
I love 5 out of 6 snacks this month. How about you?
So that's all folks. This concludes this month's unboxing 😀
Where did I buy it from?
Japan Funbox was sent directly to UK from Japan; they send to anywhere in the world for the same price. They had 3 box sizes to choose from. I bought the smallest one, it is called the 'Mini'.
**I bought this box myself. No economical benefit from any clicks for me. This is my regular sharing post.
Please be a sweetheart & follow  my social media xox
Bloglovin' / Google+ / Twitter / Instagram / Facebook / Pinterest