Sunny day in London and MLB June is here! This is my 8th box from My Little Box. Those who do not know about this box. This is a monthly subscription box. It delivers life style & luxe sample size beauty products. The original MLB was from Paris.

Let's get right into it! Unboxing time!
The mini-magazine has some decent hair inspiration 😉
Up next… life style item of the month.
100% cotton single jersey vest. Fabric is likely a 120gsm or less. This thing is one size fit all and feels very carded cotton. It is crazy large on me (I am a UK4/6); not loose fit, but like a kid wearing mom's clothes huge. The brightly coloured print is demi-matt and soft to touch. Cute vest for summer, if only it fitted me.
Ops, I forgot to add, the box includes a ice tea from Kusmi Tea *photo is at the end. I drank the thing and forgot to take an individual pic. The sachet is for a liter of iced tea! The flavour that I've got was hibiscus, berries and red fruits (Aqua Rosa). I'll probably end up purchasing the full size for this one.
Hang on, where is the twill sash pouch?!?!?!? I look forward to getting those pouches every month. For the December box (My little magic box), it had both the makeup cavas bag and the sash bag… Anyways, this jelly bag is quite cute. It is supposed to be a bikini bag.
Beauty items of the month are:
Ciate mini nail polish in chinchilla – 5ml (made in USA)
Too Faced glitter shadow primer 5g (made in USA)
My little beauty beach hair, sea salt spray – 95ml (made in France)
When I do wear nail polish, I wear various reds 90% of the time. So this Ciate blue number is a good testing colour for me. The only Ciate product that I've tried before was their cavier nails, which my hubby hated. LOL. He thought cavier nails was way strange.
The Too Faced glitter glue claims to lock down on glitter, shimmer, metallic eye shadows and enhance their reflective quality… making fallout a history. I don't really understand the concept of these type of 'primer' products. It has bee wax, glycerin and titanium dioxide, so at the very least I can use it as a sunscreen? lol I have never bought anything from Too Faced before. I am happy to give it a try.
Seriously though, if the eye shadow itself has the correct formula, it should not fall out to start of with. It sounds pathetic that brands are selling 'primers' for fixing failed products AND try to get the consumers to buy more products at the same time. Needless to say, I cannot stand that type of sales stance. Did any pros pre-2010s use any primer? With all of that being said, I don't hate Too Faced or its products in particular. It is more my general stance towards any primer category products.
Finally on the My Little Beauty Beach Hair. This is a curious product. It is suncreen for the hair. It also claim to help one achieve the surfer-girl hair. Hm… It smells like coconut water, a rather pleasant summer smell for the hair. For some odd reason, the smell reminds me of Guadalupe 😀 The product will do much better on fine hair though. It gives the hair body.My hair is super coarse and fizzy, so the effect is not apparent on my tresses. Seriously, volume is not what I need 😉
Where to get this box?
https://www.mylittlebox.co.uk/home
What to expect from My Little Box? (based on my experience)
1 x magazine
1 x little fabric sash bag ==> this month is the first time that there's no sash bag
Surprise item(s) in line with the month's theme
2 x French brand beauty products ==> it used to be just French products and this is the 2nd box that contains English brand (confused)
1 x my little box's in-house brand beauty product full size
**I bought this box myself.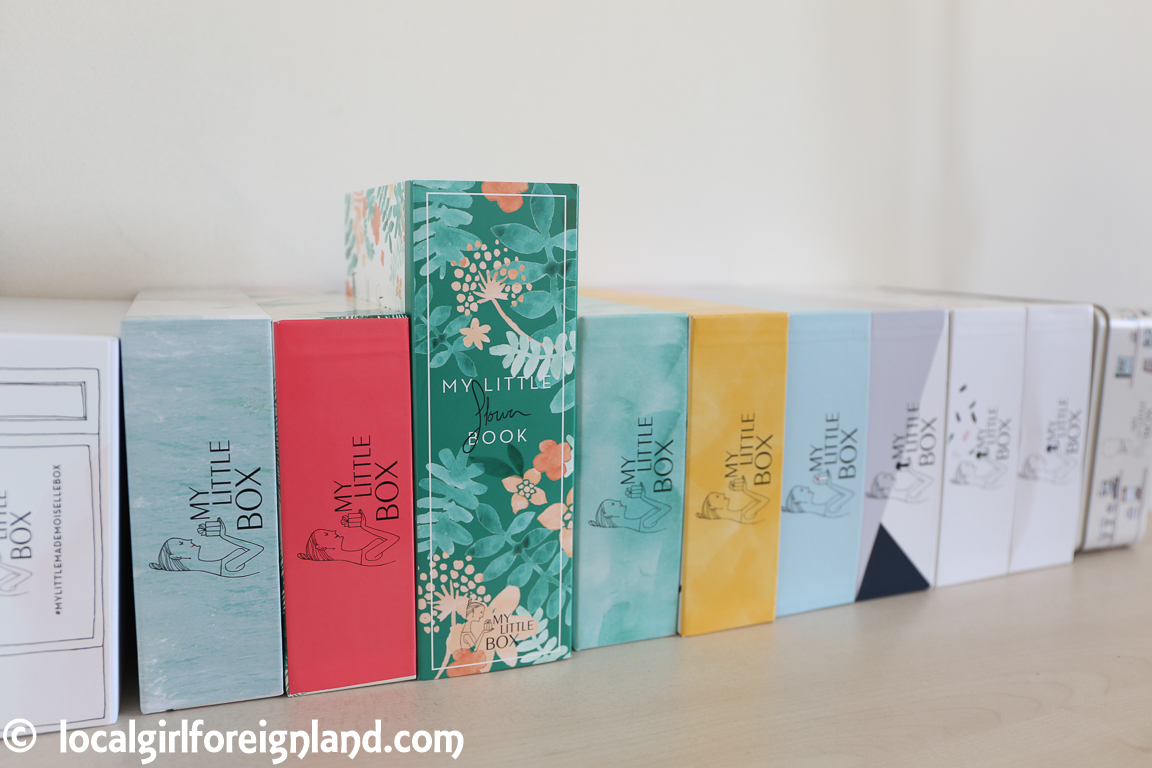 For all my little box reviews… click here
Please be a sweetheart & follow my social media xox
Bloglovin' / Google+ / Twitter / Instagram / Facebook / Pinterest