Fresh here on the blog, make up! Well, this is more of a 'what to pack' post. Here is the thing, I am VERY lazy. Maximise travel time & minimise weight. Here's my 5 products only make up tip. It works especially well for long haul flights 😉 or anyone who is lazy like me.
The logic behind my 5 products only program
Foundation product x 1 ==> Even out the complexion freshen up the entire face. Light to medium coverage is preferable. Especially for long haul flights, the look is fresh, holiday skin; not flawless.
*If there's lots of thing on your face that you cannot bear then bring a concealer *you'll need to deduct a product from the other categories 😛
Brow product x 1 ==> If you have okay with your natural brows, feel free to skip and add product in another category.
Eye product x 1 ==> Either an eye pencil or a mascara. For blond / light lash friends, I recommend mascara more than eye pencil. Framing the eyes bring radiance to the look.
Cheek product x 1 ==> Radiance. Radiance. Radiance. No matt choices please. Sheer or low on pigment will make life a lot easier. Light weight & comes with a usable brush / applicator is preferred.
Lippie x 1 ==> Obviously.
Pick your favourites to travel with you 😉 5 min and one should be out the door to explore. This is my tight and compact packing method. For most trips I travel with 5-10 makeup products.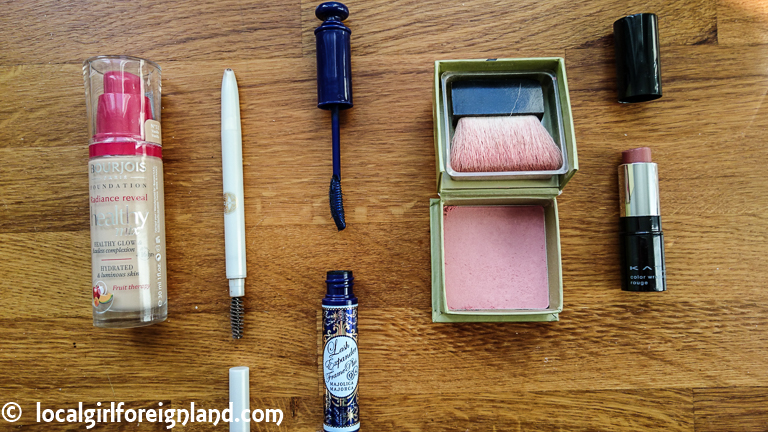 Lazier yet, watch my 23sec youtube to see my before and after with each step 😉
Or my very first 'tutorial' on Youtube 😉 12min video
Here are some of my previous travel combos. Each has caption with exactly what the item shade is where applicable.
Me? Dehydrated combination skin. Only oily on my nose. I am pretty good at blending make up with my fingers. So unless the item is CRAZY pigmented like Marc Jacobs ReMarcable foundation, I apply my foundation using my fingers. Brush or sponge gets counted as 1 item based on my packing system.
Special mention
Dandelion is with me for every trip because it can be used as an all over face luminous powder and blush (low pigment). PLUS it is super light with a workable applicator NB check if the brush smells funny!!! When I repurchased for the 4th time, the brush was smelling funny (like pungent, nauseating smell). I bought it from Boots Oxford street ( London ), which offered an exchange. Issue was that the brush still smelt funny. The one from Harvey Nichols also had the same problem. I did contact Benefit via email. The customer service passed my case to someone else. That person never followed up. The CS was sweet and tried to email the other person again, but their quality department was total BS. It has casted doubt in mind on their quality control. This is my last dandelion due to doubt over quality. I wanted to share this info so that you'll check the brush before you do make a purchase. You can tell that I'm pissed, right? How bad is it for a travel blogger to have the urge to mention this?
So that's it from me. Share your favourite travel makeup 😀 If you're to pick only 5 makeup, what will you take with you?
**For me, in flight carry-on will ALWAYS be just 5, but otherwise, under 10 makeup/related products. I've not actually traveled with more than 10 makeup items 😛 Another post about my makeup packing – "Below 10 days toiletries & makeup packing"
Camera: Canon 5D mark 3, Sony Z3+
Please be a sweetheart & support one of my social media xox
Bloglovin' / Google+ / Twitter / Instagram / Facebook / Pinterest