Yup, it's possible. It took me 30min to find my room. LOL Sheradon Cotai has 4001 rooms. Sufficed to say that I was bewildered by this 5 star hotel experience. Welcome to Cotai, Macau!
Amazingly HUGE!!! Cotai was CRAZY. It was endless hotels linked with neverending shopping, casinos and entertainment. There's not much to pick on  with a 5 star hotel of this scale. Here's my highlights:
Kungfu Panda breakfast *denied 🙁
Dreamworks characters (love)
Got lost looking for my room.
Okay, the kungfu panda breakfast was PACKED! I did not book in advance as this was a spontaneous trip 🙁 So yes, I was denied (cry). I want kungfu panda dimsum sooooo bad.
In my distress, I found other dreamworks characters. It was a great pick me up / feel better moment. Ooooo and they have kungfu panda class too. Too bad that I'm 20 years above their age limit. I made a point to tweet to Sheraton "demanding" to know why there's an age limit to the Kungfu panda class. I mean, that was out right ageism / discrimination. Sheraton has not replied back.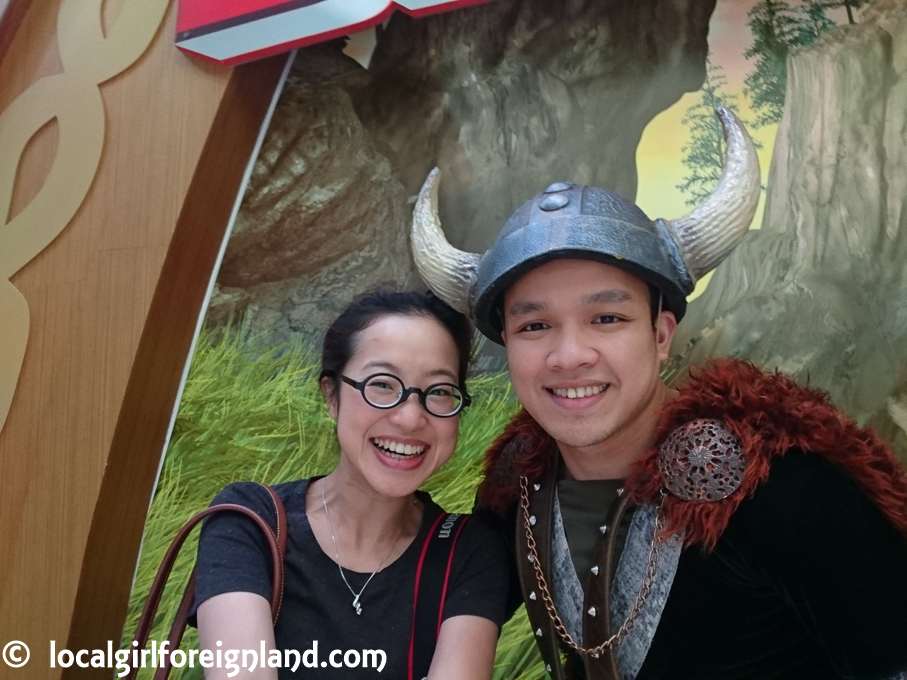 Yes, this is review. Here's the photos of the standard double room. It is a 5 star hotel. 300+ count satin weave cotton sheet was a standard, fluffy cotton robes, loads of amenities and a portable device with traveling tips. Moderate, consistant water pressure shower. I mention water pressure because I've experienced hell shower from Westin hotel. Fab story for another time LOL
Sheraton is a lot less opulent compared to its neighbours – Venetian and Parisian. The decoration here is still pretty continental and not over the top.
Finally, what'a little hotel review without some of my classic drama? I got lost wahahaha. Here is a short video of me "finding my room". You will see from my video just how crazy the facilities was in this hotel.
Tips
Buses are for FREE. Courtesy of a bunch of mega hotels in Cotai. Watch out for hotel sponsored buses for free round the town transport.
Book for Kungfu panda breakfast in advance to avoid disappointment like me.
Guests enjoy a bunch of discount with various stores, restaurants and spa. Check the leaflet in the room for details.
Dreamworks characters have SCHEDULE. Check their meet and greet time.
Bottled water is unlimited and FREE of charge. Grab one before going out to sight see. Bottled water sells for around USD3 in the touristy areas.
If you're dying for some tea and don't want to fork out USD10, you can sit down to gamble a bit (even the USD0.01 machines). Tea and coffee is free for all who gambles. *LOL*
Where was I?
Sheraton Grand Macao Hotel
Estrada do Istmo. s/n, Cotai, Macau
http://www.sheratongrandmacao.com/
Rating from other people?
**Booking.com is an affiliated link. If you make a purchase using this link, I'll earn a small commission. This does not cost you anything.
This hotel stay was a treat from a childhood friend and his mom. Known him since 1996. Thank you, bro 😀
Please be a sweetheart & support one of my social media xox
Bloglovin' / Google+ / Twitter / Instagram / Facebook / Pinterest
Camera: Canon 5D mark 3 and Sony Z3+