This is an experience sharing post. Loads of photos.
We waited for our bus downtown Edinburgh at 7:20 The bus was right on time and we were greeted by our tour guide / driver was Patrick aka Paddy. He was brilliantly humorous.
The bus can carry around 26 people? I liked them small like that. It felt more intimate that way. Drove passed the Stirling castle. Could barely see it. Stirling castle could easily be a full day trip by itself.
I will like you to take note of how wonderful the weather looked. Don't worry, I was not that lucky all day long. Turned out the Scottish weather was not better than the English, just a 'touch' more gale on top of the rain.
First stop was the Deanston Whiskey Distillery. They did single malt. It was a comprehensive tour finished with a shot of Whiskey. The local guide covered all of the whiskey making process… by the end of it, it was good time for a hard drink.
I swear the barrow room had so much alcohol in the air that I felt drunk from standing in there listening to the guide.
According to Scottish law, no whiskey was allowed to be served before 10h00… so we waited for our drink.
After that, we queue up to grab our lunch from the cafe there. They had a full house menu. If you don't want the Ness Bus lunch pack (GBP5 per person), you should order asap you arrive and get your order on the way out.
What's in the GBP5 packed lunch?
Chips
1 x fruit (I saw some people got an apple instead)
1 x still water 500ml
Either sandwich or bun, both are filled with peri-peri chicken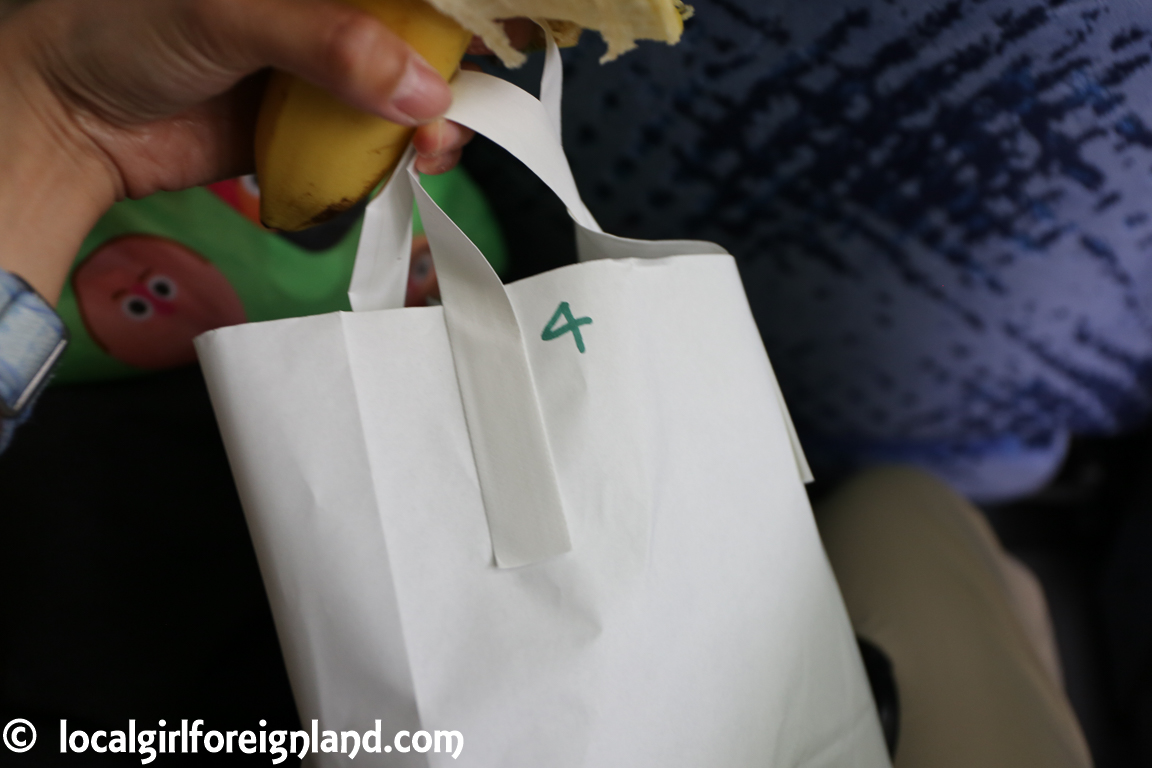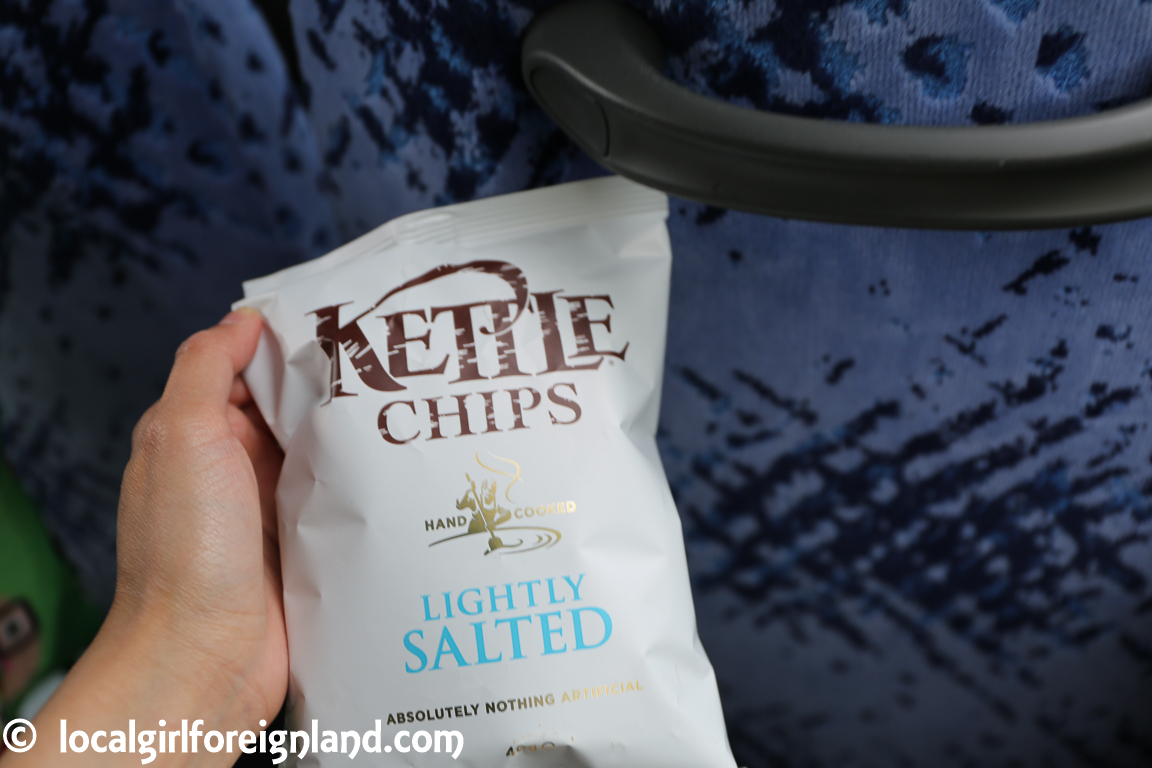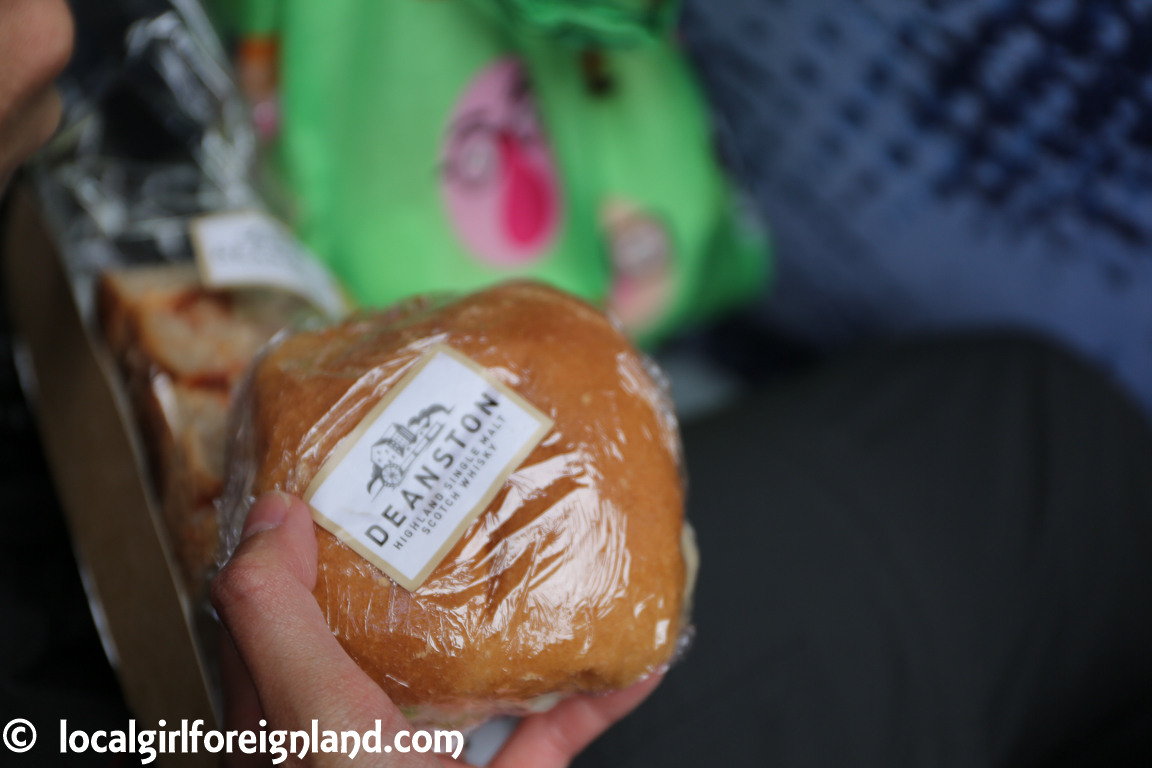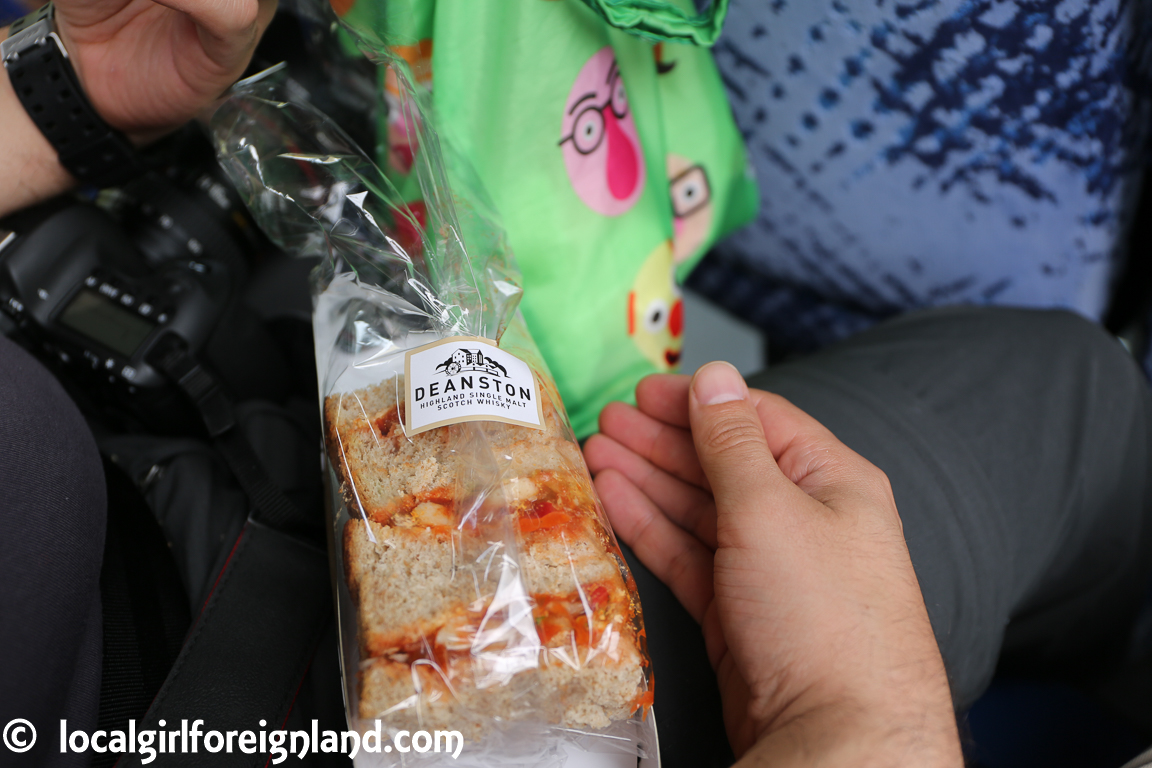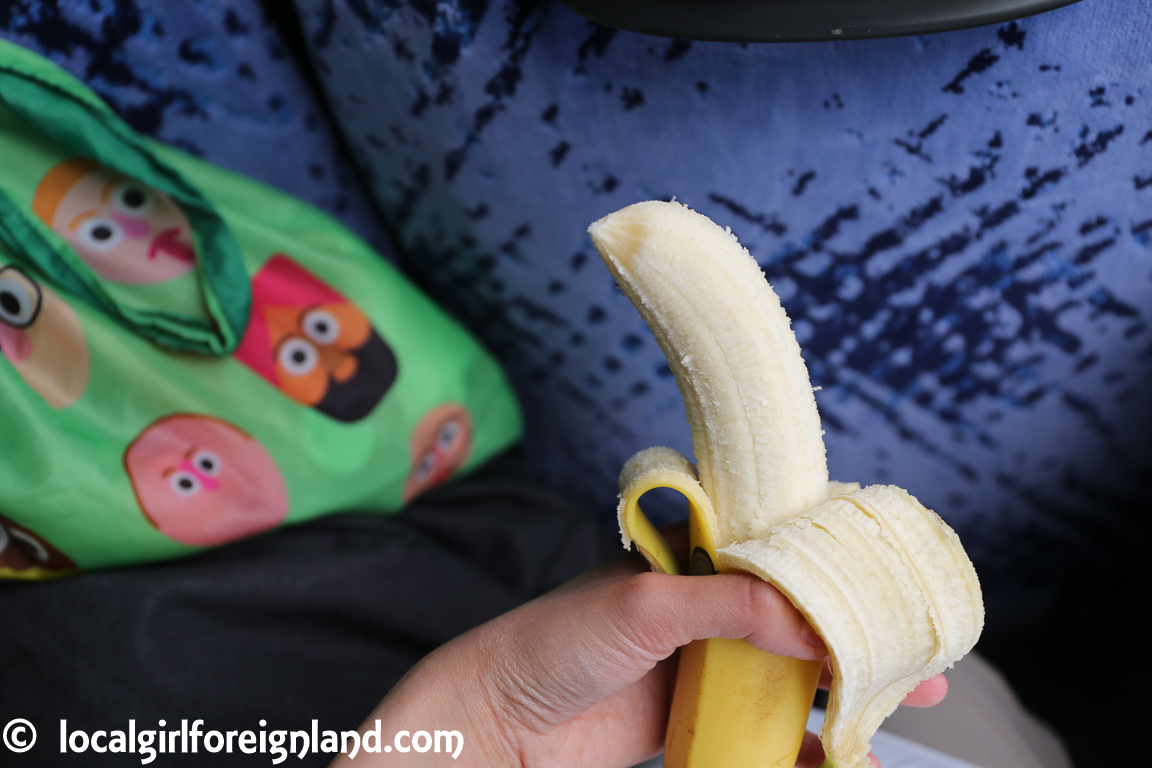 Driving on was a quick stop to see the Highland Coo aka local cow LOL Well, that and a toilet break.
Once we returned to the bus, Paddy told us intriguing Scottish clans stories – betrayals, massacre, rebellions… That story about the MacDonald of Glencoe was so full of treachery. Incredibly sad story. That story made it completely understandable why the clans would hate the English for eternity (well, that and several other stories). Made a quick 10-15min stop at Glencoe (in sync with the story that he was telling). Please take a look at how the weather has changed on us.
Within 2min out of the bus, it started to pour 🙁 As the rain poured, I fell asleep. I felt that I missed on on Paddy's story telling. So I landed up buying a history guide book of Scotland to catch up.
It was sort of sunny when we went into a supermarket and after 10min of quick shopping, it was pouring. Seriously, a hardcore waterproof jacket is the ONLY way to survive this temperamental weather.
Time to get excited!!! It was time for the Cruise Loch Ness. Loch in Scottish means a body of water.
Don't get too excited for me… it started raining again.
With this level of sorrow, I could only seek the comfort in alcohol.
Hoped to spot Loch Ness monster was of course the focus of this trip. Why else will we want to do this tour?
Nothing… wait a minute, I spotted something!!!! Watch to video to find out what 😉
It was an hour ride? At least 45min type of ride. The guide on the cruise had a strong Scottish accent. Authentic touch? My hubby battled to understand what was going on.
Ness Bus gave use 90min or 110min for this stop. I remembered it being a long stop. We had plenty of time to do shopping & the cruise ride (GBP13 per adult).
Shopping conclusion. They could include whiskey in any sauce, jam or marmalade. We did buy some and we're glad that we did :9
Time to get back to the bus.
Back on the road and listened to more fascinating historical stories.
Beautiful Victorian style town, Pitlochry. This was a 30min stop. Enough time to buy some food or shop 😀 Crazy good deals on the tartan wool scarves. I scored some for GBP10! Plus they wrapped it up like luxury goods. LOVE! Cashmere were also exceptionally cheap as well. I got myself the Elgin Johnston cashmere tartan scarf for GBP50. Elgin Johnston normally sell them for GBP99 in their official store / website. This was a complete steal!!!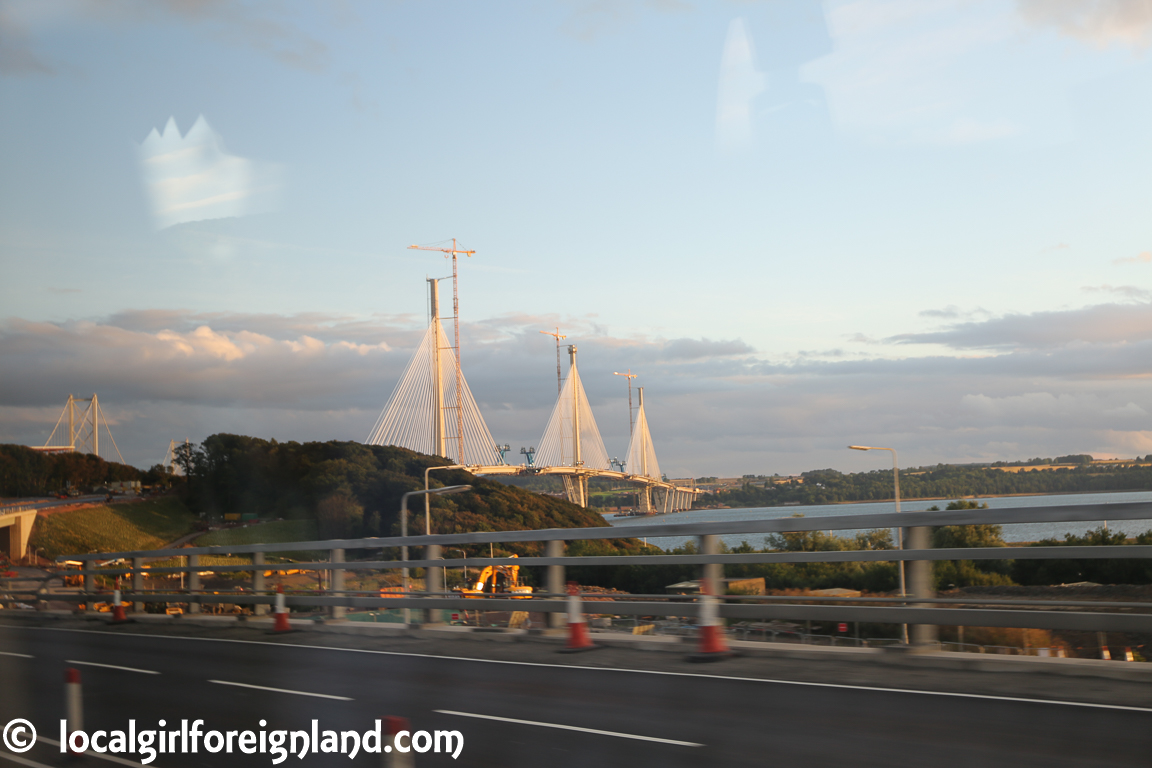 The day was slowly drawing to a close. 18h30 we started to head back to Edinburgh. On the way back, we spotted DOUBLE rainbow!!! It's very faint in the photo, but it was there. What a beautiful day!
This was a bit too intense to my usual traveling style. However, with Paddy being such a wonderful guide and fab story telling, I can't help but to admit that I thoroughly LOVED this densely packed day tour.
What tour was that?
Ness Bus
3 Princes Street, EH2 2QP, Edinburgh, near Waverley train station
Official site: nessbus.com
GBP45 per adult. Book in advance is essential as they're a very small company.
Optional extras that I paid on top of the GBP
Deanston distillery guided tour + 1 shot of whiskey GBP7
Packed lunch GBP5
Nessie guided cruise ride GBP13
Paid for this tour myself.
Please be a sweetheart & support one of my social media xox
Bloglovin' / Google+ / Twitter / Instagram / Facebook / Pinterest