For any trips that is within 10 days, I can fit it all within this 18cm x 12cm x 7cm Muji bag. Toiletries and make up. Plus, it is carry-on safe for flights 😀 Here comes my actual packing for a 10 days trip to Nantes, France, May 2016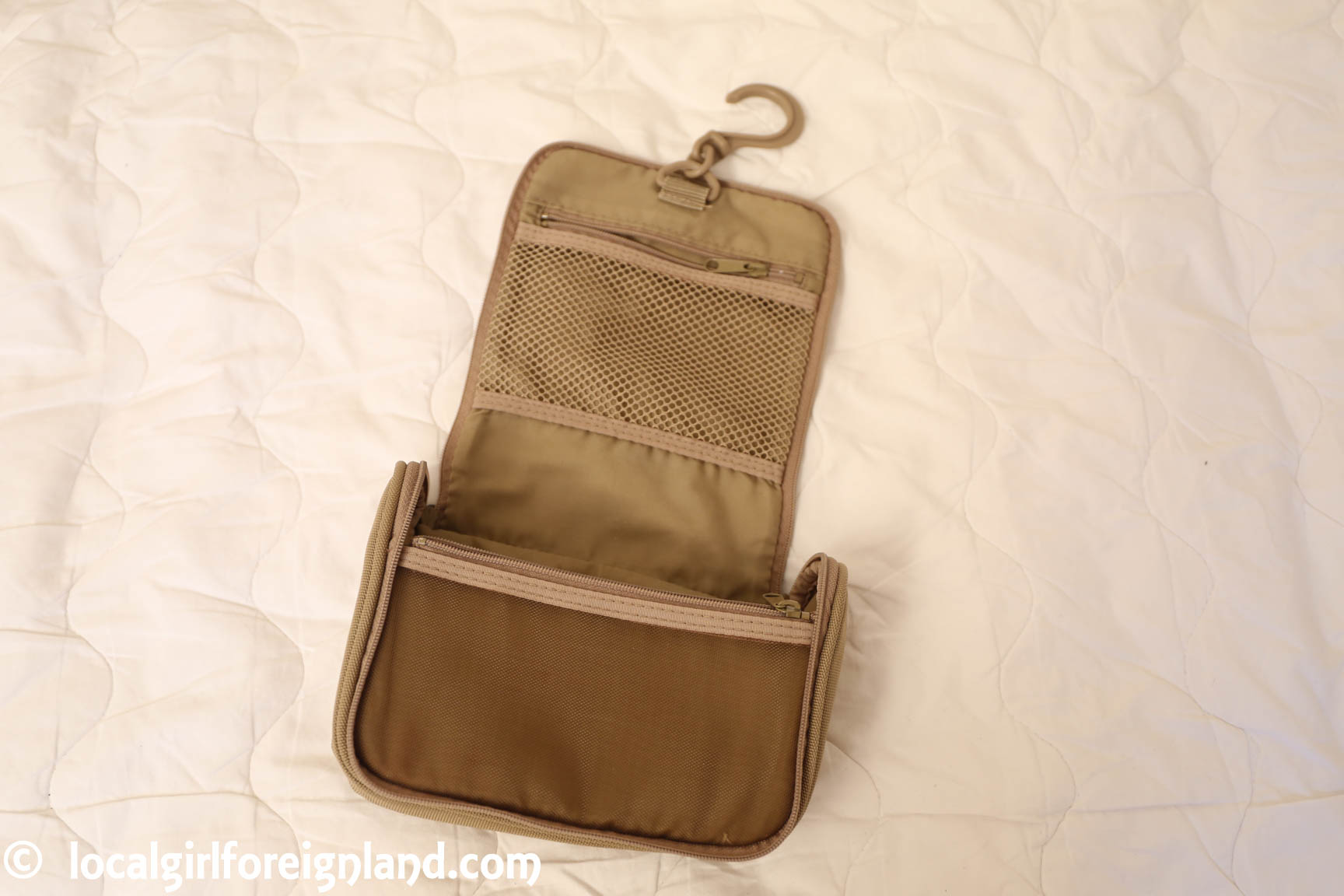 I bought it from Muji in 2007/2008? They have a newer, lighter generation in nylon rib stop fabric these days. So mine is a relic version.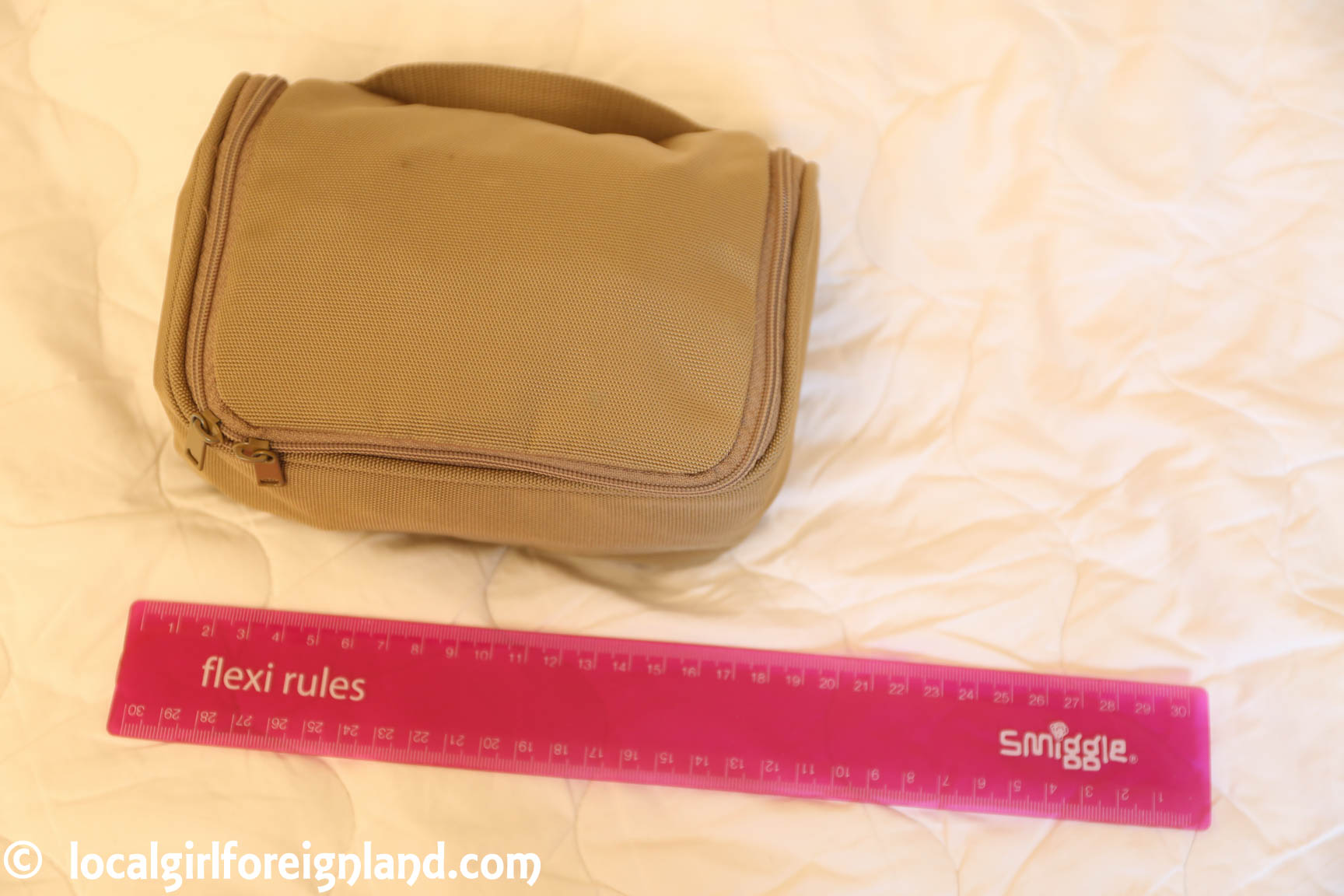 **Please note that each airport has a different requirement on the resealable bag size. Some won't accept your random ziplock 😛 Some airport are more strict on the size than the others… E.g. Japan is VERY strict. *personal experience in 7 different Japanese airports, they didn't even approve of my hello kitty zip lock bag 🙁
General toiletries
From left to right, top to bottom:
Muji tooth brush case + tooth brush inside
Kao heat up / steam eye mask in lavender (Japanese)
My beauty diary eye mask (Taiwanese) – I don't feel any difference between their different 'functional' masks.
Manual cleansing rubber 'finger' – for cleansing / massaging the face
Just to be clear, I do love electronic cleansing devices. I do like to keep my face ultra clean. However, items like Clarisonic Mia 2 weighs 588g (without Clarisonic original travel case). Clarisonic Mia Fit weighs 340g. Both are frankly ridiculously heavy. The Clinique sonic brush is smaller, BUT weigh 399g. So none of these lovies will make their way into my luggage. For the sake of size comparison…
So my rubber finger is the clear winner, right? Even the bulkier Tsururi brush is still better than taking the Clarisonic or the Clinique.
Muji travel size container with pump 15ml – I fill it with cleansing oil
Estee Lauder Perfectly balancing lotion 30ml – It is travel size. Clean / fresh feeling, but not my favourite smell.
Innis Free (Korean) green tea essential seed cream 10ml **I don't use night cream every night in spring / summer. I use this for my dry patches during the day. The cream itself is more like a creamy gel; it doesn't feel heavy at all. I have the full size as well. Not strong enough for autumn / winter hyrdation in my opinion.
Kose Suisai (Japanese) beauty clear powder – deep cleansing facial powder. One portion per use. I like this product very much. The foam is super fine and my skin feels clean.
Sofina beaute (Japanese) whitening UV cut emulsion moist SPF50 PA++++ 9ml – I don't normally use any whitening products, but I get these travel size for free. They do work well though. Gives the skin a very smooth finish. Feels like a primer, but with a ton of SPF. Can use this straight after the toner without any cream.
Etude House (Korean) soy bean scrub massage cream – It is one of the rare brands that sells scrubs in satchets. I do think that my skin gets dull without a scrub after 3-4 days. So when I travel beyond 4 days, I always take a scrub with me.
Clarins hydra quench cream mask – it smells nice and keeps my skin supple. I did have the full size one before. I just don't think it does such magic to justify the price.
Sephora travel size tweezer
Lush shampoo bar montalbano – I use this for my hair, my face and body when I travel. I use it all over the show and nothing bad has happened.
Muji travel size 30g squeeze out bottle – I fill this one with soap for special needs 😛
Tooth paste 27g – My dentist gave me a bunch. Any travel size is better than the full size.
Floss ribbon – I haven't found a slimmer packaging yet, if you know of a brand with wide floss ribbon, please share?
Shaver – VERY IMPORTANT, most airports only allows shaving blades that are secure and cannot be removed from the groves (actual blade). e.g gillette is ok, but double sided blade is not
Makeup to go
From left to right:
MAC select cover up concealer – NC20. I use it to cover spots or mix it with my primer for a fully coverage. I only travel with this one if I already have a break out or if the trip is longer than 3 days.
Primavista concealer – It is more of a peachy colour corrector. Party = no sleep. Not strong enough for MEGA black, but for me it is good enough. If I get mega black eye, then I add the MAC on top.
Primavista multi cover base UV – It is a primer. Blurs out everything. Mainly my pores lol. I LOVE this stuff, below is my evidence. I've been using them for 2 years now. I use/buy this religiously as a light coverage foundation.
Dior addict lip gloss – Princess. *NB* Do not use any gloss product for hiking. Use something with no smell or with citronella instead.
MAC lipstick – Ruby Woo (matt). I tend to limit myself to only 2 lip products.
Majolica Majorca (shiseido) eye brown pencil with brush on the one end – BR771
Majolica Majorca jewel eye pencil – BR633 *my firm drug store favourite, it does melt down after about 3-4 hours for me~~ but managable and I like the kohl with glitter finish 😛 I just love the colour and the ease of use. I discovered this product the first time back in 2008 and has been repurchasing since. Not suitable for all day wear or oily eyes.
Majolica Majorca lash expander – blue or black, depending on which one is already opened?
Shiseido lash curler – I don't take this if I've permed my lash. Saves so much space. I've had this curler for 15 years lol. I change the 'band' every year.
Benefit dandelion – I use it all over the face for illumination or as a blush. I am a NC20~25, this light shimmer pinks works really well for me. This is my favourite everyday product. I can use this without a mirror.
My tip for small/light luggage is… no matter how much you love your Naked, Tartettes… or any singular area make up palettes with more than 5 shades in general, leave them at home. They are too big for travelling. Anything product that comes with a mirror also weigh more than the ones without. The more weight you take with, the less shopping you can do 😛 Both size and weight matters and they all add up.
How I fit it all in this small bag?
Honorary mentions
These are products that I think are great for traveling too, but I didn't take with me for this trip.
I don't normally travel with any brush or sponge. I tend to take make up that doesn't require any extra 'help'. However, if I MUST take A brush, it will be either be:
Bobbi Brown face brush – It is small & has a pouch & it is hardy. I've had this brush since 2010.
or
Kose Esprique foundation brush – It is slim & has a pouch & it is hardy. I've had this brush since 2012.
Seriously, looking at my travel product choice, I don't need any brush. My finger / or the brush inside the dandelion can handle all my needs.
The End 😀
Thank you for reading.
Please be a sweetheart & follow my social media xox
Bloglovin' / Google+ / Twitter / Instagram / Facebook / Pinterest