Quick review on all my luggage that are at least 1 years old. Rocked or sucked? All purchased with my own money.
The contestants are:
Each have their highs and lows. Here are the break downs.
Samsonite Firelite
They're light (2kg for the carry on and 2.9kg for my 75cm).
The natural weight balance is great (the case won't tilt if even you pack poorly), this is something that I LOVE about the carry on. Sadly, the hinges cracks from Scandinavian weather. It comes with 10 years warranty, so Samsonite replaces the hinges for free. It is super annoying though. The designer/engineer clearly used the wrong polymer for this product. Will show you the photo in a moment.
Top and side handles are rubber grips (easy on the hand). The retractable handle is hard plastic.
Price: 55cm – £259, 75cm – £319
Type: hard case with water proof zip closure, single 3 digit number lock
Material: 100% Curv® material by Propex in Germany
Suitability: Weight conscious luggage allowance. Any travel except icy weather & monsoon / flood prone destinations
Security: It only comes with a singular TSA zipper lock. I can safely tell you that this case is NOT secure. I highly recommend that you wrap it up in plastic if you visit risk prone countries (theft is less scary than people planting stuff in).
Warranty: 10 years global
How many times did this fly? 100+
Worth the money? Not for me. I don't recommend this case purely because the hinges crack so bad in the cold and even though fixing it is free, it is a hassle. I only had these cases for 2 years and I had the hinges replaced twice. I didn't replace the hinges when they had minor crack, I replaced them when they look like this.
This is a fab case if I only travel via trains or no frosty conditions. It is very sleek and I love the light weight and case balance. I do love their Curv® technology. I had my case dented / completely caved in before, and Shanghai Samsonite service center fixed it within a few days. So, if you are keen on a Samsonite that is light and hardy, I'd recommend the Lite-Lock . Lite-lock has the best of both worlds. It uses Curv®, no hinge and it doesn't not close with a zip. It has clipper locks. (LOVE)
*At the time of publishing, the zipper tape has been completely worn in the one corner. Major blame is the luggage handling at the airport; but I do think the thin zip guard design does have a hand for the cases untimely death?
Samsonite Aeris 82cm
Mine has flown 200+ times. It is still completely in tact. I am impressed. It is water tight and survived Indian monsoon. AMAZING endurance.
The case balance is good even when fully packed.
3 down points
The slider handle acts as the top handle as well. Due to the position of the handle, it is difficult to hold the case using that handle.
The handles are hard pastics, there is no give. Hard on the hands.
The case net weight is 5.4kg (82cm)
Price: £219
Type: hard case with 3 clip lock & rubber seal
Material: HS Polypropylene
Suitability: Any travel. The case is heavy though. So if you're worried about weight, this is not your best choice.
Security: Can't get much more secure than that. I got the first few batches, so mine doesn't have TSA even. Need keys for 2 sides and 1 x 3 digit number clip lock.
*I noticed that the new generations may not have the key lock any more due to TSA. Please check the Samsonite official site to clarify.
Warranty: 10 years global
How many times did this fly? 200+
Worth the money? Yes.
Purchase this for a happy decade of fuss free travel. If you're a clothing professional and want to protect your samples, this is it!
Samsonite Spin Trunk 66cm
Smooth weight balance; will not tilt even when fully pack. Both side and top handles are located at comfortable to hold positions. The plastic handle does not grind the hand. The inside compartments are useful and makes packing/repack easier. (love)
Price: JPY51,840 *Japan exclusive
Type: hard case with nylon coil zip, single point 3 digit number lock
Material: Polycarbon
Suitability: Any trips barring monsoon. It does have 2 hinges as well. This case has not been to Scandinavia/Canada in winter yet, so only time will tell whether they crack or not.
Security: (same comment as the firelite) It only comes with a singular TSA zipper lock. I can safely tell you that this case is NOT secure. I highly recommend that you wrap it up in plastic if you visit risk prone countries (theft is less scary than people planting stuff in).
Weight: 3.6kg (66cm)
Warranty: 10 years global
How many times did this fly? 1 Bought this from Japan recently.
Worth the money? It is too early to tell. I do love the look and the 80/20 balance compartments.
Samsonite fomma mobile office
Samsonite no longer sell this on their official site.
I mainly use this for attending trade shows or short business trips. The top handle is soft and very easy on the hand. There are 2 easy access zip compartments which was the main reason why I bought it; not needing to open the main compartment to remove the laptop for security check.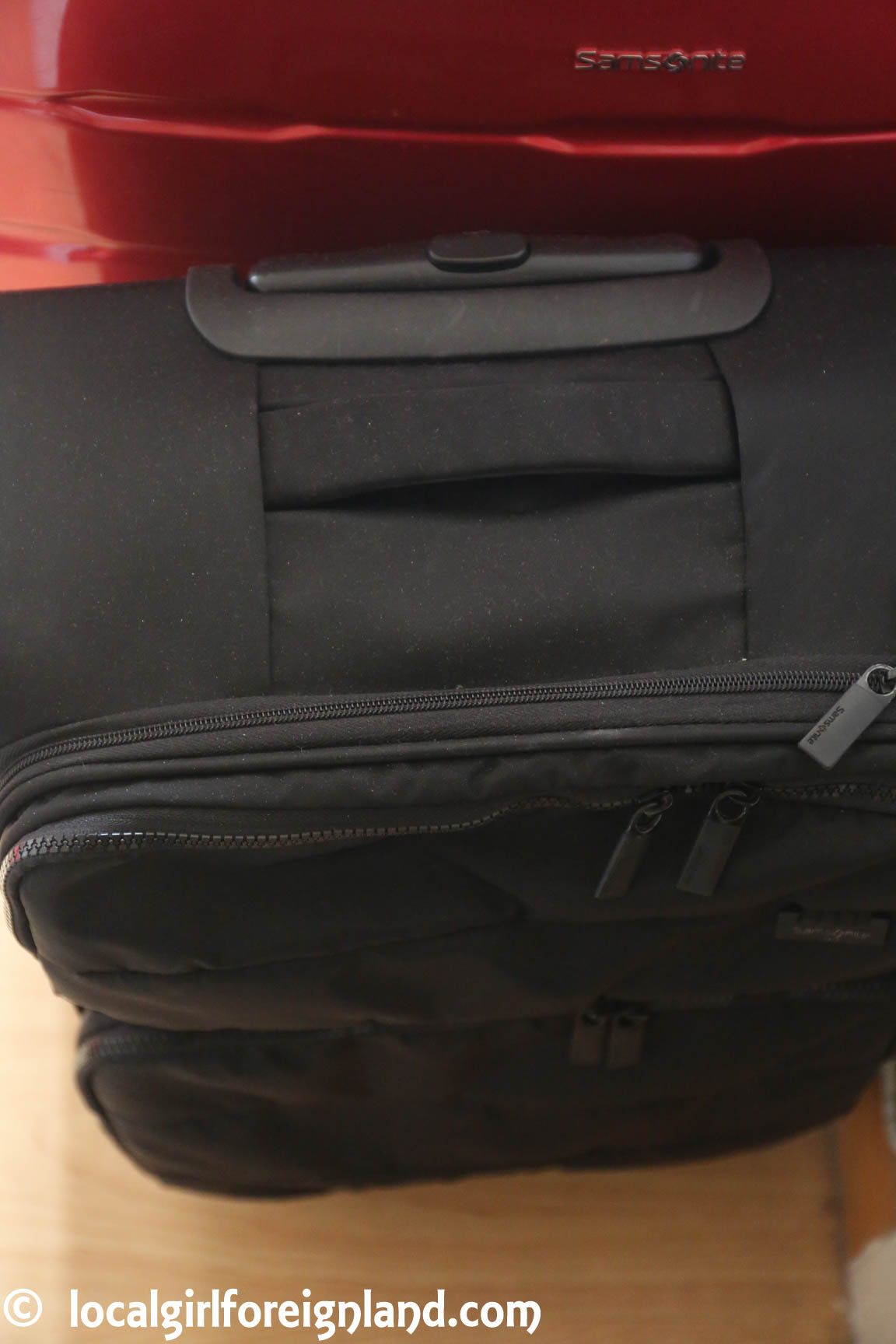 The inside compartment design is particularly practical. 3 zipper compartments and a strap. I remember it was the key feature that I liked when I bought this case.
This case is bad at balancing though. If you place your laptop in the allocated compartment in the front, be prepared that the case will tilt (or drop) over. ANNOYING x 1000. But, I've got to admit, the compartment makes the security check way smoother (remove the computer/ipad etc maneuver).
Price: n/a (I bought this back in 2011/2012 in Hong Kong for HKD1,480; they don't sell this on the Samsonite website any more. I see there are some sellers on ebay & amazon for around £90)
Type: Soft with  3 zipper closures. 2 cannot be locked. 1 can be locked by a padlock.
Material: nylon
Weight: 3 kg
Warranty: 3 years, which is very short on the warranty for a Samsonite. Rather strange? Maybe it is because it is a carry on or it is a soft shell? Weird. It has been 5 years, nothing needs replacing or fixing.
How many times did this fly? 3 times. Only checked in 3 times This is a carry on luggage. However, this case has been through more than 20 trade shows and the wheels are still smooth. **physical wheels mileage was high on this one, it survived more than 6 times Canton Fair. Yes, I work in apparel/garment/fashion whatever you call it.
Security: Do not check it in if you are not forced to. Only the main compartment can be locked. The 2 front pouch cannot be locked at all. I am concerned that something additional maybe found in my luggage…
Worth the money? Yes.
I am spiteful of the balance problem though. The tilting over case is soooo embarrassing. To be fair though, it had a hellish load of mileage the wheels and zips are all still super smooth. It looks sleek, great for business trip; which is exactly what this is used for. So if tilting doesn't bother you as much as me, this is a great value piece.
Day Crown 329 – 58cm
I LOVED this case. I mourn over the loss of this case. This is beautifully balanced, quiet 4 wheels spinner. Super smooth and VERY quiet wheels. More quiet than all my other Samsonite. Despite of it actually weigh 4.2 kg, because the balance is so good, the luggage has wonderful handling experience. Inside has zipper compartments and it comes with a dust cover. Beautiful and value for money.
*literately, lost the case… another travel story another time
Price: HKD 1,200 (approx £100)
Type: Hard case with 2 old school clip locks (keys) and a 3 digit number lock
Material: polycarbonate
Weight 4.2kg
Warranty: I have no idea whether it has any
How many times did this fly? 15 times exactly… how can I forget about losing a luggage? My luggage did a ONE way trip and hence the odd number. I have since stop flying on that airline.
Suitability: Any trip really. 58cm is probably too small for some people, but it was enough for me for 3 weeks trip to Australia. Particularly great for the train / if you'll walk around with it a lot. Best set of wheels I've come across, supreme quietness. The weight balance is just awesome.
Security: High security. Both keys clipper lock and digital lock.
Worth the money? Well, I only flew 15 times with it. I don't know how well it will actually wear. I love the design and I think for the price, it is a great buy.
Tumi Alpha 2 weekender
The bag is hardy; do not wear your cashmere while carrying this bag. The bottom of the bag has 'studs'. The strap is well designed. Soft padding on the pressure point. On the inside of the bag, there's a clip hook; so convenient for the keys. Bonus touch, global tracker (find your bag anywhere in the world) & monogram comes for free.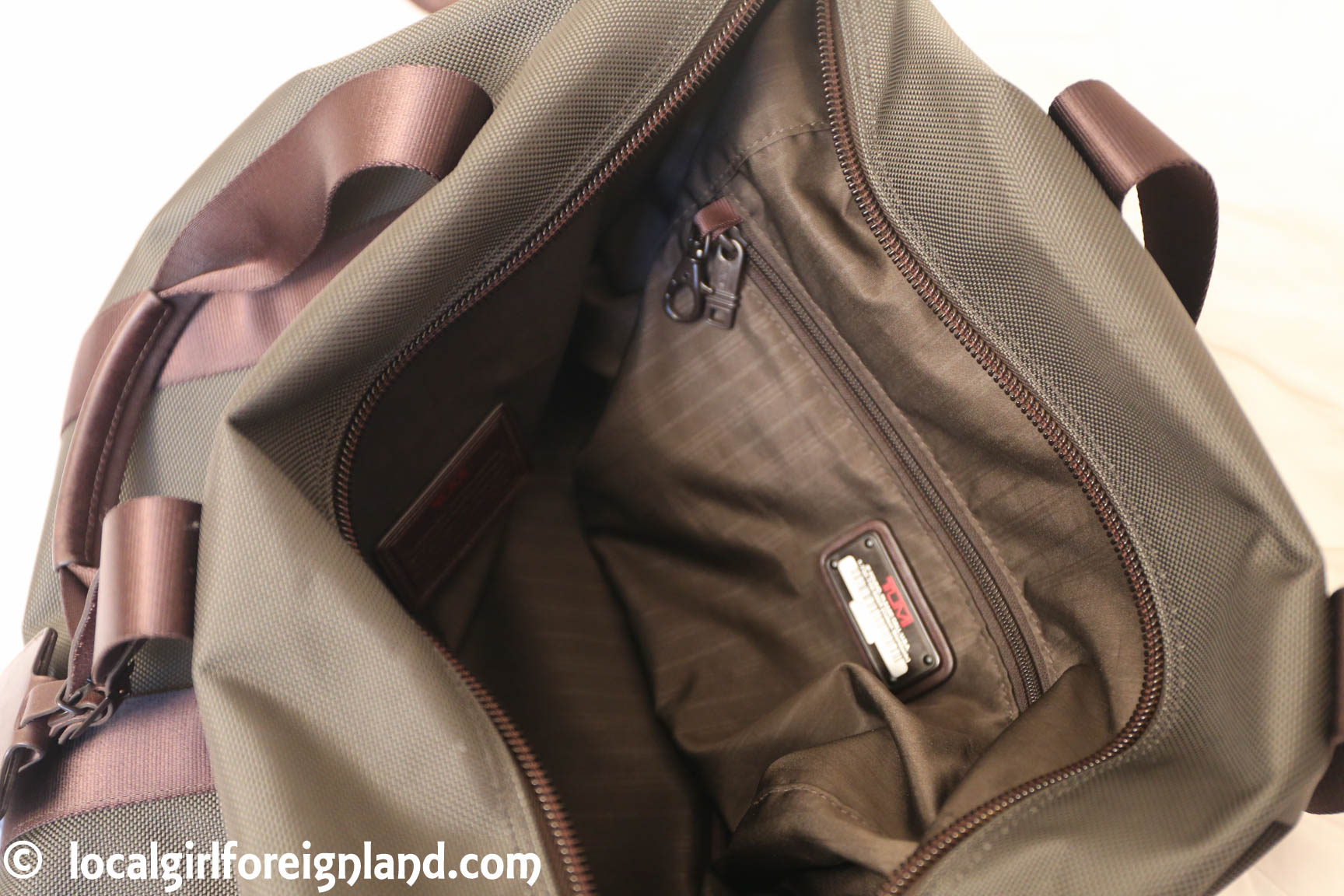 Major minus for me is the paddock. It is a total joke. The 43kg me managed to bend it open bare hand. When I pointed this out to Tumi, guess what their shop assistant say? 'How about buy another one?' HELL no! The Tesco supermarket version works better. At least, I can't be ripped it out with my bare hands. They're £55 for a set of 3. Is there another word for SUCK? This is another example of incorrect material being selected for production. It makes me question whether Tumi test their padlock rigorously enough.
The bag itself I love.
Price: £395
Type: Soft ballistic nylon, leather trims *strong water repellent ability, I tested this in pouring rain
Weight: 1.5kg – I used my luggage scale to measure
Warranty: 5 years – Their warranty of 5 years doesn't scream confidence for a high price point travel item specialist brand.
I am bias on this, as I have a strong preference to 10 years warranty. That's no BS sign of confidence. It is also the key reason why I have no plans to purchase any check in luggage from Tumi or Rimowa. I cannot imagine myself forking out £600+ for something that poise themselves as 'high end' but has less warranty than Samsonite, Lojel and Day Crown… etc.
How many times did this fly? I have never checked it in. I guess that doesn't count.
Security: Did you see that paddock photo?
Worth the money? Yes. I love the comfortable strap pad design. The bag itself looks and feels great. I am a sucker for monogram 😀
*I previously used the Agnes b. voyager bag (approx GBP200). That bag was nylon too, but not rough surface like Tumi. Agnes b. was a smooth surface nylon with calf leather trim strap. The fabric started to bubble after 2 years. I had to throw it away as it looked like an eye sore.
Lafuma 40L venti light backpack – mauve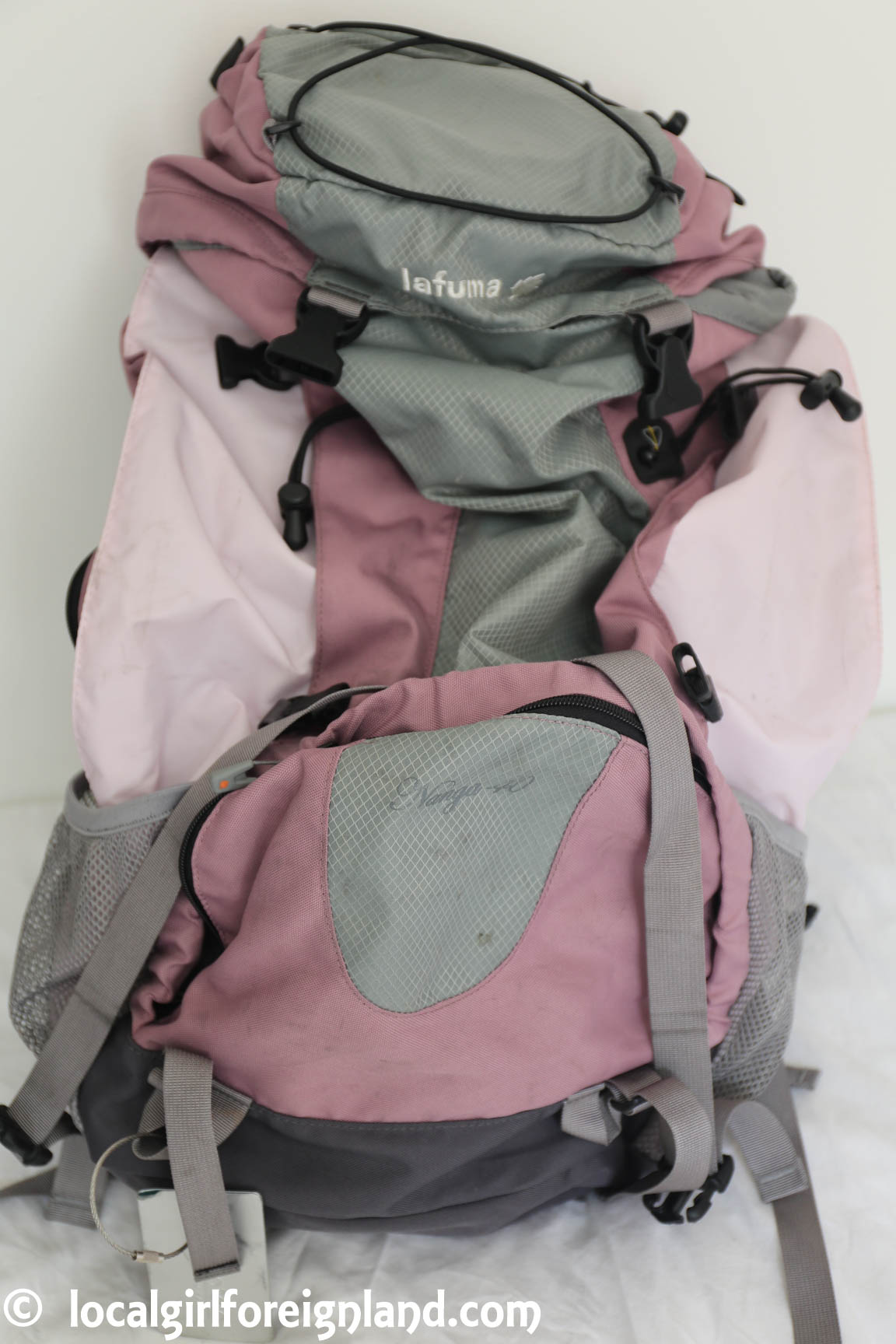 What can I say about a backpack? It is a light weight with structure frame. It is so old that it can't even be found on ebay lol. In any case, the newer generations look very similar and with more colour choices. Mention worthy: It has an excellent rain cover and a security compartment on the inside of the flap cover.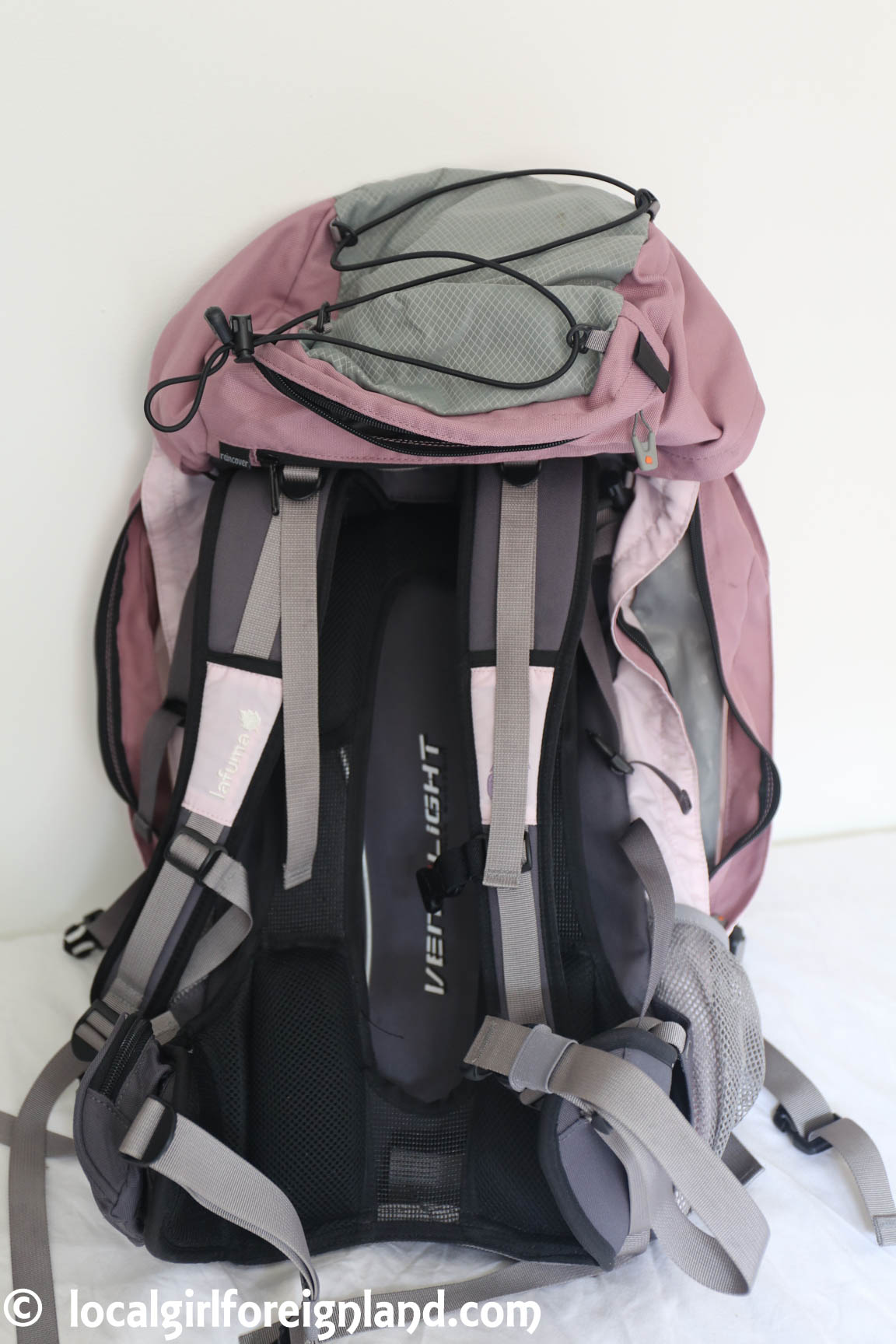 Price: HKD900, but that was in 2007
Type: Nylon water proof rip stop. No water proof seam tape. Rain cover is attached to the body and packs away on the lid easily.
Weight: 1.8kg – I used my luggage scale to measure.
Warranty: ? I have no idea
How many times did this fly? 20+
Security: Zero. I always wrap my whole backpack in wrap before checking it in.
Worth the money? Of course, it was very affordable and it was great for traveling! I do have my eyes set on the backpack with a detachable daypack though…
Hope this has been useful information. 😀 Thank you for reading.
This post is completely based on my experience. Most weight information is from their official website, unless I stated otherwise. As for the warranty, the above information is based on my purchase. The warranty limit may change when you do your purchase. Please ask the official dealer to verify.
My review is subjective. Here are the bias reference. I like my luggage indestructible. They must endure frequent* travel, rain, cold and sometimes potential thefts. Basically, I have a strong preference for hard cases. Unless, I go for a weekend / backpacking, of course.
I purchased all of the above luggage for personal use. No affiliated links in this post. Links are included only for the convenience of my readers.
*frequent travel means 50+ return flights per year
Prices are for reference only. There maybe better deals out there.
Make sure you keep your receipt / have the warranty card stamped by the store. Otherwise, you maybe in for a nasty surprise later.
Please be a sweetheart & follow my social media xox
Bloglovin' / Google+ / Twitter / Instagram / Facebook / Pinterest