Foundation review #7. I don't know why no one talks about this foundation. It is one of the most fabulous thing for travel. Especially for places like Australia where liquid isn't allowed at all for flights.
Coverage & Finish
Medium coverage. Satin, mild dewy finish. Just makes me look very smooth without looking made up.
It is possible to build up to a full cover. When I did do that, I could feel the foundation. I am not fond of "feeling it".
Skin Type
I have combination dehydrated skin. It has worked well for me. Kept my skin supple throughout the day. For my T-zone, I didn't powder at all (temperature 30-35 Celcius day); end of day, I wasn't an oil slick either. The official site states that it is sebum resistant. I don't know how well that will work for oily skin though.
**in the ingredient, there's a few clays, maybe that's why it stayed put so well?
Fragrance
Smells like makeup? LOL I don't know how to explain. It's not offensive. There's a definite scent to it if I sniff the stick. Once it is on my face, I don't notice it that much.
Packaging
Hardy plastic. 9g. Elongated shape foundation stick. O, I have dropped this in a parking lot. Nothing cracked. It was an accident, but hey, it is hardy and utilitarian. I am not crazy about the colour combination, but this whole line of products is in this colour. That blue and yellow just doesn't do it for me. I guess, I'll just have to accept content over packaging.
Country of origin
Made in Japan
Application
Finger application is my favourite. It is blends like lightly melted butter. Plus one less item to bring with me when I'm on the go. Sponge and brush both works fine. I think it's unnecessary though.
It is possible to re-apply on top during the day. It doesn't crease up / bunch up. I re-apply more for the sunscreen than for additional coverage.
It totally can be used for covering under eye without any issues. No concealer needed.
Colour
I got the colour Ochre, because I use this stick almost exclusively for beach holiday away. It's the perfect shade for me when I have a bit of tan. Oxidation was slight. After drying down, it turns a bit more red. MAC face and body C3 and this is pretty much my go to foundation shade when I get some colour.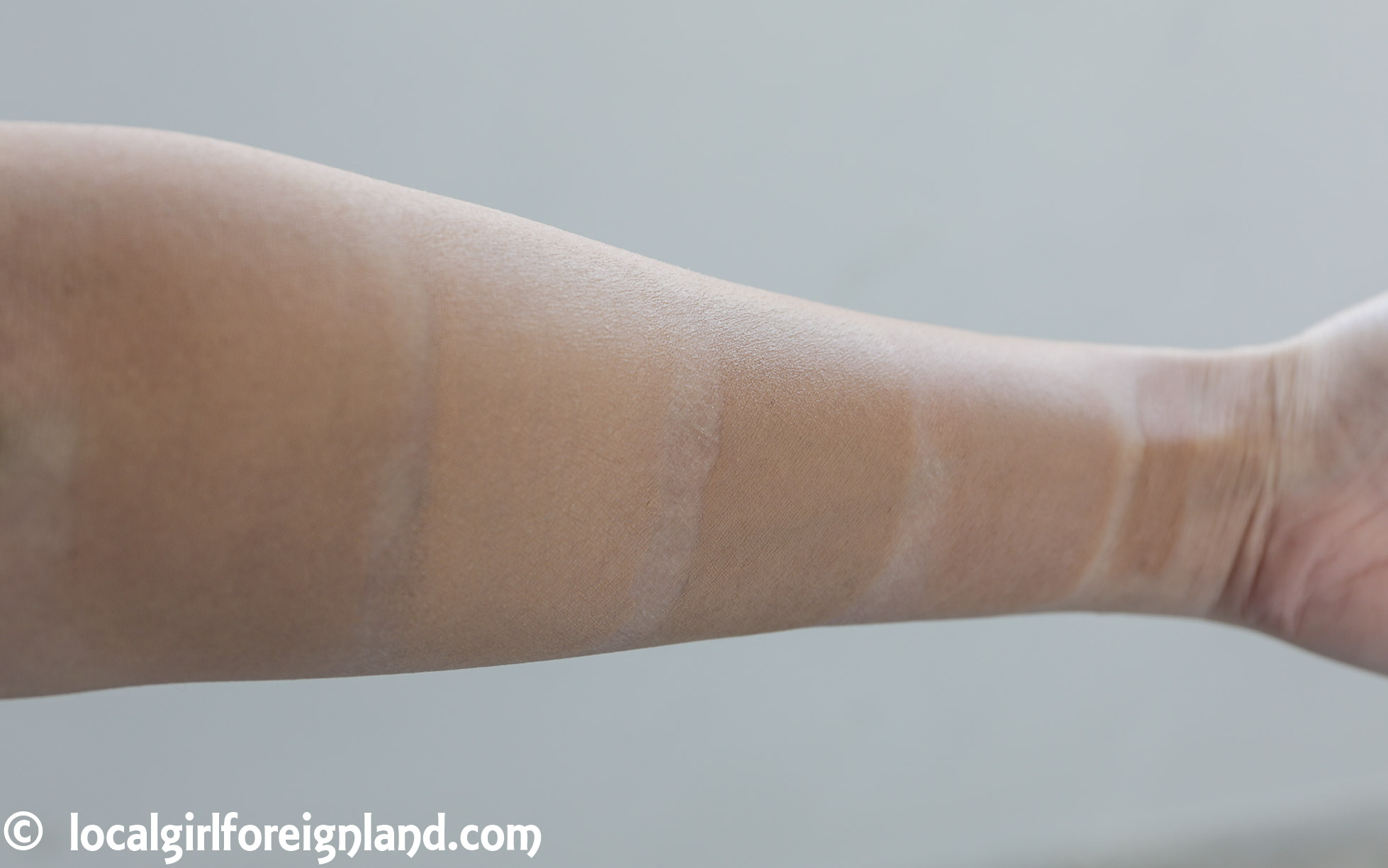 Longevity
It did really well in wild swim (lake) and snorkel (sea water). There was no "crack" or "break" in coverage. I was really impressed. So in terms of waterproof / outdoor foundation, this foundation is a winner. The key enemy to its wear is rubbing or being touched. It certainly "touches" off e.g. cell phone. If I set it with powder, it's not so much a problem. Still, I am stubborn and prefer to always test without primer and powder. Product needs to stand on its own, right?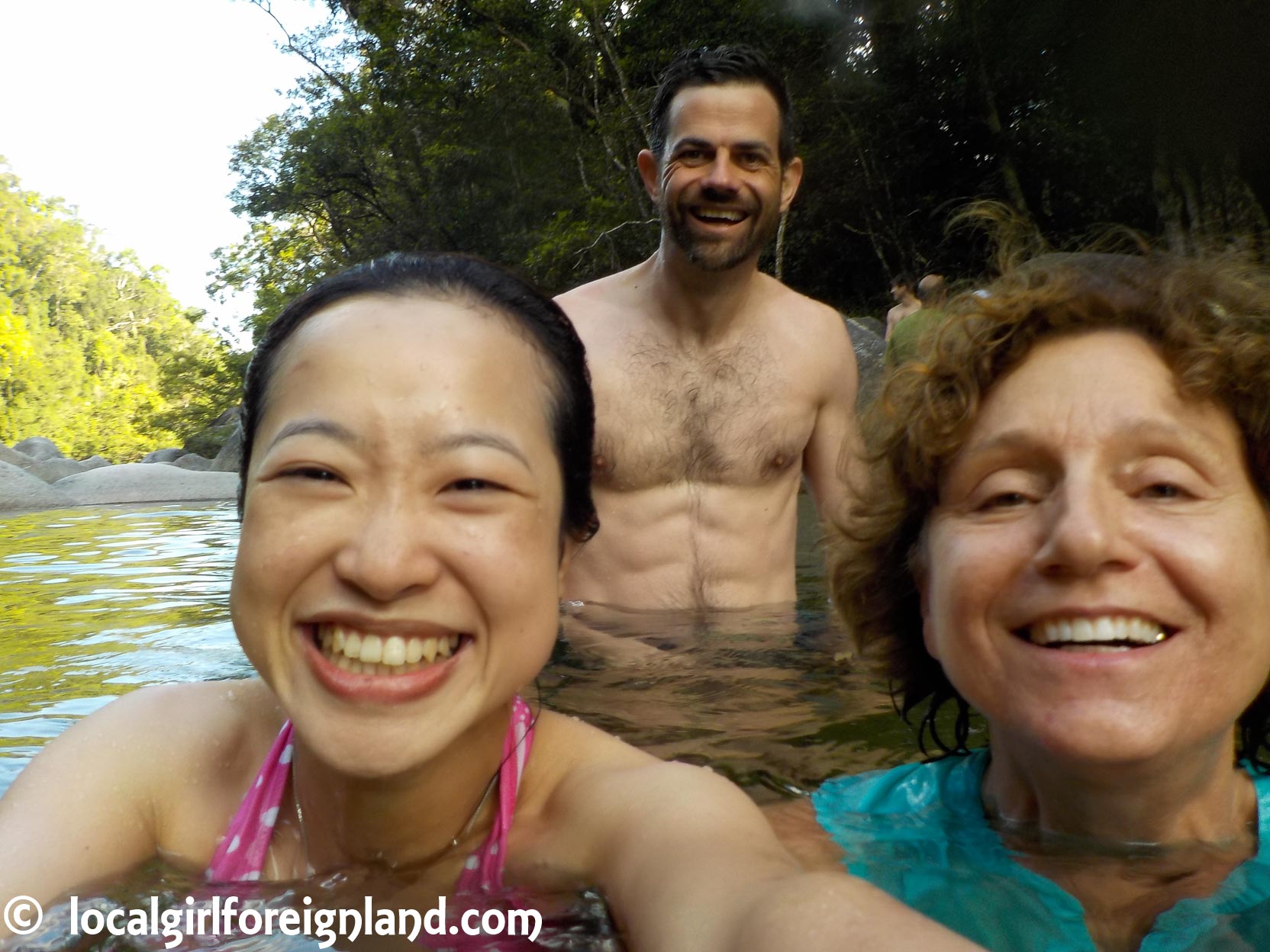 Sensation
My skin felt way more supple after application. Feels like a skin treatment? It smashed my dehydration. My skin looks more radiance. I love how it removes my dehydration lines. The feeling is similar to Clarins True Radiance foundation, but a waterproof version with less emollient.
I do use this to touch up; I use it like a sunscreen. So if I get heavy handed, I can feel it on my face (like 7 stripes too much). Otherwise, it's really comfortable.
My main issue is that it never feels set? There's no tacky feeling, but just "creamed" sort of thing. I don't know how else to describe it.  Now that I live in Paris , it worries me to greet people? You know that French cheeks touch thing. Other than that, I really do love this foundation.
**I always base my comments on zero powder and zero primer.
Price
La Fayette (France) EUR38.50 !?WTF
House of Fraser (UK) GBP31
Hudson Bay (Canada) CA$35
Shiseido.com (USA) USD28
No affiliated link used. For reader's convenience only.
Formula
(refer to shade ochre only, each shade has its own ingredient list per Shiseido's official website):
Purpose OCTINOXATE 2.9% – Sunscreen TITANIUM DIOXIDE 7.2% – Sunscreen INACTIVE INGREDIENTS:MINERAL OIL, POLYMETHYL METHACRYLATE, DIMETHICONE, KAOLIN, TRIETHYLHEXANOIN, POLYETHYLENE, SORBITAN SESQUIISOSTEARATE, MICROCRYSTALLINE WAX, PEG/PPG-14/7 DIMETHYL ETHER, SAXIFRAGA SARMENTOSA EXTRACT, SODIUM HYALURONATE, SOPHORA ANGUSTIFOLIA ROOT EXTRACT, COPERNICIA CERIFERA (CARNAUBA) WAX, METHICONE, SILICA, WATER, ALUMINA, ALCOHOL, SODIUM MAGNESIUM SILICATE, HYDRATED SILICA, TRIETHOXYCAPRYLYLSILANE, ALUMINUM HYDROXIDE, ALUMINUM DISTEARATE, BUTYLENE GLYCOL, GLYCERIN, TOCOPHEROL, HYDROGEN DIMETHICONE, DISTEARYLDIMONIUM CHLORIDE, BHT, SYZYGIUM JAMBOS LEAF EXTRACT, TIN OXIDE, FRAGRANCE, TITANIUM DIOXIDE, IRON OXIDES, MICA
MINERAL OIL – Derivative of petroleum. Many people believes that it is bad for the skin. Yet, I cannot find report to substantiate this claim. What mineral oil does is reduce water loss from skin (occlusive). A well known product with mineral oil? Vaseline. That thing is pretty effective to me. I just thought I highlight it in orange, because there's so much bad buzz around it. I still cannot find rational reason / scientific report to explain why it is bad. If you know of a report, please let me know.
POLYMETHYL METHACRYLATE (PMMA) – well, if this stuff is good enough for injecting into the skin. It is good enough for me. It makes the skin more smooth. When injected into the skin, it plumps it up. **do not DIY of course, seek professional advise
DIMETHICONE – I feel like I say this every time. This prevent moisture lost via creating a barrier. It is volatile, so technically cannot block pore. I do understand that there's a large community that swears silicone blocks pores. I am not a dermatologist, so I've flagged in anyway in case you're into a silicon free product regime.
KAOLIN – gentle clay for the face
MICROCRYSTALLINE WAX – another petroleum derivative. Again, there's no statistics to state that this isn't safe or bad for cosmetic use. I only highlighted it because some people wants nothing to with petroleum derivatives.
SAXIFRAGA SARMENTOSA EXTRACT – skin conditioner that increase skin density, natural astringent
TOCOPHEROL – synthetic vitamin E, skin conditioner, anti-oxidant
BHT – preservative, inconclusive whether it is safe. It is allowed as food preservative in a small dosage. So personally, I am not worried about it. It is quite low down on the ingredient list anyways. FDA and EU approved at the time of publishing.
Overall Rating: B+
Packaging 4/5
Scent 3/5
Blendability 5/5
Look 10/10
Comfort 9/10
Longevity 9/10
Oxidation grayscale 4, turns a bit red
Value for money 3/5 ==> will be a 4 if bought in US
Will I repurchase? Yes.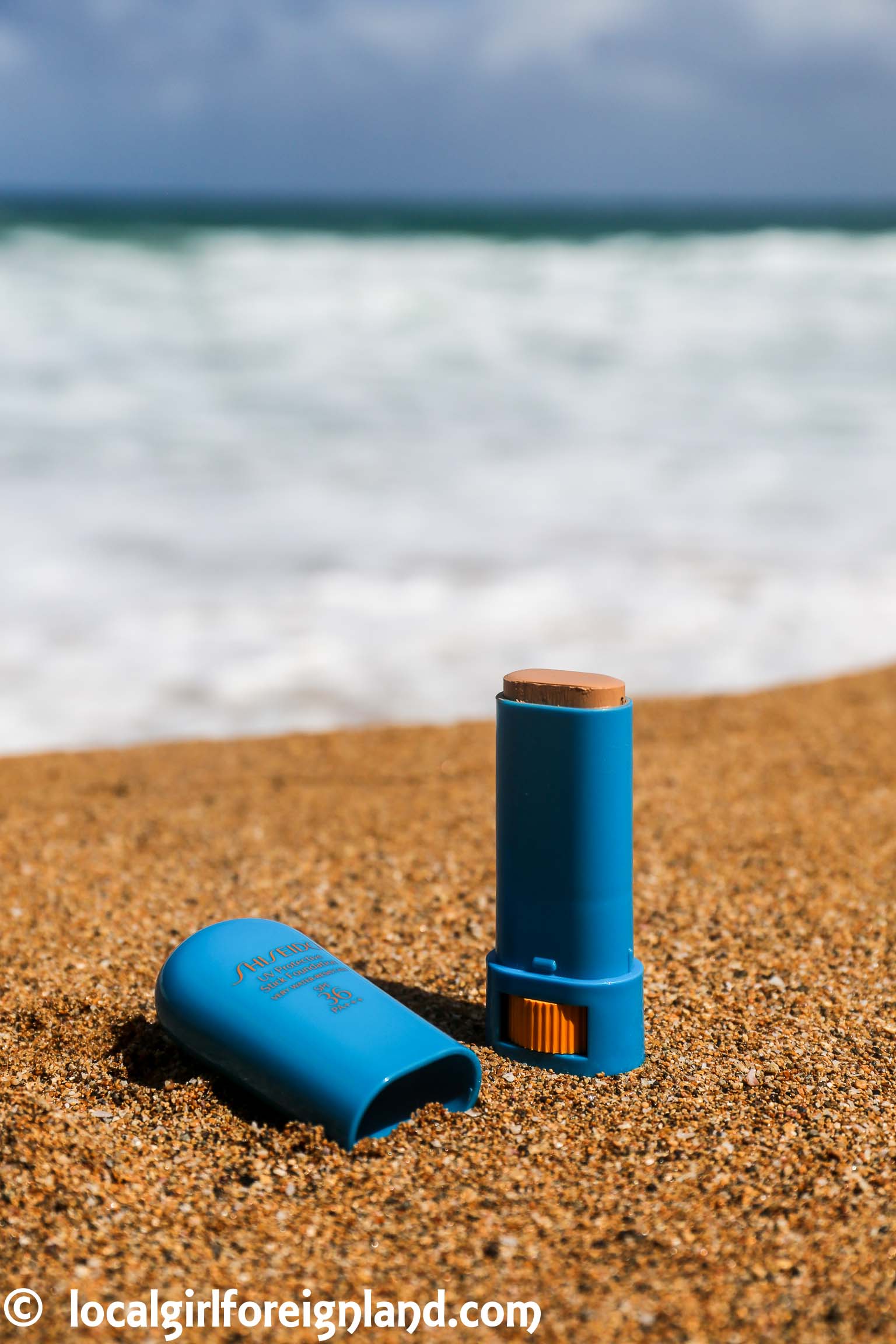 Camera: Canon 5D mark 3 (product & swatches), Nikon coolpix S33 (selfie)
I bought the foundation with my own money. I have no affiliation with the brand.


Bloglovin' / Google+ / Twitter / Instagram / Facebook / Pinterest