Swimming in the wild was addictive. After I had a taste of it in Mossman Gorge, I was totally hooked and signed up for the waterfall tour. I took that last spot 😛 So glad that I made it. This is review post – Cape Trib Connections' waterfall tour.
The tour left Cairns (CBD) at 7h45. Early start and I was ZzzzZzz and hardly there.
Surprise! The van came with cofee/tea. So at the first stop, Babinda Boulders', we're fed some banana bread + a doze of caffeine.
We're given an hour to do whatever we want. The path that I chose was Devils pool walk. 
Nothing crazy and can be done barefoot. Just don't touch any leaves. Never know which one has micro hair / poisonous. The highlight was the dip 😀
I was a bit too shy to ask fellow tourist to take photo of me. It's okay, this was only the first stop.
Spotted some colourful spider 😀 and he posed nicely for the camera.
Back to the bus, the bubbling tour guide continued to share local stories / folklores. Atlas… it suddenly poured with rain!!! 🙁 So no swimming in Josephine Falls of Wooroonooran national park (this was the real name).
Josephine Falls kills its prey quickly with rapid changing water level. DO NOT swim in it if there's any form of rain. The water level can change by the meters within minutes. No matter how strong a swimmer you are, don't do it. The water can wack anyone into the rocks.
The next stop was like a pit stop? 5min or so.
This was the spot where a butterfly teased me and I took about 100 shots and still missed >_<
Up next was the legendary  Millaa Millaa Falls. You know, that advert from Herbal Essence? Yup, that's it. While I do love Herbal Essence shampoo, but man that model was good at false advertising. That water was COLD!!!! So that crazy hair flick move was CRAZY. I was sooooo cold.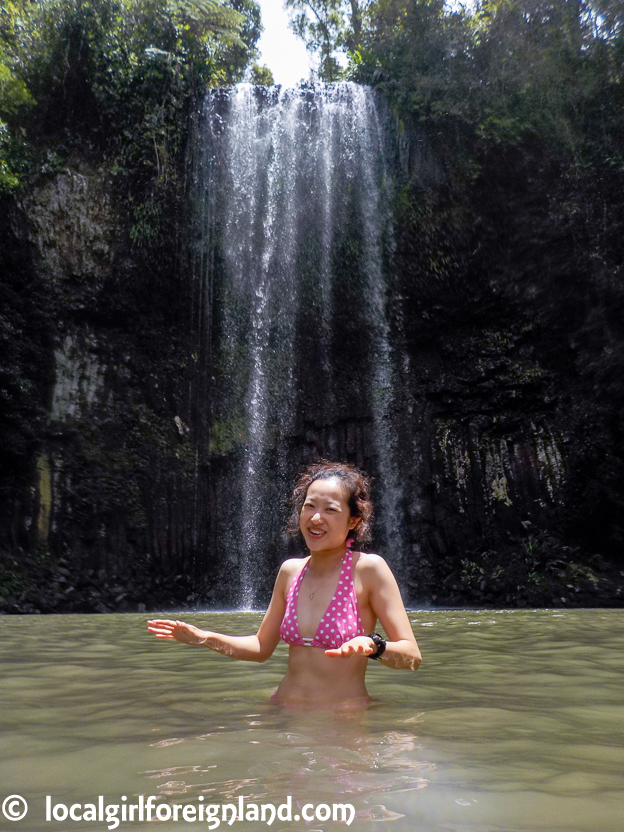 If you plan to go behind the waterfall, watch out for stingers like these…
Next was platypus spotting attempt. Platypus = racoon looking fellow with a duck beak? Alright, it was more like intensive sun tanning for 10min and only saw a flicker in the water. So by that point, I shot at whatever that moved.
Platypus are very shy. So our whole group waited in silence. We were pretty sure that the platypus was in the water though. We spotted the beak and it diving into the water. No matter, we didn't get to see it in plain sight. *sigh*
The following stop was at Malanda Environmental Park, it also happened to be lunch time. Lunch was not included. So the tour guide took us to a small town nearby to find some food. The down side? Instead of spending time in Malanda Environmental Park, I had to use up 15-20min for getting lunch. The smarter travelers brought lunch with them and had a picnic. Fab plan! I wish I did the same.
It was now time for the gigantic Curtain Fig Tree. Mentionworthy… leeches. Leeches in Australia are not in the water. So watch out for leeches falling from the trees above. Those who does not know what a leech is… they're a worm looking thing that sucks blood. They grow bigger as they suck blood from you. More grossing out than scary.
The final stop… Lake Eacham, . This thing was deep. The bottom was a cone shape, so it got deep VERY quickly. Amazing wild swim spot. Apparently there're 2 crocs in the water? But they're small and do a fish diet. So they're supposed to be harmless. This was the best swim of the day! The water temperature was just right 😀 No fast current either, so the swim was easier than the others.
What a beautiful day 😀 that ended at around 18h30
Tips
If you're staying in North Beach, this tour does not provide pick up! Don't fret, it is pretty easy to grab a bus and be picked up near Cairns main bus station (Lake Street).
Flip flops are the best for this tour.
Only available Monday to Friday and it is a small van. Book in advance is necessary.
Bring your own lunch pack to save time and money. That small town food was really not worth spending time / money. Picnic was so much better.
Where was I?
Cape Trib connections' waterfalls tour, Cairns
http://www.capetribconnections.com/waterfalls-tour.htm
Or you can DIY by doing the drive 😉
Babinda Boulders
Josephine Falls
Millaa Millaa Falls
Atherton Tablelands
Platypus Spotting
Malanda Environmental Park
Curtain Fig Tree
Lake Eacham
Camera: Canon 5D mark 3, Nikon coolpix S33 (waterproof), Sony Z3+
No affiliated links.
Please be a sweetheart & support one of my social media xox
Bloglovin' / Google+ / Twitter / Instagram / Facebook / Pinterest