Amazeball sleep sans ear plugs! 12hrs solid sleep in a dorm, how was that? This hostel had it all going for me. Stay there for 7 days, definitely amongst the best hostel that I have ever been to. It has my 'I'll be back' rating.
Location
The hostel was 100m or less from the Palm Cove beach!!!
North of Cairns and South of Port Douglas
Idea: Cairns  CBD–> Trinity beach –> Clifton beach –> Palm Cove beach –> Ellis beach –> Port Douglas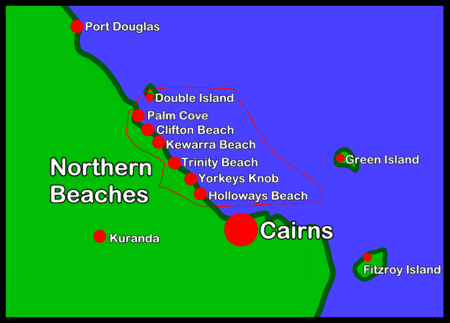 The beach? 1min walk from hostel = Palm Cove beach when it is not jellyfish season
3-5min walk from hostel = Palm Cove beach netted area + lifeguard station
WARNING: serious Aussie wildlife happens all over the show, please ask the local aka Wayne before dashing to the beach or wander around. *refer to my blunder
25min walk along the coast = Clifton beach think palm trees on your right and the endless ocean in your left for the full walk post click here
Transport
The closest bus stop was 'Talpa close', zone 1, bus #110. This was 1-2min walk from the hostel. Bus was sparse. Either 1 every 30min Mon to Fri or 1 every hour in the weekends.
This place is for beach bums or laid back tourist (like me :P), definitely not recommended for busy scheduled tourist/traveler.
Of the 7 days that I've stayed there, only used the bus 4 times.
Go to supermarket, zone 1, AUD2.20 (3min)
Return from supermarket, AUD2.20 (3min)
Go to Cairns city centre, zone20, AUD5.50 (40min when I took the 5h56 bus)
Return from Cairns city centre, AUD5.50 (75min when I took the 19h06 bus)
Most day tour provided pick up service in front of the hostel.
Facilities
Quietness, swiming pool, balance spring mattress, percale bedsheets (hotel grade), outdoor diy barbecue (it's the all in one, every South Africans dream braai), outdoor or indoor dinning, swimming pool, massive bathroom space (2.5sqm-ish), lazy L-couch, 50inch (or larger? It felt big) TV with National geographic chanel ????… o what else…  did I mention quietness?
Washing machine AUD5 per usage, 30min cycle
Dryer AUD4 per usage
Both machines only accept AUD1 and AUD2 coins
Wayne sells washing powder in a small box for AUD2
Each visitor is provided with:
Fluffy, soft bath towel. SOFTness
Small bar of soup
Fitted sheet, flat sheet, and fleece blanket
2 x fat pillows
Padlock for the small locker in the dorm room
Baddies
No such thing as perfection, right?
The cutting boards needed more TLC. The chopping boards (all 3) smelt bad. I could smell them the moment I open the drawers. Not good at all. Some had deep cut with black colour stains, pretty gross. Ironically, all the other drawers/utensil were flawlessly clean.
Tips
After sunset,  walk on tar roads with heavy caution. Snakes love to do their spa on the road. Do not step on a snake, watch your steps.
Book the airport bus via Wayne (hostel owner). He has access to a AUD10 discount. Otherwise, pay AUD49 return tickets like me 🙁
Wayne knows a lot about what each local tour has to offer (lux and budget options). Ask him for his recommendations. All 3 tours that he recommended to me was fabulous!!!
Wave at the bus. Else, they don't stop even if you're waiting at the bus stop.
Where was I?
**Newbie? This hostel only been around since Sept 2015
This is NOT a sponsored post. I paid for this accommodation. I just feel strongly that this place deserves a huge shout out. I paid AUD39 per night via booking.com otherwise, you can also reserve a room via their own website – http://www.cairnsbeachesflashpackers.com/
**Booking.com is an affiliated link. If you purchase using that link, I'll earn a small commission. This will not cost you anything.
Wayne kindly showed me the private 2 bedroom. Below are the photos. I did not stay in this particular room. When my hubby will come with me, I'll take this up 😀
Please be a sweetheart & support one of my social media xox
Bloglovin' / Google+ / Twitter / Instagram / Facebook / Pinterest
Camera: Canon 5D mark 3 and Sony Z3+
Don't take my word for it 😛 Below is their score from other visitors