My little box (UK) arrived. It is 'My Little Friends Box'. The postman threw it over my fence this afternoon LOL Let's do some unboxing!!!
The theme of the month is friends. The card frame's colour isn't for me. Reference to how the MLB team was formed was cute. I don't really get the squad reference though. Maybe I am too old?
Lifestyle products get lots of attention this month. There are 3 products.
Pop corn? That's a welcomed, but weird thing to get LOL (munch) This thing was from @propercorn and a made in Britain product. Tasty stuff.
This little one is adorable!! I like that mint colour clip. It's a fisheye clip on for smartphones. The little seed cloth pouch with accent cerise ribbon is sweet. [happy face] Let Yoshi here be the model for the test drive.
I do already own a full set of clip on lens and I almost never use them 😛 So this will end up in a give-away of sort.
'Nails in progress' nail care set in a clutch. What's not to like? Well, I really wished the print is more Kanako looking. This colour combo is really not calling me.
Time for the cosmetic pouch. This month's print has a larger than their regular pixie size sort of pattern. Something fresh. I like that. I say that I like their draw string bag every month. Perhaps I should omit this remark LOL.
Out of the bag are:
(1) Batiste stylist hold me hairspray 75ml
(2) Kadalys hydramuse comforting cream 40ml
(3) My little beauty summer lips spf15 3.5g
The Batiste is one generous sample. I don't normally use any hairspray. Won't hurt to try this one out. I liked the Batiste dry shampoo (original), so who knows, maybe I'll grow to like this one. In fine print… proudly made in UK.
This face cream has the most divine smell. The front label has 'yellow banana and mango'. I can't find that in the ingredient list though. The smell alone owns me. It is a day and night cream. It does not have SPF. It has citric acid? Hm… why do they call this a comforting cream? I have rhino strength skin, so touch wood, no reaction. The glycerin feeling is strong. So the skin does feel instantly more smooth upon application. Kadalys is a French brand. First time that I come across this brand. Made in Europe, that's just so vague. So I take that they don't want the consumers to actually know where the item was made.
As usual, each month there's an in house product that they pop into the box. This month is the my little beauty summer lips. This lippie is a watermelon colour, orange tone red. It is not densely pigmented, it is an easy to wear colour for the summer months. Made in France. No smell, well extremely faint. I do like that it has SPF15. I am a sunscreen fiend haha. The print on the container is sweet. This is my favourite item from this box. I seem to like all the my little beauty stuff that comes my way haha.
That concludes this month's unboxing. Thank you for reading 😀
O, bonus item (refer to my July box post)
I love this scarf! I love the colour and the print. It has a little stiffness from the printing paste. It is a fab summer piece. Thank you, My Little Box 😀
Where to get this box?
https://www.mylittlebox.co.uk/home
What to expect from My Little Box? (based on my experience)
1 x magazine
1 x little fabric sash bag (or a bag of some sort)
Surprise item(s) in line with the month's theme
2 x beauty products, usually French ones
1 x my little box's in-house brand beauty product full size
**I bought this box myself.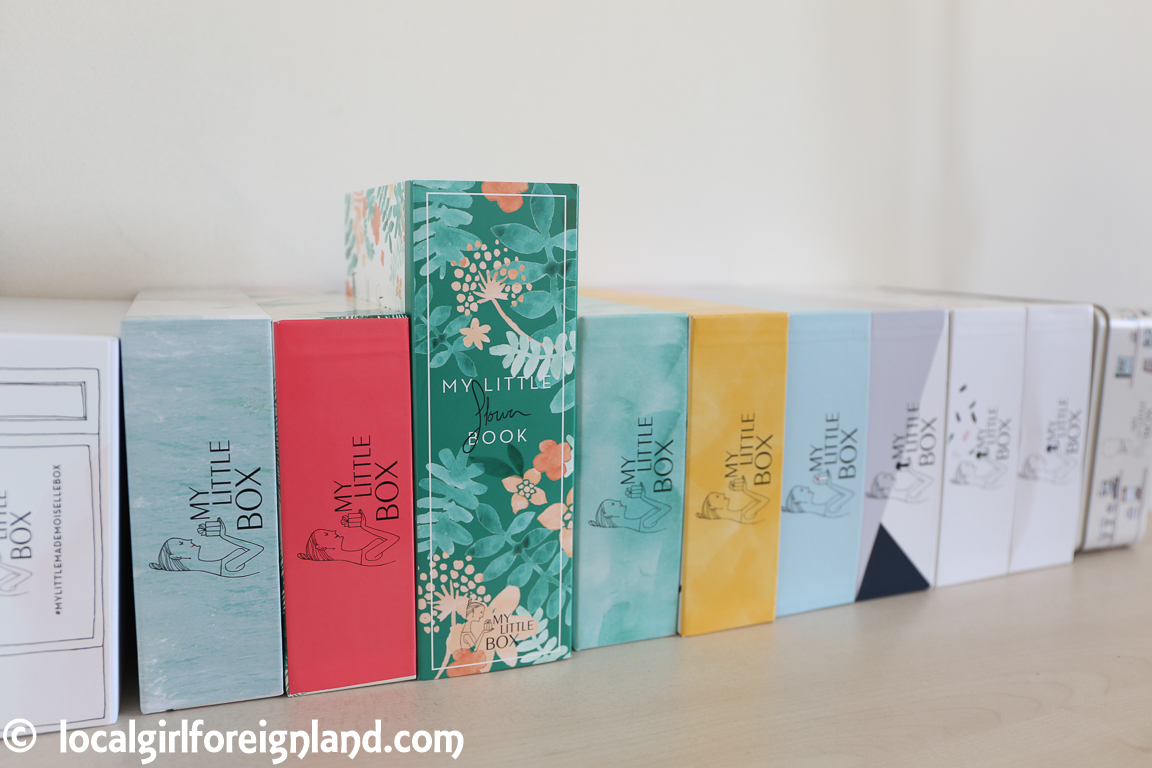 For all my little box reviews… click here
Please be a sweetheart & follow one of my social media xox
Bloglovin' / Google+ / Twitter / Instagram / Facebook / Pinterest