Petit Trianon is probably best known as Marie Antoinette's little escape from the French court life. However, it all began with a famous mistress of her grandfather in law… So here's my quick guide to Petit Trianon and a bit of its history.
Before going into the history part, here are a few visiting tips.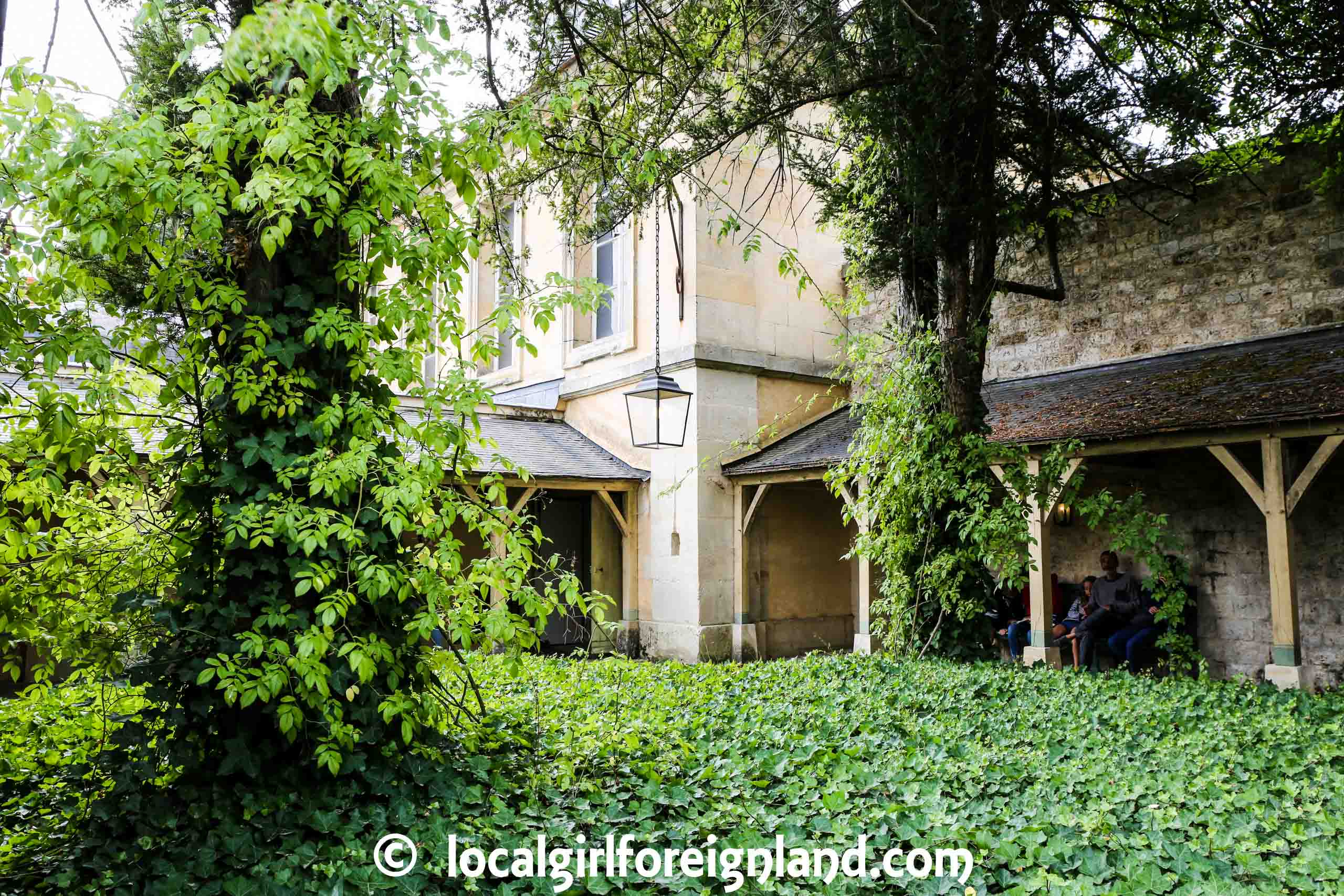 Visiting tips
Shoes
There is a good 25 – 30 minute (around 2.1km) walk between the main Versailles palace and the Petit Trianon. In between, the roads are either pebbled or gravelled. Whatever you do, do not wear thin soled shoes. It will hurt your feet and your shoes. Yup… for once the trusty Repetto ballerina is not a fantastic choice.
Walk or take the tram / cart?
During summer it is possible to rent a golf cart or get a ride with the Versailles mini tram. Both has extra tariff on top of your entrance tickets. I visit Versailles palace almost monthly LOL and I have never taken the automated transport. The walk between the different estates is beautiful and pleasant. If you do decide to get a ride, here is what you may be missing… Wandering in the gardens on the way there is a great idea 😉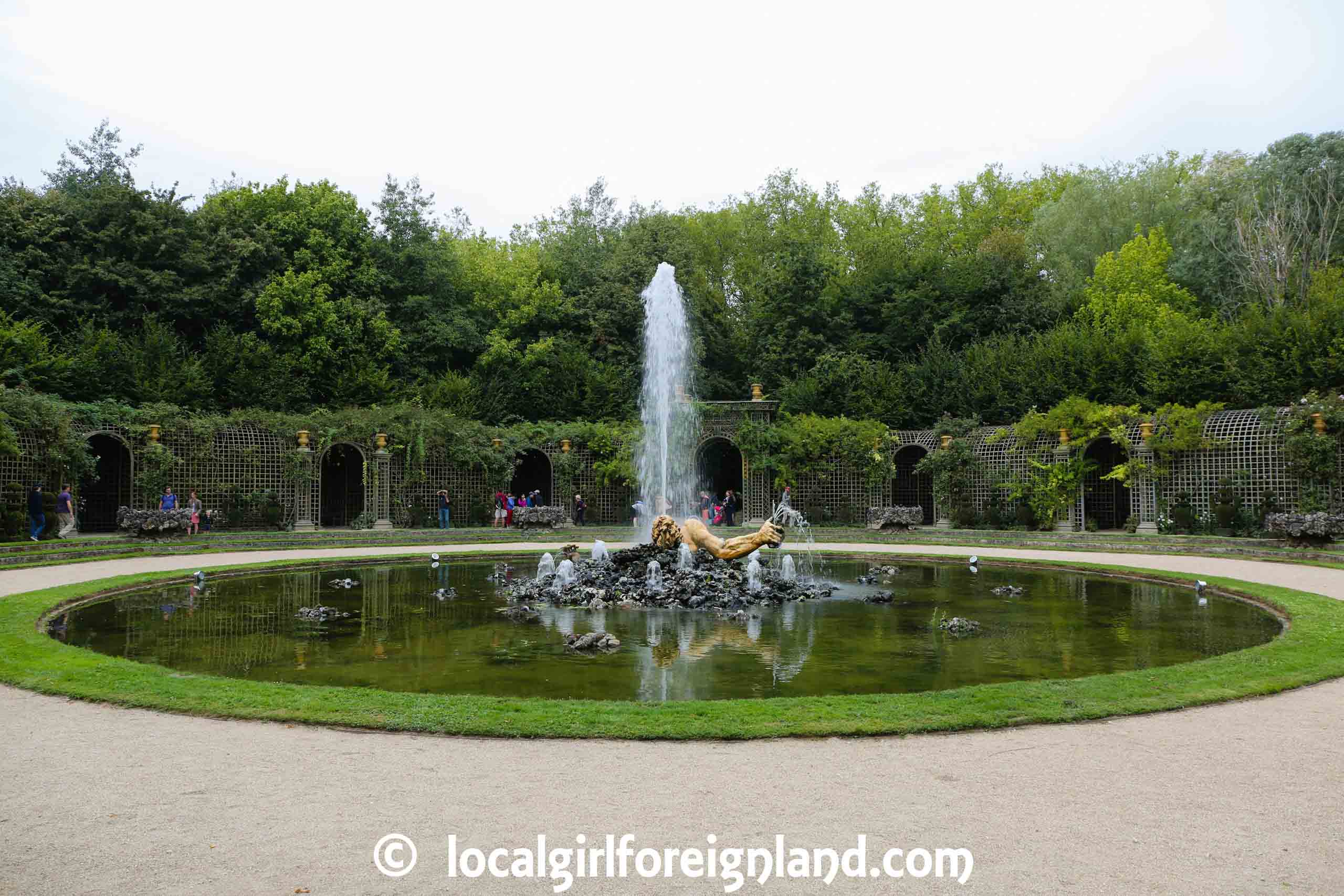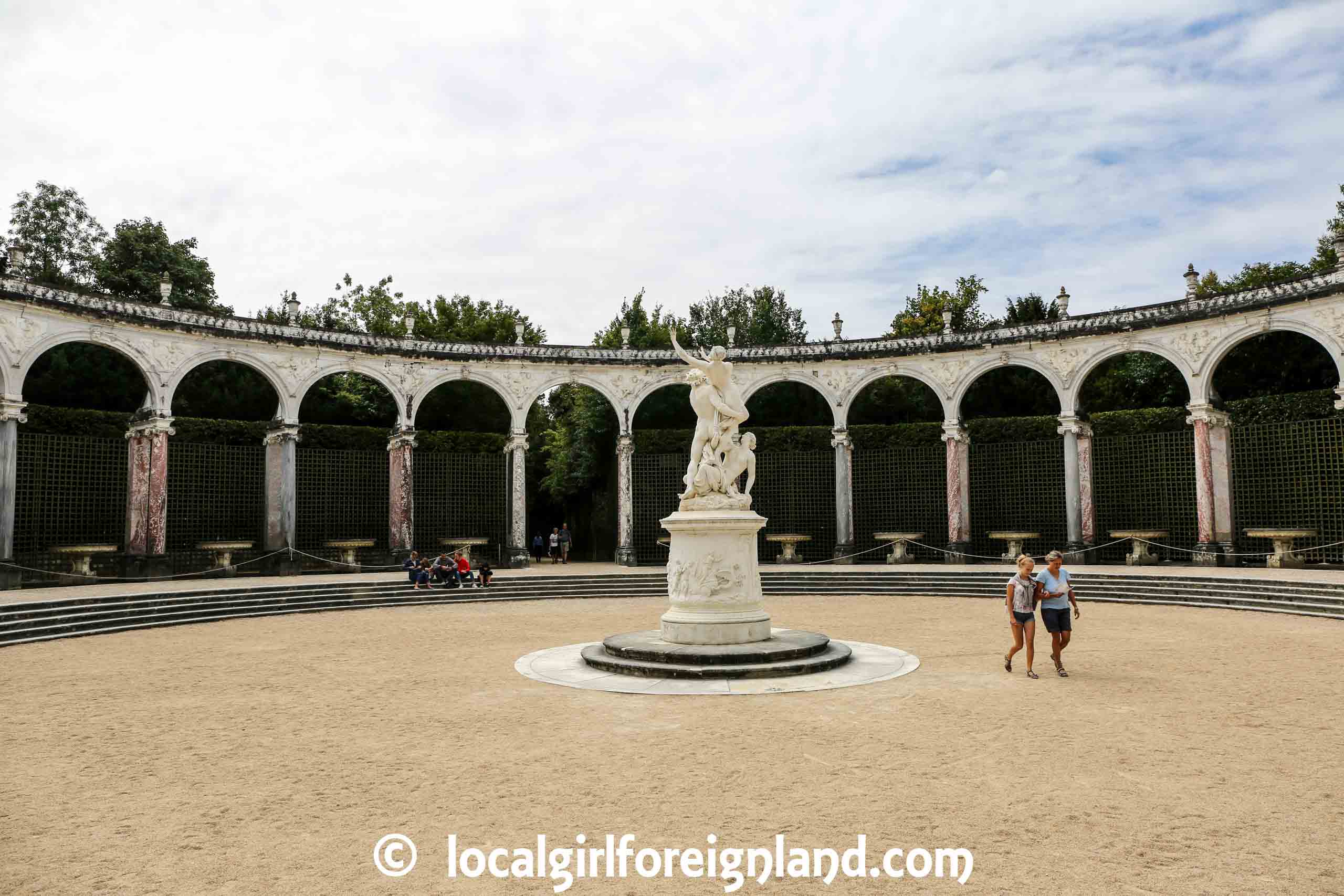 Money
Versailles palace now offers a "visiting passport" package that includes the main palace, garden, Grand Trianon and Petit Trianon. It is way cheaper to take the passport than to buy the entrance tickets individually. If you think you'll have the chance of a 2nd visit during the summer season, buy the annual card. It will save you money and time, because with the annual card, you don't have to queue for the entrance (there's a special lane).
EU and under 26
If you're under 26 and living in EU (UK's status is unclear, sorry): free entrance to the main Palace and Trianon, BUT the summer garden is not free. During the summer, you'll have to avoid going through the garden to reach the Trianons in order to avoid this fee. In winter, the garden path is free access to all; however, all the trees will be covered and no more operating fountains.
Conditions are subject to change, please visit Versailles Palace's official site for the latest information: http://en.chateauversailles.fr/plan-your-visit/tickets-and-prices
King Louis XV (1710 – 1774)
Let's get started with the story time, shall we? Okay, because King Louis XV was the guy who commissioned the Petit Trianon. I will write a bit more on him, only the juicy parts though; turn serious history into a piece of gossip styled writing is totally my thing. History reference / sources have been listed at the end of this post; multiple sources in French and English.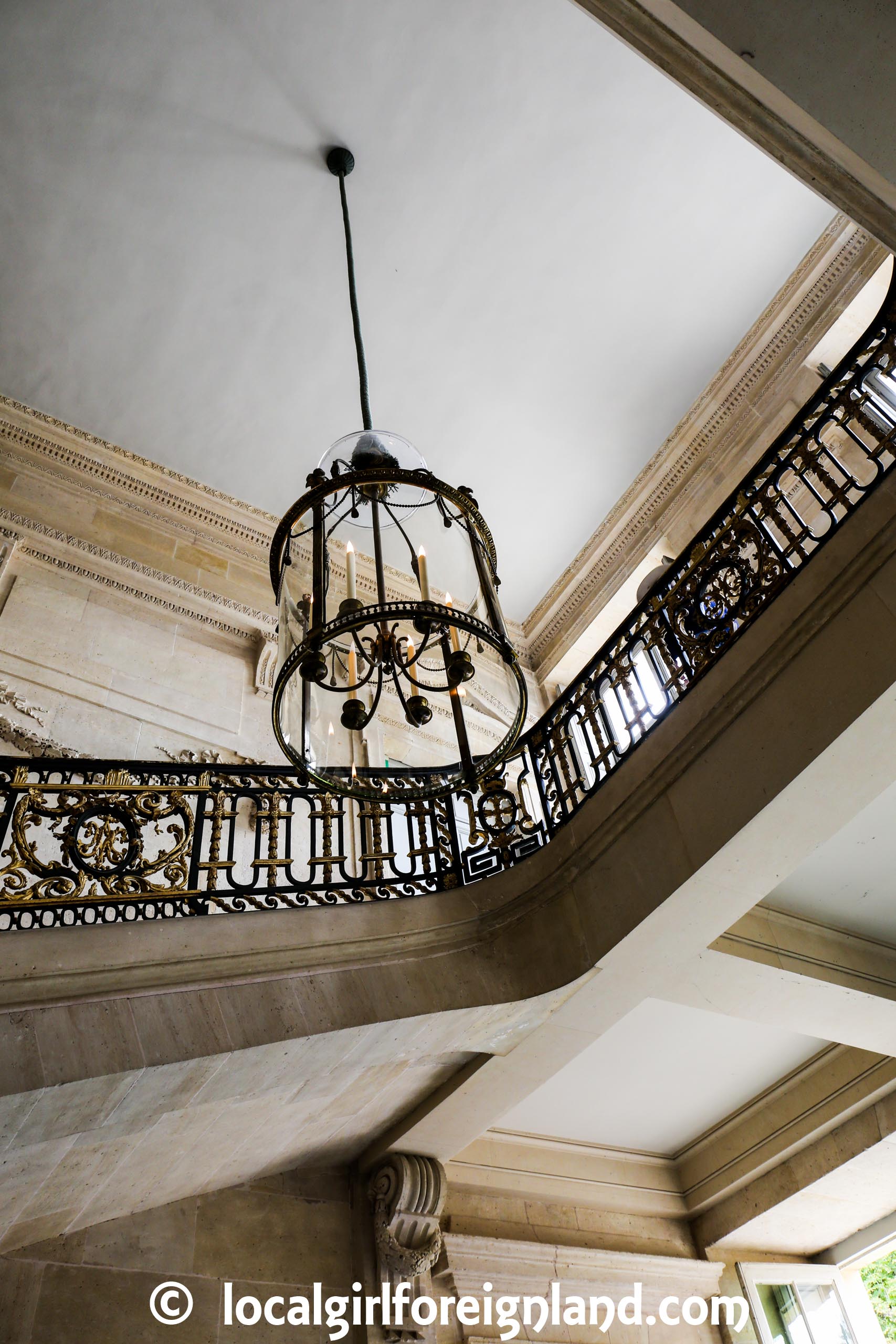 King Louis XV is also known as Louis the Well-Beloved or in French, Louis le Bien-Aimé. This was true when he was a little boy. He didn't die as such an endearing king though. Anyways, he may not be the most popular, but he's certainly one very lucky man. He's so far from the succession that it was rather miraculous that he ascended to the throne. The line is super complicated, so here's a pictogram LOL.
Line of succession explained
This is difficult, please concentrate 😛 There are a whole bunch of Louis coming up your way.
The sun king, Louis XIV had 6 legitimate kids. I mentioned legitimate, because only the children that were produced by the queen can be considered for the throne. Louis XIV's oldest son, Louis of France, was Le Grand Dauphin aka crowned prince. Le Grand Dauphin had 3 sons. The oldest son of Le Grand Dauphin was Louis and was known as Le Petit Dauphin. Le Petit Dauphin was Louis XV's father, who had 2 boys. Louis XV was the younger one.
The line of succession was pretty clear.
If Louis XIV dies, Louis of France (Le Grand Dauphin) becomes the king.
If Louis of France dies, Le Petit Dauphin becomes the king.
If Le Petit Dauphin dies, his oldest son (conveniently named Louis)
Louis XV's name is really no where in sight as this point.
So how the hell did Louis XV ascend to the throne? He killed everyone to a battle royale… No totally kidding. He became king when he was 5. So nothing exciting like that happened. It was quite literately everyone else died either of one disease or the other.
Summary
Louis XIV, the sun king, outlived his son and grandson.
Louis of France, Le Grand Dauphin, died of small pox in 1711.
Le Petit Dauphin (Louis XV's father) died of measles 1712.
Louis XV's older brother? He contracted measles as well, but actually died from being bled out by the doctors. They thought it was the cure for measles.
Louis XV also contracted measles at the time survived. Voila! The crowned price!
Yes, French royal family had an unhealthy obsession to name every male Louis.
***Sad side story, Louis XV's dad loved his wife so much that stayed by her side when she was dying from measles. He died a romantic and passed the measles along to her 2 boys.
Let's be fair, how to shine bright like a diamond if your predecessor was the Sun King, Louis XIV! A hard act to follow. Plus, King Louis XV was only 5 years old when he became the King of France. Clearly, he was too young and had to have a regent, Philippe II, duc d'Orléans. This is an extremely long story to be told another time.
Le Secret du roi, a Louis XV's project
Let's pick what I considered to be the most hilarious thing that King Louis XV did. Around 1748, he decided to form a secret diplomacy network, "le Secret du roi". Why? He wanted to influence international affairs. Not a bad idea, except the fact that it was so secretive that his own foreign ministry and diplomats didn't know about it… o and its agenda was normally opposite to what he publicly announced. I wonder if any of his foreign ministers developed Schizophrenia.
At the end of the day, no one knew WTF was going on with the foreign policies. This whole thing was a joke and le Secret du roi was hardly functional. For instance, Louis XV officially renounced his bid to install a French (Louis-François de Bourbon) for the Polish crown, but at the same time Secret French agents tried to install him. Nothing happened, of course. Later failures of le Secret du roi led to France losing most of its influence in central Europe. That's probably not the most notorious part of his reign, losing North America to Great Britain probably did the trick. French historians do not write kindly about Louis XV.
Official mistress, maîtresse en titre
Louis XV  had 2 very famous mistresses. At any given time, there was only ONE chef official mistress. It is a full blown career to attempt to be the King's favourite. For real, it was an official title in court… like hi, I am the King and Queen's official favourite 3rd wheel, how lovely to meet you. Not just any body could be the King's mistress, at minimum, one must be of noble blood, whether the person was still married or not was not important though. Ironically, the king's mistress was usually the most powerful person in the king's court; sorry, boys. It was the ultimate "sleep to the top" regime. All puns intended. As ridiculous as it sounds, it was considered a top notch career move at the time and maybe described as the "dream job".
Madame Pompadour (1721 – 1764)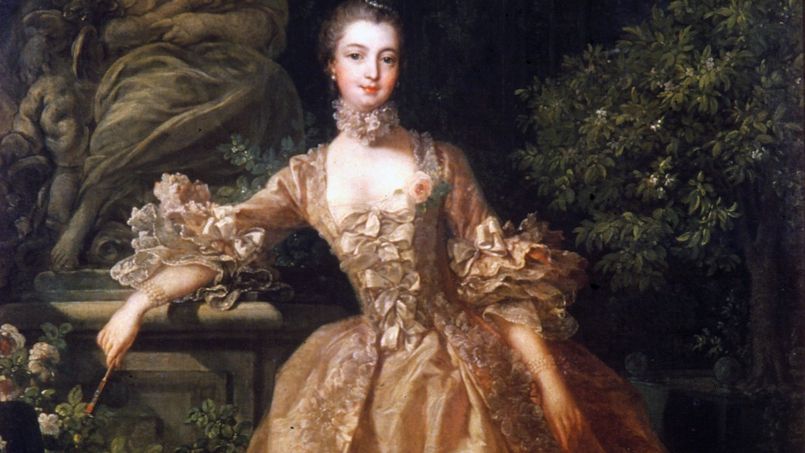 So this is the part where Petit Trianon comes into play. Madame Pompadour (Marquise de Pompadour, Jeanne Antoinette), was an Olympian of a chef official mistress. Not only did she managed to keep her title for a long time 1745 to 1750, she also managed to keep her influence after she stopped having sex with the libidinous Louis XV. She was not short of charm, wit and elegance.
Although she was out of service, Louis XV never named another official mistress until after her death. After she was retired as a mistress, she was promoted to live inside the Château de Versailles, aka the main palace. Her new unofficial role? A prime minister and the King's confidant. Her life in the courtroom spanned from 1745 to 1764 (till death).
The birth of Petit Trianon
For a such a fascinating woman, Louis XV pulled out all the stops, per Madame Pompadour's persuasion, he commissioned Petit Trianon to be built for her in 1758. That's right, well after she stopped sleeping with him.  Besides culture and grace, Madame Pompadour was a highly educated woman who supported art and science development. In particular, she was amazing at understanding the king's every word and movement, hence keeping him interested all the time. Furthermore, even in the event of the death of her own daughter and her father, she did not show one bit of grief in front of the king. Mistress or not, she was dedicated in her craft to make the king happy.
Useless information: It was speculated that Madame Pompadour kept a diet of celery, truffle and vanilla to rave up her libido for the king. Not sure if that worked out. Honestly, if that combination doesn't make you sick, nothing else will.

**probably untrue, I was unable to verify the source of information for this**
So here we are, Small Trianon (Petit Trianon) was completed in 1768 by Ange-Jacques Gabriel, the official architect of Louis XV between 1735-1775. Ironically, Madame Pompadour never got to see the completed Petit Trianon. So who was the first to live in Petit Trianon? Madame du Barry, Madame Pompadour's successor.
Madame du Barry (1743 – 1793)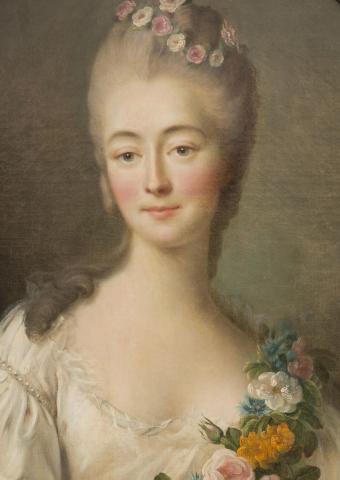 Madame du Barry (Jeanne Bécu, known as "Mademoiselle Vaubernier") was the last King Louis XV's chef official mistress. In short… she was a professional escort before becoming the King's official mistress, sans euphemism… a prostitute with a long list of clientele. But then again, we're talking about a mistresses here, who needs morals?
If Madame du Barry is alive today, her life would be a huge reality TV show. She is the definition of audacity. Her ascension to the rank "chief official mistress" involved:
Born an illegitimate child of seamtress. Biological father is unverified.
Became a mistress of Jean-Baptiste du Barry, a professional pimp
Jean-Baptiste du Barry helped her to establish a large clientele of king's ministers
Jean-Baptiste du Barry's brother, Comte Guillaume du Barry, married her so that she can become a Countess.
Jean-Baptiste created a falsified birth certificate for her. Effectively made her 3 years younger AND changed her parents' names.
She struggled to be formally introduced to the king as no other nobles wanted to be associated with her at the time.
Beat her rival (Duke of Choiseul's sister, Duchess of Grammont) and became the chef official mistress replacing the late Madame Pompadour
Marie Antoinette, wife of the crowned price Louis XVI, disdained Madame du Barry openly, refused to speak with her and sided with Duke of Choiseul **Choiseul supports an alliance with Austria, Marie Antoinette's home country
1771 Madame du Barry won and Duke Choiseul was sent away by Louis XV
Remained in her court position from 1768 – 1774, right till Louis XV dies
1774 Louis XV showed first symptoms of small pox in Petit Trianon, aka her house
1774 Louis XV died in Versailles Palace
Marie Antoinette became queen consort and got Barry exiled to Abbey du Pont-aux-Dames near Meaux-en-Brie aka nunnery
A year or so later, she left the nunnery, bought a property, had a few lovers
1789 French revolutionary started
She got denounced to the French revolutionaries
She was

guillotined during the Reign of Terror 1793.

She begged publicly and squealed before she died.
Can you follow all that? So epic, right?
Marie Antoinette (1755-1793)
Alright… where are we, yes, we're back to Petit Trianon. After Madame du Barry was banished, Marie Antoinette was gifted Petit Trianon. The estate was a husband to wife's gift when everyone was mourning the loss of the late King Louis XV. I kid you not, King Louis XVI decided to give Petit Trianon to Marie Antoinette when the royal family was gathered in Petit Trianon to mourn the loss of King Louis XV. Talk about strange timing.
What did the queen do with Petit Trianon?
Switch to Anglo-Chinese gardens (was originally a botanical garden) **frankly, I have no idea what it means, but that's what it states in the official pamphlet
Turn part of the land into a fictitious farm because it was the queen's dream to be a farm girl
Built a small theatre
Nothing scandalous, I am afraid. Madame du Barry was really quite a show stopper. Marie Antoinette was born an Austrian princess, married a French crowned prince, guillotined like all the other nobles. Nothing crazy happened.
The thing about Marie Antoinette's excessive spending, partying, or luxurious fashion etc is not that fascinating to me. She was a queen consort, and King Louis XVI was a virgin for the first 7 years of their marriage. What else was this 20 something girl supposed to do? If she wasn't married to Louis XVI, she would have had a lavish lifestyle back in Austria anyways. Her mother was Maria Theresa of Austria (full name: Maria Theresa Walburga Amalia Christina, because all royalties need an as long as possible name) , a Habsburg. Her title was too long. Let's leave it at that she was a very powerful women with a large army.
Why is "Petit Trianon" strongly associated wtih Marie Antoinette?
During the French Revolution, Petit Trianon was turned into a hostel. Shock-shock-horror-horror warranted. But then… a man in shiny armour came to the rescue… Napoleon Bonaparte (Napoleon I, 1769 – 1821). He restored Petit Trianon.
Fast forward to 1867, when it was Napoleon III, (Louis-Napoleon Bonaparte, 1808 – 1873) who's in power. Empress Eugénie, his wife, converted Petit Trianon into a museum dedicated to the memory of Marie Antoinette…
Voila, the end! Thank you for sticking around all the way!!! I was quite hesitate to write so much history, but as I researched more I got really into it. Knowing the back story makes the actual visit more interesting, don't you think? Hope it is interesting for you too.
So, which part of history interests you the most?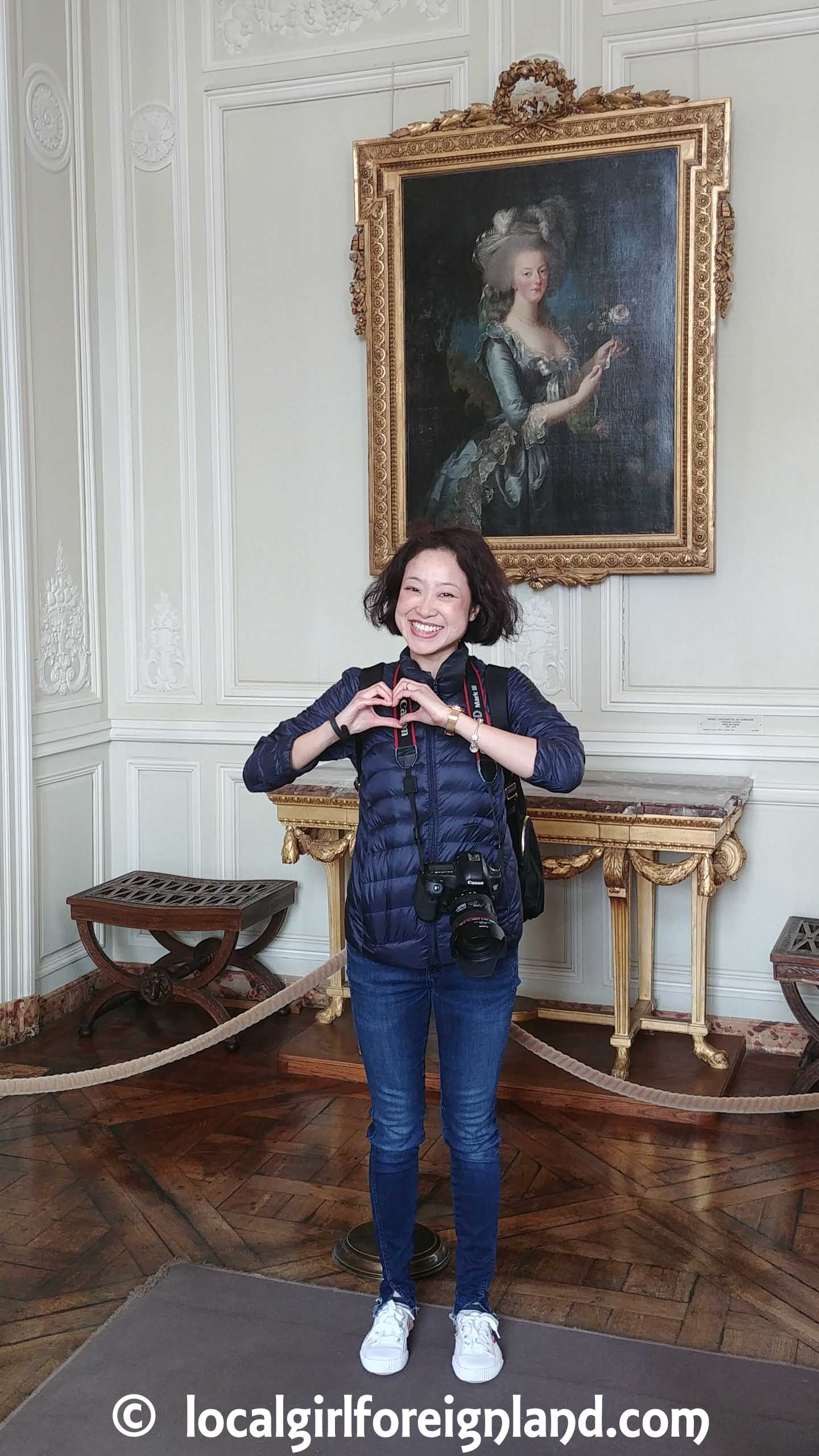 References: Britannica , Chateau de Versailles, L'histoire par l'image (French), L'histoire pour tous (French), Le Parisian (French), L'Observatoire de la diplomatie (French), Wikipedia, Versailles 3D
All photos were taken by me unless stated otherwise. Please note that the photos were taken over multiple seasons, hence the difference in plants / weather etc.