Bourjois Always Fabulous Foundcealer stick was released in April 2019. This review includes close up facial photo, comparative swatches and wear test. This is my 5th Bourjois foundation review LOL Out of all the drugstore brands, I clearly has a thing for Bourjois.
My skin? I am an Asian in my late 30s. I have dehydrated combination skin with a bunch of pigmentation. My best foundation match is MAC studio NC25 or face & body C2. If you still want to know more details, click here.
If you don't feel like reading, please drop over to my youtube version of this review 😉
Does anyone else find the product name ridiculous? Not the "Always Fabulous" part, the "foundcealer" thing. It is foundation stick that claims to be buildable in coverage. Fine. What the hell is a foundcealer. How stupid does it sound exactly? I am a bit disappointed that Bourjois choose to go into this fiddly product name sort of direction. Rant is over, let's get started.
Coverage & Finish
Demi matte. Light to medium coverage.
It looks natural and can be used for the "no makeup" look. Will show you the close up pictures in the longevity section. It smooths over imperfections and doesn't cling onto dry patches.
It kind of tricks the eye at arms length; the skin looks a bit blurred. When up close and personal, the coverage is not as visible. Does that make any sense? 
Blendability
It is very difficult to blend. Although this is a foundation stick, it is not very emollient. There's a powdery feeling to the formula that makes it very difficult to blend onto the skin.
Skin type
I think it will work better on combination towards oily skin better than us drier skin type gals. It maybe psychological, but my skin felt more tight when I was using this foundation, especially after it sets.
Scent
Floral. It is the typical Bourjois scent LOL Less fruity than the Bourjois healthy mix though. The scent lingers quite a bit and I can faintly smell it through the day.
Packaging
Lipstick sort of packaging, 21mm in diameter. The foundation stick can be twisted out and back into the tube with little resistance. The foundation stick comes with a dense black sponge for application. The sponge is too hard and useless in my opinion, which is a pity, because this type of all in one packaging is great for travelling.
Rose gold coated plastic lid that approximately 0.8mm thick. It doesn't feel flimsy, but it is thinner than the see through end lid, which is 1mm thick. Both lids gives of a satisfying click when they are closed properly.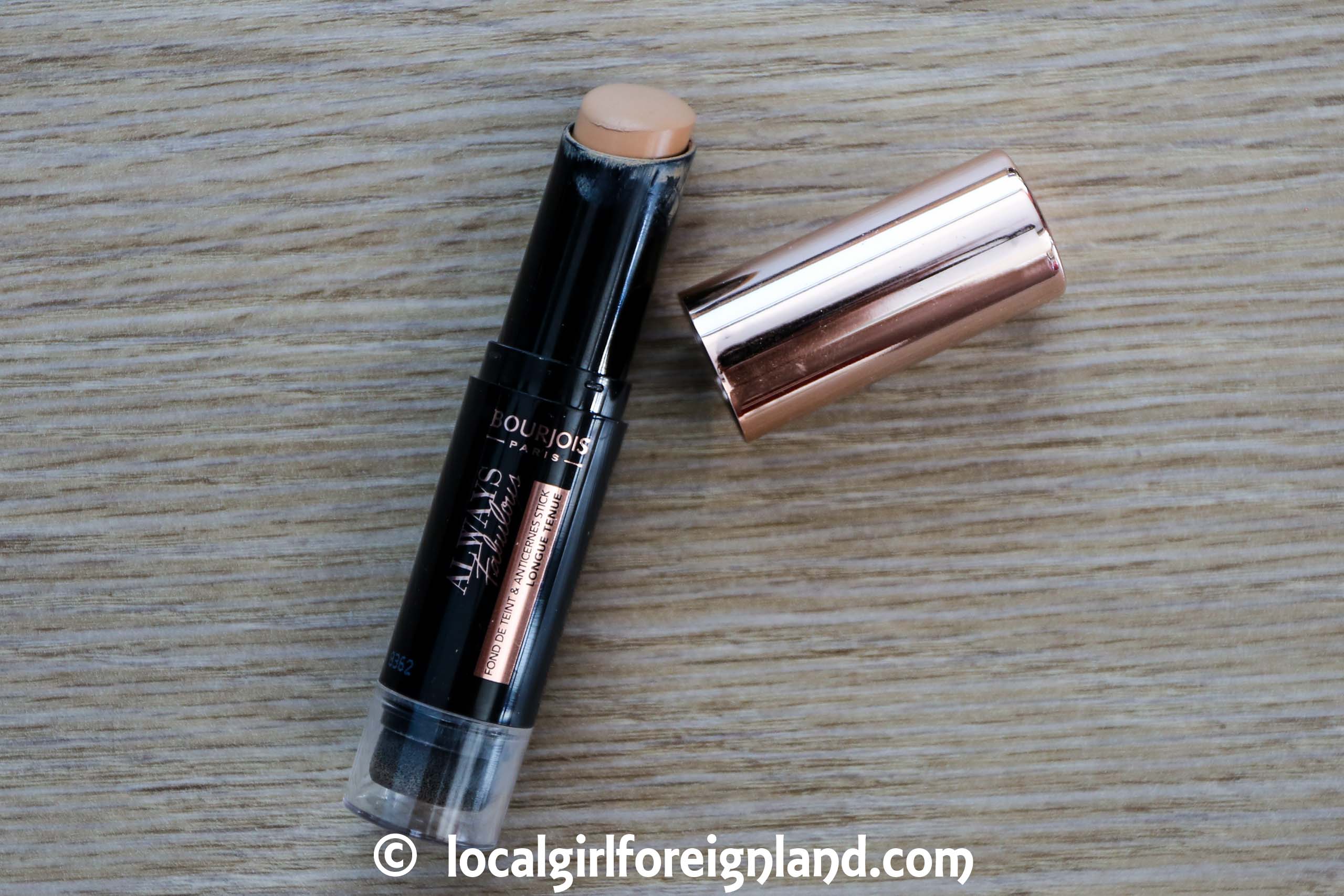 I am disappointed with this packaging because it does not feel as premium as the other Bourjois foundations. They usually make a fairly luxe feeling packaging, but not this time. It looks and feel cheap.
7.3g net weight, 0.25 oz
The most similar drugstore product is probably Maybelline SuperStay Foundation Stick, it is 7g and also comes with a sponge.
Otherwise – L'oreal, Bobbi Brown, YSL and Lancome foundation stick are all 9g each. So this Bourjois foundcealer stick is on the lighter side of things.
County of origin
Made in China!!! That is is a first for Bourjois. All other foundation from them are made in EU (mostly France).
Application
It is difficult to blend. I have tried it with brush, sponge and fingers. The formula isn't emollient enough and so it is hard to blend. It felt like bending a dry-ish lipstick but on the face.
Basically, if I don't blend continuously for at least 3 – 5 minutes, I have to be prepared for streakiness.
Colour
I got mine in the shade 210 light beige. Please watch out for oxidation before selecting your own shade! It took almost 10min for the oxidation to fully develop on my arm. The fresh swatch was a lot more yellow than when it set. Below is the comparison swatch with the other Bourjois foundation and MAC face & body foundation.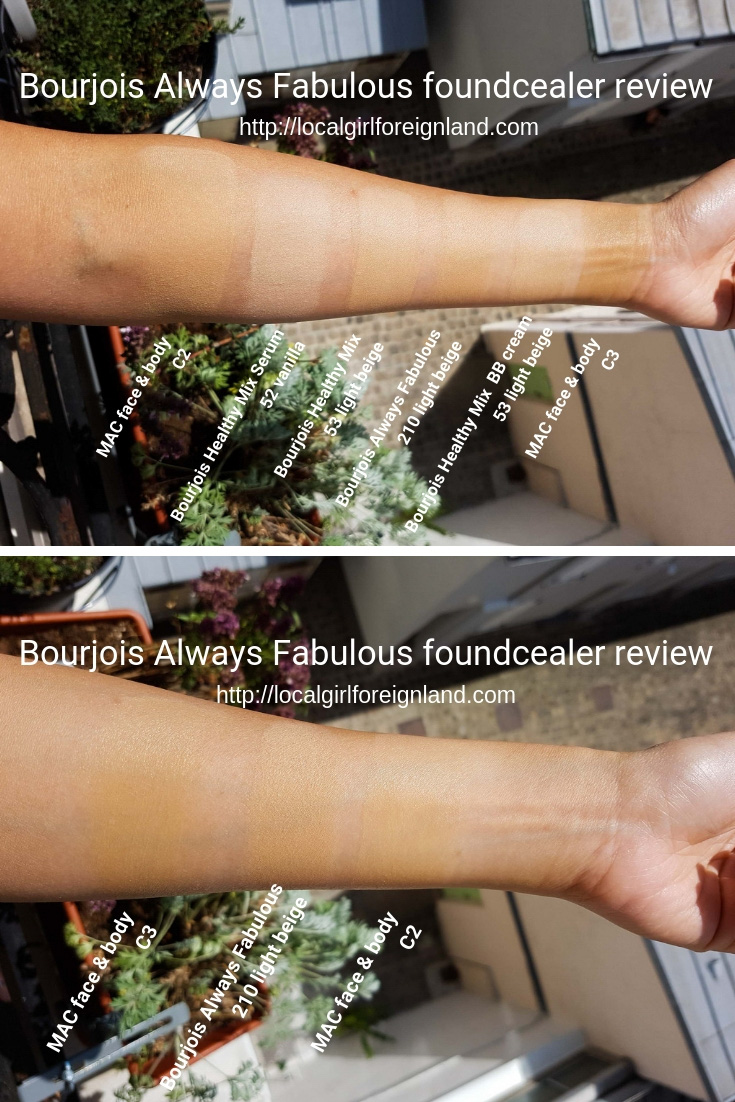 If you are in between MAC face and body C2 and C3 (MAC NC27), Bourjois Always Fabulous founcealer in 210 light beige is clearly a great fit!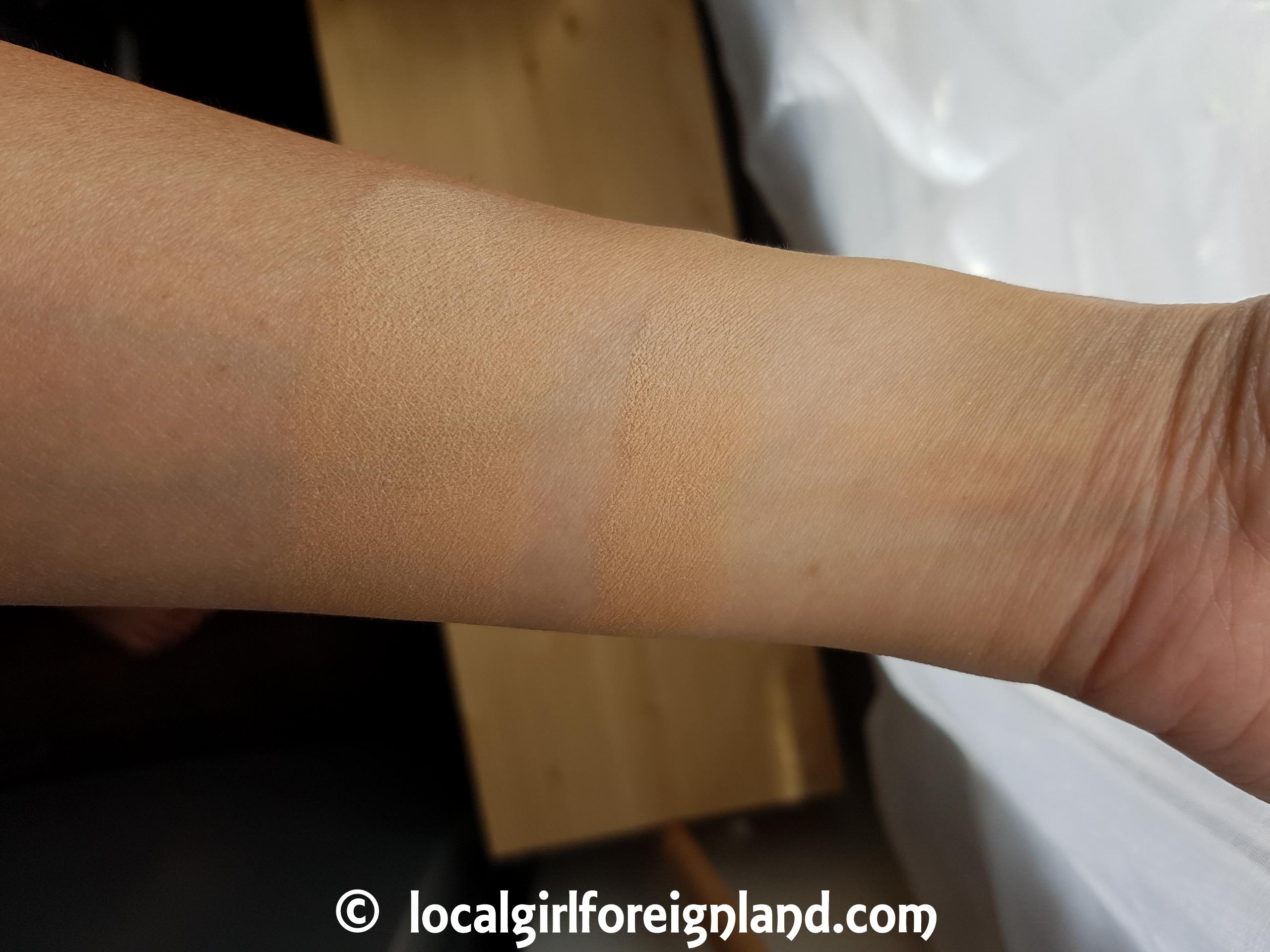 Longevity (wear test)
No primer, no powder was used for the trial. No blotting during the day.
**I have tried this foundation for about a week, but I have only taken pictures on the 2 occasions (+ the Youtube video).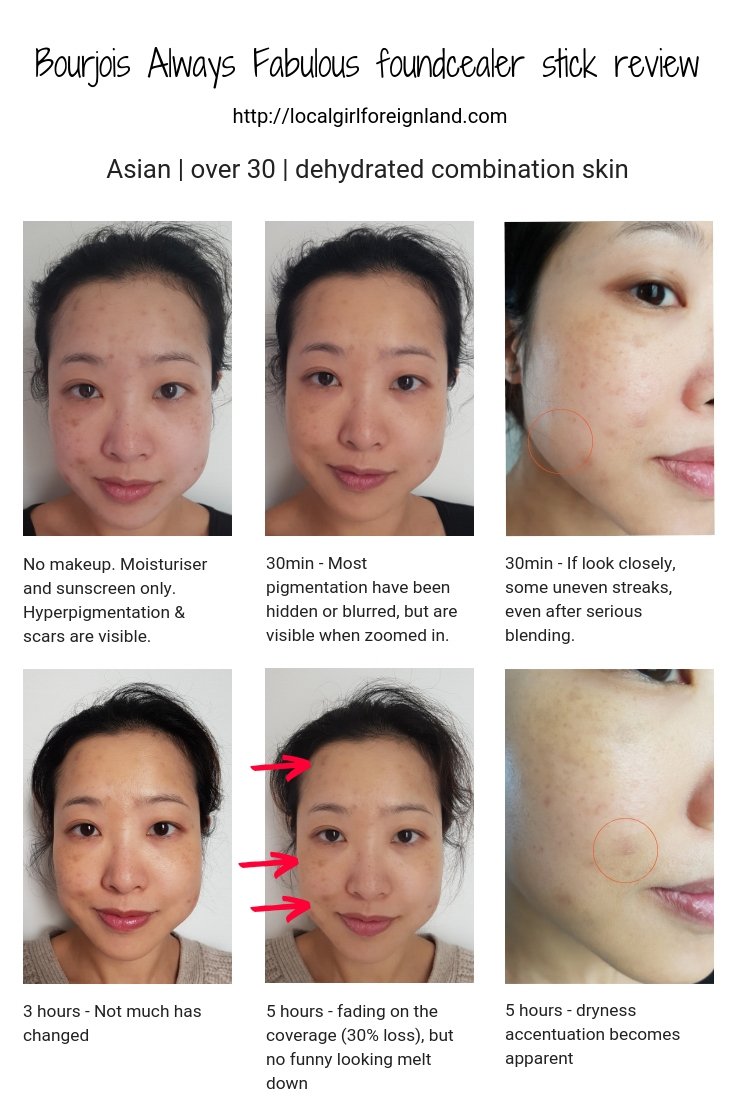 The shadow under my eye seems to have exaggerated the difference. Opsie. Anyways, the lighting was also quite poor. It looked better in real life then these pictures. There was some fading happening, but it was like a 20-30% coverage lost. Not much further fading was observed from this point onwards.
At the 9th hour, the foundation is still on my face and the overall tone is still even. Oil started to come through at 8th hour or so.
Seriously, I would have been less disappointed if they didn't label this a "long lasting" foundcealer. Their marketing need to calm the hell down.
**NB: The group of 6 photos was taken on day 1, the duo comparison photos (& Youtube) were taken on day 2. All adjacent comparative photos were taken on the same day. The reason for a hair change was because I had a hair cut that day (same as Youtube).
Sensation
I can feel it on my skin. It is not uncomfortable, but feeling it on my skin is a bit strange. The product doesn't dry out or age my skin like the Dior face and body foundation, but it is not a nice sensation. I don't know how to describe it. I don't enjoy it on my skin. it feels like a dry cream. I guess it is probably not made for my skin type.
In any case, I have noticed that this foundation stick is more comfortable to wear on warmer days than cooler days.
Price
I bought mine during an Easter promotion <buy 3 get 2 for free> at the Bourjois flagship store in Paris .
Bourjois flagship store / bourjois.fr 15.99 EUR
Look fantastic – 11.99 GBP, currently on a special for 8.39 GBP. This is the cheapest price that I've found. Let me know if you've spotted a better price.
Feel Unique – 14.39 EUR
**No affiliated link is used, I've inserted the links for ease of reference. I have no association with the sites mentioned.
Ingredients
Hydrogenated Polyisobutene, Mica, Octyldodecanol, Polyethylene, Polymethyl Methacrylate, Pentaerythrityl Tetraisostearate, Phenoxyethanol, Simmondsia Chinensis (Jojoba) Seed Oil, Vinyl Dimethicone/Methicone Silsesquioxane Crosspolymer, Parfum/Fragrance, Tocopheryl Acetate,  Alumina, Glycerin, Benzyl Salicylate, Alpha-Isomethyl Ionone, Linalool, Citronellol, [May Contain+/: Titanium Dioxide (Ci 77891), Iron Oxides (Ci 77491, Ci 77492, Ci 77499)].
Hydrogenated Polyisobutene – this is a synthetic occlusive. I am just surprised that this is the number 1 ingredient in this foundation. Nothing major has been associated with this occlusive.
Octyldodecanol – this is an occlusive skin conditioning ingredient, although this is an alcohol, it is not known to be irritating. (Source: Medline https://www.ncbi.nlm.nih.gov/pubmed/11766132)
Polymethyl Methacrylate – this is a filler. Hm… maybe that's why the foundation felt so smooth to touch on the skin.
Pentaerythrityl Tetraisostearate – skin conditioner
Phenoxyethanol – preservative. Why is this so high up on the ingredient list? Okay, this is known to flare up eczyma. If you don't have eczyma or have sensitive skin, this is not a worry for you.
Fragrance is not the last ingredient. If you have sensitive skin, this is probably not for you.
Tocopheryl Acetate – a form of vitamin E, an anti-oxidant, moisturiser
Rating E
Packaging 2/5 – it is a functional packaging, but I hate the material of the lids
Scent 3/5
Blendability 1/5 -> $%#%#$@
Look 7/10
Comfort 3/10
Longevity 4/10
Value for money 2/5
What is happening to Bourjois' foundation?!?!?!? This is my 6th foundation purchase from them. So far, it seems like only their Healthy Mix line is good. I feel a bit fooled LOL My first 3 purchase were all Healthy Mix, so all along I had the impression that all Bourjois' foundation products are good. Anyways, there is no doubt that my favourite Bourjois foundations are are: Bourjois Healthy Mix Serum gel foundation (review), Bourjois Healthy Mix foundation (review).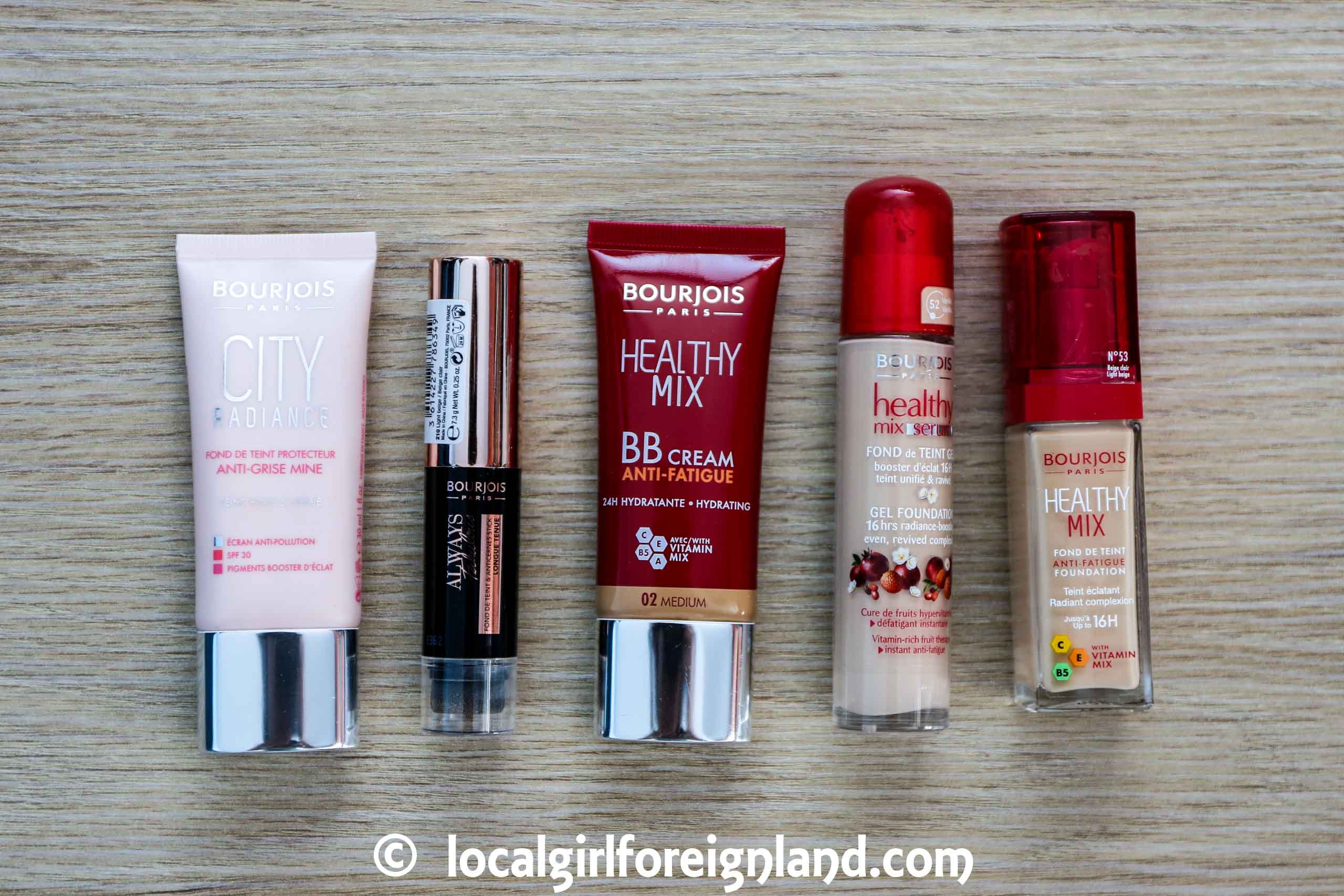 Bourjois has just released new foundation this summer (July 2019?) and for the first time since 2016, I have decided to not buy their new foundation release. The new release is a full coverage foundation. I am not into that at the moment. Finding the right shade for the sake of writing a review will be wasteful. I am trying to stay away from purchasing for the sake of my blog.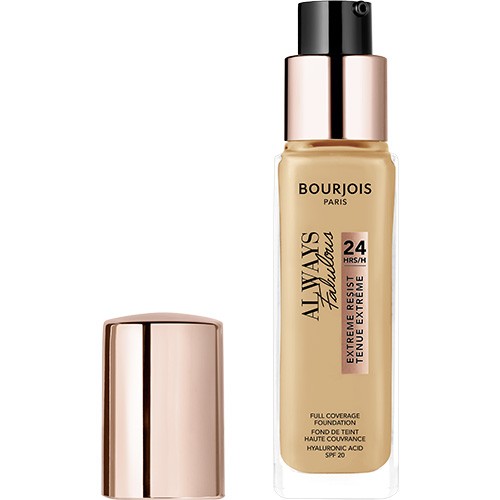 Bloglovin' / Twitter / Instagram / Facebook / Pinterest