Asian, over 30 with dehydrated combination skin. 3 simple reasons for my harsh verdict on Dior face & body foundation. My review include wet/dry swatch comparison, wear test (with macro close up to the skin) and ingredient list. For interest sake, I have inserted a comparison chart with MAC face & body foundation.
Unlike my regular review, this review is based on a sample (I asked an sales rep at Sephora). Thank goodness that I didn't buy it. I feel that it is SOOOOO bad that I have to warn the others.
Coverage & Finish
Matte, air brush finish upon setting. Medium to full coverage. Cannot pass for no make up look. The foundation is clearly visible even if a very thin layer is applied. Detectable / visible in real life at arm's length.
In short, this foundation accentuate lines that were not visible before application. It grabs onto dry patches. Gathers around the nose. Pictures of the wear test is in the longevity section.
Look stunning for the camera This is an EXCELLENT photograph foundation, as long as there is no close up. Even for close up photography, it look way better in photo than real life. So if you're looking for an on camera only sort of foundation, this is it.
(for my skin profile, click here)
Fragrance
Parfum smell. Not offensive, but the smell lingers for way too long for my liking. Anything that I can smell beyond 15min is just way too long. Knowing Dior though, parfum in their products is part of their DNA. So this is more me than the product.
Packaging
N/A
The sample container is from Sephora, not Dior. Hence, I will skip the packaging comment section.i
Country of origin
Made in France
Application
Quite difficult to blend. It has quite a viscous consistency. If I do blend it into my skin like the way I use MAC face and body, it is not as easy to spread. It sets quite quickly. I had to apply and blend per region to make it work.
It worked quite well with high density brush with tapping motion though.
I did not try it out with any sponge.
Colour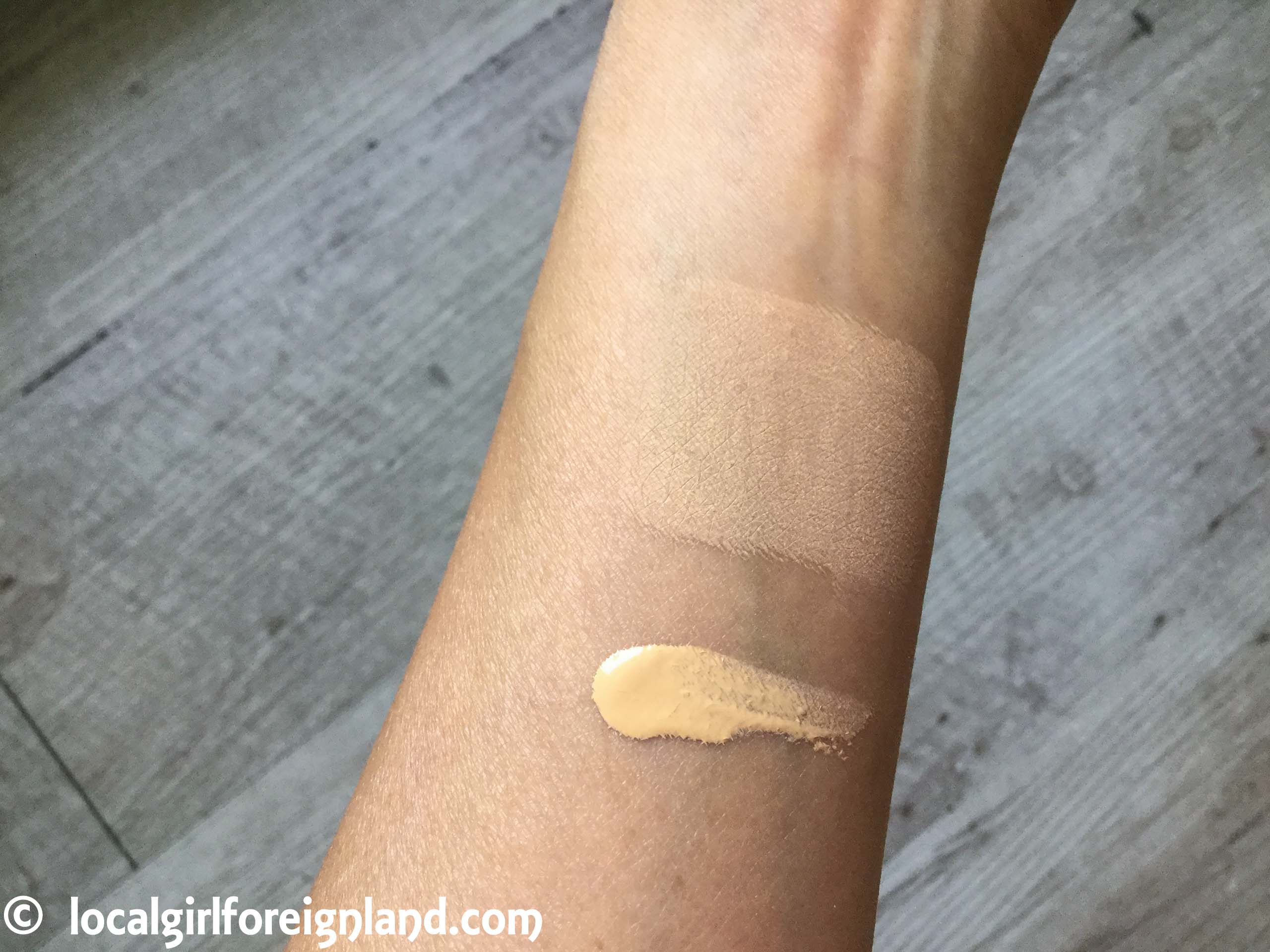 Oxidation was crazy. Not just darker, but changed to a peach. The undertone has change completely. From a promising yellow to a  true peach. See my swatches below. If you do plan to buy it, please do let it settle to determine your true shade.
Longevity
OMG… welcome to a foundation that helps me to discover lines that I didn't have before application. Thanks, Dior.
Spoiler alert! Dior backstage face & body foundation failed miserably and did not survive to make it to a full week trial.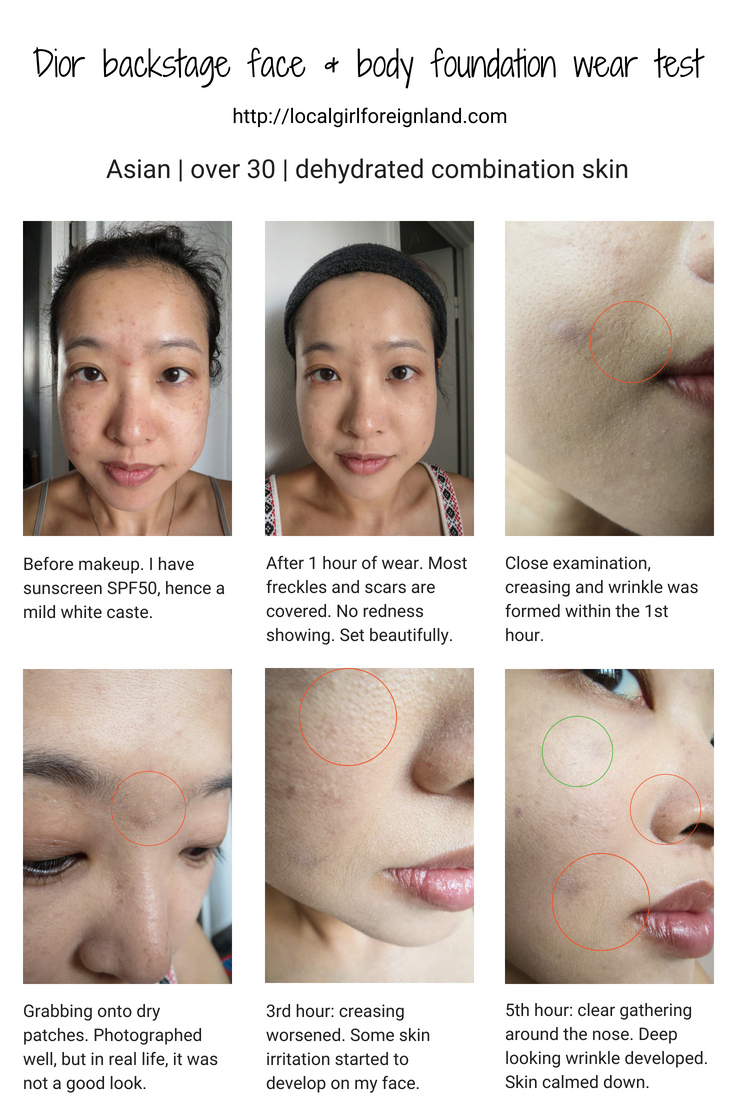 With the look that's so bad, does anyone care about longevity at this point? I just wanted to remove it. To be fair, it did last a solid 9 hours before my oil come through (30 degrees Celsius, Paris ). With patch grabbing formula like that, the lasting power was solid. When my oil did come through, it was bad. Like I could see migration through my eyebrows bad. The photo looked a bit too triggering even for me.
Sensation
If I build to only a medium finish, I cannot feel it. After 3 hours wear, my face felt tightened, not in a feel good way though. It felt like a mask drying out sort of tight after a while.
During the test, I may have reacted  to some ingredients, as I developed little bumps in the course of testing it out. Had a bit of a scratchy feeling. I do have dermatitis, so it is my skin being sensitive. You can see little bumps formed on my skin in the wear test photos.
Price
No affiliated link used. Prices are based on the date of my post.
Sephora.fr 39,00€
Sephora.com USD40
Sephora.au AUD70
Debenham GBP29 (!!!! cheapest because of exchange rate)
Boots.co.uk GBP29 (!!!! cheapest because of exchange rate)
I can't find the price for Canada. It's not on Hudson Bay and I have no idea where to search.
Formula
Ingredient list (source: dior.com)
#12756/A CYCLOPENTASILOXANE • AQUA (WATER) • ALCOHOL • TRIMETHYLSILOXYSILICATE • POLYURETHANE-35 • PEG-9 POLYDIMETHYLSILOXYETHYL DIMETHICONE • PHENYL TRIMETHICONE • GLYCERIN • SILICA • DISTEARDIMONIUM HECTORITE • SODIUM MYRISTOYL GLUTAMATE • GLYCERYL UNDECYL DIMETHICONE • PHENOXYETHANOL • PROPYLENE CARBONATE • VP/VA COPOLYMER • TETRASODIUM EDTA • PARFUM (FRAGRANCE) • ALUMINUM HYDROXIDE • LINALOOL • LIMONENE • CITRONELLOL • BHT • TOCOPHEROL • [+/- :CI 19140 (YELLOW 5, YELLOW 5 LAKE) • CI 42090 (BLUE 1 LAKE) • CI 77007 (ULTRAMARINES) • CI 77163 (BISMUTH OXYCHLORIDE) • CI 77491, CI 77492, CI 77499 (IRON OXIDES) • CI 77891 (TITANIUM DIOXIDE)]
Dior included a warning note, quote:
WARNING: THE LISTS OF INGREDIENTS THAT MAKE UP THE COMPOSITION OF PARFUMS CHRISTIAN DIOR PRODUCTS ARE REGULARLY UPDATED. BEFORE USING A PARFUMS CHRISTIAN DIOR PRODUCT, PLEASE READ THE LIST OF INGREDIENTS LOCATED ON THE PACKAGING TO BE CERTAIN THAT THE INGREDIENTS ARE SUITABLE FOR YOUR PERSONAL USE
Alcohol is its 3rd ingredient. No need for further comment, right? It was clearly the culprit of my "tight face" issue. I have quickly highlighted "bad" ones in red and likely irritate in orange. I don't like this foundation enough to investigate further. Sorry.
**If you're an anti-silicon person, this foundation's number 1 ingredient is silicon.
CITRONELLOL – hm… I wonder if it is enough to repell mosquitoes LOL this is a natural fragrance. I have atopic dermatitis, I probably have to stay away from this. After my trial, I deep cleans my face with clay mask for good measure.
Rating F
Packaging N/A unable to comment, because I only have a sample
Scent 1/5 It's a personal preference, the fragrance isn't unpleasant but it lingers too long than I'd like.
Blendability 3/5
Look 2/10 discover pores and lines that I didn't know existed
Comfort 3/10
Longevity 9/10
Oxidation SEVERE change of colour. Grey scale 1
Value for money 0/5 will not wear it again even if I get paid
So, in conclusion:
It aged me.
Caused a skin reaction.
Did not achieve the natural look that it claimed. I wanted to look natural in real life, not for camera only.
Dior backstage face & body foundation is clearly not in the same category as MAC face and body at all. Here's a comparison chart.
**I maybe bias as MAC face and body is my holy grail product – click here for the full list of  my over 30s Holy Grail.