I have launched my own guasha brand – JOYCE B. Okay, people who knew me when I was working in Shanghai knows that I am obsessed with guasha massages. Who doesn't? It is pretty crazy to be a business owner. The true meaning of being a "boss" is actually the person who does everything.
It took me a while to put together the design, packaging, product photos and website, but it is finally done! Thank you to all the sweethearts who have given me feed back and corrected my Franglais.
What is Guasha?
Guasha is a type of traditional Chinese medicine. Like all things Chinese, it is ancient. Think BC 😉 Anyways, the just of it is that it improves one circulation by releasing "sha" in the body. It is also a popular practice for relieving pain.
"Sha" can be viewed as toxin in the body or stale blood. The concept is to release the "sha" so that one's "qi" is flowing again. **Although it is widely practised in modern Asia, guasha is not a recognised medical therapy in the West
Where did this business idea come from?
Well, this business idea was actually quite accidental LOL The one time when I was on holiday with my hubby, his cousins saw me massaging him with the guasha stone. They tried it out and loved it… uncles and aunties as well. Clearly, this was meant to be a Christmas gift kind of thing.
When I looked around for guasha products in France, I found that many vendors misnomer their products as "jade" or re-composite stones selling at crazy price. As you can imagine, this drove me nuts. I hate marketing bullshit so bad. Anyways, since then, it was more like, more people around me was interested. So tadum! A small business idea was formed: authentic, natural stone and no BS stories.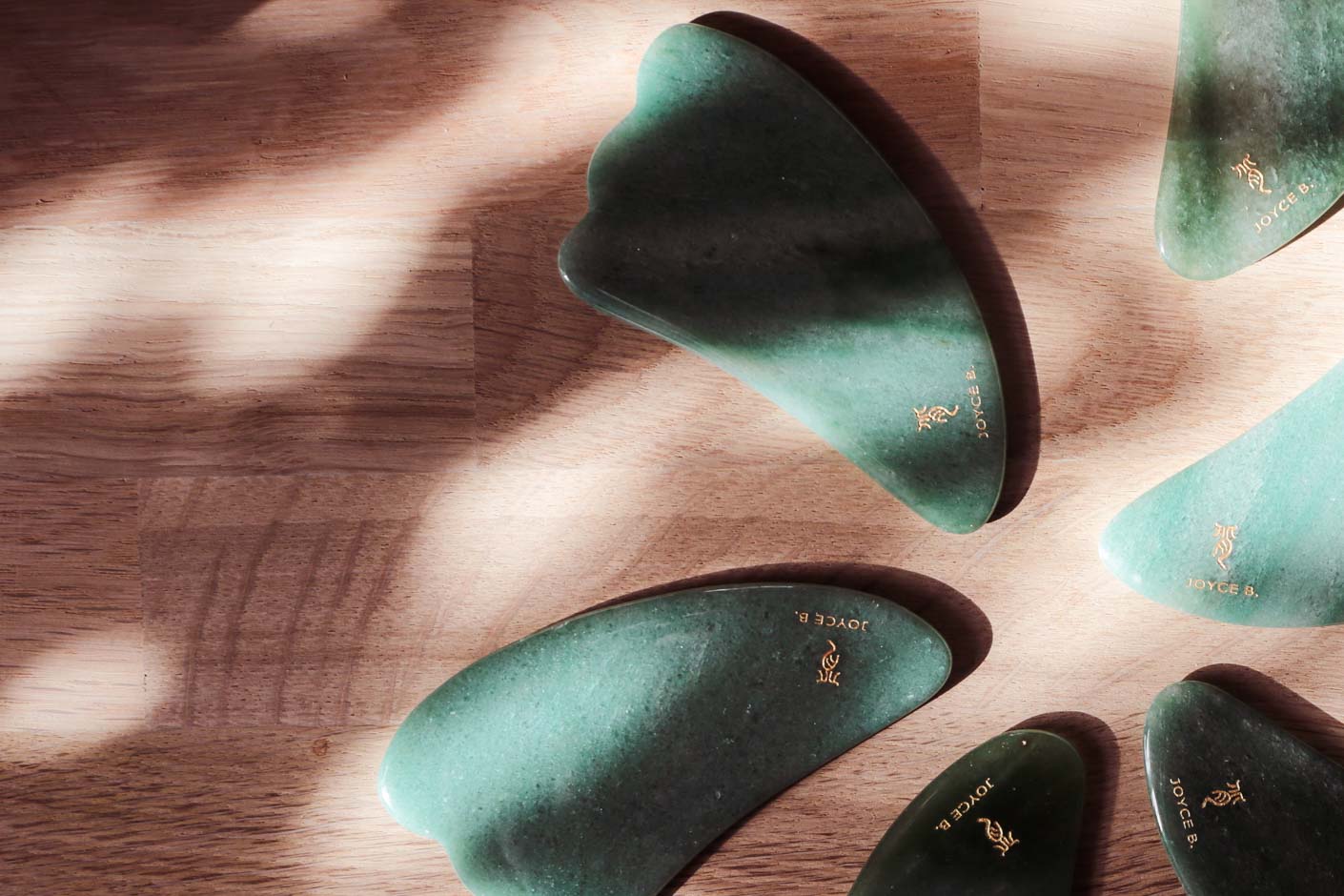 What's the engraving about?
The engraving design first started off like this – "I got your back". This idea came along when I had lunch with a friend (her IG account is private, so no names mentioned here). You see, I usually use the guasha on my back, plus, because my brand is fixated on more on quality and zero plastic packaging, it is kind of "I got your back" sort of vibe? It is a pun. Anyways, you get what I mean?
After reviewing the logo on the stone, something didn't look right. After scrolling aimlessly for a while, it came to me that I should incorporate some Chinese element to my product. My favourite Chinese history was the founding of Qin dynasty; the one that unified China, built the Great Wall of China, terracotta warrior etc. So why not use their script? In my opinion, this is the most beautiful Chinese script. Can you guess what this Chinese word stand for? Yup, it stands for "back" 😉
Well, technically, this guasha board can be used for anywhere on the body, it just that I normally use it for my back 😛 I know that jade roller is all the rage right now, but I have decided to not have that as part of my collection. First of all, it is not something that I use. Secondly, no body needs an extra step to their existing facial routine. I am really into simplifying my facial skin care routine these days.
A packaging thought
What does biodegradable mean to you? To me, if the packaging doesn't dissolve within 2 to 8 weeks, it is not biodegradable enough. So naturally, paper is the best choice. Plus, with paper, I can add seeds to it! This way, my packaging is biodegradable AND it grow flowers 😀 Zero plastic!
Green?
Well, I am no eco-friendly junkie, but I do believe that every little action counts 😉
My e-boutique
Proudly introducing to you all my little business 😀 Let me know your thoughts
**Currently I can only ship to EU (include UK) because I have seeds in my packaging.
Yes, I did all these photos myself. The style is very different. I custom made a filter to make it look like this.